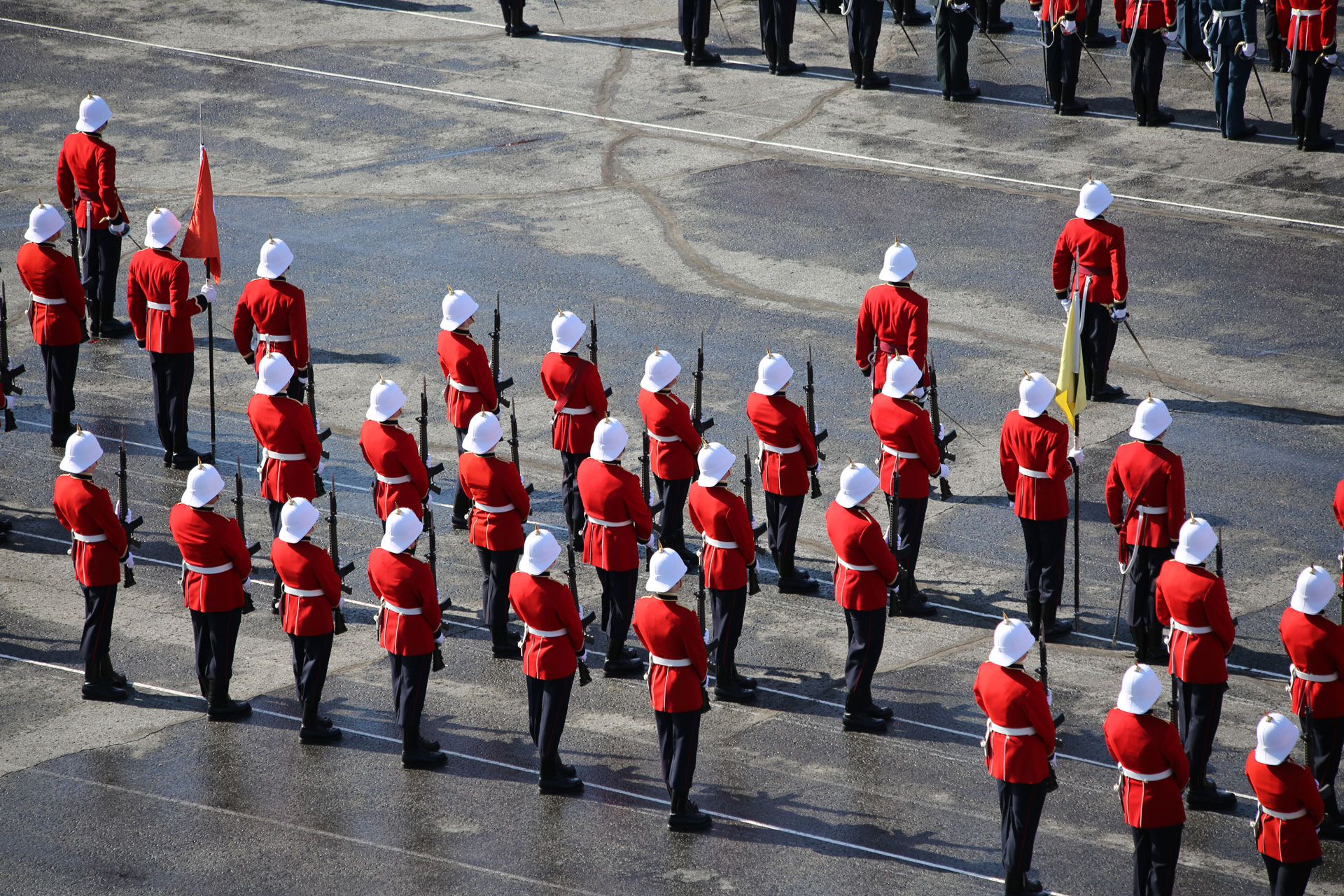 2009 Lt(N) Chris Saunders Memorial Hockey Tournament
Article by 19953 Michael Spearman (RRMC 1995)
Tragically, in October 2004, Lieutenant (Navy) Chris Saunders lost his life while serving onboard HMCS CHICOUTIMI. To remember Chris, and the sacrifice he made for his ship and its crew, the Lieutenant (Navy) Chris Saunders Memorial Hockey Tournament was established.
In 2005, the initial purpose of the tournament was to establish and provide financial support for Chris's two sons' education funds. In 2006 proceeds from the tournament were donated to the Matthew Burke Fund in Halifax. In 2007, a Memorial Plaque and Tree honouring Chris were placed in the National War Cemetery in Ottawa. Last year, proceeds were presented to the Military Families Fund, established in 2007, by the Chief of Defence Staff Rick Hillier.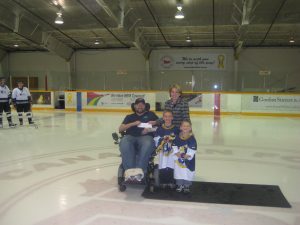 Master Seaman Jason Everett receives a cheque in the amount of $4500 on behalf of the Lt(N) Chris Saunders Memorial Hockey tournament from Gwen, and two sons, Ben and Luke Saunders
This year tournament proceeds went toward supporting a local sailor, Master Seaman Jason Everett, who was paralyzed in an accident for which he was treated and subsequently released from the CF. The tournament was able to present MS Everett with a cheque for $4500.
2009 marked the fifth anniversary of the tournament, which was held from 10 – 12 April at Shannon Park arena, in Dartmouth, NS. The tournament has doubled in size from its inception in 2004; it is now comprised of sixteen civilian and military teams, some of whom travel from as far away as PEI and New Brunswick (and of course Nova Scotia) to participate in this anticipated and respected annual hockey event. This year saw Maritime Operations Group 5 take the A division championship, while B division was won by a local team sponsored by Black & McDonald.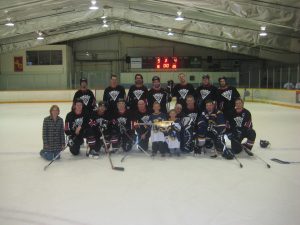 A Division winners, Maritime Operations Group 5
Next year's event promises to be even bigger, with three divisions of teams, and the potential addition of a women's division. Any unit or base team that is interested in participating in next year's tournament, please contact any of the three organizers, PO2 Trevor Jessome, Lt(N) Mike Spearman, or Lt(N) Sebastien Latulippe.
You can reach Lt(N) Mike Spearman at Michael.Spearman@forces.gc.ca
_________________________________________________________________________________________