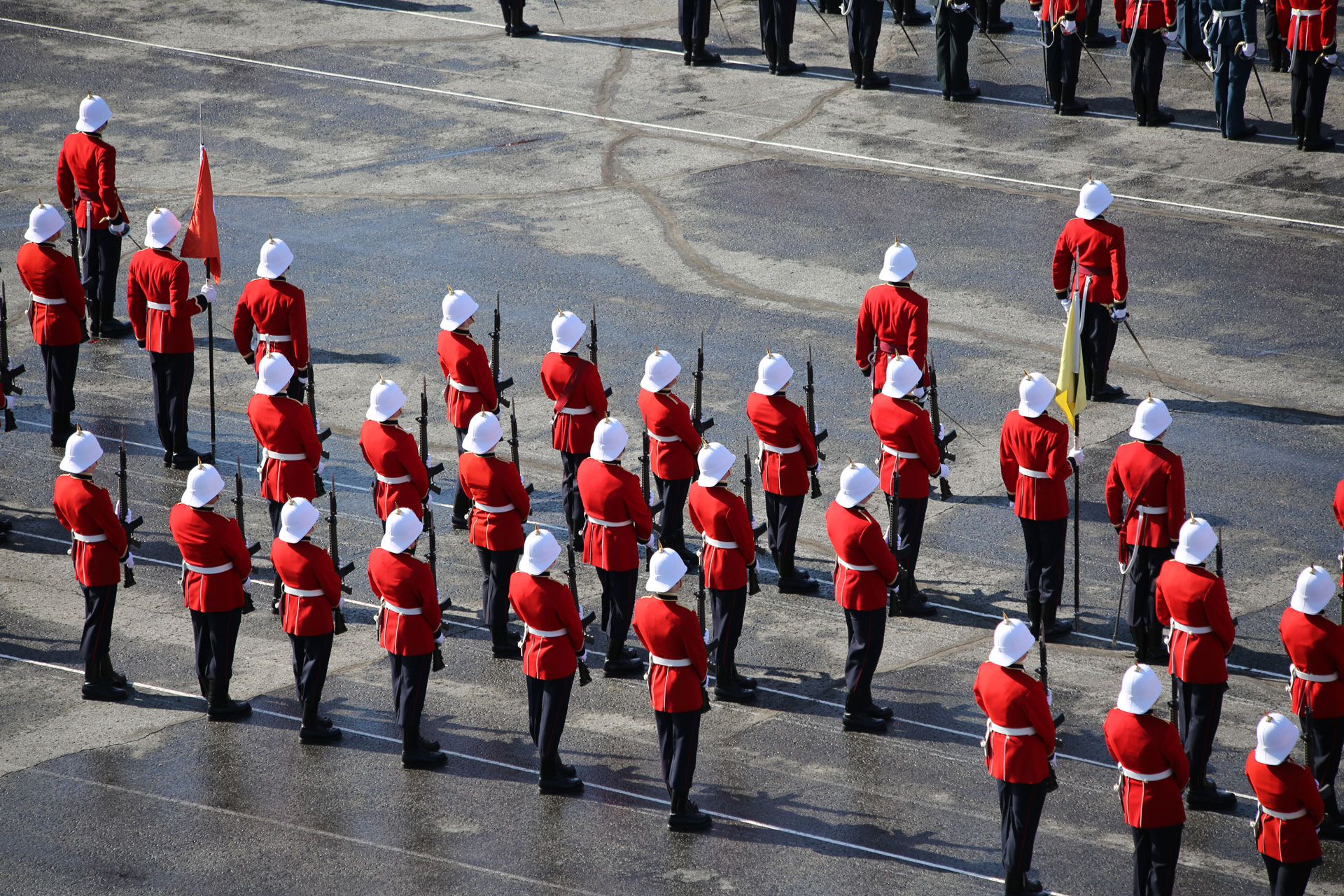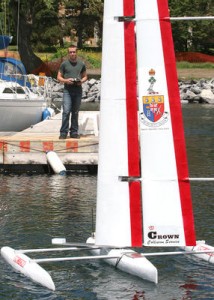 Sailbot 2010
Article by: Jacob Hardes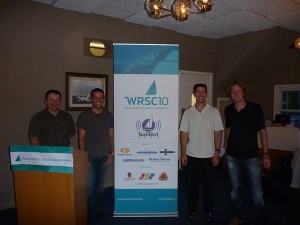 In early February this year, a small but dedicated team of graduate students and cadets from RMC began preparing an entry for Sailbot 2010. (Photo: L to R Asst Professor Lt(N) Stephane Lachance, Jacob Hardes (Masters Student), NCdt Aaron Bradley, and Robbie Edwards (Masters Student).)
Sailbot is an international competition for autonomous sailboats, now in its third year. The event has previously been hosted in Austria (2008) and Portugal (2009). 2010 marks the first year the competition has been held in North America. The team from Queens' University hosted the event at the Kingston Yacht Club from June 7th to 10th. Sailbot was held in conjunction with the World Robotic Sailing Championship and the International Robotic Sailing Conference.
Teams travelled from Austria, Germany, the UK and the USA to compete against Canadian teams in navigation, station keeping, fleet racing, and endurance racing events. The navigation course consists of sailing upwind around a mark, then sailing downwind between two tightly placed 'goalpost' bouys. In the station keeping event, the boats sail into a forty meter by forty meter box, remain inside for five minutes, and then sail back to the start. Fleet racing is a series of races with points awarded for finishing position. The endurance race is eight hours of sailing; the team that completes the most laps scores maximum points.
With the support of the RMC Club Foundation, the RMC team designed and constructed a radical three-hulled sailboat. The craft is powered by an aerodynamically controlled two-element solid wingsail. The wing employs active camber to develop large lift forces on both sides of the wind. Readers may have already spotted the craft sailing around Navy Bay.
The build was completed only days before the competition, leaving limited testing time for the autonomous system. The system takes data from a wind sensor, a GPS unit, and a magnetic compass, processes it with a microcontroller, then controls the sail camber, sail power, and rudder to sail to the next waypoint. The boat has demonstrated some autonomous control and decision making, but much more refinement is required.
During the competition, RMC team members had a chance to meet students from the United States Naval Academy and take them on a tour of RMC. The USNA is hosting Sailbot 2011 and has expressly invited RMC to compete.
The project will continue next year in the form of a fourth year project for cadets from Mechanical Engineering. The team hopes that more cadets will get involved in the coming years. The project requires expertise from aerodynamics, structural, mechanical, electrical, and computer science students. The team believes that the experience of working on such a broadly interdisciplinary team would be of great value to future cadets.
_______________________________________________
WEEKLY DIGEST
Royal Military College of Canada Athletic Department is seeking an Athletic Trainer Supervisor
Grim undertones at Duntroon graduation
An increasingly politicized military
NORAD team ready for Nijmegen March
Governor General presents 50 military decorations
Keep Canadian troops on to train Afghans post 2011: Senate committee
A 90th Birthday To Remember – Jack Riley former West Point Hockey Coach
Withdrawal from Afghanistan extremely costly
Did media-savvy general stray deliberately into hostile territory?
American Military disturbed by rapid turnover at top in Afghan, Iraq wars