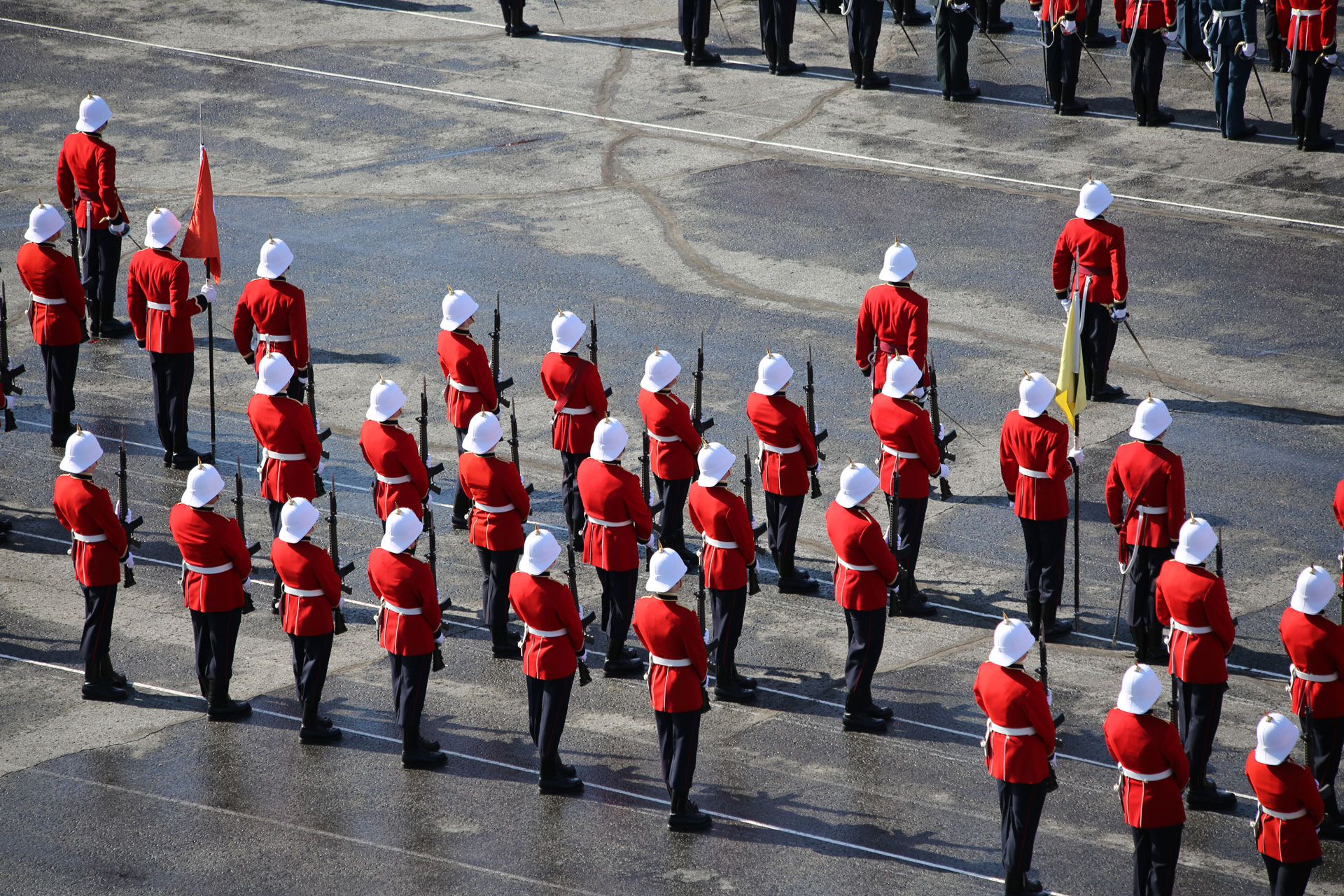 Royal Military College takes closer look at athletic program 
___________________________________________________
The (w) varsity basketball team had a pleasant surprise on a recent visit to Ottawa.
Head coach, Brad Schur explained. "Capt Tim McGee, Commanding Officer of 33 CER Army Cadet Corps contacted me before Christmas about having his Corps attend our game vs Carleton University. They showed up in their red Corps T-shirts and we provided them with some RMC basketball hats to wear during the game."
Coach Schur also added. "The Corps will be coming Kingston in March and we are trying to arrange getting them into the gym with our Ocdts for some basketball fun."
We asked Brad what was his reaction for this out-of-town support.
"Their support at the game was great. They were very vocal and they had made signs to cheer us on. After discussion with Capt McGee, we are hoping to make this an annual event."
___________________________________________________
RMC / Queen's – Carr-Harris Cup
Carr-Harris Game Summary – Queen's 14 – RMC 8 with one tie.
The annual Carr-Harris Cup men's hockey contest between RMC and Queen's is scheduled for this Thursday (7:30) at the Memorial Centre.
This year the C-H game has a great deal on the line for RMC. Queen's have locked up a play-off berth, however, RMC are (5 /15/4 for 14 points ) and trail Concordia Stingers by two points for the eighth and final post-season spot.
Following the Carr/Harris game, Paladins travel to Montreal on friday night (7:30) to play the Stingers.  Ex Cadets in the Montreal area may take note and provide some Red & White support in what could decide whether or not RMC will advance. !
The inaugural Carr-Harris Cup game was in 1987 and since then has alternated between the two schools on a yearly basis. Queen's has a wide margin with 14 wins, 8 losses & 1 tie over the 23 years.
Ever since the RMC / West Point hockey game was discontinued the annual Carr-Harris game has taken on more prominence. One only has to check out the score-board to confirm. In particular, the scores over the past five 15 years are mostly one or two goal games.
The two schools have a lengthy history dating back to 1886 when they played the first game ever in Kingston. The game celebrates the history of the Carr-Harris family in the Kingston area. The Carr-Harris family has a link with both schools: Robert Carr-Harris taught at RMC from 1879-97 and then at Queen's from 1898-1901. Ferguson Carr-Harris scored a goal for Queen's in the schools Stanley Cup loss to the Montreal Shamrocks in 1899. B.G. Carr-Harris and R.M Carr-Harris played for RMC in the first West Point Game in 1923. Peter Carr-Harris coached at RMC during the late 1950s and 1960.
___________________________________________________
Royal Military College hosts U.S Military Academy West Point –
A.K.A. I-81 EXCHANGE
The Royal Military College (RMC) of Canada will host a delegation of 120 cadets from West Point's United States Military Academy (USMA) from 4 to 7 February, for the long-standing annual exchange between the two military colleges.
100 OCdts and support staff from RMC will attend USMA and participate in military training with their billets.
The weekend is devoted to primarily athletic competitions and social gatherings which serve to foster the ties of friendship that have for so long characterized this event.
At Kingston, the weekend events will kick off with the Carr-Harris Cup where the West Point cadets clad in their "grey coats" will be on hand with several hundred scarlet clad RMC cadets and staff to cheer on the RMC Paladins to victory over Queen's at the Memorial Centre, 4 Feb at 7:30 p.m.
On Saturday, 6 February, the local schedule of events is as follows:
* 8:15 a.m. – Opening Ceremonies at KMCSC Field House.
* 9:00 a.m. – Fencing Demonstration in KMCSC Field House.
* 9:00 a.m. – Judo Clinic in KMCSC DOJO.
* 10:30 a.m. – Water polo match in KMCSC pool.
* 11:00 a.m. – Taekwondo competition in KMCSC Field House.
* 1:15 p.m. – Debate competition in Currie Hall.
* 2:30 p.m. – Winter Obstacles course including Chain of Command competition around inner sports field.
The RMC and West Point cadets will also be downtown Kingston to celebrate Feb Fest and to encourage the RMC's team in the Ice and Snow Sculpture competition against Queen's and St. Lawrence College.
The objectives at RMC are to develop officers morally, physically and intellectually inculcating the highest ideals of duty, honour and loyalty. RMC instills a sense of pride and dedication to service tapping the potential for future development and assumption of command. The four interlocking components of the RMC experience are academics, military leadership, athletics, and bilingualism.