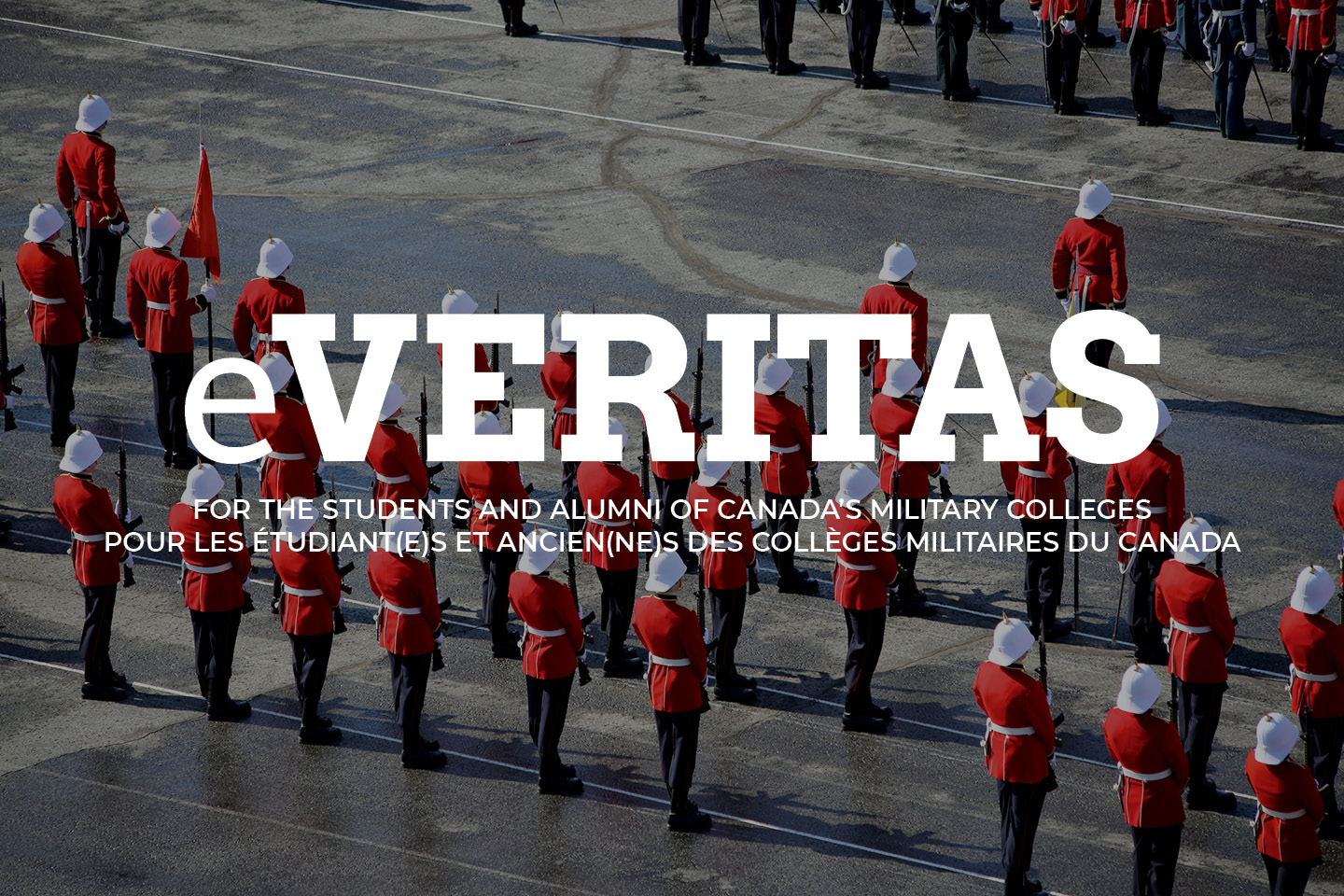 '12 FALL EDITION OF VERITAS IN MAIL BOXES SOON…FOR CLUB MEMBERS ONLY
WHAT: THE RMC CLUB TOUR OF INDIA 2013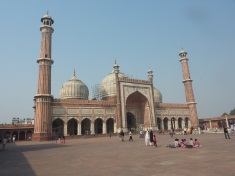 Those who missed the RMC CLUB trip to India in November 2011, may have heard of how almost all of those who went really enjoyed their experience of India's fascinating cities, historic sites, varied cultures, scenery and interesting people. We took out a couple of elements which caused problems on the previous RMC/NOAC tour and now we can offer Club members and their friends space on what will be one of our best ever tours of India. Note that you do not have to be a Club Member (or even an ExCadet!) to participate – all are welcome. The tour includes desert and jungle, new and old cities, evidence of thousands of years of history, exposure to three religions and to people for whom India has 22 official languages. It is impossible to be bored. India's diverse landscapes, history, people architecture and religions create endless interest. January is a great time for travel to India because of good weather and lower temperatures than at other times
WHEN: January 5 to 20, 2013 KNOW INDIA TOUR: Delhi, Varanasi, Khajuraho, Agra, Jaipur and Mumbai (Bombay)
January 20 to 27, 2013 KNOW SOUTH INDIA TOUR: Kochi (Cochin), Chennai (Madras), Mahabilipuram and Kancheepuram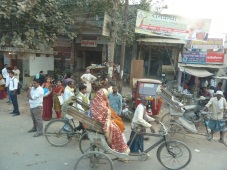 WHERE: In New Delhi, you'll see historic, political and cultural sites and aspects of life in India's capital. Old Delhi shows the contrasts between the new and modern and old and crowded cities. In Varanasi, India's holiest city, you'll witness Hindu religious activities in the sacred Ganges River and on its banks. You'll also visit a significant Buddhist site. Khajuraho's many temples have extensive carvings, some erotic. A sound and light show tells you the stories of the temples. In Agra, you'll visit the famed, magnificent Taj Mahal at sunrise and Agra Fort, linked to it in history. You'll visit a 17th Century Persian styled mausoleum which is thought to be an inspiration for the Taj Mahal. On the way to Jaipur, you'll visit a city abandoned soon after it was built. In historic Jaipur, the Pink City, you'll ascend a mountain by elephant to a huge hilltop fort and an ancient armoury. In the city, see an amazing astronomical observatory and palaces. Jaipur is one of India's best places to shop, especially for jewellery. In Mumbai (Bombay), India's largest city, commercial capital and the congress city, you'll see monuments, gardens and worship sites. The Elephanta Caves on an island in the harbour are unique. You'll see life in a teeming city and unusual ways to work.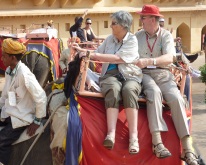 Southern India is quite different! In the optional third week tour, the architecture and scenery you'll visit are a contrast to the north. Long settled Kochi (Cochin) shows European influences on India. It has Catholic, Protestant and Jewish sites. Chinese style fishing nets are unusual. You'll cruise interesting canals and lagoons. There are great dining places. Chennai (Madras) shows its Portuguese and British legacy as well as its Indian heritage. You'll spend two days at one of India's best beaches. The grand temples of Kancheepuram are very different from those in the north. There's great shopping for fine silk saris. At Mahabilapuram, you'll see remarkable ancient sculptures and have time to enjoy the beach.
PRICE: KNOW INDIA (5 – 20 January 2013):
Reserve up to Nov 30: From Toronto – $5475 for each of two people sharing a room. Reserve after Nov 30 – $5750
Single Supplement is $1495
KNOW SOUTH INDIA (20 – 27 January):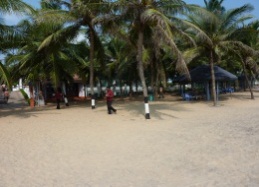 Reserve up to Nov 30: From Mumbai – For each of two people sharing a room – $2475. Reserve after Nov 30 – $2600
Single Supplement is $1095
The tour will leave from Toronto. We have low cost airfares for flights to/from Toronto. Please ask us about them. Please see the Know the World website www.knowtheworldtours.com and click on "Exotic Tours Abroad" for the full brochure and a reservation form. (Don't be surprised by the OB/GYN title on the tour – some of your fellow tourers will be attending a OB/GYN Conference in Mumbai during the trip.)
If you have any questions by all means contact the Tour Director, 5758 Mike Morres, at mfmorres@shaw.ca or 1-250-592-8897, or call KTW's Toronto office at 1-800-554-9754 and speak to Paul or Bill.
 ____________________________________
We are always on the lookout for ex-Cadets to add to our Class Notes section. If you are or if you know of an Ex Cadet with something interesting going on, we want to hear about it! Whether it's career related or more on the personal/family life, we would like to know what's going on with you and / or them.
Just send a short write up, and, if you want, a recent JPEG appropriate photo, to: everitas.classnotes@gmail.com.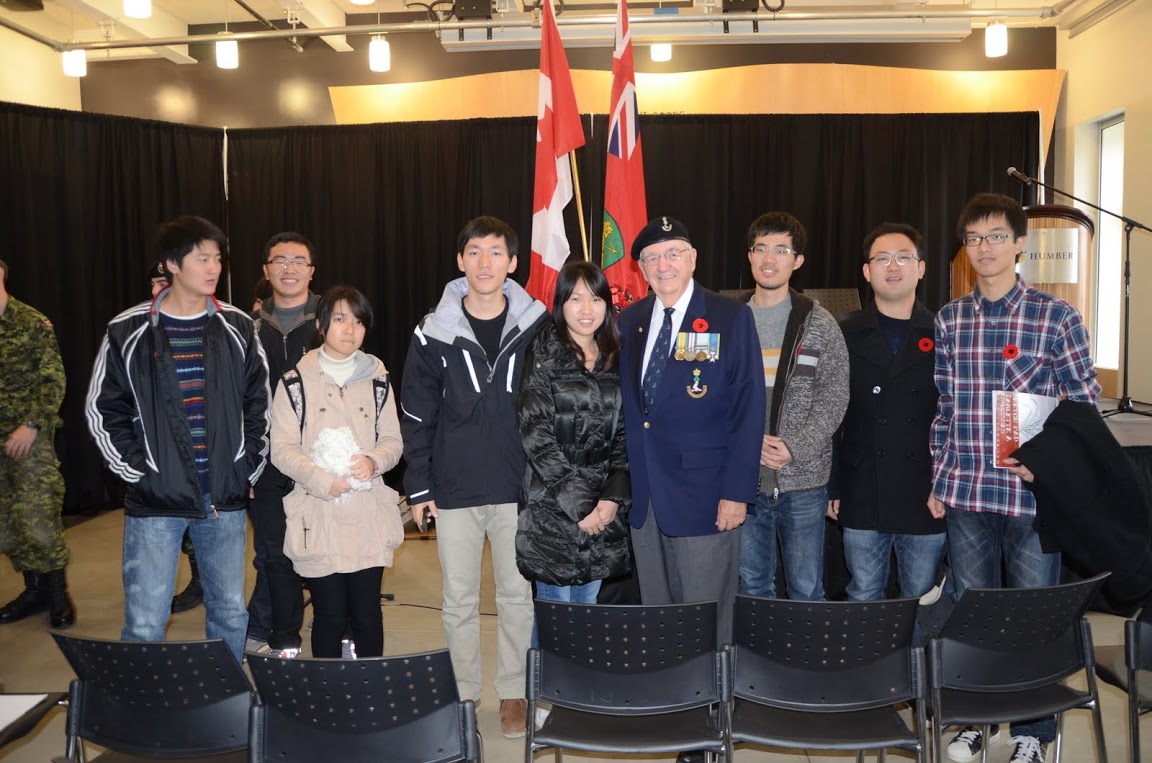 3201 Austin (Aus) Cambon, Class of '54, was at two ceremonies for Remembrance Day a couple of weeks ago. The first was on the Friday prior, at the Humber Institute of Technology and Advanced Learning in Toronto, where he still teaches. Many of his International Business students from China attended the ceremony after he discussed the Battle of Hong Kong with them (his late brother was a rifleman in that battle and spent 44 months as a POW of the Japanese Imperial Army). On Remembrance Day he was on parade in Oakville, Ontario, with the Royal Canadian Legion, the Royal Scots regimental pipe band, veterans, sea cadets, air cadets, army cadets, RCMP officers, and many others, including one First Year RMC Cadet in Scarlets, home for the weekend. He was asked to march with the Scarlet-clad Mounties! Said Cambon, "I am encouraged by the increased interest in Remembrance Day. Let's hope this enhanced level of interest prevails in to the future. Lest We Forget."
7004 Rick Hinton, Class of '66 – Earlier this year, Rick graduated from Argosy University of Sarasota, Florida, with the degree of Doctor of Business Administration in international business. Rick's obviously the poster boy for life-long learning! He and his wife, Glenda Everett, have moved to Victoria where Rick has accepted an Associate Professor position in the core faculty of Royal Roads University as "Intellectual Lead" (department head) in Finance. From Royal Roads to Royal Roads in only 50 years. Glenda has transferred from the Edmonton Garrison to CFB Esquimalt, where she is now a Strategic Advisor in Civilian HR Management. Rick and Glenda moved into their new house on Bear Mountain in August and are trying to get used to the fact that the snow in Victoria comes in liquid form – not the way it did when they lived in Edmonton. (Rick.Hinton@royalroads.ca)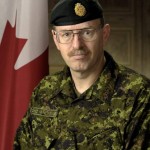 12630 Achim von Wiedner, Class of '81, has been posted to various Army, Navy, and Air Forces Bases coast to coast with positions in Command, Operations, and Human Resources. He has been deployed to the Middle East three times. The first time as the Adjutant of the Canadian Contingent United Nations Middle East on a seven month peace-keeping tour of duty with the United Nations Disengagement Observer Force. The second time he was posted to United Nations Truce Supervisory Organization, Jerusalem as a United Nations Military Observer for a 13 month tour of duty. His last deployment was as the Operations Officer of Task Force Golan on a seven month peace-keeping tour of duty with the United Nations Disengagement Observer Force.
In July 2010 he was posted to CFB Edmonton as the Base Administration Officer/Officer Commanding Personnel Company. In May 2011 he was assigned the duties of Deputy Base Commander. In addition to his duties of running the base he is involved in transforming the Area Support Group HQ, and the Area Support Units into the Area Support Base Edmonton for the standup of 1 April 2013.
This Spring he is anticipating a posting to Vancouver which will set him up for retirement in the Fraser Valley. (ACHIM.VONWIEDNER2@forces.gc.ca)
13647 Tim Larson, Class of '82 – A former Army intelligence officer, Tim spent most of his career with the Communications Security Establishment (CSE) of the federal government, from which he retired four years ago as a Director. Since then he has been managing a rental real estate business owned jointly with his partner Sylvie (who is a Defence procurements manager), consulting periodically with CSE on governance issues, renovating houses, and motorcycling as often as possible. This coming May he and Sylvie will be married – both of them for the second time. Between them they have three children: Nick, an electrical engineer and ENGR Captain; Alex, assistant manager of a Gatineau restaurant; and Karine, who is pursuing a Masters' degree in psychology. (t.larson@rogers.com)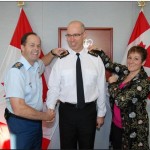 14240 RAdm Patrick Finn, Class of '84 – The CDS 12192 Gen Tom Lawson promoted Cmdre Patrick Finn, Acting Chief of Staff Materiel Group to the rank of Rear Admiral. Along with the promotion comes confirmation of his appointment as Chief of Staff Materiel Group. He holds a Bachelor's degree in Electrical Engineering, a Master's Degree in Business Administration and a Master of Arts in War Studies. He is a graduate of the Canadian Forces Command and Staff College and completed a fellowship in international studies at the Royal College of Defence Studies in London, England. RAdm Finn's naval career spans three decades and he has extensive experience in leadership and management in the domain of materiel readiness for ship operations and in complex project management. Up until his appointment as Acting Chief of Staff Materiel Group in August 2012, he was the Director General Maritime Equipment Program Management. RAdm Finn was joined at the ceremony by his wife Anne. In response to congratulations offered by some of the Department's senior leadership, RAdm Finn said "I am honoured by the trust people have placed in me and my being here is a reflection of everyone who has mentored me and the great people I have worked with".
Dans le cadre d'une cérémonie qui s'est déroulée aujourd'hui, le CEMD 12192 le Gén Tom Lawson a promu le Cmdre Patrick Finn, Chef d'état-major du Groupe des matériels par intérim au grade de Contre-amiral. De concert avec cette promotion, sa nomination en tant que Chef d'état-major du Groupe des matériels a été confirmée. Il détient un baccalauréat en génie électrique, une maîtrise en administration des affaires, et une maîtrise en études de guerres. Il est diplômé du collège d'état-major et de commandement des forces canadiennes, et des études en relations internationales au "Royal College of Defence Studies". La carrière du Cam Finn au sein de la Marine compte plus de trente ans et il possède une vaste expérience en leadership et en gestion dans le domaine de la disponibilité du matériel pour les opérations des navires et dans la gestion de projets complexes. Avant d'être nommé Chef d'état-major du Groupe des matériels par intérim au mois d'août 2012, il a occupé les fonctions de Directeur général- Gestion du programme d'équipement maritime. Le Cam Finn était accompagné à cette cérémonie par son épouse Anne. En réponse aux félicitations de lui ont offert certains cadres dirigeants du Ministère, le Cam Finn a mentionné "Je suis honoré par la confiance dont font preuve les personnes à mon égard, et ma présence parmi vous est un reflet de chaque personne qui m'a guidée et de tous les gens fantastiques avec lesquels j'ai travaillé".

16132 Don Perrin, Class of '87, is a Canadian writer and former military officer. Born in Iserlohn, Germany, Don grew up in Kingston, ON, McMasterville, QC, Bromley, Kent, England, and Ottawa.
Perrin served in the Canadian Corps of Electrical and Mechanical Engineers, in the Canadian Department of National Defence. Perrin acted as an advisor for Margaret Weis on the final Star of the Guardians novel, Ghost Legion (in which he also appears as a character). Don & Margaret co-authored the Mag Force 7 novels. Perrin is also a contributor to the Dragonlance novels associated with Advanced Dungeons and Dragons.
Don Perrin, Michael Cosentino and Kathyrn Plamback purchased the two US wargaming magazines. More on Don Perrin – http://www.amazon.com/Don-Perrin/e/B000APCIZK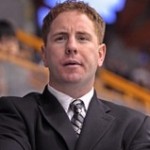 24045 Luke Pierce, Class of '08, was in Calgary recently doing a camp with Hockey Canada while there he had a good visit with Mike Bruni, Chair Hockey Canada. Mr Bruni is also the father of 22872 Jesse; 23427 Amanda; & 23988 Gino.
Luke is the General Manager / Head Coach with the Merritt Centennials; the team is doing quite well – at the time of the writing they stood in second place in the British Columbia Hockey League (Jr "A").
Luke credits his RMC experience for some of the team's accomplishments. "A lot of our success comes from the things I learned at RMC and the discipline we instill in our players and teaching about the character required to have success."