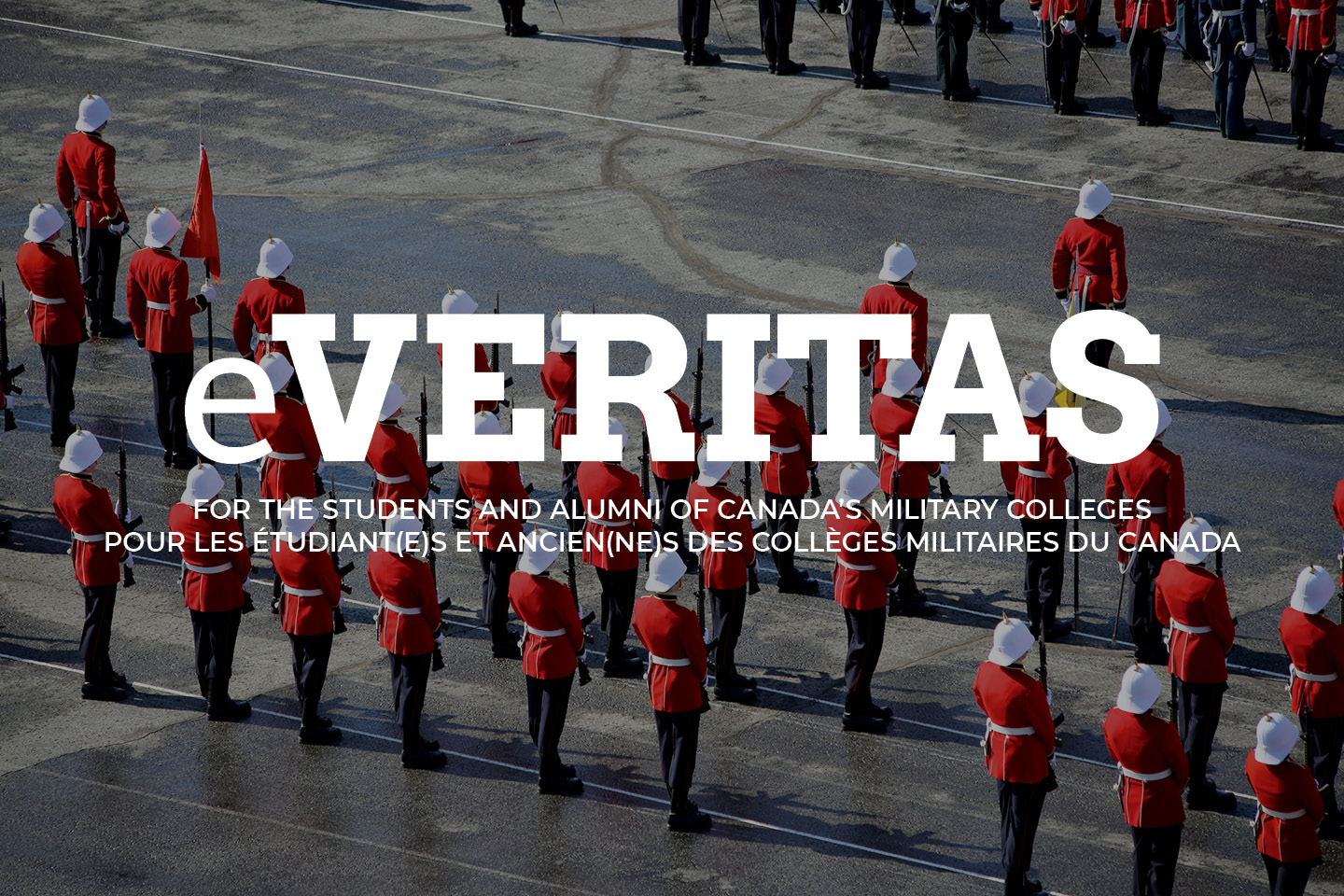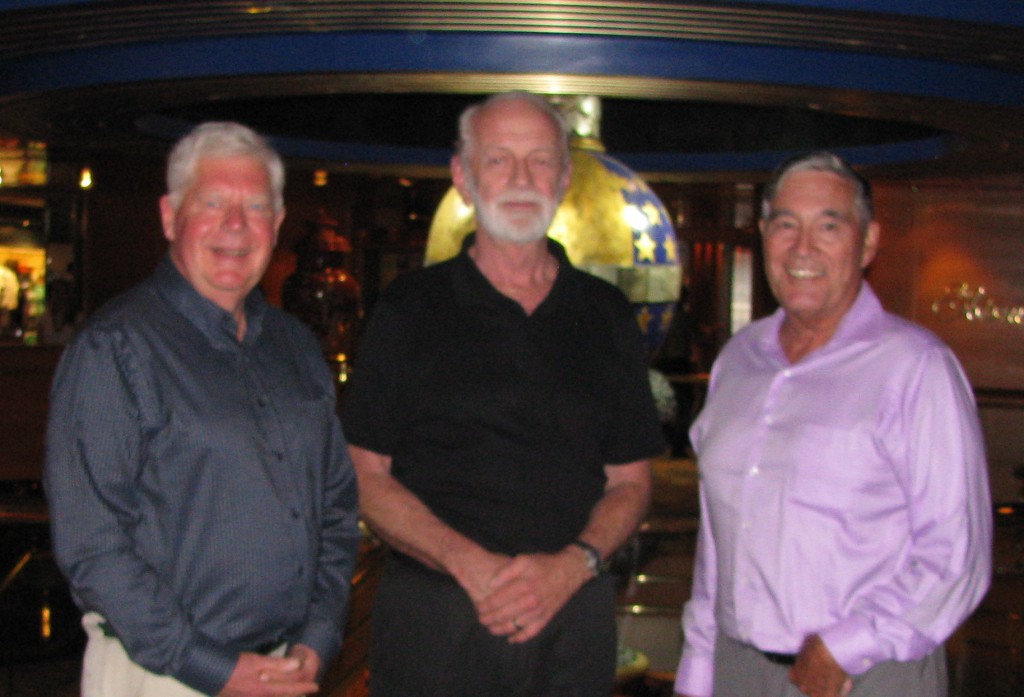 Small World – 5611 Gerry Stowe, Class of '62, 6715 Yvan Gagnon, Class of '65 and Dr. Roy Boness, former prof in Mech Engr at RMC, meet during a cruise from Singapore to the Netherlands in MS Rotterdam. The photo was taken during transit of the Red Sea.
We are always on the lookout for ex-Cadets to add to our Class Notes section. If you are or if you know of an Ex Cadet with something interesting going on, or you just want to put yourself out there for old friends to find, we want to hear from you! Whether it's career related news or something more related to personal/family life, we would like to know what's going on with you and give you a chance to reconnect with former classmates.
Just send a short write up, and, if you want, a recent JPEG appropriate photo,to: everitas.classnotes@gmail.com.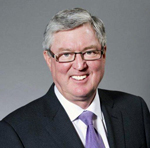 5846 Peter Watson, Class of '63, is Chairman of the Board at SCM Insurance Services. He has held numerous Board positions in publicly traded, private, public sector and NFP corporations in a number of industries including insurance, mining, oil and gas, aviation, technology health care and government, and he is also a Director of the Institute of Corporate Directors. Prior to becoming fully engaged as a Corporate Director, Peter was President and CEO of Willis Corroon Melling Ltd. He lives in Edmonton.

10238 Ron Guidinger, Class of '74, currently serves as a TEC Canada Chair. He spent seven years as Vice-President and General Manager of the Services and Support Division with Raytheon Canada, and from 1998 to 2004, as the Senior Program Manager for Command, Control and Communications (C3) Systems for General Dynamics Canada. He served 28 years in the RCAF as a fighter pilot and senior officer, and flew 12 combat sorties in the CF18 Hornet during the 1st Gulf War. He was named the Honorary President of the Air Force Association for Alberta from 2005 to 2010 and is currently the Honorary Colonel for the 419 Tactical Fighter Training Squadron in Cold Lake, Alberta. Living in Airdrie, Alberta with his bride of 36 years, Cindy, Ron is the proud father of Nicole and Chloë and grandfather to Madison and Gabriel.
13605 Greg Caws, Class of '82, is currently serving as the Vice President of Technical Operations at InboundWriter, where he is responsible for managing the product development and technology operations teams.. Prior to that, he led the team that designed the telecommunications and information technology infrastructure for Vancouver's successful 2010 Olympic bid. Outside the office Greg is an avid skier and kiteboarder. He particularity enjoys sailing in the Bahamas with his family.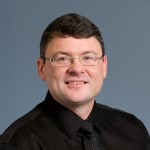 17604 Randy Peckham, Class of '91, is the Founder of IDS Systems and has been spearheading the organization since its inception in in 1995. In addition to providing strategic direction, he is the Senior Technologist within the organization. He has been assuming various consulting roles since 1996 and continues to service clients in this capacity.As a strong leader, Randy ensures that his team of professional resources are properly selected and supported and that client deliverables meet or exceed required standards.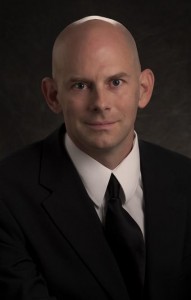 17431 Stephen Boyne, Class of '90, is the Head of the Individual Behaviour and Performance Section at Defence Research and Development Canada (DRDC) Toronto. He retired from the Canadian Forces in 2010 after 23 years of service, 18 as an Infantry Officer and 5 as a Bioscience Officer. His military career includes employment with 3PPCLI, at the Land Forces Western Area Training Centre, as a project officer in the Director of Land Requirements and in a number of positions at DRDC Toronto.
Upon his retirement from the CF he became a civilian employee of the Department of National Defence in his current position. His research interests include spatialized audio and situation awareness and the human factors aspects of small arms. He also has extensive experience with field experimentation. He has provided Human Factors input to a number of military acquisition projects and several major research projects. He has served as Canada's Human Factors representative on a number of NATO and TTCP panels and workgroups. He is currently filling the role of Acting Deputy Director General for DRDC Toronto in addition to his section head position.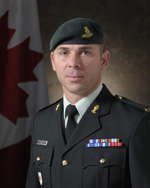 19167 Greg Ivey, Class of '95, is the Commanding Officer of the 2nd Regiment, Royal Canadian Horse Artillery. He deployed to Kandahar Province, Afghanistan, with the 1RCR Battle Group as part of Task Force 3-06 with E Battery, 2 RCHA, where he was awarded the Distinguished Service Medal for his role in Operation Medusa. He completed the Joint Command and Staff Programme, Toronto, in 2009-2010 and was immediately posted to the Canadian Forces Counter-IED Task Force in July 2010 to lead strategic level Attack the Network activities with other government departments. He took command of 2 RCHA in November 2010.
He is an avid hockey and rugby player, and he enjoys a number of hobbies including guitar and photography. He is married to Joanne and is the proud father of three children: Grayson, Jenna and Jillian.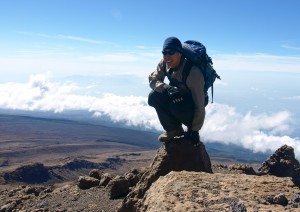 23140 Chris Dare, Class of '05, is in the process of climbing the "7 Summits", the highest peak on each continent. To date, he has completed Kilimanjaro in Africa, Elbrus in Europe, Denali in North America, and Aconcagua in South America. Dare plans to summit Carstensz pyramid in Oceania in the summer of 2013, Vinson in Antarctica in 2014, and finish off with Everest in 2016. As of March 2010, there have been less than 300 climbers who have accomplished this feat and only 7 Canadians. To be able to stand amongst the world's great would be an incredible honour, Dare says. He only hopes that he can live up to their standard and hopefully motivate others around him to do the same.
He spent his first 6 years as an Army Signals Officer and is now studying to become a dentist at the University of British Columbia for the forces.  Military life has kept him on my toes and he's had the opportunity to train and travel all across Canada and the United States.  In 2009-2010, he deployed to Kandahar Province, Afghanistan for a 10 month deployment.