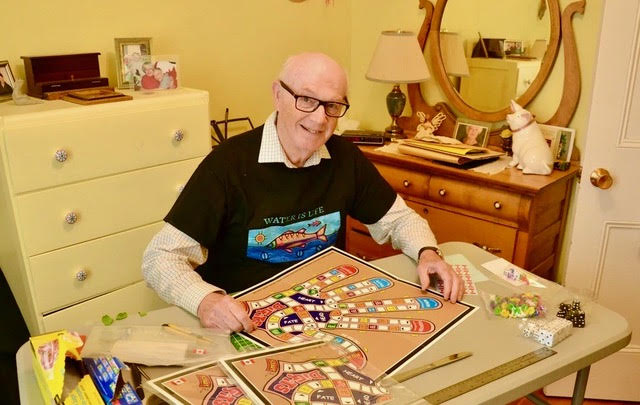 Article submitted by 5472 James Colbeck, RMC Class of 1962
On Saturday, October 22nd, Class of '62 alumnus James 'Jim' Colbeck launched a new board game he had created during the previous six months. The launching took place at the Stratford Farmers Market. Well tested to the delight of all who became involved in the trials,
 DIGITS
 was actually inspired by a Grade 9 art project  James had assigned his students while an art teacher in Yarmouth, Nova Scotia back in 2004.
James' students were to work in pairs. When they finally submitted their assignments, one design in particular caught his eye: the outline of a hand with only a few squiggles on it. The creators of that piece were two boys who, to be fair, had no interest in being in an art class, but had ended up there because they definitely didn't want to take music. That evening, James took their project home and quickly sketched out a fun adaptation of their concept to illustrate how, with a little more brainstorming and a sense of fun, they might have presented something more workable and significant. James' design was based on the children's rhyme, This Little Piggy Went To Market.
James put his sketch away in his portfolio and was not to see it again until he and his wife moved back to Ontario from Nova Scotia in 2009 to be closer to their six grandchildren. Coming upon it by accident one day in their new apartment in Stratford, James decided to ask his family to try THIS LITTLE PIG out. The result of that one game? "This sure needs a lot of work, Grampi." James put it away, hoping one day to get back to it. At that time he was heavily immersed in completing his first adventure novel, THE GREAT PEANUT CAPER.
It wasn't until six months ago while thinning out his portfolio that James came across his sketch again, liked what he saw, and became excited about its possibilities, using that same theme. However, fast forward to three months ago when James was discussing the game with his sister-in-law. After mentioning the  rhyme and how it was the inspiration for his work, she remarked, "But James, that piggy rhyme was played on the toes of a baby, not fingers, with the line 'This little piggy went wee wee wee all the way home' used to tickle the baby's tummy up to its chin… ."  Out with the pigs. In with fresh ideas.
Creating a new layout for the game, James had the challenge of finding a firm in Stratford which could photocopy his black-and-white ink drawing. He was referred to an engineering firm which was delighted to make numerous copies at no cost to him. Hand colouring them, he then located various individuals and a board game club who agreed to test the game, on the understanding their criticisms and suggestions would be welcome. He was not disappointed by the generous input he received to modify both the board layout itself and the RULES. IT was only when his daughter-in-law in London remarked while playing the game with James and Lori that her father would enjoy streamlining the game on his computer. Doug (Connelly), now retired, had spent the past 35 years as a computer graphic designer with Atomic Energy Canada in Deep River. When asked if he'd like to join the family in developing this game ready for the public, he committed to it without hesitation. James joined him in his studio in Deep River for five uninterrupted hours to fine tune what he had already completed over many earlier hours prior to their get-together.
This game – "
S

imply for the fun of it
" – is a dice game (no cards (chuckle)) to be enjoyed by the whole family (5+) any time , anywhere. James' wife Lori created the game's name – 
DIGITS . 
Here's the board. 
 Two sizes  of DIGITS are now available: the regular 18" x 18" size for up to 6 players and the travel/stocking stuffer/ smaller 11" x 11" size. (James recalled the pleasure he experienced through the years when his parents game him a set of miniature playing cards or a pocket cribbage or checker board to take camping. As regular campers, the Colbeck family still enjoys playing board games together whenever they get a chance to camp.) All are packaged in waterproof Ziploc-styled storage bags and come with a pair of dice, player pawns, and the 
RULES
. As James' youngest daughter, a keen games player, remarked, "The way you're packaging these, Dad, the game can be stored in any other game box, saving on extra packaging."
A number of this game are already 'out the door now'. One in particular means much to James. The wife of a gentleman coping with early onset Alzheimers learned at a workshop that new games can enhance the quality of life for people like her husband. She called James after reading about this game in the Stratford Beacon Herald. Other games have already found their way to schools. And a few others have already been mailed to interested 'shoppers' east and west. A good start for what is hoped will be a source of considerable fun, excitement, surprise and reward for many.