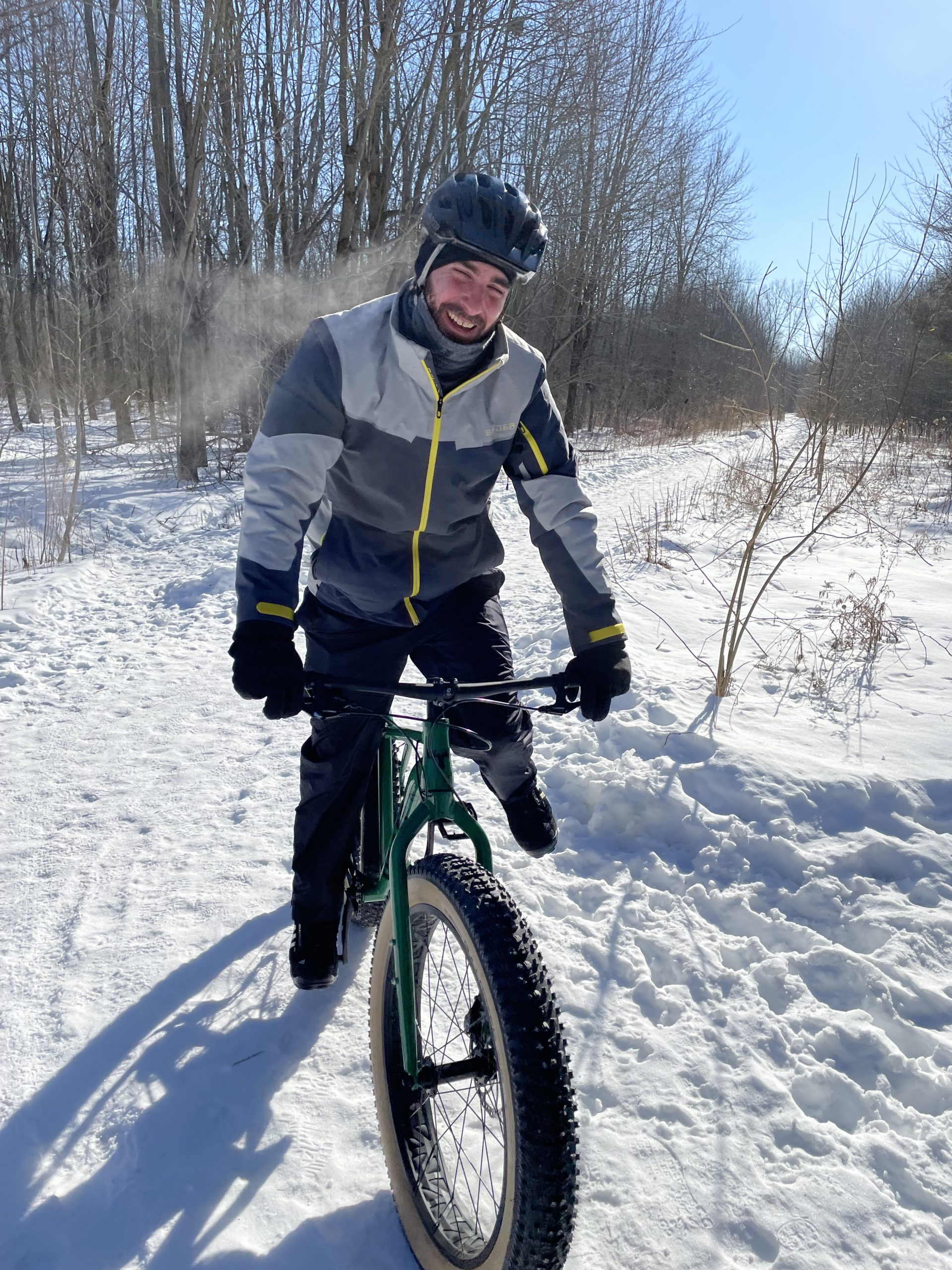 Auteur Élève-officier Dérick Dupuis, 1e année sciences humaines, CMR Saint-Jean
Le club de vélo du CMR Saint-Jean a été fondé au cours de l'année académique 2021-2022. Durant cette année, les efforts du club ont été consacrés à l'acquisition de matériel d'entretien qui sera mis à la disposition des membres du club. L'initiative vise à offrir aux membres un endroit où entreposer leurs vélos et les entretenir avec les outils adéquats. À cet effet, le club travaille à la mise sur pied d'un cabanon qui permettra de rendre le tout possible à partir de l'année académique 2022-2023. Le club souhaite promouvoir l'activité physique, le déplacement actif et les saines habitudes de vie au sein du CMR Saint-Jean.
Au cours de l'année académique 2022-2023, le club de vélo prévoit plusieurs activités, tel que : une ou des sortie(s) à Bromont pour pratiquer la descente de vélo de montagne, une sortie au Groupe Plein Air Terrebonne (GPAT) et/ou une sortie aux pistes de crosscountry de Chambly pour aiguiser les compétences des membres sur les parcours techniques, la tenue de séances de formation pour l'entretien des vélos et des sorties sporadiques en groupe sur la Route verte le long de la rivière Richelieu.
De plus, le club est en mesure d'accommoder les membres ne disposant pas de vélos. Ceux-ci pourront participer aux activités de vélo de route grâce aux vélos qui sont disponibles pour des emprunts au magasin des sports du CMR Saint-Jean.https://www.rmcalumni.ca/en/
Merci à L'Association des Ancien(ne)s des CMR qui a permis au club de voir le jour et de se développer : https://www.rmcalumni.ca/fr/
---
RMC Saint-Jean's Bike Club was created during the 2021-2022 academic year. Throughout that year, the club's main line of effort has been oriented at purchasing maintenance equipment. The initiative aims at providing the club members with the necessary installations and the specialized tools to store as well as maintain their bikes while staying at RMC Saint-Jean. To that effect, the club is currently working towards securing and setting up a shed to make all of this possible for the academic year 2022-2023. The club wishes to promote physical activity, active transportation and healthy lifestyle habits at RMC Saint-Jean.
Looking forward for the academic year 2022-2023, the bike club is planning many activities, such as one or more activity day at Bromont for downhill mountain biking, a day at Groupe Plein Air Terrebonne (GPAT) and/or a day on Chambly's cross-country trails to hone members' skills on technical paths, formative courses on bike maintenance and sporadic rides along the Richelieu River on la Route verte.
Furthermore, the club will be able to accommodate any members without a bike, as they will be allowed to participate in the activities by borrowing one of the available bikes from RMC Saint-Jean's Sports Store.
The club was created and has been developing thanks to the RMC Alumni Association's support: https://www.rmcalumni.ca/en/