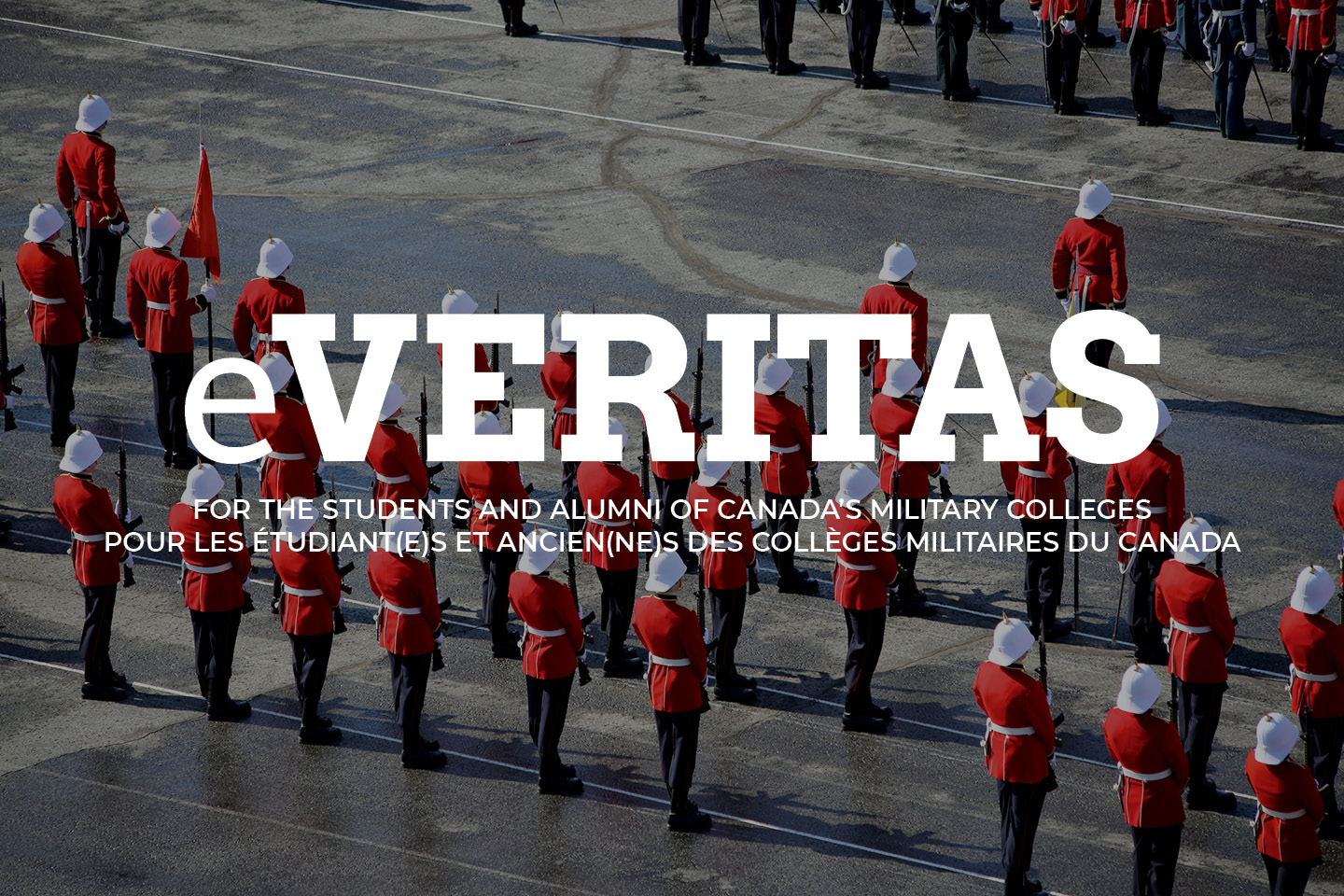 xx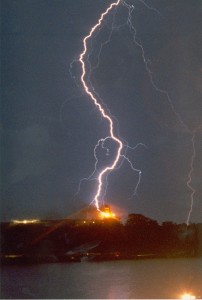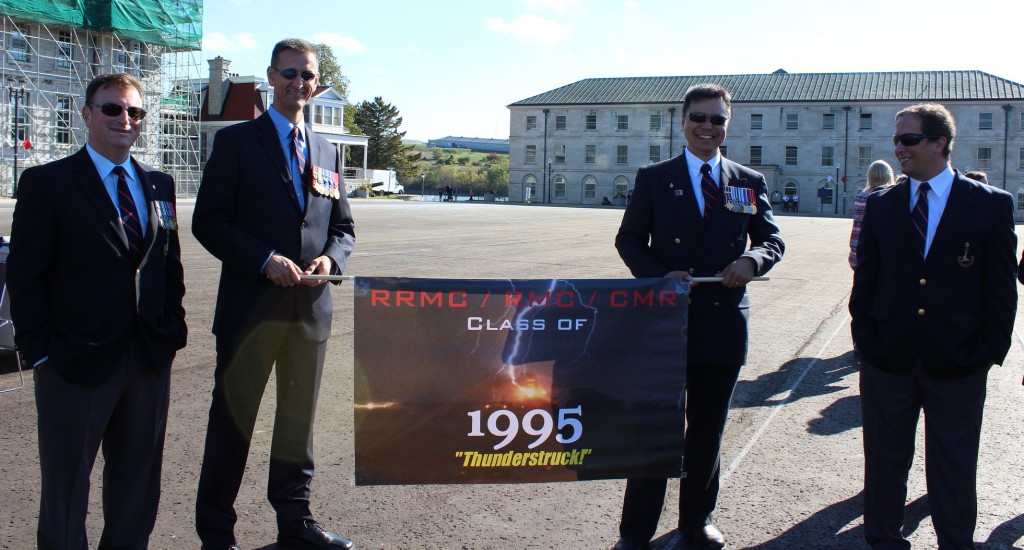 xxxx
RRMC – RMC – CMR – Class of 1995 – 20 Year Reunion – Thunderstruck (again), Energized, and Still Going Strong
By: Carol Wilkins, 19854, New Class of 1995 Secretary
As with the college itself, the RMC Class of '95 is getting better with age; although, not necessarily more serious, thankfully. Our 20 year reunion weekend was filled with RMC and Class of 1995 organized events which made for excellent venues and wonderful opportunities for classmates to gather. All in all we had an excellent turnout as over 90 classmates (including family members) took the time and expense to make it to our class reunion.
MORE…
Some travelled from across Canada (Winnipeg, Calgary, Nova Scotia etc.) and others from many locations within the United States (Boston, Washington etc.). All of those who came out to the multiple social events enjoyed recounting and embellishing some of the less graceful moments of our time at the college including: midnight pranks/larks, wardrobe malfunctions, roommate wars, general hooliganism and the assorted classroom antics. This flowed naturally into conversations about what we have been up to since our college days, such as discussions of our families, accomplishments, milestones, promotions, postings, recent retirements and growing business ventures. That sense of belonging and support for each other was strong through the whole weekend. The common thread that united us all was RMC and the events that shaped us and bonded us so many, many years ago. It is impressive the number of classmates that saw fit to make the trip to Kingston in order to re-connect with their college brothers and sisters. This speaks to the ethos of our classmates as well as to the impact that RMC had on all of us. Our class also has the distinction of being the last class of the 3 Military College (University) System as our sister colleges of RRMC and CMR were closed after our graduation. As such, we collectively celebrate reunions with all milcol classmates.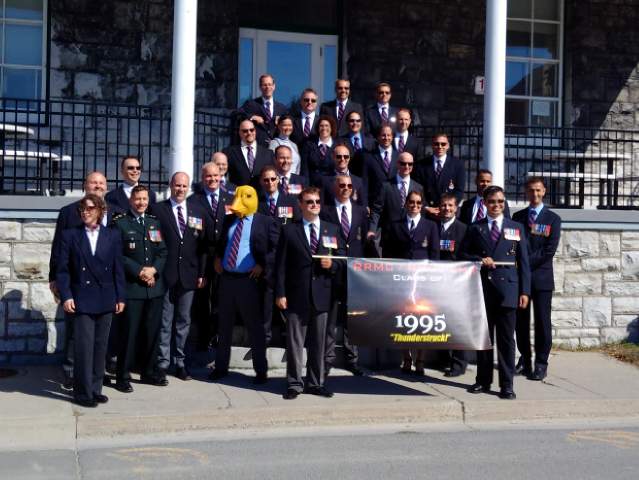 RMC Class of 1995 Photo
In terms of weekend events, Friday's Obstacle course and Saturday Parade offered us a chance to tour the college which was full of surprises for many of us. The new buildings, dorm improvements, additional security and the construction work covering large areas of the academic and administrative buildings was a welcome sight. Some could still remember the treks at daybreak to adjacent buildings for either a hot or a high pressure shower; rarely both. The changes in uniform were also noted as each tried to remember exactly what headdress we wore with our #4s so long ago and if it had a chin strap or not. The overall sentiment was one of curiosity and optimism that there were significant efforts and investments being made in order to preserve the heritage of RMC.
Class of 1995 in front of Renovations of MacKenzie Building
In terms of social events, Friday evening the class gathered for an informal (re)meet and greet at the Brew Pub.  Judging from the decibel levels, a good time was had by all.  It was a great venue and a chance for classmates to mingle, re-connect and catch-up on each other's lives.  There are also tales that some classmates re-enacted their soirees from their university days by ending up at Bubba's very late into the evening… Also present that evening was classmate Brian Macdonald, 19874, MPP for New Brunswick.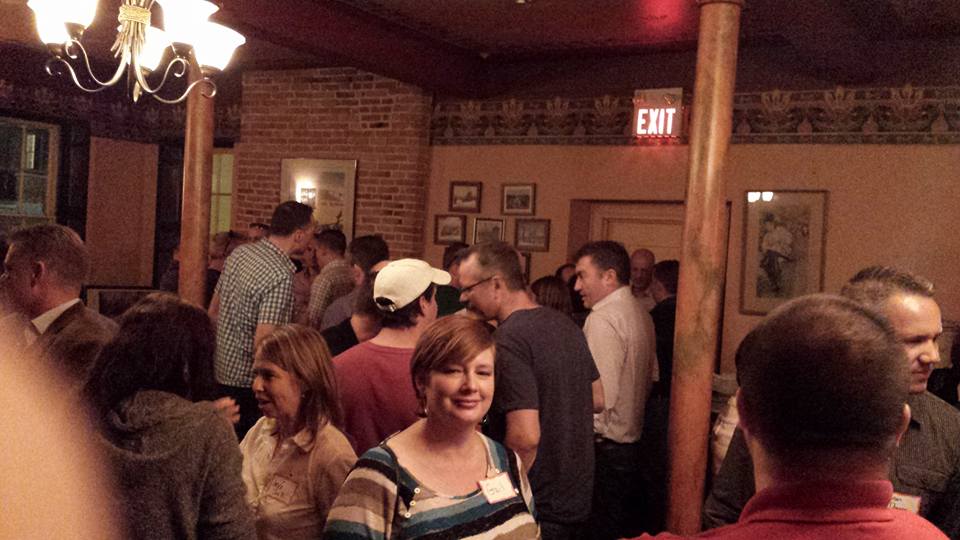 Meet and Greet at the Brew Pub – Friday evening
Saturday evening was by far one of the crowning moments in our reunion weekend with over 85 friends and family in attendance at a dinner at Megalo's Restaurant in downtown Kingston.  We had an excellent meal and the staff paid attention to the smallest of details.  We also had a piper that piped in the port after our meal.  This was the opportunity to raise a glass and toast to our fallen comrades (and their families) who paid the ultimate sacrifice in their service to Canada; in particular, Chris Saunders, 19755, Miles Selby, 20052 and Juli-Ann MacKenzie, 20054.  We also raised a toast to the passing of our honourary member, Roland Selby 5518 class of 1962, the father of Miles Selby.  A toast was also raised for our classmates and their families that were absent due to personal commitments and obligations.  Lastly, we toasted the friends and families that were present there that night – no small task for some. Also present was classmate, the Honourable Minister of Veterans Affairs, Erin O`Toole, 19894. All in all it was a great evening by the best of standards.
The parade on Sunday was incredibly well attended by the Class of 95 as our classmates comprised most of 6 Squadron.   Some may recall that in August of 1991, during the RMC Recruit Term, the Clock Tower in Mackenzie Building was struck by Lightning and caught fire. As a fitting tribute, Major Joe Nonato, 19892 created this banner to commemorate the event which the class carried proudly throughout the parade. The list of Fallen Comrades in Arms during the ceremony at the Arch hit many of us close to home, with some of the college numbers greater than our own and many reflecting the very real contribution of ex-cadets in our generation.  We also had a class meeting on Sunday after the parade whereby we discussed a host of issues and primarily talked about how to give back to the college.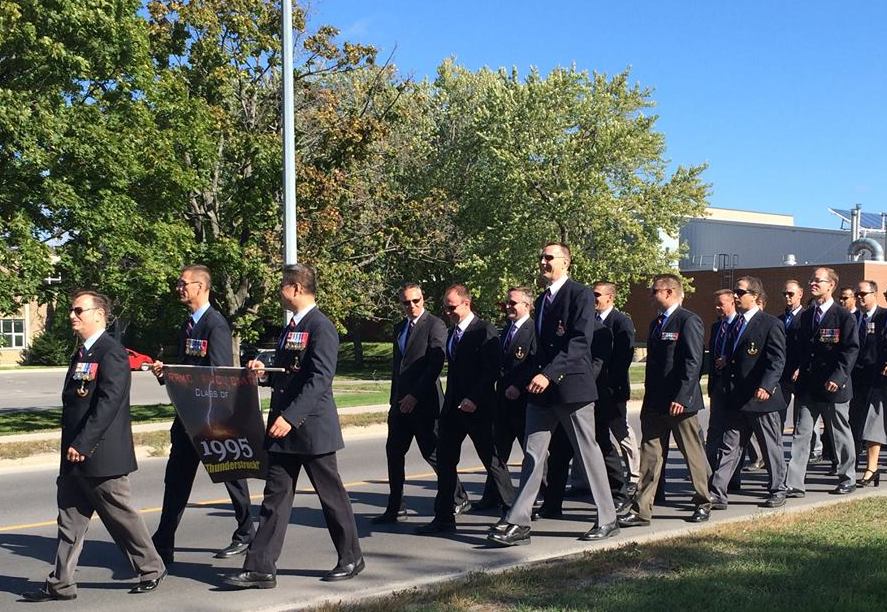 6 Squadron on Parade on Sunday – Class of 1995 Leads the Way…
Reunion weekends of this nature do not materialize without the very real efforts of many individuals.  Our class would like to thank the RMC Foundation and RMC staff for hosting such a great weekend.  In terms of the Class of 1995, the primary organizer of the reunion weekend was our Class Secretary for the past 15 years, Dr. Nicholas Vlachopoulos, 19930. He organized the accommodations, class venues, created the events, booked the facilities, advertised/communicated continually and 'herded the cats' or classmates etc. This planning spanned many months, booking venues years in advance. We certainly owe a debt of gratitude to him for his efforts – and his efforts most certainly paid off seeing how successful and enjoyable the weekend was.  Others within the Class or 1995 that have contributed throughout the years are:  Michael Roach, 19909, who has been instrumental in keeping up the class website (http://rmc95.com/) as well as the Facebook site  (https://www.facebook.com/groups/RMC.CMR.RRMC.1995/ ). Ken Falkner, 19825, has also been supporting the Class of 1995 in the capacity of treasurer. Myself, I have accepted the baton to take on the Class Secretary role for the next few years and am looking forward to contributing in this role and interacting with my classmates.  Thank you to Nicholas for his contributions over the years; the class was certainly in the best hands.
The next few years there will be different challenges and transitions for all of us; further retirements from the military and starting new careers for some, children leaving home or heading to their own University experiences. It`s certain that we'll continue to meet these challenges with the same enthusiasm I remember from all those years ago…and the continued lack of seriousness, I hope!  Planning for the next reunion has started. We`ll see everyone in 5 years' time… keep well and TDV.