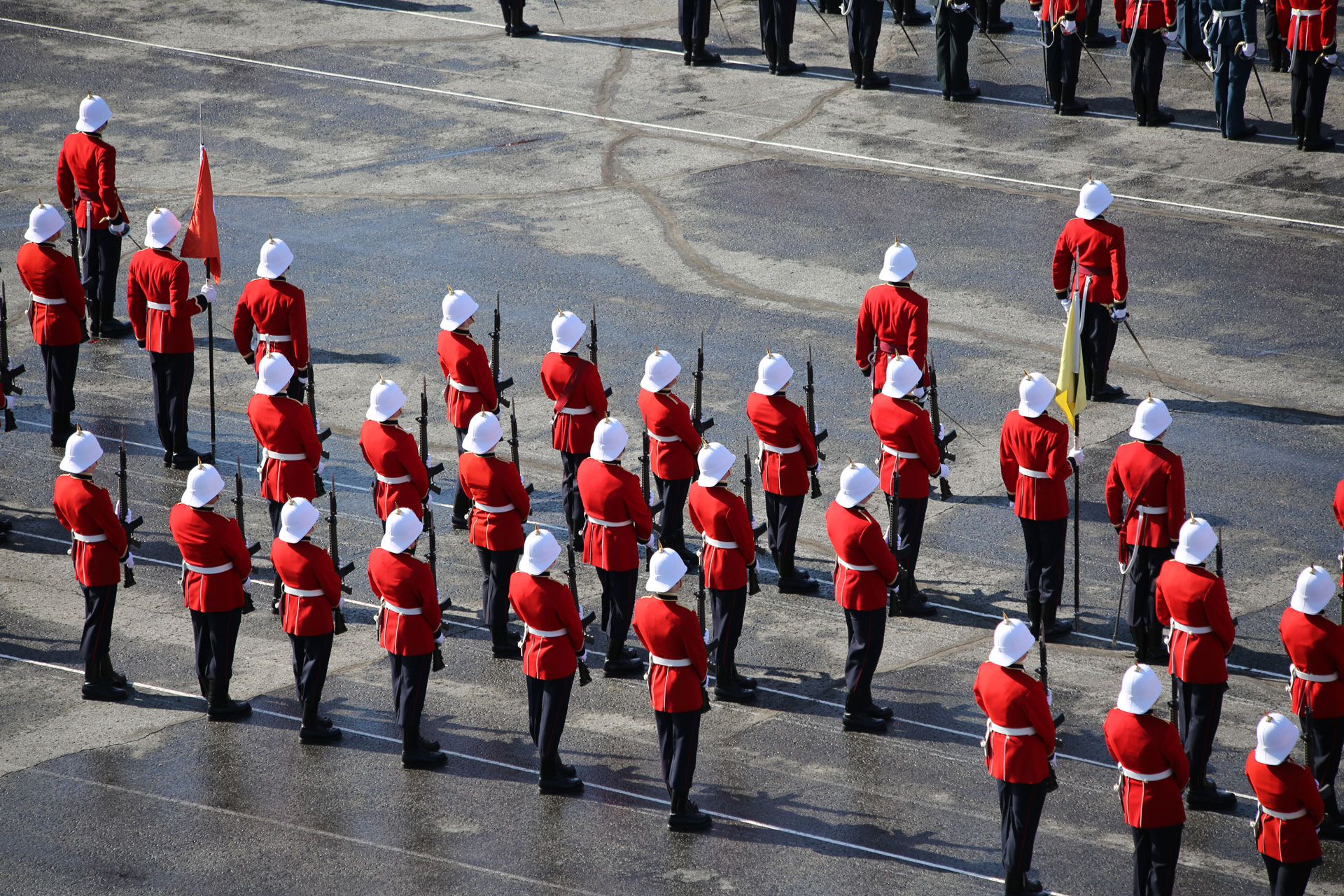 "…I often had the class strip off to the waist. We only wore trousers or shorts during physical training. The Lieutenant, who was responsible for drill and physical training, advised me that the instructor should keep his shirt on to ensure I stood out clearly as the instructor…"
George Lilly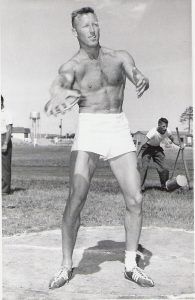 Q. Where and when were you born? Where did you spend your youth?
A. I was born on 21 Jan 1930 in Feilding, North Island, New Zealand and came to Canada in Sep 1930. I grew up and went to school; played sports, attended the YMCA in Kingston, Ontario.
Q. What are your first recollections of RMC, in general and cadets, in particular?
A. During the 1930's I would see RMC cadets downtown Kingston and was always impressed with their military bearing. I remember watching a football game in 1939 between Queens and RMC at the old George Richardson Stadium( Union & Alfred Sts.) and an RMC cadet who had a broken his finger which was dangling over the back of his hand came running off the field in a very erect military bearing regardless of his painful injury.
Q. What were doing in the Army prior to your posting to RMC?
A. Just prior to being posted to RMC, I spent 3 years at the Army School of Physical Training, Camp Borden training students to become Unit Assistant Physical Training Instructors 1955 to 1958. During that time in Borden I was involved with the Canadian Army Gymnastic Team at two Canadian National Exhibition Grandstand Shows, 1955 with Ed Sullivan as MC and 1957 with Bob Hope as MC, The Jackie Ray TV show, The Canadian National Winter Fair Exhibition and various Ontario Fall Fairs.
Q. When and what do you remember about your arrival at RMC?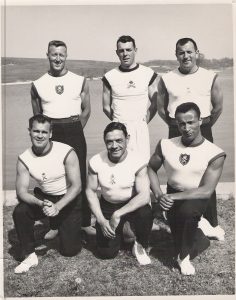 A. I was posted to RMC May 1958 as a newly promoted Staff Sergeant, 28 years of age. When I think back, the cadets must have thought "where did this guy come from". As an army instructor we were Physical Training Instructors (PTIs) and the emphasis was on training and discipline, not on education as it is to-day. I and some of my contemporaries were trained at the British Army School of Physical Training, Aldershot, England. My tour at RMC was my first experience on a Tri- Service Staff. It was a wonderful experience for me with our PT &Drill Officer, Lt(n) Stew Schakell, CPO Ray Ellison, PO Joe Perron, F/Sgt Bill McAllister,and Sgt Dave Upshaw.
Q. What your position while at RMC?
A. Having been exposed to Olympic Style Gymnastics while at Camp Borden I became the College Gymnastics Coach and through the good grace of Lt(n) Schakell the College purchased new Olympic standard equipment for us to train on and eventually compete in some local meets. I also coached the Track and Field Team, taught swimming, & boxing.I considered my time at RMC 1958 to 1962 as a very rewarding time and I trust I had a positive influence in helping to form some good character qualities in a few cadets at least.
Q. What was the standard of dress during physical training? What happened if it wasn't followed?
A. In the Physical training classes, the cadets' hair was to be combed. The cadets wore white shorts or pressed blue trousers, a clean white short sleeve singlet (t-shirt) with trim on shoulder and blue belt with a snake hook buckle, shiny clean white running shoes. If the standard of dress wasn't followed, we gave them heck and wrote a chit for the Squadron Officer.
As was common for army physical training instructors, I often had the class strip off to the waist. We only wore trousers or shorts during physical training. The Lieutenant, who was responsible for drill and physical training, advised me that the instructor should keep his shirt on to ensure I stood out clearly as the instructor. A visiting dignitary, for example, may not be able to tell who was in change of the class. Perhaps I was proud and arrogant, but I always felt that I stood out clearly as the instructor
Q. Do you have a funny story from your RMC days?
A. Yes. I taught swimming and first aid classes in the pool in the basement of Fort Haldimand. The pay parade was held in the other end of Fort Haldimand. Rather than getting dressed in my uniform between swim classes, I just put a robe on over my bathing suit and walked in my slippers to pay parade. The process was to go to the paymaster, salute, sign your name, and get paid. When the Regimental Sargeant Major, who was strict, saw me in my bathrobe, I got heck. "Staff Sergeant! What – Are- You – Doing?" No wonder the cadets were nervous about attending pay parades.
Q. What are your varsity teams' memories?
A. As both the College track and field coach and the gymnastics coach _ I have many fond memories. The drill and physical training officer, Lt Stew Shackell gave me free reign – when I suggested introducing a cadet gymnastics team. The gymnastics team put on acrobatics displays at high schools and entered competitions in Toronto and Montreal. The College installed Olympic parallel bars, rings and high bars in the old gym.
At graduation, the cadets performed the high box and pyramid building. In 1959, the gymnastics team went to Victoria, BC where Royal Roads Military College hosted the tri service college competition. I don't recall who won the other events; but RMC definitely won in gymnastics. The gymnasts included 5174 Edward Gaudet (RMC 1957-61) and 5185 Carl Kristjansen (RMC 1961). The gym team manager Bob McDougall was the master of ceremony who announced our displays with flair, "good evening ladies at gentlemen…".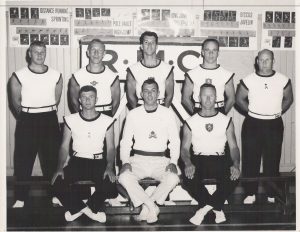 Q. Are there any other memories?
A. Many. Philosophically, my job as an instructor in physical training provided me with opportunities to mould, train, and inspire future officers in the Canadian Forces. It was rewarding to build good quality character. When some cadets struggled with perfecting their gymnastics routines, I had the opportunity to listen, suggest, encourage, comfort and advise. Sometimes, we discussed interpersonal, scholastic or career struggles that the cadets were going through. I developed some wonderful friendships with cadets, and their family members. Ex-cadets, who were serving as Lieutenants, Captains, Colonels, or Generals would say hello "Staff Sergeant Lilley" long after I was promoted and commissioned from the ranks. Decades after my retirement, ex-cadets will call me "Staff Sergeant Lilley" when they see me downtown and tell me about their fitness routines.
I've tracked a few of the cadets as they progressed in their careers. At the time, cadets were young men, just out of high school, who spent three years at RMC followed by a year at Queen's to get a degree. Although the cadets weren't allowed to marry or to own a car, some cadets owned cars which they parked secretly in town somewhere. In 4th year, many cadets bought a little MG sports car which they drove to their first posting.
H4860 General (Ret'd) John de Chastelain (RMC 1956-60) was in my physical training classes. When I met him a few years later in Calgary, I was a Lieutenant and he was a Brigade Major. At our next meeting, he was the Base Commander in Montreal. BGen de Chastelain later served as Commandant of RMC followed by Chief of the Defence Staff. 4905 LGen (Ret'd) Kent R Foster RRMC RMC (1956-60) eventually served as head of the Army.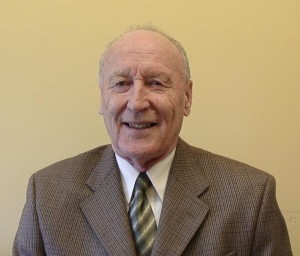 Q. When did you leave the Canadian Forces and what have you been doing in retirement?
A. Since retirement from the CF in 1983 after 35 yrs I've had some very interesting experiences and travel including three trips to Kenya which involved a 5 mos mission tour. The attendance at a International Military Christian Fellowship Conference in Seoul, Korea. Travels to NZ, Australia, Ireland, Cypress and Victoria, BC.
Q. What has been the high-light of your retirement years?
A. My greatest event in all these experiences since retirement from the CF was meeting my wife Beryl while working in the Salvation Army Harbour Light Program in Kingston, On. Beryl was working with the Community Services, Access program for Children in separation situations. We married in 1992 and are now living in Smiths Falls, On and attending the Salvation Army Church. We are keeping busy by volunteering in Nursing Homes, Retirement Homes and Hospital visitation.
George LILLY,
110 Merrick St
Smiths Falls
ON – K7A 4R6
613- 283-8884
Victoria Edwards & Bill Oliver teamed up to conduct the George Lilly interview.
________________________________________________________________________________________________________
"My two years at RMC were the highlight of my military career. Our team of professional, personal & dedicated PERIs and PEROs, coupled with the energy and history of the "Institution", is forever etched in my memory."
Paul Best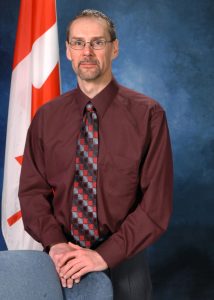 From intersection leagues to CISM, WO (Ret'd) Paul Best has many meritorious achievements in his military career and is an excellent ambassador for the CF sports program. He began his military career in 1978 in the Navy. Since his first exposure to the CF Sports Program in 1980, he has competed in 19 CF nationals and 36 regional competitions, winning a total of 32 gold and 15 silver medals – four national and 23 regional golds as well as eight national and six regional silvers were in badminton. In 1994, he won an international badminton singles exhibition match against England. In addition to his participation as a player in several sports, WO (Ret'd) Best is a certified coach of badminton, soccer, and volleyball, right up to the CISM level with volleyball. He also officiated CF volleyball and badminton at all levels, and in 1997, he was appointed to as CF Chief Official for badminton. Motivated by his extensive knowledge and keen passion for sports, WO (Ret'd) Best continues to play an active role in the development of the CF sports programs. He is consistently ready to help out wherever he can, fostering good sportsmanship and integrity for all athletes, coaches, teams and officials alike.
E-veritas: I understand that you were inducted into the CF Sports Honour Roll in 2006 for life-long achievement in Multi-Sport. Can you tell me more about this award?
Paul Best: The CF Sports Honour Roll recognizes the outstanding performance or the long-term contributions of a member to the CF sports program. The CF Sports Awards were created to recognize the sports achievements of its serving and retired members, and the DND/PSP civilians employees that contribute to the CF Sports Program. The CF Sports Awards are presented in Ottawa at the Annual CF Sports Awards Ceremony in the fall of each year. The awards include: Hall of Fame, Honour Roll, and CF Sports Achievement Awards at the Environmental and CF Levels.
http://www.cfpsa.com/en/psp/Sports/nominations_e.asp
E-veritas: At which Military College did you serve?
Paul Best: I served at the Royal Military College in Kingston from 1993/94 as RMC Squadron Physical Education Recreation Instructor. During the day, I instructed sports and performing physical fitness evaluations. I shared responsibility for facilities maintenance. I also worked as an organizer or official at sports competitions.
E-veritas: Did you also coach or be involved with a varsity team? Explain.
Paul Best: Yes. I was also coach of RMC Men's varsity Volleyball Team. The student-athletes trained in the evenings before dinner and travelled on the weekends to compete against other universities in Ontario as members of Ontario University Athletics (OUA).
E-veritas: I understand your are a certified volleyball coach and you have officiated CF volleyball. Please tell us more about the sport.
Paul Best: Indoor volleyball is a team sport in which two teams of 6 players, separated by a net, try to score points by grounding a ball on the other team's court. At RMC, coaching emphasized player development by drills which reinforced basic play skills: to dig (to prevent the ball from touching one's court), spike, serve (to drive ball into the opponent's court), pass, set, attack (so that the ball lands on the opponent's court and cannot be defended), and block the ball (to stop or alter an opponent's attack). The sport applies both offensive and defensive structures. The six player positions are setter, outside hitter/left side hitter, middle hitter, opposite hitter/right side hitter and defensive specialist. The common attack techniques include touching the ball lightly, quickly, off-speed, in-dandem with another player or at an angle so that it lands on an area of the opponent's court, ideally in an area that is not being covered by the defense. The most common faults include: where the ball touches the ground outside the opponents' court or without first passing over the net; catching and throwing the ball; where the same player contacts the ball twice consecutively; where the team contacts the ball four times consecutively. Top volleyball players are recognized as strategists, leaders and role models both on an off the court.
E-veritas: What do you consider the high-light of serving at the Military College?
Paul Best: I enjoyed working with dedicated, disciplined, professional Cadets. The RMC cadets looked forward to participating in all activities, whether Physical Training Classes, PT Evaluations, Sports Competitions or Varsity Sports. They LOVED the programs and services that we as PERI's and PERO"s were able to provide.
E-veritas: Are you still involved with the CF? If yes, what do you do?
Paul Best: Since the demise of the PERI/PERO Trade in 1997, I retired from the Canadian Forces. I have been the Fitness, Sports & Recreation Director for 22 Wing/CFB North Bay. I live in North Bay Ontario.
E-Veritas: Do you have any particular memory or short story you would like to share with our readers?
Paul Best: My two years at RMC were the highlight of my military career. Our team of professional, personal & dedicated PERIs and PEROs, coupled with the energy and history of the "Institution", is forever etched in my memory. Thank you for considering me for your journal.
Paul Best interview carried out by  E3161 Victoria Edwards (RMC 2003)