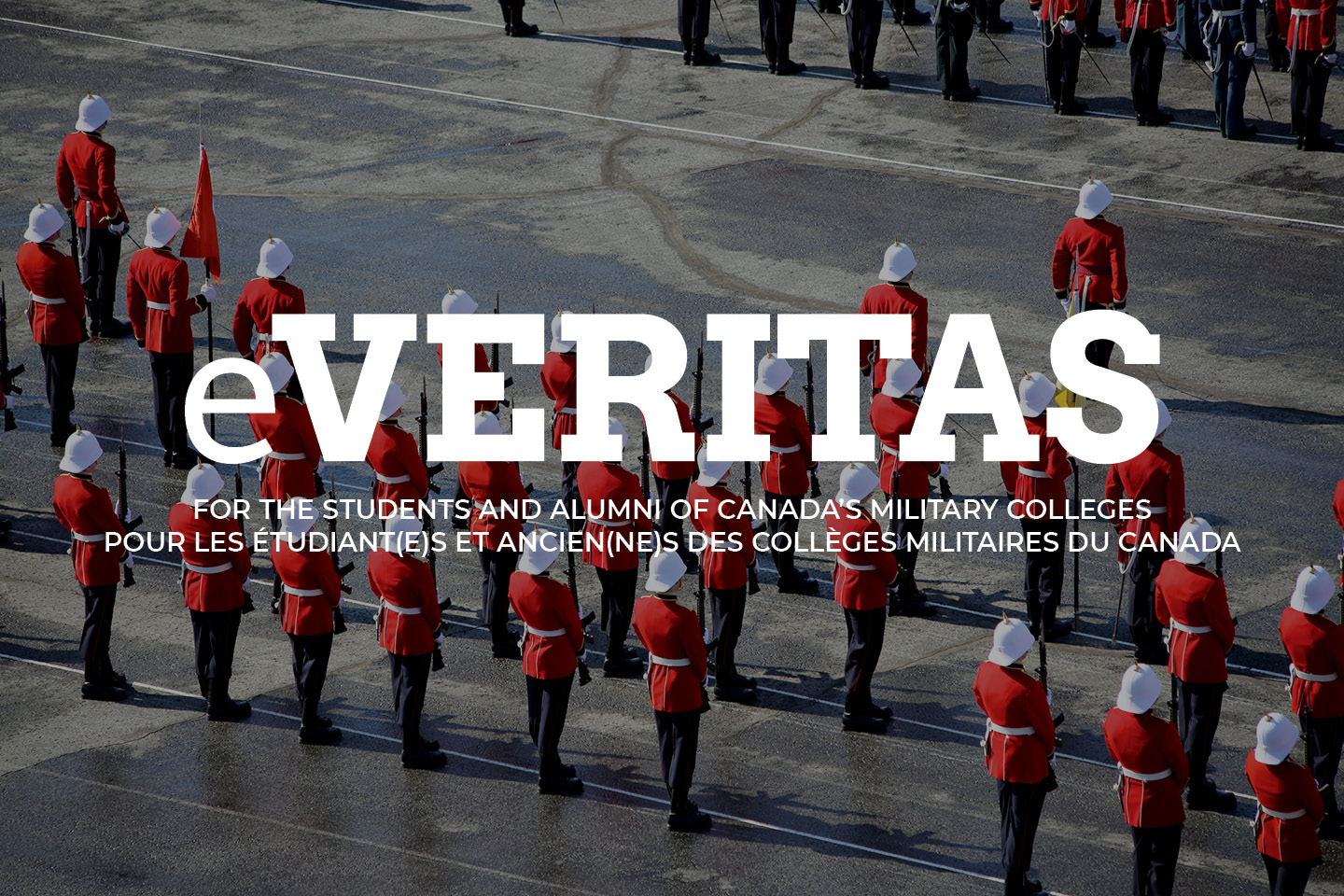 CMRC offre aux tireurs de précision une opportunité pour réussir
RMCC Providing Potential Sharpshooters an Opportunity to Succeed
***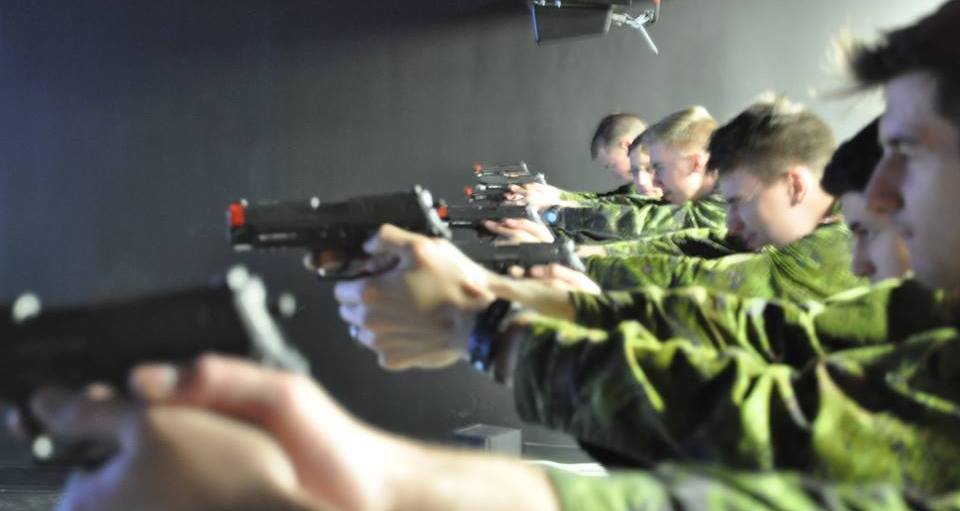 plus / More
L'équipe de tir de précision du CRMC
par – ASPM (III)26730 Matthew D. Mooney – 2 Squadron
traduction – ASPM (III) 26762 Jérémie Fraser – 9 Squadron
Les anciens du CMRC s'en souviennent : il y avait une équipe de tir de précision au CMRC. On ne sait ni quand ni pourquoi elle a disparu. Un collège militaire sans équipe de tir, c'est comme une université américaine sans équipe de football. Jusqu'à tout récemment, le RMC était dans cette situation. Inacceptable! Nous avons Sandhurst (une équipe qui fait des courses à obstacles), mais cette équipe n'est pas dédiée exclusivement à cette activité qui demande précision, habileté et expérience : le tir.
Il y a cette compétition au mois de septembre qui s'appelle CAFSAC (Canadian Armed Forces Small Arms Concentration) et puis pour la première fois depuis de nombreuses années, le CMRC y sera représenté par une équipe constituée d'une quinzaine d'élèves officiers. Ce sont les élèves officiers Devon Warner 26869 et Luc Bilodeau 26754 qui, en ne partant de rien, ont réussi à mettre sur pied une équipe fonctionnelle qui sera bientôt compétitive. Le premier champ de tir a eu lieu la fin de semaine dernière et le prochain est dans deux semaines. Ce que Bilodeau et Warner ont accompli est impressionnant dans la mesure ou ils ont dû évoluer à travers l'administration pour aller chercher toutes les permissions, autorisations, exemptions, informations dont ils avaient besoin. Lorsque manquer une classe pour participer à une activité parascolaire demande plusieurs signatures, je vous laisse imaginer ce qu'il faut pour créer une équipe représentative du CMRC.
Les 10 et 11 janvier, un groupe d'élèves officiers du CRMC ont bravé la neige et le froid mordant pour se rendre au champ de tir BFC Kingston. La trentaine d'élèves officiers présents tentaient de se qualifier pour la toute nouvelle équipe de tir du CRMC. Avec les forts vents et la neige qui s'était accumulée au cours des derniers jours, les élèves officiers ont dût travailler d'arrache-pied tout l'avant-midi pour dégager le stand de tir extérieur et ainsi permettre à l'épreuve de qualification de commencer.
Après avoir passé en revue les instructions de maniement d'armes, une moitié du groupe s'est mise en place aux stands de tir pour le tir alors que l'autre moitié restante, armée de C7, ont avancé vers la ligne de feu afin de zéroter leurs armes.
Après avoir analysé les groupements de leurs tirs à 100 mètres, et ensuite à 200 mètres, les élof étaient enfin prêts à tester leur tir à 300 mètres
après ce tir, les deux prochaines rondes de tir se sont réalisées à 200 mètres de distance. D'abord, le « snap shoot » et ensuite, le « rapid shoot » ont été des épreuves ardues pour les élof alors que plusieurs d'entre eux n'étaient pas familiers avec la position de tir à genoux. Malgré tout, ils ont persévéré.
La dernière épreuve était la plus difficile de toutes, il s'agit de l'épreuve « run down » à 400 mètres de distance. Comme son nom l'indique, les participants doivent courir, par intervalles de 100 mètres, au travers l'épaisse neige pour ensuite se mettre en position de tir. Cet exercice soutenu a pour effet de faire augmenter le rythme cardiaque ce qui rend beaucoup plus difficile pour les tireurs de garder une position de tir stable.
Le jour suivant, l'autre moitié du groupe de candidats a ensuite pu démontrer ses capacités à tirer juste en faisant le plus grand nombre de points possible. À la fin de la journée, ceux qui avaient le mieux performé, ou qui croyaient avoir bien performé, étaient les plus souriants. Le tir de précision est une qualité indispensable pour un bon soldat. L'équipe de tir du CMRC favorise l'entrainement de ses membres et vise à les former pour devenir de bons tireurs. À l'automne, la Canadian Armed Forces Small Arms Concentration aura lieu et si tout va bien, le CMRC y sera bien représenté par les 25 élèves officiers qui ont été choisis pour faire partie de l'équipe de tir.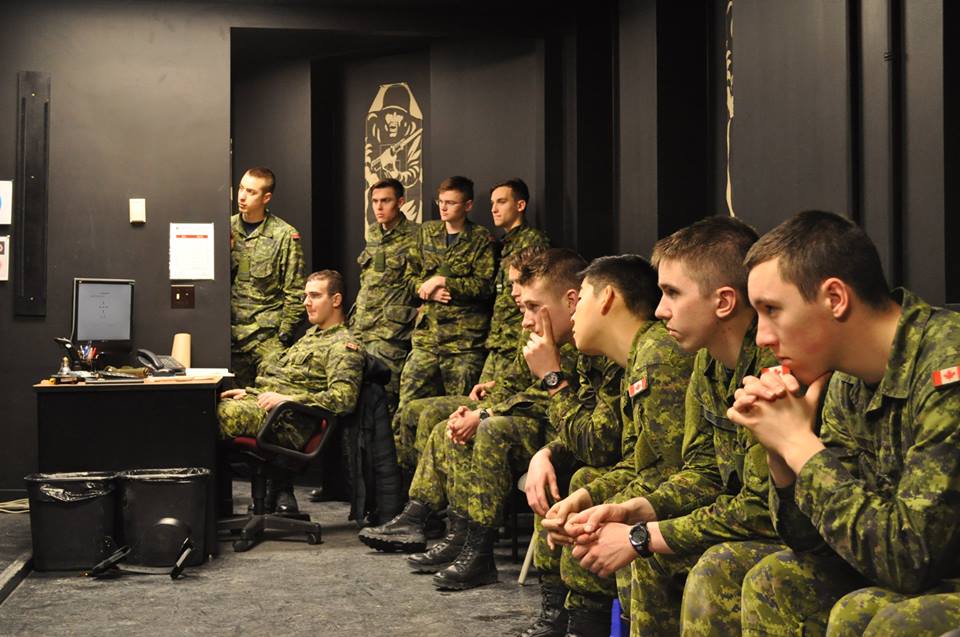 RMCC Marksmanship Team
By: NCdt (III) 26730 Matthew D. Mooney – 2 Squadron
Former RMCC cadets remember it well: the RMCC marksmanship team. We do not know when, nor do we know why, the team vanished from the college grounds. A military college without a shooting team is like an American University without a football team. Until recently, the RMCC was in such a situation: Unacceptable! There is the Sandhurst team (a specialized military obstacle race team) but it does not exclusively specialize in this activity of precision, skill, and experience: marksmanship.
The CAFSAC (Canadian Armed Forces Small Arms Competition) takes place every year in September and, for the first time in several years, the RMCC will be represented by a team of approximately fifteen officer cadets. It was the efforts of officer cadets Devon Warner 26869 and Luc Bilodeau 26754 who, starting from scratch, managed to form a marksmanship team that will soon be competitive. The first live range shoot took place this past weekend and the next will be in a couple of weeks. That which has been accomplish by Bilodeau and Warner is impressive considering the amount of administrative work that was required including all the permissions, authorizations, exemptions, and information they had to acquire. In an environment that demands multiple authorizations to miss a class for an extracurricular activity, I leave it to you to imagine the work required to create a marksmanship team that will represent the RMCC.
On the 10th and the 11th of January, a group of RMCC cadets braved the cold and blowing snow to make a trip up to the range at CFB Kingston. The 30 plus cadets were trying out for RMC's new precision rifle team. With high winds and deep snow, the cadets worked hard in the morning to clear the snow out of the butts and prepare for the competition to commence. After quickly reviewing the proper weapons handling drills, half the cadets headed down to the butts to prepare for the shoot while the remaining cadets, armed with C7's, advanced onto the firing line in order to perform their zeroing. After checking their groupings at the 100m, and 200m marks the cadets tested their metal out at 300m's. With limited rounds the cadets performed their deliberate shoot trying to hone their rounds in on the Bull's-eye.
Following their shoots they proceeded to fire two different rounds at the 200m mark. The snap shoot, and the rapid shoot challenged some cadets as the unstable kneeling position was unfamiliar but never the less the cadets persevered.
The final competition was the hardest of all as cadets performed a "run down" from the 400m mark. Wading through deep snow within the time period caused their heart rates to spike and made getting off a stable shot quite difficult.
The following day the members who were in the butts got the chance to demonstrate their skills as they were on the firing line.
Friendly competition heated up as compatriots competed to see who could score the highest number of points. There were smiling faces all around when the day came to a close. Marksmanship, one of the fundamentals of soldiering, is alive and well at RMCC as training has begun for those who were selected. As the cadets develop their skills they aspire to compete in the Canadian Armed Forces Small Arms Competition in the fall.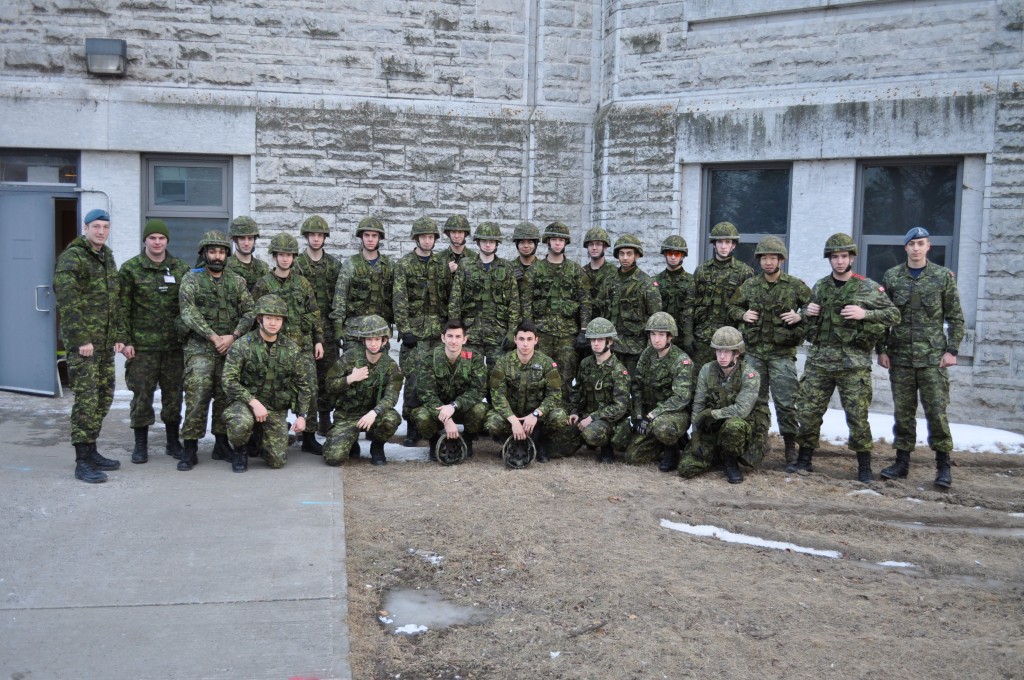 Click on photo for better viewing