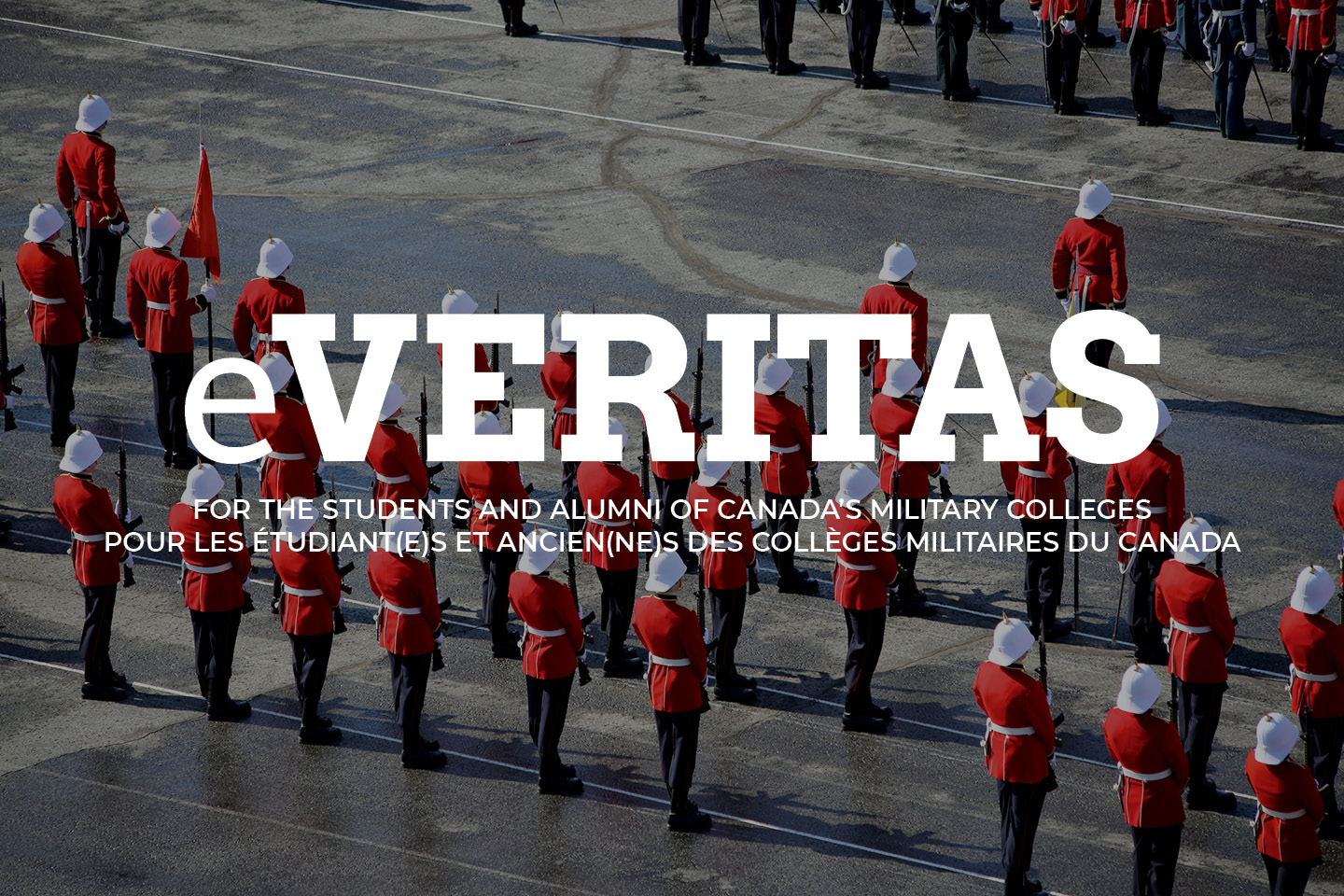 RMCC Awards Parade Recognizes Accomplishments
Article and Photos by 25366 Mike Shewfelt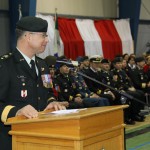 The events have become a bit of a fixture at the College in the last few years. Twice a year, as the Semester nears its end, the College community takes time out to recognize deserving individuals from all areas of RMCC with an Awards Parade. The Winter 2013 Awards Parade was held this past Wednesday morning, and saw a number of individuals from the Cadet Wing, the Training Wing, Support Staff, and the Academic Wing recognized for their accomplishments. Awards passed out include Canadian Forces decorations, Commandant's Commendations, and Commandant's Coins.
College Commandant, BGen Eric Tremblay, took the opportunity to address the various members of the College. He thanked the Staff and Cadets for their efforts so far, and then took time to address the Cadets specifically. "Your RMCC tool box is just about full," he told the Class of 2013, "but your professional development must never end. Graduation is almost here, and you deserve it. Time spent at military college is a huge commitment and sacrifice, and you deserve it. So sprint to the finish, be proud but humble, and don't forget to have fun. It is an honour to be your Commandant, and I'm looking forward to continuing at the Canadian Defence Academy."
The following individuals received Canadian Forces decorations: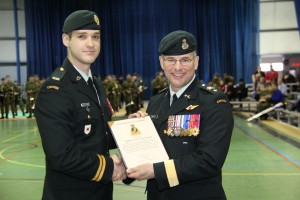 The individuals listed below received commendations. The citations for each are provided.
In recognition of exceptional commitment to the Royal Military College of Canada and the Canadian Forces, Sarah Allinson, Isabel Vidal, Suzanne Gilbert, and Catherine Fugère, are commended for their tireless efforts in the management of the Comptroller Section. During a year of financial reductions and tightening of regulations, they have consistently maintained a high level of service, while continuing to provide financial advice to all sections of the College. Changes in regulations, and the implementation of new policies have resulted in many challenges. In addition, as a result of these changes, their work load has increased, causing longer work hours, and working under extremely stressful conditions. They have provided direction to CR-04 financial assistants, and have inspired them to do their best.
Much more.
In recognition of exceptional commitment and professionalism to the Royal Military College of Canada and the Canadian Forces, The Division of Continuing Studies Instructional Design Team, are commended for their efforts in converting one hundred and seventeen courses from the DNDLearn learning management system to Moodle, from the planning stages to completion, in just six months. In the final two weeks alone they converted thirty four courses. This complex task first required that they teach themselves how to do it, which involved an intense period of research, planning, professional development, liaison with experienced users and the formation of a partnership with the Queen's Centre for Teaching and Learning. The result is that DCS was able to offer twenty seven courses in Moodle for the Winter 2013 Term – three months ahead of schedule.
In recognition of exceptional leadership and commitment to the Royal Military College of Canada and the Canadian Forces, Captain Simon Garneau, 12 Sqn Comd, is commended for his efforts as a Squadron Commander carrying the load of two Squadrons, coaching and administrating over 140 cadets, in this capacity for 13 Sqn, and then 11 and 12 squadrons. At the end of the last academic year, his 13 Sqn held the right of line. He rose to the occasion as Acting Division Commander and was able to effectively work above his rank level. With numerous secondary duties and taskings, such as organizing and mentoring Cadets for five mess dinners, RMCC Class Projects, Air Force MOC Weekend, hosting cadets from USAFA and Australia and being a member of the CFB Kingston Men's Volleyball Team, he has found time to be the father of two new born children. He has taken on all duties and has done an exceptional job to keep on top of the plethora of leadership and administrative work involved. His experience and outstanding knowledge of the administrative processes and regulations of the CF have made him the Go-To Officer within the Division.
In recognition of exceptional leadership and commitment to the Royal Military College of Canada and the Canadian Forces, Sgt Ken Aiken, Quartermaster NCO, is hereby commended for his outstanding and ongoing efforts to provide effective and efficient logistical support to numerous College events and activities. His dedication in procuring, coordinating and supplying RMCC with logistical support, expertise and advice has been critical to the success of the College's mission. Striving to produce officers well-educated, Sgt Aiken routinely mentors the Cadets with regards to logistical requirements and issues, thus imparting a better understanding of the CF Supply System, the importance of co-ordinated logistical support, and the requirement to be responsible with and accountable for CF equipment. Despite being the sole, full-time member in the Training Wing Stores, Sgt Aiken consistently strives to provide superior, timely service, often working evenings and weekends in support of a wide range of College activities. Through his actions, Sgt Aiken has demonstrated an exceptional commitment to duty and provided extraordinary service and support to the Royal Military College of Canada.
In recognition of his commitment to education and mentorship at the Royal Military College of Canada, M. Pierre Séguin is commended for his outstanding initiative and the teamwork he has consistently provided to RMCC, and specifically to the education of engineering students in the craft of engineering drawing and computer-aided design. Last summer M. Séguin dramatically improved the learning environment of RMCC first year engineering Cadets with his innovative creation of instructional videos. Painstaking hours of recording instruction in both languages and matching each point and lesson with the graphical engineering software demonstrations has resulted in a powerful classroom resource. During the first-year engineering courses of the last few weeks, his work has proven to be nothing short of outstanding. M. Séguin's dedication and commitment to this discipline over 22 years at RMCC is matched by another unique talent: a graphic artist. He was instrumental in designing the new RMCC Engineering logo, now a Facebook feature. M. Séguin's precision, perfection and meticulous craftsmanship are at the root of all he does. RMCC is justly very proud of the contribution that M. Pierre Séguin has had on the education of engineering students at the College.
In recognition of their commitment to fitness and mentorship at the Royal Military College of Canada, CFB Kingston PSP Fitness Instructors Dana Rowat, Kerri Hollywood, Walter Kendall, Tammy McCaugherty, Terra Kinch, Kim Baylis, and Teaghan Dixie. Over the last year, the CFB Kingston Garrison Fitness Program has become an integral part of the RMCC Cadet's morning fitness training regime. It is the base fitness staff that put in the time and effort to make this program a great augmentation to RMCC Squadron PT each week. The Fitness Staff at CFB Kingston works tirelessly with the PE Manager and CWSRO at RMCC to ensure that the program delivered supports the requirements of the Squadron morning PT and provides a variety of training options that Squadrons wouldn't normally get from delivering PT on their own. Although delivering a PT program to upwards of 100 people at a time is a challenge, the Fitness staff at CFB Kingston open up their doors morning after morning to our Cadets. The CFB Kingston Fitness Staff are commended for their diverse training options, flexibility and openness to include RMCC OCdts in your morning Garrison Fitness Program.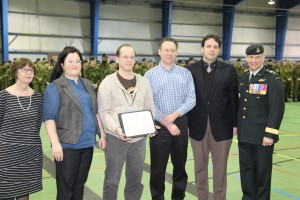 In recognition of exceptional commitment and dedication to the Royal Military College of Canada and the Canadian Forces, The Officer Professional Military Education (OPME) Program Delivery Team are commended for their dedication to the planning and delivery of the OPME Program. The Team always understood the operational commitments of the Canadian Forces member and worked as a multidisciplinary team to ensure that students could complete their OPME courses wherever they were. During the registration and exam periods, the section worked diligently to ensure that the needs of the students were addressed. A great many NCMs were able to participate in the program thanks to the ability of the team to coordinate places on courses. Similarly, Army, Navy, Air Force, CANSOFCOM and RMCC on-site courses as well as special Cadet Organization Administration and Training Service distance courses were made possible thanks to the superior planning and execution skills of the OPME team. Thanks to this dedicated team countless Canadian Forces Officers and Non-Commissioned Members have met the challenge of the Officer Professional Military Education Program since its inception in 2000 to its closure in 2013.
The individuals listed below received the Commandant's Coin for Excellence from BGen Eric Tremblay. Citations for each are given. 
Ms. Annette Hegarty, despite only having been at the College for a very short time, has handled the enormity of the administrative and financial obligations of the expanded and extensive DSS portfolio with an extremely positive work ethic. A self-starter and team enabler, Annette never hesitates to take on whatever is needed for team success and the resulting DSS support to RMCC. Despite working with very technical trades, Annette quickly became well versed in the plethora of highly specialized technical jargon, enabling and supporting the managers in order to be successful with short time lines and high value needs for the College. Meticulous and professional, Ms. Annette Hegarty is commended for a topnotch team approach and is a driving force in the overall success in support services.
ECE Technical Support Staff – The last year has involved significant planning and execution of complex move plans and renovations associated with the ongoing refurbishment of the ECE Department space in the Sawyer Building upgrades. This work required major rebuilds, by the Section, of all the Department laboratories and workshops. All this was accomplished while concurrently providing continuous support to the undergraduate, graduate and research programs in-house. The group put in continuous effort beyond the call of their normal duties. All Department spaces were completely rebuilt and in full operation for the Canadian Engineering Review Board (CEAB) Engineering Accreditation inspections in the Fall of 2012. This was a significant accomplishment that allowed the Department to meet its primary mission without interruption. This would not have happened without the dedication and professionalism of this Section.
Capt Fiona Haines, 9 Sqn Comd, is an extremely dedicated officer.  She took an active role in ensuring that the Officer Cadets of 9 squadron would get the supervision and mentorship that they required.  Her approach and continuous commitment to her peers and subordinates has impacted the lives of her colleagues and many Officer Cadets.  Her care for others has earned her the recognition of many academic wing members who greatly appreciated her support towards the success of 9 Squadron's Officer Cadets.  With no doubt she represents what an Officer in the CF is all about, which makes her the perfect role model for our future leaders.
Lt(N) Stephen Scriver, 2 Sqn Comd, is nominated for the Cmdt's Coin in recognition of exceptional performance and dedication to his role as Sqn Comd and to RMCC as a whole. His consistent hard work and professional attitude have contributed greatly at the Squadron, Division, Training Wing and College levels. At the Squadron level, Lt(N) Scriver very capably handled his role as a double hatted Sqn Comd for 8 months this year. At the Division level, he was relied upon to both act in the Division Comd's stead, and also to maintain smooth operations within his Squadron. Lt(N) Scriver also very capably represented the College on the international stage as the RMCC Team Leader for Nijmegen and as the 2IC for the West Point Exchange Away Team. It is as a result of these significant contributions and his superior abilities that Lt(N) Scriver is most deserving of this recognition.
25981 OCdt (III) Megan Couto represented the Royal Military College of Canada and the Canadian Forces in an exceptional way during her semester exchange with the United States Military Academy at West Point. She selflessly joined 26 other USMA Cadets in hurricane relief efforts after Sandy, using their own initiative and resources. West Point's chain of command reported that she was one of the best leaders in the company and that she set the standard for Cadets to follow in the company. She took the time to develop her subordinates better than any other junior Cadet in her company. She also became a vital member of the West Point women's rugby team. Professional and positive, OCdt Couto epitomizes what the Commandant's Coin represents.
25596 OCdt (IV) Alida Stockermans has shown exceptional leadership as the Cadet Wing Sports and Recreational Officer, Triathlon Club President, Highland Dancing Club President and Master of Ceremony Captain. She also organized an Aquathlon to raise fund for the Triathlon Club which proved to be a great success. Extremely committed and professional, her leadership as the CWSRO has been acknowledged on numerous occasions by the PSP Staff, in addition to the Cadet, Training and Academic Wings.
26005 OCdt (III) Pier-Olivier Lessard-Godbout and 25802 OCdt (IV) Dylan Grimm are jointly nominated for the Commandant's Coin in recognition of their actions after potentially saving the life of another Cadet. On 27 Nov 2012, OCdt Lessard-Godbout noticed that another Cadet was acting strangely. He evaluated that the OCdt needed help and so he informed the Cadet Flight Leader, OCdt Grimm. Ils ont alors pris soin de l'Élof en détresse en contactant le Centre antipoison, puis on ensuite transporté l'Élof à l'hôpital afin qu'il reçoive les soins appropriés. If Ocdt Lessard-Godbout and OCdt Grimm had not acted quickly and decisively, this situation could potentially have been fatal.
25638 OCdt (III) Catherine Houle and 25691 OCdt (IV) Carley Lewis have been active assistants to the Supplemental Physical Training program since the beginning of this school year. They have been dedicated to attending the early morning training sessions as teaching assistants and they provide valuable encouragement to the members of the program. Their professional but friendly attitudes have set a great example for others wishing to assist with SPT, or with other similar programs. They have been a reliable resource to the PE staff, as well as trusted leaders to the Cadets that are going through SPT. We would like to thank them for their dedication and contributions to the SPT program.