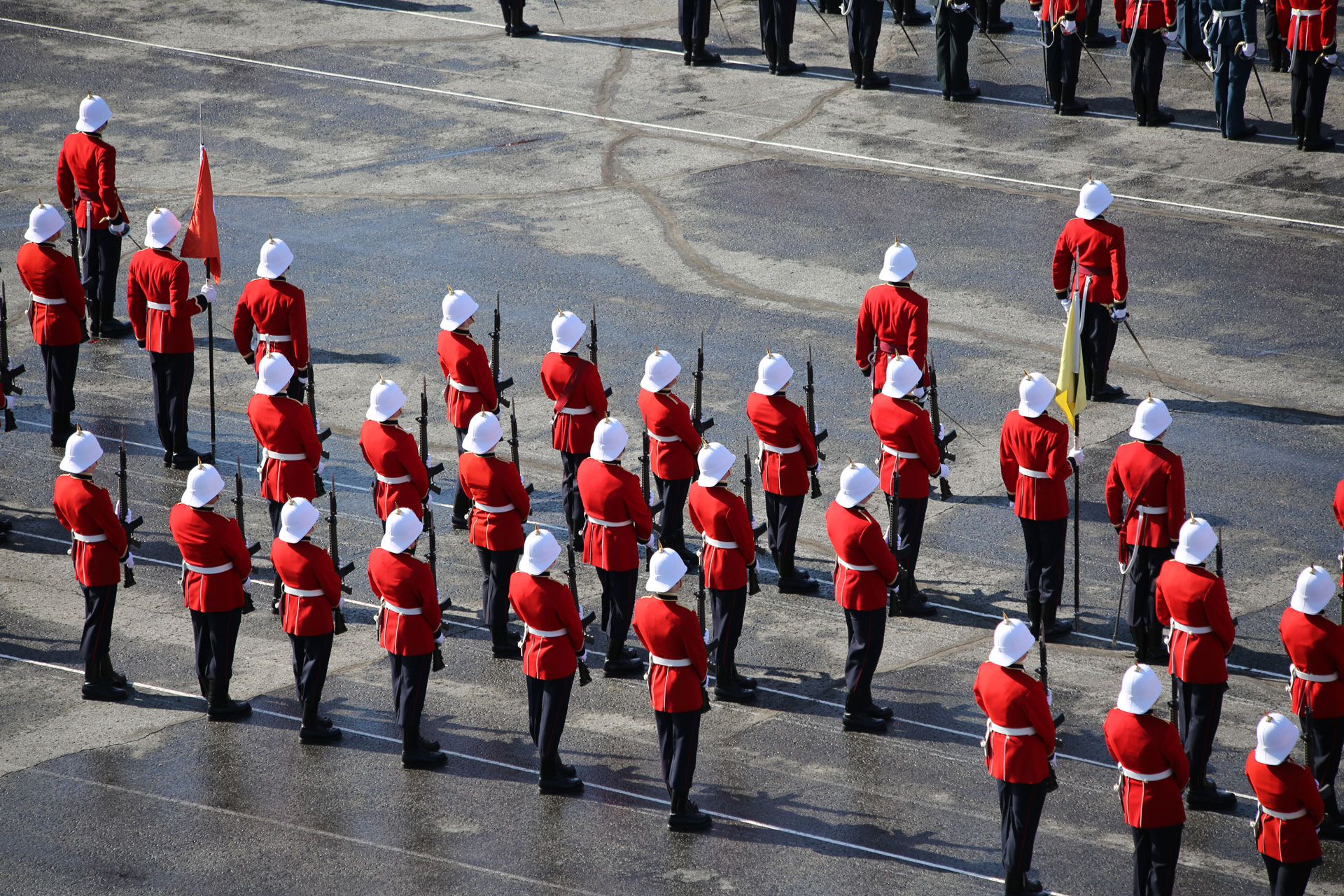 I Commandant CMR Saint-Jean: 1949 – 1952
(Researched by E3161 Victoria Edwards)
H11171 Brigadier Marcelin L. Lahaie, DSO, CD was born in Buckingham Quebec in 1913. He studied at MCGill University from 1932-5. He studied at the University of Montreal from 1940-1. He was an engineer. He served as DMT in Ottawa from 1949-51. Promoted to Colonel, he was the first Commandant of Le Collège Militaire Royal de Saint Jean (CMR) from 1952 to 1957. Various names had been considered for the College i ncluding De Salaberry College and Royal De Salaberry College. On 18 July 1952, the Governor General was requested to seek the Queen's permission to use the title "Royal". The third Canadian Services College became Le Collège Militaire Royal de Saint Jean or CMR. The preparatory school in Quebec was designed to bring students up to the level of the grade thirteen in Ontario and feed them into the service colleges system. The army barracks at St. Jean, thirty miles south of Montreal was chosen as the site o f the College. The college was to be administered by the Royal Canadian Air Force. The Minister announcing his plans to the Commons said that the College was 'primarily designed to meet the special circumstances of French-speaking candidates but will be open to students from all over Canada.' Instruction was given in both French and English and special effort was made to promote bilingualism. In 1955, CMR cadets joined with those from RMC and Royal Roads.
Colonel Lahaie was Commanding Officer for the region of Quebec from 1957-59. He served as a military attaché in Paris from 1959-63. He was Commandant of Base Valcartier in 1963. Promoted to Brigadier-General in 1964, he was Commanding Officer of the East sector of Quebec. He served as Commanding Officer of the Army Base in Montreal from 1967-68. Named in honour of the first Commandant of CMR, the Lahaie Pavilion, which was built in 1972 at CMR houses a library, laboratories, and additional offices.
Sources :
Aux étudiants, un mot du colonel Marcelin Lahaie: In : La Revue moderne Montréal Vol. 37, no 7 (novembre 1955), p. 28 PER R-438 MIC A1542
Preston Canada's 'RMC: A history of the Royal Military College'
Jacques Castonguay 'Le Collège militaire royal de Saint-Jean'
____________________________________________________________________________________________________
IV Commandant CMR Saint-Jean: 1963 – 1966
(Researched by E3161 Victoria Edwards)
H12481 Brigadier General Joseph-Armand Ross, DSO, CD (Honorary 1975) was the fourth Commandant of Le Collège Militaire Royal de Saint Jean from 1963 to 1966. He was born in 1917 in Rimouski, Quebec. He enlisted in the Canadian army in 1940 and served overseas during World War II with le Régiment de La Chaudière until 1942. He was recalled to Canada in January 1942 to serve with the Fusiliers du St. Laurent. Colonel Ross returned overseas in March 1944, with the Hull Regiment, and in Septemb er of that year returned to his old unit, Le Regiment de la Chaudière. Promoted major in November 1944, he rejoined le Régiment de La Chaudière and served in Europe until the end of hostilities.
Major Joseph Armand Ross was awarded the Distinguished Service Order for his actions at Zutphen, Netherlands: 'The brilliant leadership on the part of this officer, his initiative, personal bravery, utmost gallantry and entire disregard for his personal safety in the face of enemy fire have been a high source of inspiration to his men and a most important contribution to the success of operations throughout the campaign.'
Promoted Lieutenant-Colonel in 1954, he served as Commanding Officer of the 3 batallion of the Royal 22e Régiment. Promoted Colonel in 1963, he became Commandant of Le Collège militaire royal de Saint-Jean. Promoted Brigadier General in 1967, he was named chef d'état-major des services administratifs, Commandement de la Force mobile. In 1972 he retired from the Canadian Forces with the rank of Brigadier General. He was married with four children. He died in October 2008.
Sources :
http://www.memoireduquebec.com/wiki/index.php?title=Ross_(Joseph-Armand)