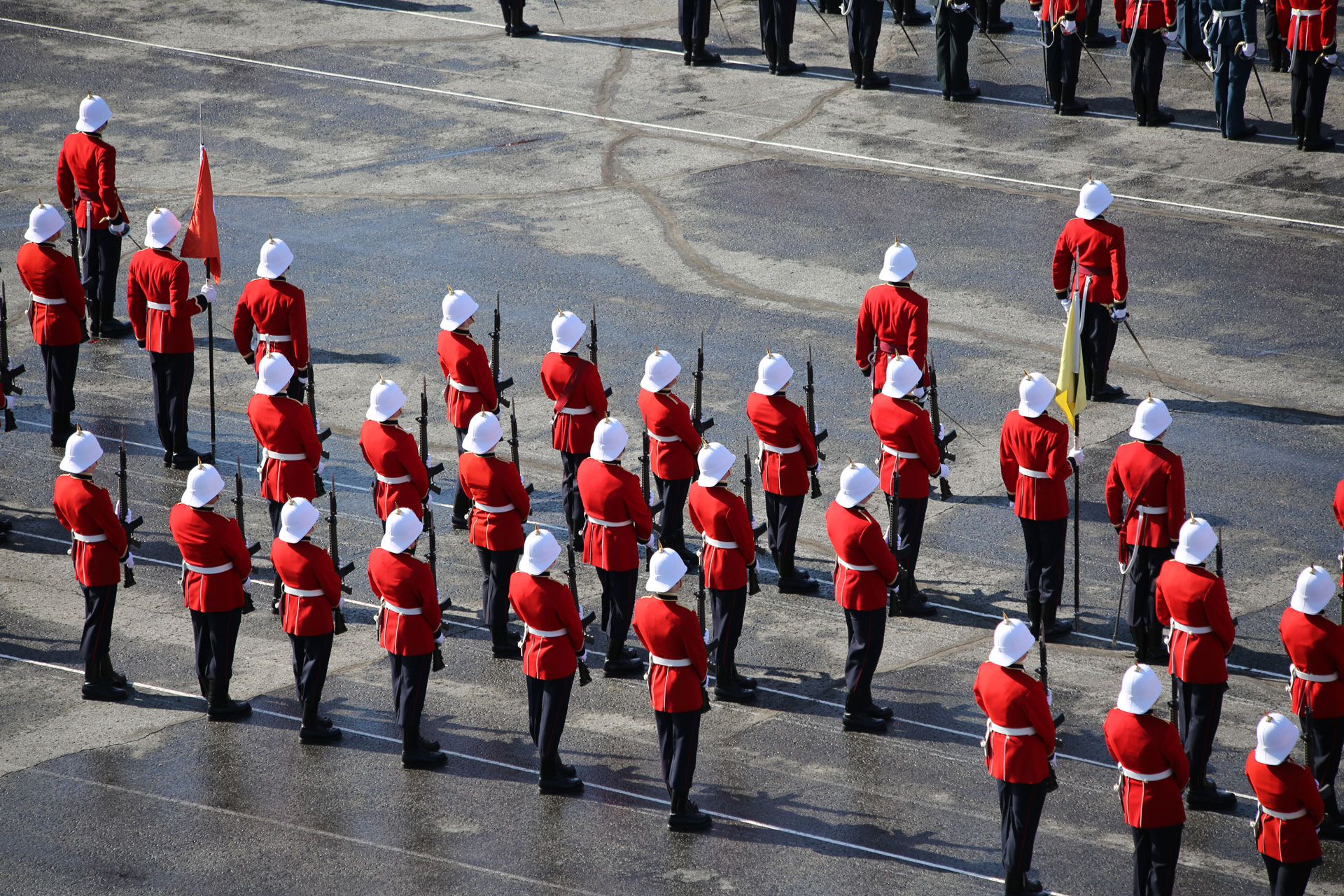 III Commandant RRMC: 1948 – 1949
Researched by E3161 Victoria Edwards (RMC '03)
Vice Admiral Herbert (Herbie) Sharples Rayner, D.S.C. and bar, C.D., was the third Commandant of Royal Roads from 1948-9.
Herbert Rayner was born on 16 January 1911, at Clinton, Ontario. He joined the navy as a Paymaster Cadet in 1928 and was appointed as a Midshipman in 1930. He underwent training in the British battleships Revenge and Warspite before being posted to HMCS Champlain in 1933. He underwent the RN Torpedo Officer Long Course at HMS Vernon in 1935, which was followed by service in the battlecruiser HMS Renown in 1936. He returned to the Royal Canadian Navy in 1937, when he was appointed as the First Lieutenant in HMCS Skeena. Later, he served as the Commanding Officer of Skeena from 10 Mar 40 to 01 Apr 40.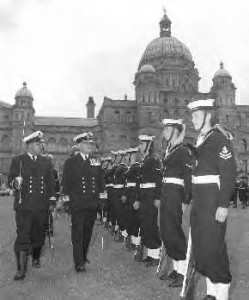 He was Commanding Officer of the destroyer HMCS St Laurent from 14 July 1940 to 18 February 1942. He was promoted to LCdr. on 1 April 1941. For his service during the Second World War, LCdr. HS Rayner was awarded the Distinguished Service Cross (DSC) in1941 and Bar (1944) and two Mention-in-Dispatches. The citation (D.S.C. awarded as per the London Gazette) read: "For courage and enterprise in action against enemy submarines." He was the Commanding Officer of the destroyer HMCS Huron, 1943-44, and also held several staff positions. His decorations included Croix de Guerre avec Palme en Bronze (France< /st1:place>), Legionnaire – Legion of Honor (France) and a second DSC. Following the war, he was given progressively more responsible senior staff and command positions. He served as Officer Commanding the RCN Air Section at Dartmouth, N.S., 1947-48.
Capt(N) Rayner was Commandant of the Canadian Services College at Royal Roads, B.C., 1948-49. Like the first two Commandants of Royal Roads Capt (N) Grant and Capt (N) Creery, Capt(N) Rayner served in the Royal Canadian Navy. It was expected that a rotation of command between the services would commence in1947, when Royal Roads opened up to cadets from the Royal Canadian Air Force. The Navy was incensed, however on the Royal Canadian Air Force's assumption that they would administer the college. Captain (N) Rayner protested that it he was relieved after a year rather than the traditional tour of two years, it would look as if he had been 'fired'. It was decided that the Royal Canadi an Navy would continue to administer the College regardless of the service from which its commandant came.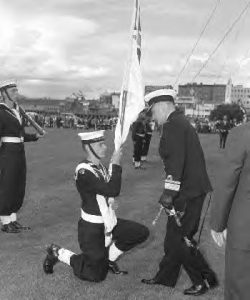 Commodore Herbert Sharples Rayner was the first Coordinator Joint Staff 1950-1952, responsible for supervising and co-ordinating the work of the joint staff. He commanded the aircraft carrier HMCS Magnificent from 1953-1955. Promoted Rear-Admiral in 1955, he served as Chief of Naval Personnel, 1955-57, and Flag Officer, Pacific Coast, 1957-60. As Vice Admiral, Rayner served as the eighth and last Chief of the Naval Staff during 1960-1964, with full responsibility for the Royal Canadian Navy. The Admiral Rayner Navy League Cadet Corps in Victoria B.C. was named in his honour in 1960. He retired in 1964. He died in 1976. His wife, Berry G. Rayner wrote 'Biography and memoir of Vice-Admiral Herbert S. Rayner and his family' in 1998.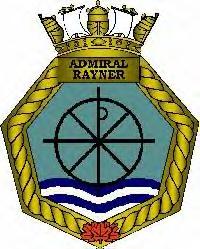 Link to the Admiral Rayner Cadet Corps
Sources:

His fonds, the working files of Vice-Admiral Herbert S. Rayner generated and maintained during his term as Chief of the Naval Staff (1960-1964) and photos, are at the National Defence Headquarters Directorate of History and Heritage. Associated materials can also be found at the National Archives of Canada.

________________________________________________________________________________________________
IV Commandant RMC: 1896 – 1900
Researched by E3161 Victoria Edwards (RMC '03)

Major General Sir Gerald C. Kitson ADC served as Commandant of RMC from 1896-1900. He was born in 1856. He was commissioned in the First Regiment of Foot. He transferred to the King's Royal Rifles. He was ADC to Brigadier General Aldershot 1884-5. He was ADC to the GOC of the Western District 1885-6. He was a district staff officer in Bengal, 1890. He was deputy assistant adjutant-general at Meerut, 1890-2. He was assistant adjutant-general at Umballa 1892-4. He was mentioned in despatches and won a medal with clasp for service in the Manipur campaign in 1891. He attended Staff College at Camberley in 1885-6.
He was promoted Lieutenant Colonel in 1896 on taking up the appointment as Commandant of RMC. He was an infantryman and not, as had been urged a member of one of the technical corps. He had a lot of staff experience and a good active service record. At 40 years of age, he brought vigour and new ideas. He was expected to improve the popularity of the college, which was at risk of being closed down on grounds of expense. He was bent on removing abuses and restoring the efficiency of the college.
He developed a scheme to reduce the course from four years to three, and to drop studies that could be described as luxurious, such as freehand drawing. He sought to restrict the courses to those subjects that were essential for cadets entering Canadian civil service and Permanent Force and for cadets commissioned in the British army. Mathematics, civil engineering and civil surveying were kept to the same number of hours. Physics, chemistry, geology and mineralogy were reduced to the proportions required for a modern civil engineer. English was confined to the first year and French was confined to the first two years. Kitson recommended that the British government be asked to give ten commissions in 1899 rather than five. He hoped to save $6000 a year on teaching salaries and $1300 a year on the wages of the subordinate staff, making possible a reduction of fees. At the time, university fees were about $200 a year against RMC's $350. He proposed the abolition of the $100 fine for withdrawal.

He added rapid and gymnastic marching between breakfast and classes, compulsory revolver and rifle practice, marks for outdoor drills and gymnastics exercises and a week's camp with 'A' Battery of the Royal Canadian Artillery. He reintroduced the practice of attaching some cadets to summer militia training camps. By June 1896, he declared that RMC drill conformed to the latest drill manual published in 1896. In 1898, the cadets gave gymnastics display at the Toronto Military Tournament. and the cadet cricket team played games in Toronto.

The war in South Africa came before Kitson completed his posting at RMC. Kitson recommended 9 of the fourteen graduates of the combined classes who had entered in 1895-6 for imperial commissions. The new course was to study the Red River Campaign, the beginnings of the Franco-Priussian War and the embarkation and disembarkation of troops. RMC was asked to furnish 20-30 RMC cadets fit for regular army commissions; it was desirable that they have private incomes since the pay was meagre.

When Kitson left RMC, each student paid £40 a year and the Dominion Government gave an annual grant of £10,000. The course was three years long. The commandant's salary was £600 and allowances. The salaries of the professors £450 to £500 were paid by Canada, under the Canadian Minister of Militia. The posts were usually filled by Imperial officers chosen by the War Office.

After his service at RMC Kitson became military attaché at Washington. He was Commandant at Sandhurst, 1902-7. He held various commands in India and was quartermaster-general 1909-12. He then commanded a division. He retired from the army in 1918. He died in 1950.
Sources:
Preston Canada's RMC: A History of the Royal Military College.

Governor Of Sandhurst; Appointment Given to Col. Kitson, Formerly of British Embassy 1902