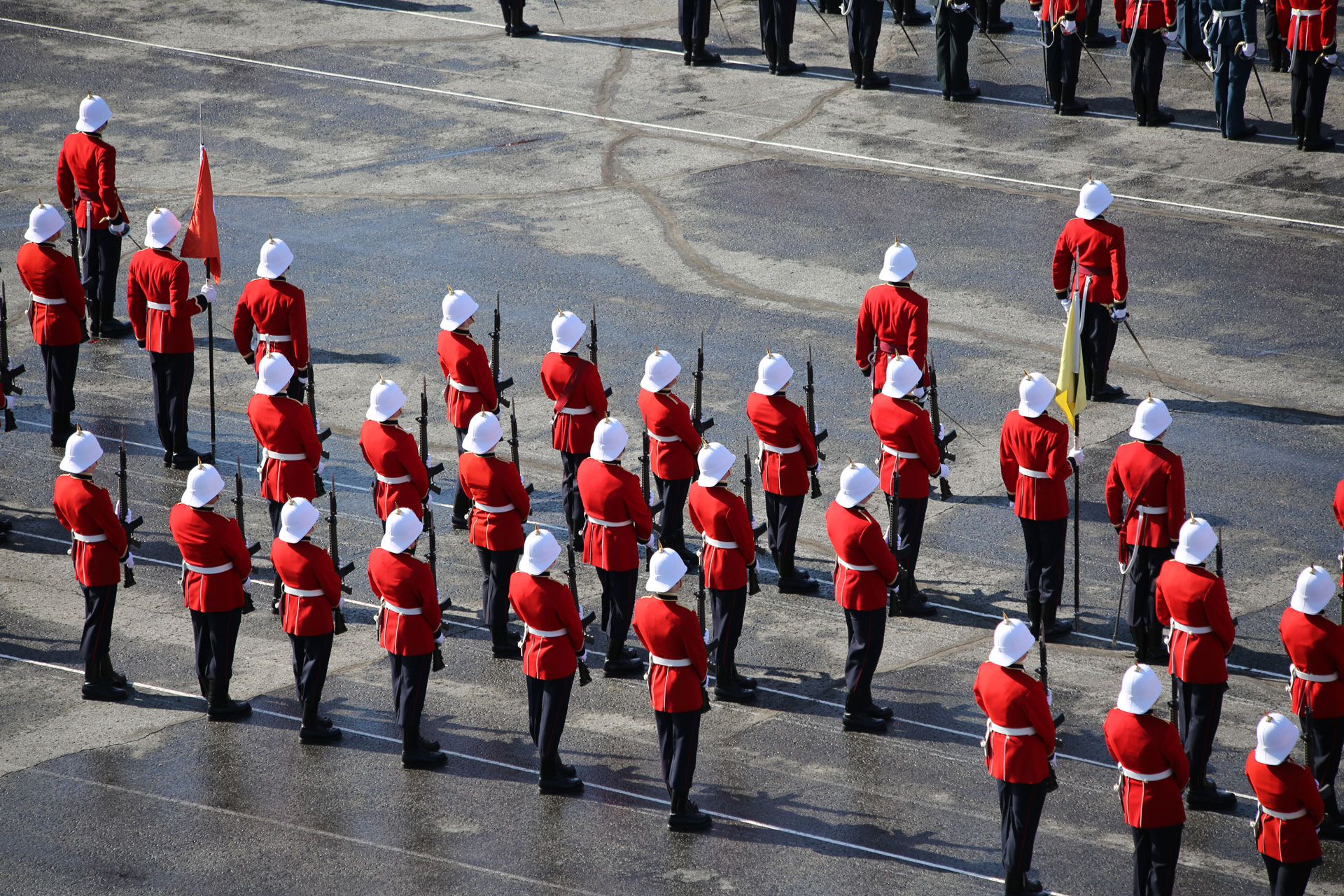 The following photos were taken from the 'Town Hall' display located in the foyer of the KMCSC. Photos by: Dan Fleming
Description of the photos from left to right.
1) Scale mock-up of the Dome and surrounding area.
2) Brief description of the new facility.
3) Computer generated image of the west view of the facility.
4) Interior photograph of a similar Dome,  to visualize what the finished product will look like.
(Click on photos for better viewing)
It would be dome, sweet dome for base
Article first appeared in the Kingston Whig Standard 20 January 2011 By PATRICK KENNEDY
A proposed sports dome, earmarked for a section of the large parking lot east of the Kingston Military Community Sports Centre, would be a welcomed addition to Canadian Forces Base Kingston and Royal Military College athletics, not to mention Joe and Jane Doe from the Limestone City.
As with the KMCSC, the inflatable dome will be available for public use, a boon for local rugby and soccer associations.
At Wednesday night's information session at KMCSC, a scale model of the $4.2-million facility was unveiled. Project managers, architects, engineers and representatives from sporting groups and the city's two other post-secondary institutions were on hand.
"There's no question the city really needs at least one more dome," noted Bob Machin, vice-president of the Kingston Women's Soccer Club. That group currently patronizes the city's only bubble dome, the Quarry Sportsplex on Division Street. "Three (domes) would be lovely," Machin added, "but a second one is definitely a good start."
The spacious dome will give CFB soldiers and RMC students a place to properly train during the winter months. Currently, both groups train at the KMCSC field house, which does not have a turf surface.
"The way it is now, with the field house being shared, we can't accommodate the level of programming we want for our college athletes," said RMC director of athletics Darren Cates. "Intramural sports, for instance, run twice a week. We'd certainly like to increase that.
"Also, our (soccer and rugby) varsity teams can't prepare properly by practising on the field house surface, which is neither grass or turf," he added. "It's just not an ideal situation."
The turf floor beneath the roof will measure 75 metres wide by 110 metres long. The dome itself, air-inflated with special sensors that calculate the amount of snow on the roof and increase air flow accordingly, will be 85 metres wide, 120 metres long and 25 metres high.
The facility, which can be partitioned into three separate areas, will be used year-round. Because the dome will remain inflated throughout the year, addit i o na l insulation will be in-stalled, a move that is estimated to save $35,000 in annual heating costs, said project director Maj. Julia Atherley.
St. Lawrence College athletic director Brad Greenwood said his school would be interested in securing available time.
"We're very curious to see what's going on, because obviously there's a need for another indoor facility in Kingston," said Greenwood.
"If it's available — and we really haven't been told how much time will be allotted for outside use — it's something that from our point of view we'd have to look into."
Project manager John Lesperance said the growth of the base and its military university forced CFB to examine the need for more sports facilities, particularly during the cold months.
"The bottom line is the base is getting bigger along with RMC. The field house is good for court sports and such but not for soccer or rugby or the daily (physical training) of base personnel."
Lesperance expects the new facility will be "booked solid" once up and running.
Currently in the design stage, plans should be completed by the end of February, at which time CFB will seek approval from the Minister of National Defence to proceed with construction. If the green light is given, the project could be completed by October or sooner.
"It all depends on how soon we get approval," Lesperance pointed out. "If the minister sits on it for two months, and allowing two months for the tender process, that would clearly delay things. But if we get quick approval, we could break ground by June or July and be ready to open by autumn."
BASE DOME:Sports is an important part of life at Royal Military College and CFB Kingston. CKWS video