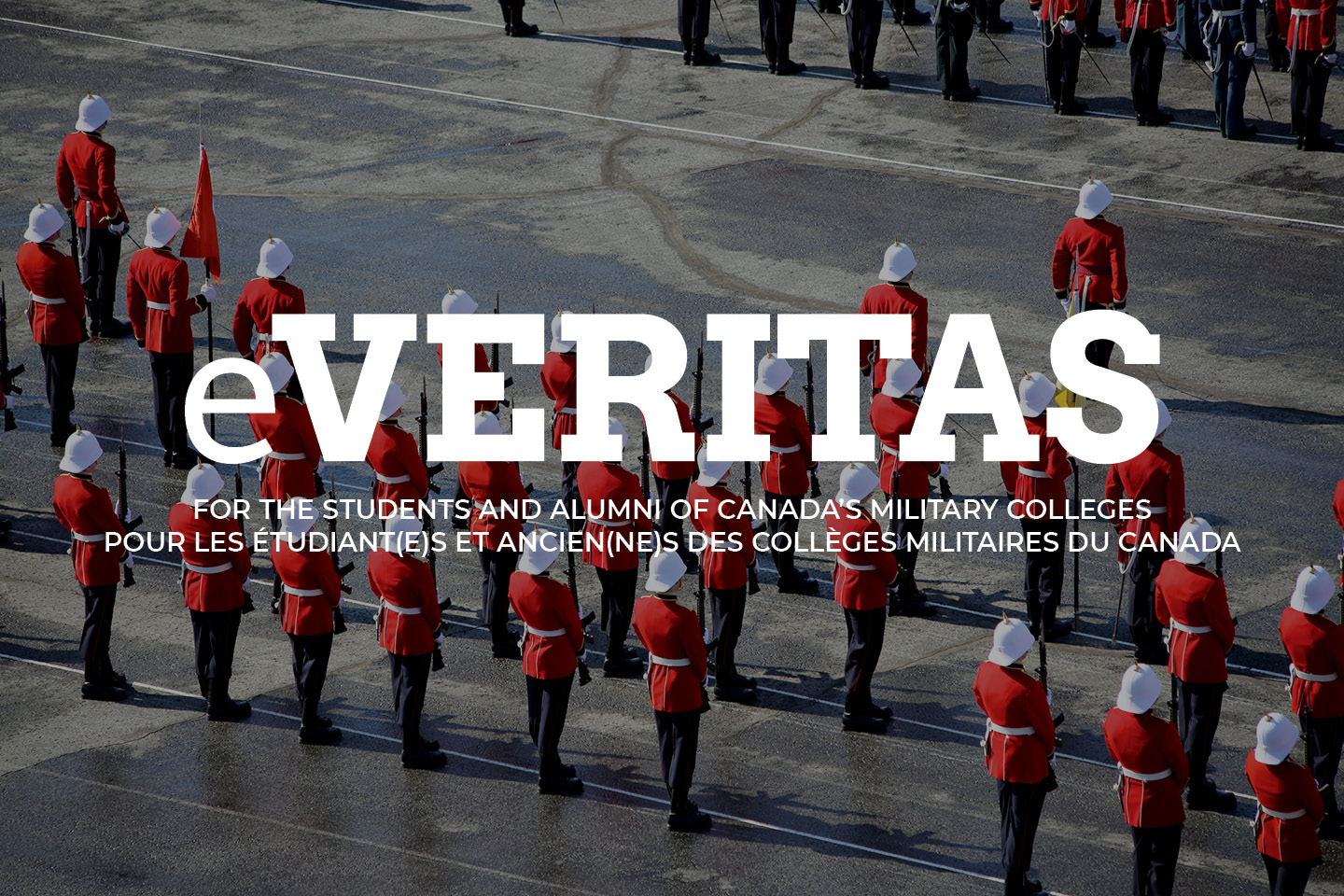 Depart with Dignity: 12192 General Tom Lawson
BY: WJO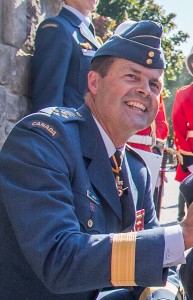 Last Thrusday evening, 16 Jul – the night before the formal Change of Command took place; there was a classy DwD at the RCAF Officers Mess in honour of the outgoing CDS – Gen Tom Lawson.
We had the privilege of attending. What an evening it was – not only for Tom Lawson, his wife Kelly and their three sons – Ben, Jack & Neil.
The Master of Ceremonies was 13551 LGen Guy Thibault, Vice Chief Defence Staff. Obviously, not a neophyte in this role; the 1983 RMC graduate held the large audience in tow for the over three hours of flawless presentations in various forms.
For the evening to be successful the onus is mainly on the MC. From the start, the VCDS had the total attention of everyone. It was clear that he had done his homework: was very well prepared; and as the evening unfolded it was clear that he chose the right number and variety of speakers.
A pretty tough task as Tom Lawson had a 40 year military career.
MORE…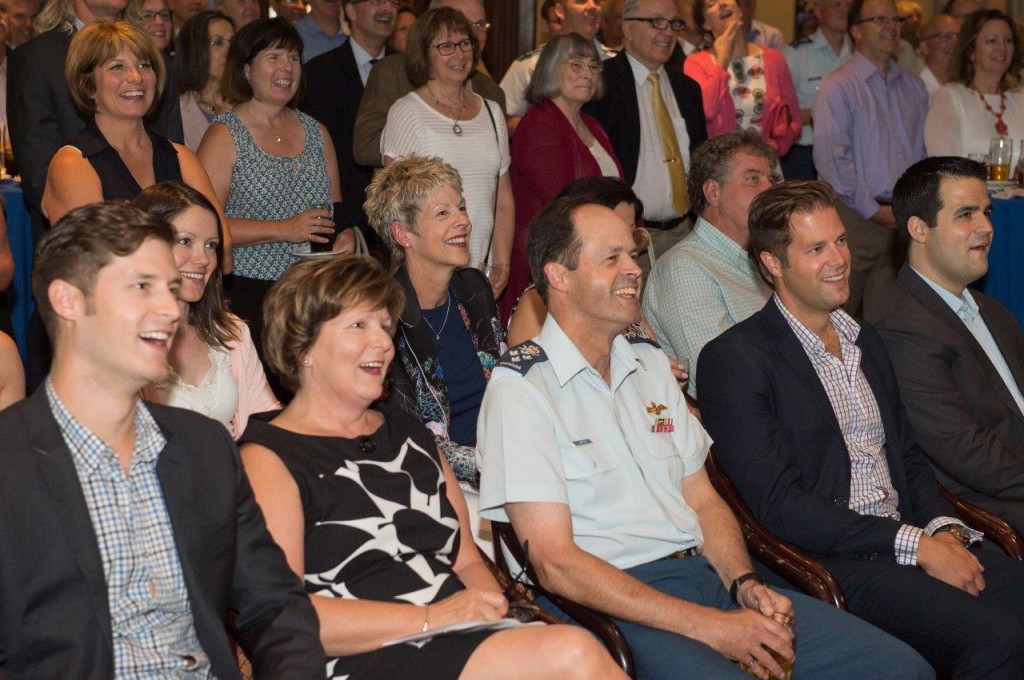 The crowd included: his sisters Laurie (David) and Kim (Nick); Kelly's sisters Janet (Wally) & Tracy (Gordon); friends from his Etobicoke high school days; former 'buds' from RMC; many former colleagues / friends from his CF104 & CF 18 flying missions; members of the Defence Leadership Team; CDS (Designate) – LGen Jon Vance; former Chiefs of Defence (General Paul Manson, Admiral Larry Murray & General Ray Henault; US colleagues including Commander North American Aerospace Defence Command Admiral, William Gortney; classmates and others that he cultivated solid friendships with along the years. People like – John Carswell, Gary Banks, Larry Stevenson, Harry Kowal & wife Cheryl, Bill Fletcher, and John Madower just to name a few.
Kicking things off was a high quality professional Video – Ottawa Senators / CAF tribute (after Oct attack at National War Memorial) – the camera was on Gen Lawson while he walked on the ice to a prolonged standing ovation prior to doing the ceremonial opening faceoff. Impressive indeed.
The next three hours breezed by with a combination of colourful speakers, short videos, and the reading of a number of personal letters by the MC.
Following an interesting and touching family & friends (slides) put together by Kelly and son Neil; Deputy Minister, John Forster set the bar high for the remaining speakers as he spoke about his special experiences dealing with the soon to be retired CDS.
All those who took to the podium had a story or two to tell – all in good fun and some gently touched on the recent relationship with Tom and national media. It is fair to say that this was as much a 'roast' as it was a dignified affair.
Friends who spoke included: former RMC Director of Cadets, during their days together at RMC – Tony O'Keefe; Fred Kuntz – long-time friend from Etobicoke; Gary Hook, former CF 104 pilot; and college classmate, Jim Sullivan.
The military side of the room were highly involved too: Comd RCAF – LGen Mike Hood; Comd NORAD – Admiral Bill Gortney; Comd RCN VAdm Mark Norman; Comd Canadian Army – LGen Marquis Hainse; and CF CWO Kevin West all had their interesting and in some cases comical tales to share.
A number of appropriate mostly memorial gifts were presented to both Tom and Kelly.
Without exception everyone of the speakers showed a high level of pizzazz.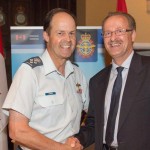 Split between the enjoyable 'talks' were a number of touching personal letters read by the always take charge and wily Master of Ceremonies. Familiar names such as: Governor General, David Johnston; Gen Ray Henault, CDS # 15; Gen Martin Dempsey, Chairman Joint Chiefs of Staff; Ray Townsend, former Executive Assistant; Dwight Davies, former classmate; Harry Kowal, Principal RMC & long-time friend; and Kevin McCarthy another 'bud' who entered RMC back in 1975.
Two video clips one from former team captain and Toronto Maple Leafs (Tom's favourite team) great, Darryl Sittler and Terry Wood another 'bud' from the Class of '79 were like 2 cherries on a birthday cake.
In between Kelly, Ben, Jack and Neil all made hubby / dad 'blush' with their heartfelt words.
Following a 15 minute break, the man of the hour himself took the microphone; without a note he went nonstop for 40 minutes – a minute for every year he served in the CAF. He touched all the bases including his time as a 16 year old high schooler dating his wife to be, Kelly. The soon to be retired General, covered a lot of his time at RMC – including cadet experiences; earning his Masters and his two years as Commandant. Without missing a beat he talked about his flying days. Cold Lake where he also served on three different occasions was mentioned a few times. He talked fondly about being CDS. Typically, which is his style, he highlighted a number of individuals from specific times during his career.
We can't overstate the highly professional performance of the MC, LGen Thibault; his confident style, gusto and flair ensured that the evening was a resounding success. To top off the evening, he singled out three key behind the scenes individuals – Melissa Snook, Lou Desroches and the Cpl photographer – name not available at press time.  
To sum up the evening – in a word – terrific! It was an honour for both Rolande and I to attend.