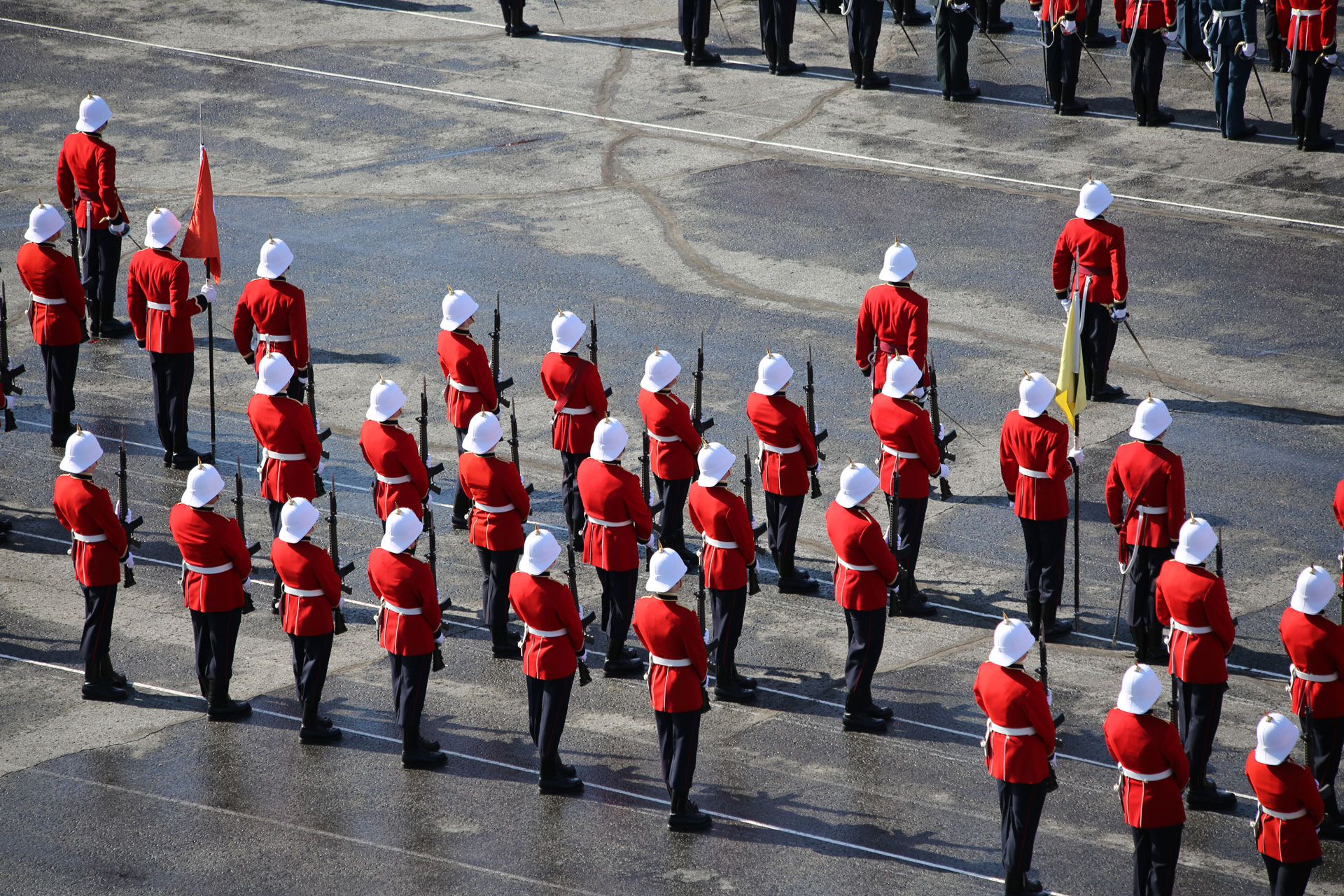 In conversation with E3161 Victoria Edwards (RMC 2003)
"The research found that cadets who had been average high school students with strong physical and military skills overachieved at RMC. The cadets who had been excellent high school students academically, but were relatively weaker in terms of athletic and military experience underachieved at RMC."
e-veritas: How did you come to be a Physical Education and Recreation Officer?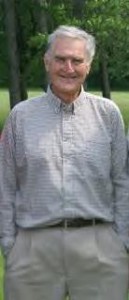 Dudley Hill: I had studied physical education at Loughborough College (now Loughborough University) before emigrating to Canada. I applied at the recruiting office to join the Air Force as a Recreation and Physical Education Spec services officer in 1953. At the time, the Air Force was ahead of the game – looking for physical education and recreation personnel for Radar Units in Canada's north. I was very interested in sports and competed in rugby, for example with the Royal Canadian Air Force Station St. John's Soccer team at CMR in 1959. I also competed in badminton.
e-veritas: At which Military College did you serve? What were your primary duties?
Dudley Hill: I returned to Canada after serving in Europe from 1965-8. As Physical Education Officer at RMC from 1968-69, I was responsible for the rep and intercollegiate teams at RMC. At the time RMC's 450 cadets and a handful of graduate students fielded 23-24 teams. As Director of athletics from 1971-1975, I was responsible for all of the physical education & athletic programs at RMC. By 1975, there were 500 cadets and a handful of graduate students. At the time all of the cadets were male and most were just out of high school. When I retired as a Major in 1975, my pension was $7000 per year.
e-veritas: Did you coach varsity team(s)?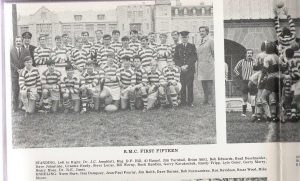 (Double click for better viewing)
Dudley Hill: Yes. I coached RMC rugby in the fall and spring and I coached the RMC and Queens' badminton teams year round. The varsity rugby team traveled to England to compete against the naval academy at Dartmouth and RMC Sandhurst. The varsity badminton team at RMC won the university championship. I traveled to England with 10929 Mr John Czich (RMC 1976), who won the single badminton championship. During the week, I coached from 4-6 pm followed by a quick supper from 6-6:30. I would then go back out to coach 130 members of the Sydenham Badminton club 7:00-8:00. I traveled with the varsity teams on most weekends. The Kingston base supplied military drivers for away games at various Ontario universities. My wife Audrey and I have 5 children. I couldn't have balanced a challenging 7 day work and sport schedule without her help and encouragement.
e-veritas: What do you consider the high-light of serving at the Military College?
Dudley Hill: The whole experience of serving at RMC was the highlight of my career. I found the cadets to be wonderful, inspiring leaders.
e-veritas: What are you doing these days?
Dudley Hill: Since retiring, I have owned and operated Stirling Lodge in Newboro Ontario, which offers 34 rooms and 3 cottages on Newboro Lake (in the Heart of the Rideau Lakes). e-mail : stirling@stirlinglodge.com www.stirlinglodge.com. A group from the Canadian Forces Personnel Support Agency (CFPSA) come to Stirling Lodge each Fall for their annual conference.
e-veritas: How do you stay fit?
Dudley Hill: Each year, I plant 7000 flowers in the Lodge's extensive gardens; I bend over and stand up better than many 20 year olds. Gardening is terrific exercise. In the winter, I like to play golf in Myrtle beach, Florida.
e-veritas: What memories of RMC stand out?
Dudley Hill: I recall that the cadets were in great shape, perhaps in physical conditions far superior to now. RMC competed in university championships at the same level as far larger universities such as the University of Toronto and the University of Western Ontario. The key to their success was that the cadets were in such great shape. The cadets were tenacious and never gave up. With their greater physical conditioning, the cadets were there at the beginning and at the end of the game.
e-veritas: The Commandant was 2530 BGen (Ret'd) William K Lye (RMC 1936).
Dudley Hill: General Lye supported me wonderfully. He had the support of the ex-cadets of the College. Each year we asked the cadets which sports they were interested in pursuing. As long as the cadets committed to the sports, and we had enough cadets we supported them. All the cadets competed in the varsity or intramural program.
e-veritas: Do you have any particular short story you would like to share with our readers?
Dudley Hill: When I went back to RMC last year I took a tour of the new athletic complex and state-of-the-art exercise equipment. When I arrived at RMC in 1968, our main College facilities consisted of the Old & new gym. At 4pm the cadets ran up the hill to compete in varsity or intramural competition at athletic facilities such as the old supply building, armories in Kingston, and Queens University gymnasia. I recall the construction of the Sir Archibald Macdonnel (SAM) Athletic Centre in 1973-4. My priority was to have the absolute maximum amount of floor space for the money. By not providing any facilities for women, we were able to save $100,000. At one point Ken MacDonald and I quickly readjusted the floor plan to take advantage of the architect's dimensional misprint of 10-20 feet on the plan. I remember being really ticked off at the decision to put up lights over the field. At the time, the decision was wasteful since cadets were not permitted to compete in the field after supper since that time was allocated to academics.
e-veritas: Did you have a role in research?
Dudley Hill: There was a research project at RMC in concert with the Royal Canadian Air Force Institute of Aviation Medicine in Toronto when I arrived in 1968. The research found that cadets who had been average high school students with strong physical and military skills overachieved at RMC. The cadets who had been excellent high school students academically, but were relatively weaker in terms of athletic and military experience underachieved at RMC.
e-veritas: Did you have a role in cadet discipline?
Dudley Hill: I had a good relationships with teams. I believe that the cadets respected me. Although there were skylarks and horseplay, the cadets didn't go out of their way to incur my wrath. The standards were high at RMC. I sat on the admissions board of the College and could turn applicants down, who I felt would not be able to handle to athletic pillar. I could and sometimes did recommend that RMC cease training a cadet on athletic grounds.
e-veritas: Describe badminton. Do you have any tips?
Dudley Hill: Badminton is a racquet sport played by singles (2 opposing players) or doubles (2 opposing pairs) on opposite halves of a rectangular court that is divided by a net. By striking a shuttlecock with their racquet so that it passes over the net and lands in their opponents' half of the court players score points. A game is played with 21 points and a match is the best of three games. Most competitive athletes are on the lean muscular side since the sport of badminton demands excellent fitness, aerobic stamina, agility, strength, speed and precision. It is also a strategic sport, requiring good motor coordination and the development of a wide variety of strokes from powerful jumping smashes to delicate tumbling net returns. Deception is used to cause the shuttlecock to travel in a different direction than suggested by the body or arm movement, to deceive the opponent into believing that a different stroke is being played, or to force the opponent to delay movement until actually seeing the shuttle's direction. In the right situations, players need to Slice, use a shortened hitting action, double motion, triple motion, and racquet head fake
e-veritas: Is there any sport or exercise that you no longer recommend?
Dudley Hill: There is a new exercise fad every month. I don't recommend the duck walk, which is hard on the knees. The 'No gain without pain' and 'feel the burn' exercise mottos, which describe a bad practice of working out past the point of experiencing muscle aches. The discomfort caused may be beneficial in some instances while detrimental in others.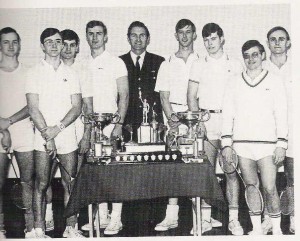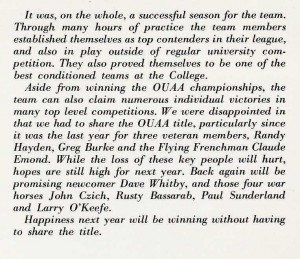 (Double Click on "photo & write"-up for better viewings)