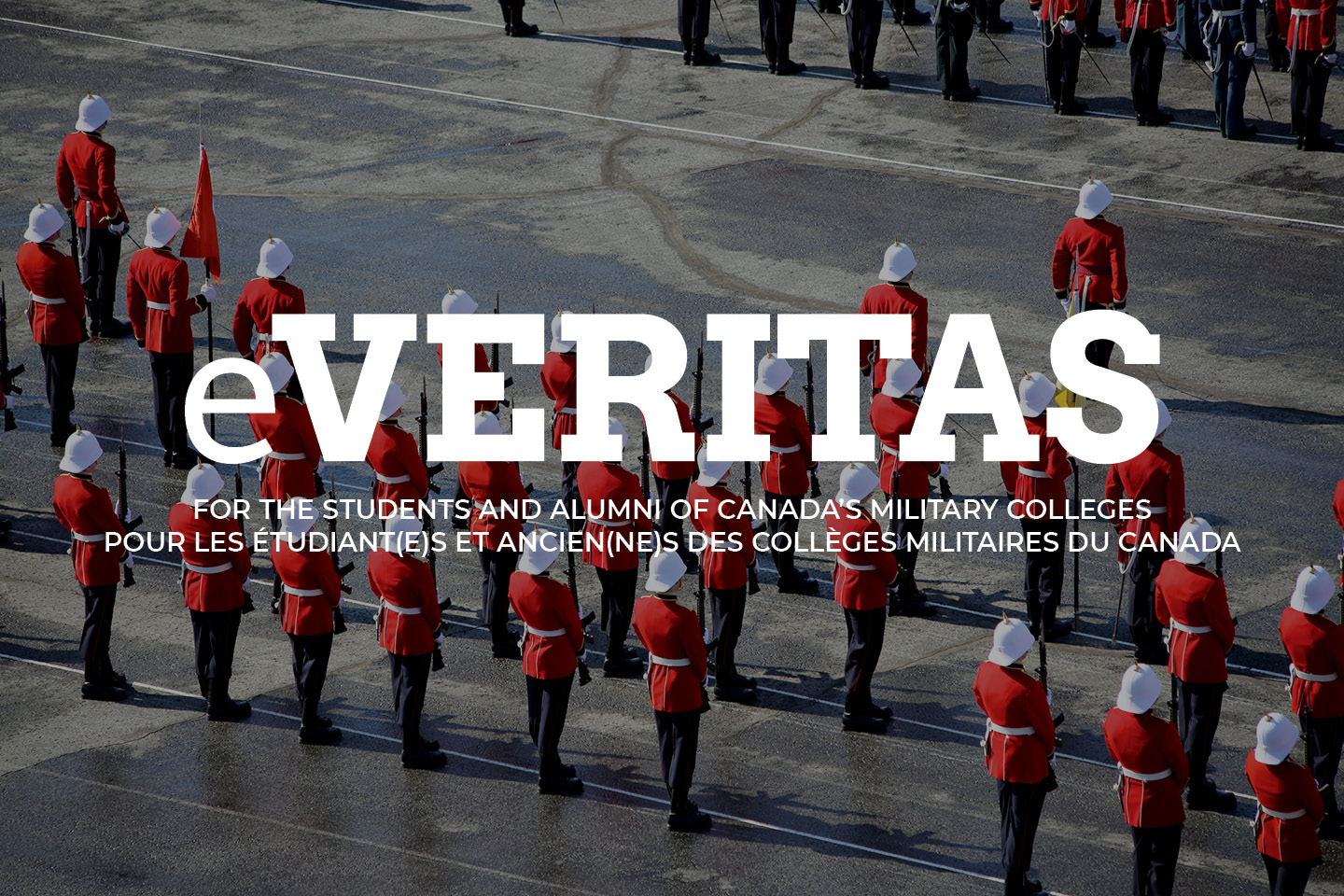 2Lt (25638) Catherine Houle, 9 Squadron, Class of 2014
 "M" After RMCC

Professional Military Training (PMT) for Officer Cadets
I; II;III; & IV Years

4 IV Years participate in Canadian flag by recreating its design on centre-ice in the former Maple Leaf Gardens
What are you doing now?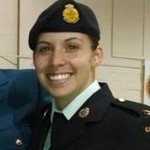 Une fois graduée du RMC, je suis arrivée à ma nouvelle unité, la cie Svc Tech MTL/ St-Jean. J'ai commencée en tant que O admin pour la cie en attendant de terminer mes phases 3 et 4 de logisitque.
Right after I was done with phase 4, I did my specialty in transport. Once I was back at my unit, I became the MTL Supply Platoon Comd, a great challenge since, under the circumstance, I only had one Warrant and one Sgt as support staff.
Also, it was confirmed not too long ago that I will become the Transport Platoon Comd both in Montreal and in St-Jean in April.
What do you think of RMC in reflection?
More
RMC was a great challenge in my life. You learn how to work in teams and to work on your own. You learn to work fast and efficiently. You learn to fight for what you want. Most of all, you learn from all the times you suffered, that you don't want anyone to feel that way. This provides a basis for commanding your platoon. RMC is hard, but once it is done, you're happy you survived and can't wait to look for your next challenge.
What advice can you offer the soon to be graduates?
La vie après le collège aura value tous les efforts mis. Une fois arriver à votre pon, assurez-vous d'avoir une bonne relations avec votre cmdt. Non seulement l'écouté et prendre son expérience, mais de trouver une méthode de travail qui vous convient au deux. Prenez le temps de vous impliquer et de faire des activités en dehors du travail et surtout n'oubliez pas que vous subalternes vous regardes en tout temps et leur bien être dépends de vos décisions.
***
PMT  articles coordinated by: Officer Cadet 27079 (II) Joshua Siu – 7 Squadron – Cadet Wing Internal Information O
This week for the Professional Military Training (PMT) for the Officer Cadets (OCdts) of the Royal Military College, each year was split up and had different training that is relevant and practical for use in the future for the OCdts in the Canadian Armed Forces.
***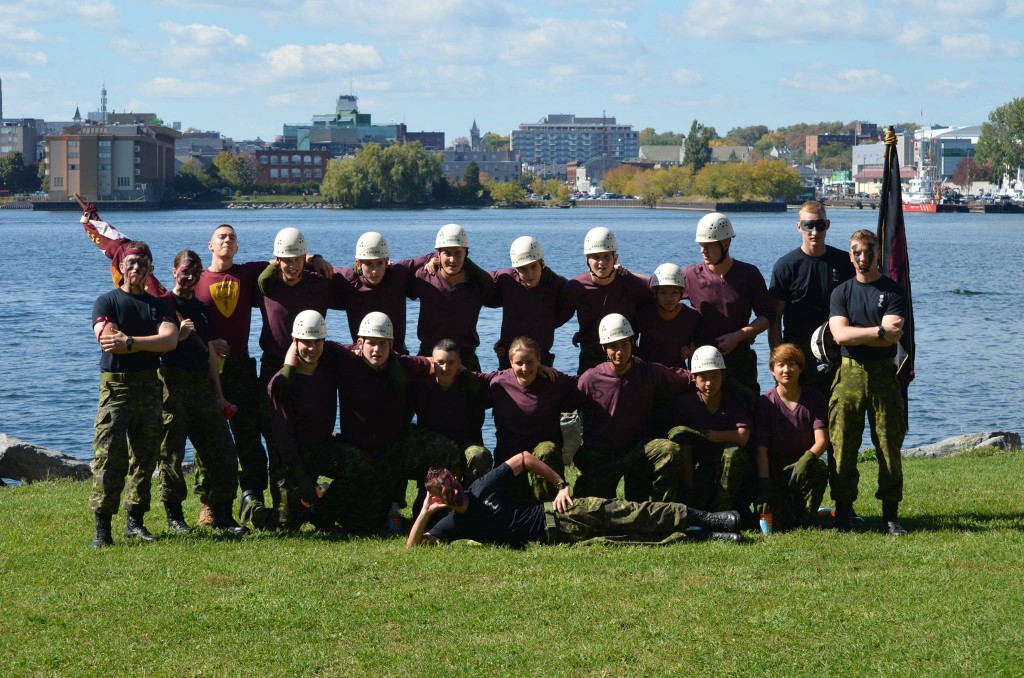 The 1st years of B Division were given the opportunity to partake in various sporting events for PMT on 11 February, 2015. Under the supervision and instruction of PO 1 Strickland and Sgt Vanderklooster, the members of Kaeble, Popa, and Romeo Flights were divided into six teams to compete in winter versions of soccer, football, and volleyball.
Over the course of an hour, the teams rotated through each sport, facing as an opponent the snow just as much as the other team. To conclude the morning, some additional exercises were carried out to further promote the fitness of the cadets.
These activities were greatly appreciated and offered the first years a chance to enjoy some recreation in the midst of the fast-paced life at RMC, especially as midterms are underway. The greatest benefit, however, was the chance to develop teamwork and camaraderie that is essential to functioning not only at RMC, but also this summer at BMOQ and every aspect of military life thereafter.
– OCdt 27305 (I) Andrew Haves
***
Pour PMT cette semaine, les secondes années ont eu une séance d'information sur les programmes d'échange d'étudiants entre CMR et d'autres collèges militaires dans le monde. Nous avons appris comment appliquer aux programmes d'échanges d'étudiants et nous avons pu voir les collèges impliqués dans le programme. Les secondes années ont également pu parler avec des étudiants qui ont participé au programme d'échange l'an dernier, et se renseigner sur leurs histoires et expériences. C'était un PMT intéressante parce que de nombreux cadets sont excités à appliquer et c'était une bonne expérience d'apprentissage. Deuxièmement, nous avons eu une séance d'information sur l'écriture militaire et l'importance des évaluations de personnel. C'est aussi important que c'est quelque chose que nous allons utiliser pour le reste de nos carrières.
– Élève-officier 27097 (II) Gregory Johnstone
***
This week's PMT was a presentation on 'accepting and implementing change.' The objective for this session was to teach 3rd-year officer cadets of methods that they could use to accept and implement change at RMC and in their CF careers. The presentation was given by Captain Adam Bradley (10 SQN COMM). Captain Bradley provided detailed examples from his career where there was resistance from his subordinates in changes within their troop. He told the third years what method worked for him in that scenario and he also highlighted the importance of expressing the intent behind implemented change. The session developed into an interactive discussion between the class of 2016 and Captain Bradley and many cadets were eager to ask questions and seek guidance from this knowledgeable leader.
OCdt 26874 (III) Logan Morris
***
Cette semaine pour la période d'instruction militaire du mercredi matin, les élèves-officiers de quatrième année étaient regroupés par division et ont reçus diverses présentations. Les élofs de la division A ont eu une présentation sur le leadership avec un vidéo d'un discours du Commodore de l'air L. J. Birchall et une discussion sur le vidéo et les points importants du leadership chez les officiers s'ensuivit. Pour ce qui est des divisions B, C et D, les élofs de quatrième année ont reçus une leçon sur les Officiers d'affaires publiques ( PAO en anglais), leçon donnée par le Maj Muralt. Ce fut, de manière générale, une période instructive pour les élofs de quatrième année mercredi matin.
Élof  26091 (IV)  Alexia Croizer
***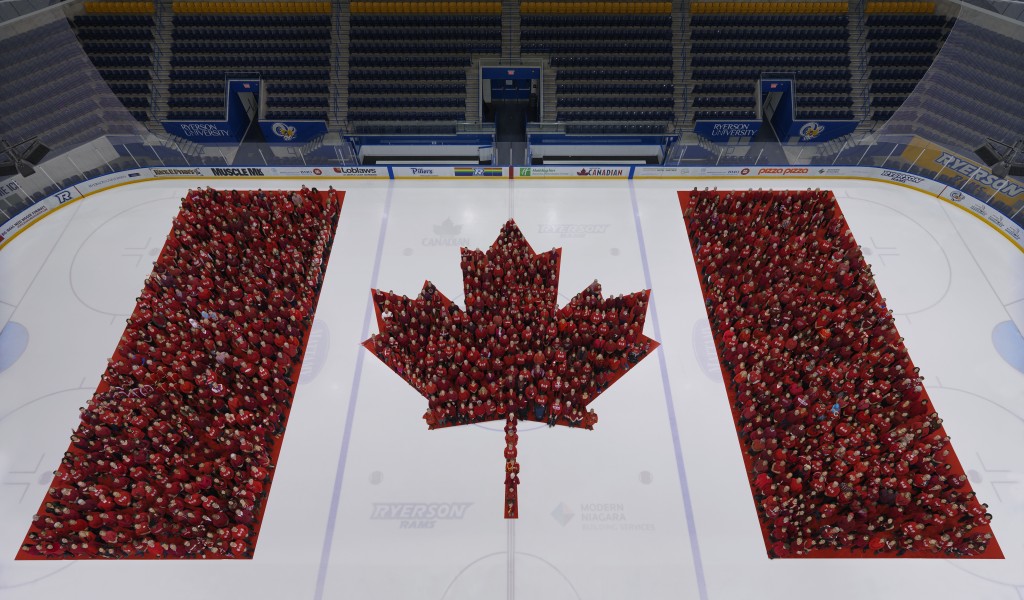 Click on photo for better viewing
This past Friday (13 Feb) , five Officer Cadets in their fourth year from Royal Military College of Canada attended the flag ceremony held by the Lt. Gov of Ontario, Her Honour the Hon. Elizabeth Dowdeswell. The event commemorates the 50th anniversary of the adoption of the Canadian flag by recreating its design on centre-ice in the middle the arena that bears the name of the Canadian symbol which also appears on our national flag – the old Maple Leaf Gardens (now Ryerson University's Mattamy Athletic Centre). The living design is comprised of newly-sworn in Canadians, community leaders, youths, and professionals from all walks of life.
The names of the five Officer cadets are as follows,
26253 IV NCdt. Alexandra LaPlante
26549 IV OCdt. Kai Zhao
26536 IV OCdt. Arman Poonja
26274 IV OCdt. Michael Wolscht
26328 IV OCdt. Spenser Hui
If you zoom in on the photo, you may find them in the middle of the left vertical bar of the flag.