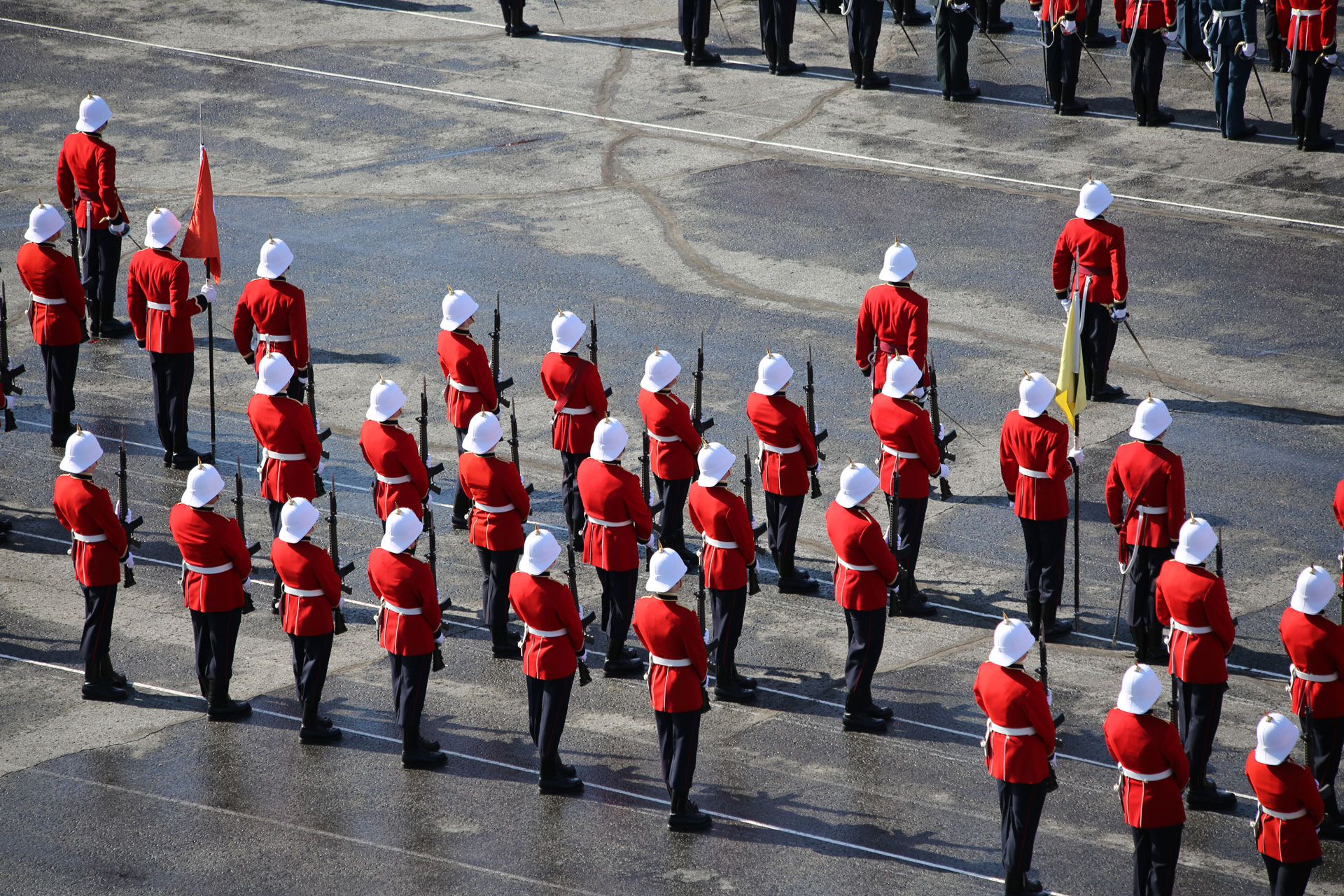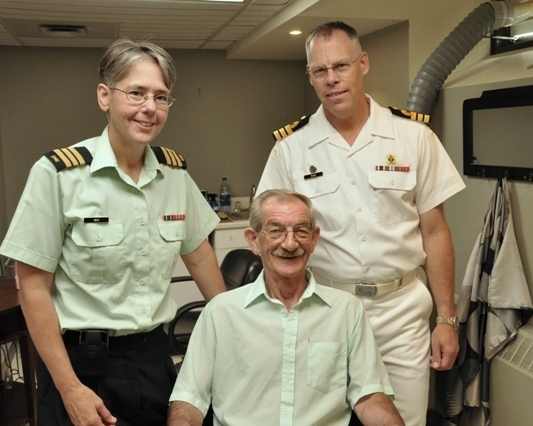 Caption: College brass were on hand to say farewell and thanks to Jim Ryan the much loved RMC barber for the past 44 years.
RMC Commandant, Commodore Bill Truelove was on annual leave last week. Chief of Staff Commander Darren Rich and Director of Cadets, Lieutenant Colonel Sue Wigg represented college senior leadership with a touch of class and made sure that Jim didn't leave without knowing just how much he was appreciated all these years.
Photo – Cynthia Kent
RMC Barber hangs up his Scissors
By: Cynthia Kent
It's the end of an era at the Royal Military College of Canada.
On Friday, August 20th, after 44 years as the "Barber of RMC," Jim Ryan put away his scissors and retired.
"It's been a big part of my life," said Ryan, 69, who has done literally tens of thousands of hair cuts at the College. "But it's time they had somebody younger, with new ideas."
Ryan has been a fixture at RMC since 1966. One of the men he attended barber school with was working at the College and decided to make a career change. He asked Ryan if he wanted to take over the job.
Since then, generations of future leaders in the Canadian Forces have had their hair cut by him. And everyone on base seems to know Jim the Barber.
"Hey Jim, how are you doing?" asked a group of Officer Cadets passing by the barbershop.
Ryan smiled and waved. For him, one of the joys of the job has been the cadets.
"Oh my! The effort they put in to do well," he said. "They study, drill and do sports."
In fact, Ryan is known around the college as an RMC booster. Over the years, he's often been found in the stands cheering on the varsity teams. And one of his big thrills each year is watching the Obstacle Course during Reunion Weekend in October.
Ryan has seen many young Officer Cadets come and go over the years. And he's seen many changes. The price charged for a hair cut, for example.
When Ryan first began working at RMC 44 years ago, the cost of a haircut was 75 cents.
Today it's 10 dollars and fifty cents – still reasonable by today's standards.
But some things remain the same.
"The hair cut hasn't changed too much over the years," he laughs. "Up over the ears and a clean neck!"
And even though he's hung up the scissors, Jim Ryan promises he will not forget the Royal Military College. He says he'll still come around from time to time. And he will continue to go to cheer on the home team when he can.
________________________________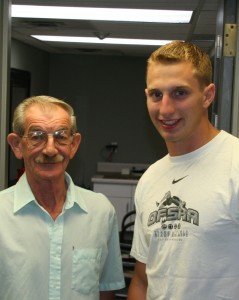 Caption: Landon Lavictoire was just one of many cadets and staff members who dropped by to say farewell to Jim Ryan last Friday. Photo – Dan Fleming
James Ryan calls it a day – after 44 years on the job
By: WJO
Last Friday saw longtime RMC barber Jim Ryan call it a career.
Jim, who came to the Royal Military College in 1966 after being trained at Toronto's Provincial Institute of Trades, loved the art of cutting hair and being around cadets so much that he worked well into his 70th year.
It was only fitting that one of the better RMC student-athletes was on hand to say farewell to the quiet spoken and down-to-earth Kingston native on his last day on the job.
Landon Lavictoire a hockey player who will be remembered for years to come for what he did in his very first OUA hockey league game dropped by the basement of Yeo Hall to pay his respects.
As a rookie forward in 2008, with just over 8:00 minutes remaining in the third period in a 6-6 game, the Kirkland Lake native found himself between the pipes thanks to a bizarre scenario – one Paladins goalie was injured and the other was ejected.
Landon stopped three shots through the remainder of regulation and a five-minute overtime period. Then, with something you would expect to read in Ripley's Believe it or Not, he turned aside all three shooters he faced in the shootout to give RMC a wild 7-6 win over the Ontario Tech Ridgebacks.
Jim Ryan was at that game and recalled all the details like it was yesterday. Of course, the now III Year officer-cadet was amazed at the recall memory of  the retiring barber.
"It was the most memorable night of my life," said Lavictoire. "I will never ever forget my first OUA game. I got an assist, I got the win in net and I stopped all three shots in a shootout."
We won't even try to mention all the cadets and RMC sports memories over the past 44 years that Jim Ryan talked to me about last week. He didn't just work at RMC for all those years – he was as dedicated and as proud as any military or civilian employee at the college.
We asked Jim what he will remember most. "I loved the atmosphere around here. The cadets and staff always treated me with respect," he said. He closed our talk with the always present twinkle in his eye. "Every haircut was different."
We miss ya already Jim!
Ed: We are in the process of putting a scrapbook together for Jim. We hope to present it to him some time during the upcoming hockey season. Any Ex cadets or current cadets; former staff  / faculty including former commandants and principals who wish to drop us a line with a "Jim the Barber" story or just best wishes – we will be sure to include your note.  Leave a comment below or send it to:
What the Kingston Whig had to say about Jim and his retirement.