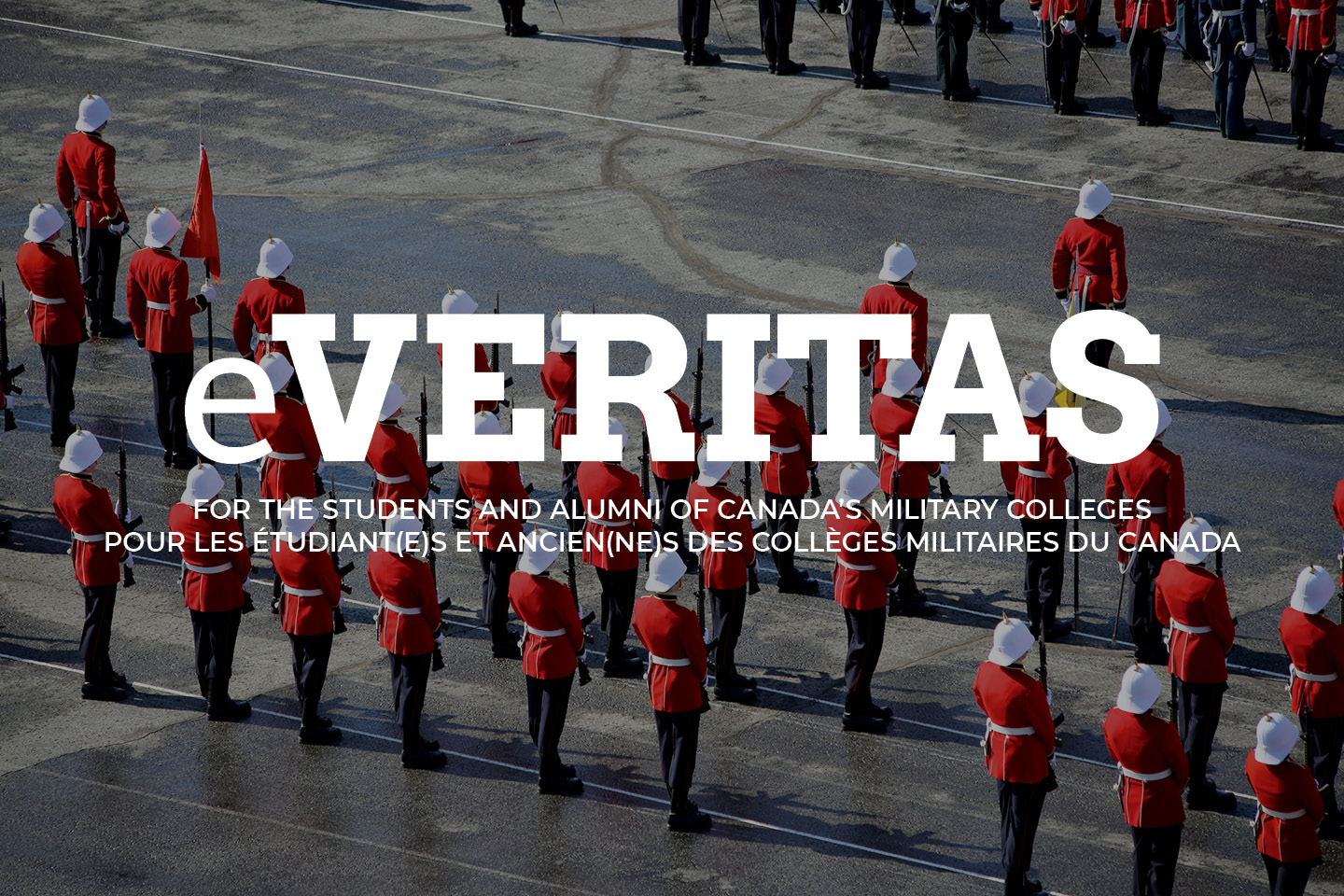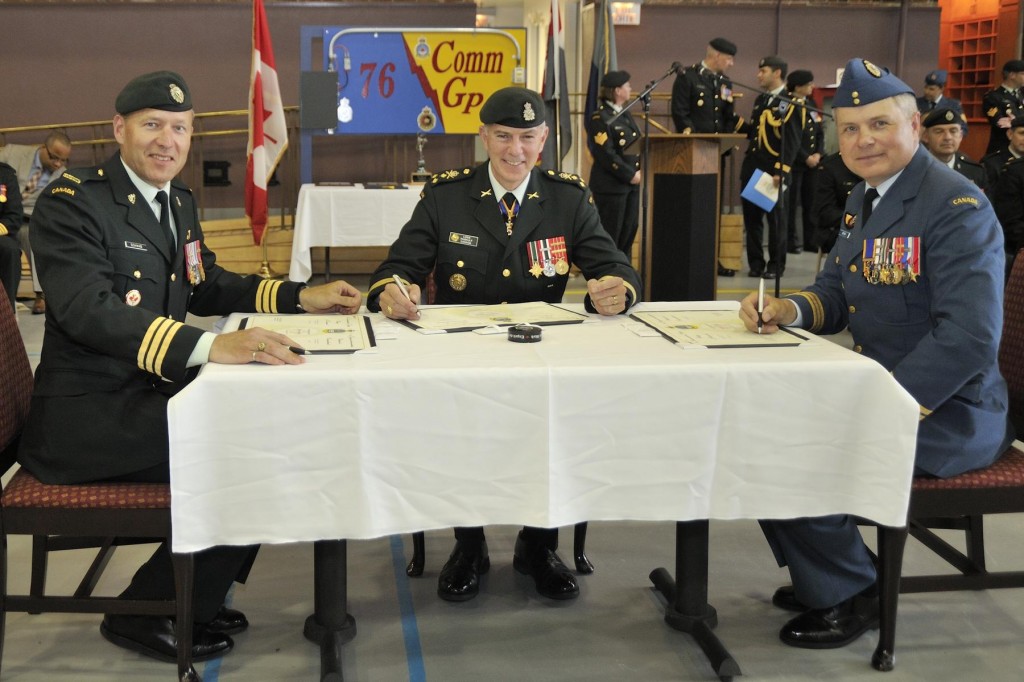 76 Communication Group – Change of Command – June, 2012
By WJO – Photos by: Cpl HJL MacRae
16039 LCol AHJ Schwab assumed command of 76 Communication Group in a change of command ceremony at the Cartier Square Drill Hall, Ottawa June 12th.
Schwab relieved 13846 LCol KF Bryski, who has served as commander since June 2010.
In his farewell remarks Bryski, whose next assignment is a two month intense French course acknowledged the many accomplishments, hard work and dedication of those under his command.
"To the men and women of 76 Communication Group – 764 Communications Squadron, CF Crypto Support Unit, CF Crypto Maintenance Unit, and our Headquarters, you are the best" Bryski said. " I am awed at what you accomplished – military and civilian. Over the past two years, 76 Communications Group has provided support to every CF operation including OP CADENCE, OP MOBILE, OP DIAMOND, OP NANOOK, OP ATTENTION." The 1983 RMC Class Secretary also added. "Approximately 66% of 76 Comm Gp military and civilian personnel have deployed on a Technical Assistance Visit in direct support of an Operation or as an individual augmentee."
Schwab takes command of 76 Comm Gp following a year with the IM Capability Development Directorate where he has been overseeing the development of a national service management framework.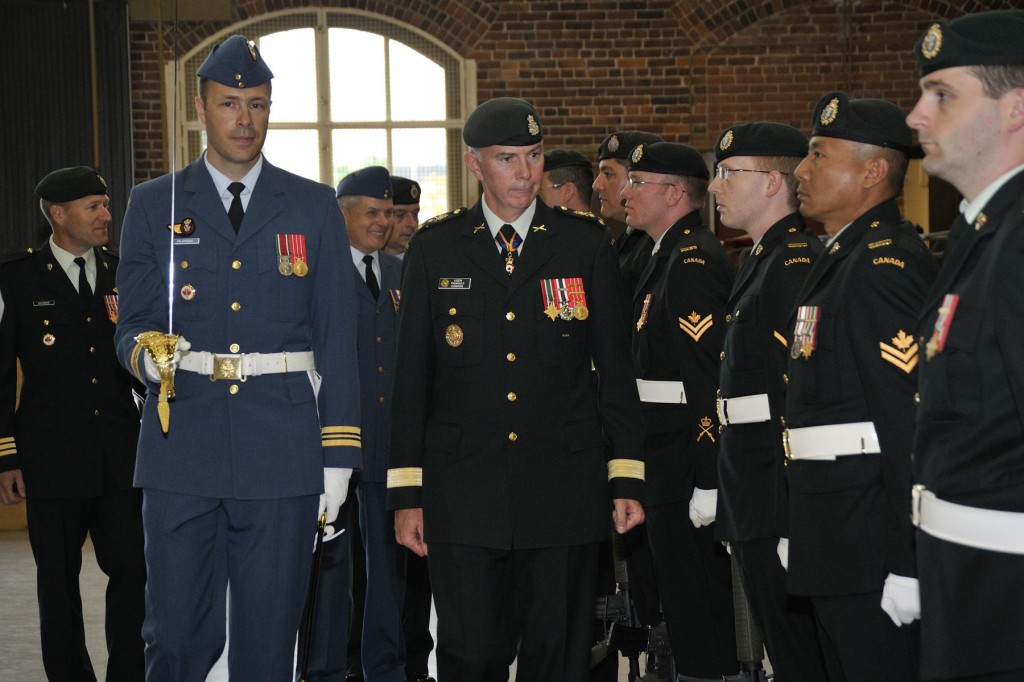 Reviewing Officer for the impressive Change of Command parade was 13551 LGen GR Thibault who was in Ottawa  from his regular duties in Washington, DC where he is Chairman of the Inter-American Defense Board (IADB). Parade Commander was another Ex Cadet 19136 Major JPB Falardeau.
The motto of of 76 Commincation Group is "Omni Modo Communicare" which means "communicating by any means". The working definition is " where there"s an operation, we're operating!"
Order of Military Merit Ceremony
His Excellency the Right Honourable David Johnston, Governor General and Commander-in-Chief of Canada, presided over an Order of Military Merit investiture ceremony at Rideau Hall, on Friday, June 8, 2012. The Governor General bestowed the honour on 4 Commanders, 9 Officers and 31 Members.
This ceremony marked the 40th anniversary of the creation of the Order of Military Merit. "It is an honour to pay tribute to the dedication and excellence of Canadian Forces members," said His Excellency, who is chancellor of the Order. "For 40 years, the Order has served as a showcase of remarkable achievements and contributions from within our military, highlighting exemplary conduct for all to see."
Created in 1972, the Order of Military Merit recognizes meritorious service and devotion to duty by members of the Canadian Forces. The Order honours them for their commitment to Canada, according to the following three levels of membership: Commander (C.M.M.), Officer (O.M.M.) and Member (M.M.M.).
A quick peek at the list confirmed the following Ex Cadets. If we missed anyone, please accept our apology.
ORDER OF MILITARY MERIT RECIPIENTS
14274 Major-General Alan John Howard, C.M.M., Canadian Army Command
12708 Major-General Ian Poulter, C.M.M., C.D. Chief of Programme
This is a promotion within the Order. Ottawa, Ont.
16165 COLONEL BOYLE S.T. , OMM, CD
13994 COLONEL CADE J. , OMM, M, CD
15318 COLONEL GIRARD J.J.M. , OMM, MSM, CD
16271 COLONEL GOSSELIN J.P.H.H. , OMM, CD
14154 COLONEL MAILLET G.J. , OMM, CD
15939 Lieutenant-Colonel Darlene Quinn
____________________________________________
Management of Human Resources Award – 2012
16685 (G1950) LCol Chantal Fraser and 13704 Major Chris Willis, are recipients of the Management of Human Resources Award – 2012. They were recommended by Col Bernd HORN , OMM, MSM, CD, who graduated with a Masters and PhD in War Studies from RMC.
The award recognized members of the CDA Aboriginal Team/CMP who have demonstrated effective HR management and/or have contributed to the achievement of employment equity in the workplace. Demonstrating exemplary collaboration between DND civilian employees and members of the CF, the Canadian Defence Academy (CDA) Aboriginal Team furthered DND's Employment Equity goals through research, the development of new Special Measures Aboriginal Programs, and formalizing funding and standards for these programs.
The CDA Aboriginal Team conducted the Aboriginal Awareness Course for DND, and then expanded its role to include strategic oversight for all Employment Equity Special Measures Aboriginal Programs. They are strongly engaged in Aboriginal awareness and youth development programs, research, advisory services, and community outreach, actively seeking input from national Aboriginal organizations and forums. This team of dedicated professionals works together to ensure the continued success and growth of these evolving programs, which include the Aboriginal Leadership Opportunity Year, the Canadian Forces Aboriginal Entry Program and the Aboriginal Summer Programs.
These initiatives produce a significant percentage of successful, dedicated program graduates who join either the CF Regular or Reserve Force.
____________________________________________
Brighton resident heading to Africa
"I will be helping the UN prepare standard operating procedures for the disarmament and repatriation of foreign armed fighters in the eastern Congo,"
5944 Clayton Samis  Article
Brian Stewart: Cutting words from Canada's top soldier
"But we need to start cutting steel."
12320 Chief of the Defence Staff Walter Natynczyk Article
Who will preserve the past for future generations?
5105 J.L. Granatstein  Article
____________________________________________

Two Ex Cadets Making a Difference
The Board of Directors of The Loyal Edmonton Regiment Military Museum is graced with two ex-cadets, 5993 Maj (ret) John Matthews, and and 7000 Maj (ret) David Haas. It is a working board and both have made significant contributions to the museum. Located in Edmonton's Prince of Wales Armouries Heritage Centre, the museum has two display galleries and a modern basement storage area housed in the original indoor range and armourer's shop.
David served many years in both Regular and Reserve Forces. His main work was in infantry and military intelligence. In addition to our permanent displays telling the story of the Regiment he has created three major special exhibits: "War Brides", "Horse Warriors", and "The Battle of Ortona" and is currently finishing, "C100 : Canada's Hundred Days" telling of the final campaign in World War One. In recent years he has been involved in storytelling, singing and songwriting, and the theatre.
His main involvement is as a playwright. One recent play, The Visitor, with a Remembrance Day motif, was selected for production but did not go ahead due to casting difficulties. Another, A Health Unto Her Majesty, set in 1952 and showing a small Franco–Albertan town celebrating the Queen's accession, is to run in Morinville, Alberta, during the coming St. Jean Baptiste festival there.
John retired from the Regular Force (infantry, R22eR) in 1986 with 27 years service and then spent another 9 years with The Loyal Edmonton Regiment. He has put his RMC BA in history to good use vetting and writing material for the military history modules of the museum website http://www.lermuseum.org/. He is in the process of helping create new material to update the original website, completed weeks after 9/11, to reflect the last decade's momentous events which saw three soldiers of the 'Eddies' die in Afghanistan.
In the last few years John has also put his history degree, and many other skills learned in his 36 years military service, to good work in a project involving the 'resurrection' of a neglected pioneer cemetery – go to http://www.goodshepanglican.org/PoplarLake.htm.
***** Artefacts *****
Did you know?
The Loyal Edmonton Regiment Military Museum has a number of artifacts related to the Canadian Military Colleges:
Red horse–hide jacket, CMR
Cadet's cane, pre–World War II
Two pillbox caps
One wedge cap with badge
RMC Arts '66 class badge for P–jacket (designed by then Officer Cadet 7000 Major (Ret'd) David Haas (RMC 1966)
Cloth cap badges and miscellaneous badges including rank bar pins