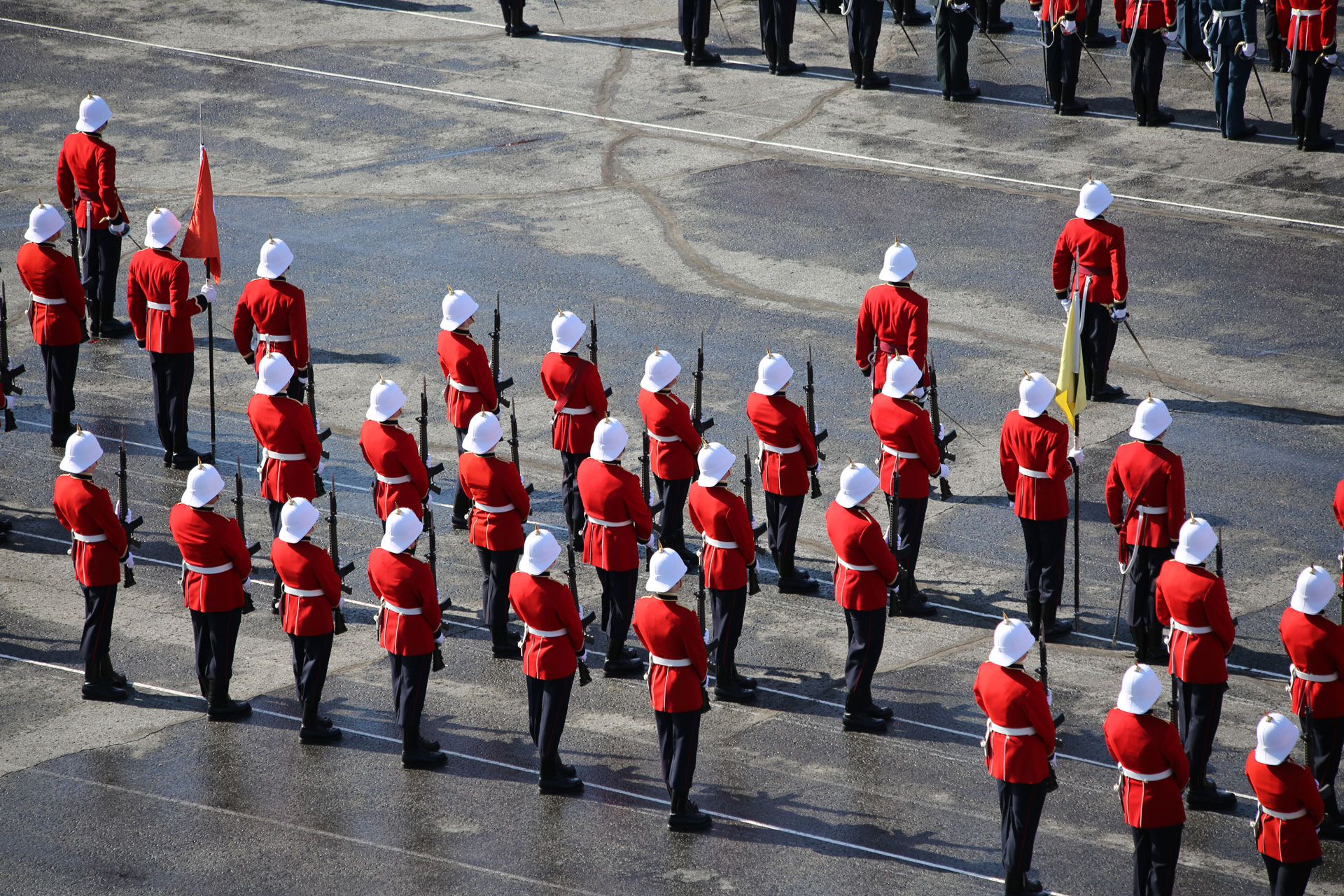 22007 Major Michelle Knight Mendes (RMC 2001) laid to rest
Northumberlandnews –
May 01, 2009
By Bill Tremblay
Major Michelle Knight Mendes touched many lives, from Grafton to Brazil, to the Middle East.
On Friday, May 1, friends, family, Canadian Forces members and the public gathered at the Sydenham Street United Church, in Kingston, to remember the many ways Maj. Mendes influenced and inspired those around her.
"She was my sister, my other half, and my friend," her sister Melissa Knight said during a eulogy. "She was an important part of me."
People would mistake Maj. Mendes for her sister, often annoying Melissa.
"Now I will smile and consider it a compliment," Ms. Knight said. "Things will never be the same without you Mic. It breaks my heart to know my girls will never know you."
Both sisters grew up on an apple farm near Grafton.
"The orchards hold as many memories as they do apples," Ms. Knight said. "Michelle touches many lives, she was so beautiful on the inside and the outside. She was so many things to so many people.
"She inspired us as a family, community and country."
Outside of the church, roads were blocked off, allowing hundreds of people to pay their respects. Other roads were blocked with traffic en route.
Dr, Alan Okros, one of Maj. Mendes's professors at Royal Military College, where she earned a history degree in 2001, described her as "someone special".
"She impressed her fellow students and made deep friendships," Dr. Okros said.
Dr, Okros was once told by one of his peers they didn't know the Canadian Forces had officers like Maj. Mendes.
"My answer was there are some, but they are rare," Dr. Okros said.
Dr, Okros said Maj. Mendes never took no for an answer.
"When she decided she was going to do something it was the classic case of lead, follow or get out of the way, because she was going to get it done," he said.
"She was loved for her drive, conviction and passion."
Maj. Mendes, an intelligence officer based in Ottawa, became a role model for other Royal Military College cadets as she developed into an officer.
"She reached out to the first class of cadets, brought them into the branch and passed on valuable information and gave personal advice," Dr. Okros recalled. "Some of them are here today."
After moving to Kingston, Maj. Mendes set out to meet her new neighbours.
"Her circle of friends was amazing," Dr. Okros said. "One of the games I enjoyed playing was how do you know Mic?"
Maj. Mendes was found dead in her room in Kandahar on April 23. Canadian Forces are investigating, although enemy action has been ruled out.
___________________________________________________________________________________________________
I will remember my mates from HMCS Kootenay – 6533 Gordon Forbes, (RMC 1965)

Re: Battle of the Atlantic remembered, April 30.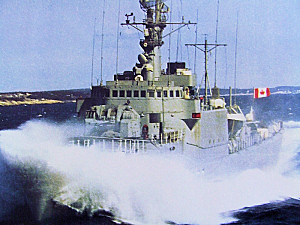 As a survivor of the HMCS Kootenay naval disaster in 1969, I will be standing Sunday at the National War Memorial in tribute to the nine men who lost their lives in service to their country.
A wreath commemorating the 40th anniversary of this event will be laid at the war memorial during the public ceremony at the National War Memorial to commemorate the 64th anniversary of the end of the battle.
Besides the long and difficult battle fought by the Canadian Navy from 1939 to 1945 in the Atlantic, we need to recognize those who gave their lives in the same navy in peacetime. The HMCS Kootenay explosion was one of the worst peacetime events in the Canadian Navy's history.
On Oct. 23, 1969, HMCS Kootenay was returning from Europe across that same Atlantic Ocean. At 8:20 a.m., an explosion and fire in the engine room took the lives of eight sailors, my shipmates. A ninth man died later aboard HMCS Bonaventure. Three men, including the engineering officer, were badly burned and had to be flown (by Sea King helicopter) to England for medical treatment.
In October of this year, survivors of that tragedy will hold memorial services in England and Halifax to mark the anniversary and remember those shipmates who gave their lives. Several of the wives of the deceased will also be at the ceremonies.
6533 Gordon Forbes, (RMC 1965) More on the HMCS KOOTENAY Gearbox Explosion
___________________________________________________________________________________________________
Sidelined sub to get new tiles
Acoustic coverings that allow Windsor to stay stealthy undersea likely to cost more than $1 million
By CHRIS LAMBIE, The Chronicle Herald
9127 Eric Lerhe (CMR RMC)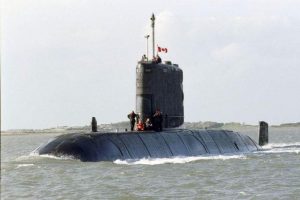 The navy is planning to replace thousands of acoustic tiles that cover the Halifax-based submarine HMCS Windsor.
The tiles help the diesel-electric sub stay stealthy underwater.
"The replacement tiles will be required in areas as small as one tile, but generally in areas comprising many tiles," say recently published tendering documents that note the work must be done in Eastern Canada.
Read the rest of the article HERE…
_____________________________________________________________________________________________________
Mission: Prevent pirate attacks
Ex-cadet working with NATO in Gulf of Aden
By IAN FAIRCLOUGH, The Chronicle Herald
20047 Steven Gresmak (RRMC 1995)
A Canadian naval officer from Dartmouth is in the midst of the international effort to curtail piracy off Somalia.
Lt.-Cmdr. Stephan Gresmak is serving as a NATO staff officer aboard NRB Corte-Real, a Portuguese frigate that is part of a group of ships with the North Atlantic Treaty Organization patrolling the Gulf of Aden near Somalia.
Read the rest of the article HERE…
_____________________________________________________________________________________________________
PTSD in Afghanistan
By PETER WORTHINGTON – The Toronto Sun
7860 Romeo Dallaire (CMR RMC '69)
A recent front page report in the Toronto Star wondered why 20% of soldiers who serve in Afghanistan come down with various forms of stress disorder.
Theories range from repeated long-term missions causing psychological problems, to the possibility that quick diagnoses gives the impression of increased PTSD (post-traumatic stress disorder).
In varying degrees, all of the above may be true. But the real cause of mental and emotional trauma linked with service in Afghanistan is IEDs (improvised explosive devices) that are a threat whenever a vehicle ventures outside the confines of the Canadian base.
There is no foolproof defence against roadside bombs, which cause huge craters and wreck tanks. The threat of explosive devices is always there — some planted on the return trip of a supposedly safe route.
Read the rest of the article HERE…
_____________________________________________________________________________________________
Air force threatens to ground Snowbirds
11330 MGen Angus W Watt (CMR '77)

By David Pugliese, The Ottawa Citizen May 2, 2009
The air force is warning it won't have any choice but to shut down the Snowbirds
aerobatic team and the Challenger aircraft fleet used to shuttle Prime Minister Stephen Harper and other federal ministers if the government follows through with a five-per-cent cut to its budget.
The air force had been told to find at least $43 million in savings in the coming year, but that reduction could go as high as $123 million if the government doesn't come up with an influx of cash regularly provided to meet existing funding shortfalls.
Air force chief Lt.-Gen. Angus Watt has come back with options to deal with the cuts that include grounding the popular Snowbirds team as well as the Challenger fleet, according to his 2009-10 strategic assessment obtained by the Citizen.
Read the rest of this article Here…
_____________________________________________________________________________________________
Former RMC Star – Coaching Elite Level Girls B.B.

Posted By MIKE KOREEN, Kingston Whig Standard
23803 Jennifer Donofrio (RMC 2007)
For the second year in a row, the Kingston Impact will play host to a provincial basketball championship this weekend.
The big difference this time around is that the Impact plan to make a major impact on the hardwood.
Read the rest of the article HERE…
_____________________________________________________________________________________________________
Another Ex-Cadet Takes Over at CFRG
CFB BORDEN, ONTARIO – Major-General Walter Semianiw, Chief of Military Personnel, will appoint 12580 Commodore Dan MacKeigan (RMC 1980) as the new Commander of the Canadian Forces Recruiting Group (CFRG) at a change of command ceremony held at Canadian Forces Base (CFB) Borden.
Date: Friday, May 1, 2009
Time: 1:30 p.m.
Location: 30 Ortona Road, Cooper Hall Auditorium,
Canadian Forces Medical Services School
(CFMSS), CFB Borden
Commodore Dan MacKeigan, an Ottawa native who served most recently as Commanding Officer of the Canadian Forces Maritime Warfare Centre in Halifax, N.S., will assume the command of CFRG from Colonel Matthew Overton, who has served as the Commander of CFRG since May 2007.
_____________________________________________________________________________________________________
Veterans' watchdog laments 'failing' in new role
5,000 inquiries, 1,700 case files mire ombudsman in a sea of work
By David Pugliese, The Ottawa Citizen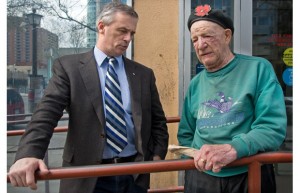 Veterans Ombudsman, Col. Pat Stogran (Ret'd) chats with veteran
12723 Pat Stogran (RRMC RMC 1980)
The country's first veterans ombudsman has given his performance so far a failing grade and warns he is facing an uphill battle in helping veterans who aren't happy with the treatment they are receiving from government.
Public service red tape has delayed hiring employees for ombudsman Pat Stogran's office in Ottawa. At the same time, the office has found itself swamped with complaints from veterans.
Since being named ombudsman in the fall of 2007, Stogran's office has had 5,000 inquiries from veterans, of which 1,700 have proceeded as case files to be investigated. Those involve a variety of complaints with many focused on the type of benefits or services that veterans have received from Veterans Affairs Canada.
Read the rest of the article HERE…