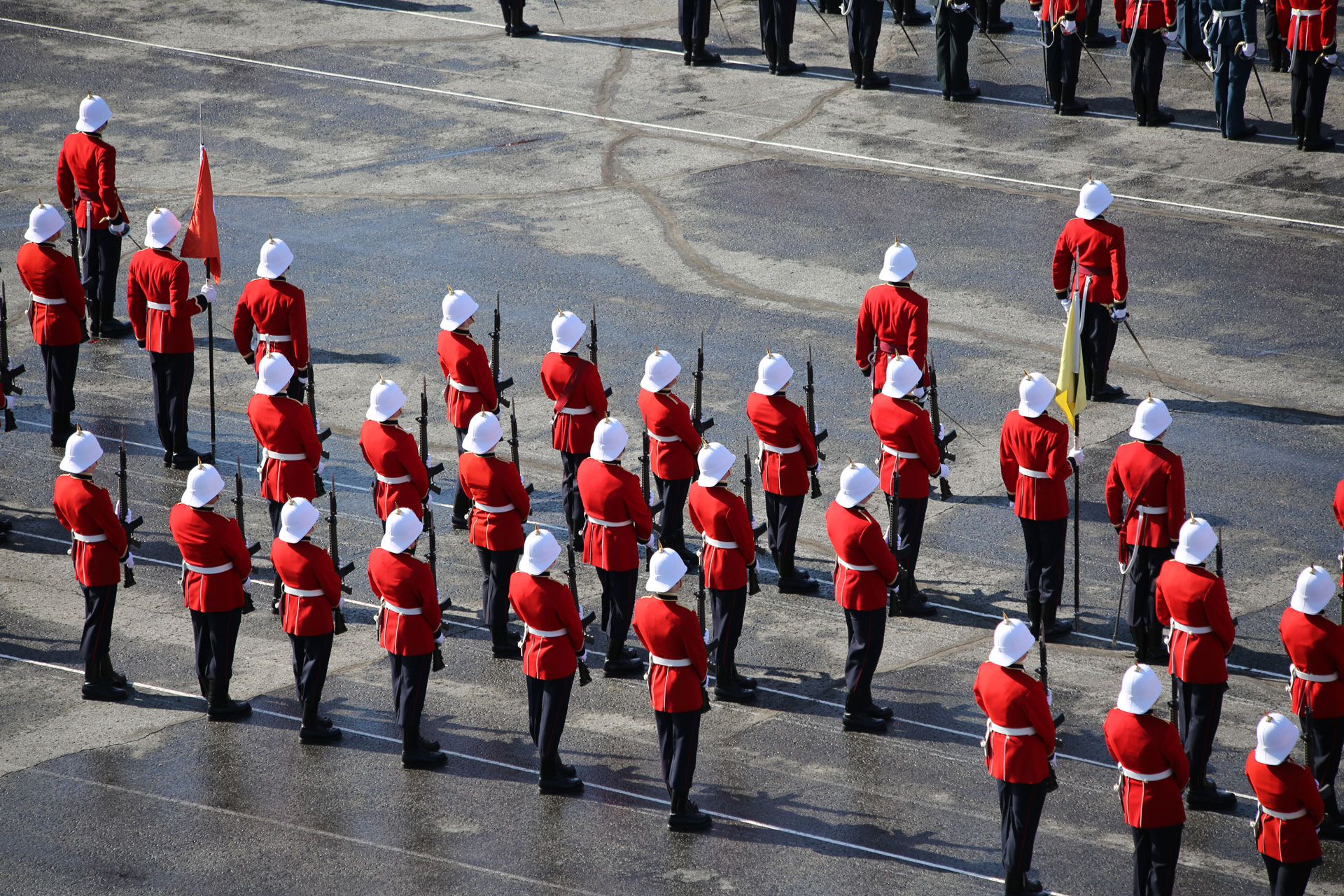 Three Time Champs!
Back Row L-R: Maj D. Harold, Maj S. Gauthier, Capt J Bristow, Capt S Degen, LCol F. Allen, Maj K. Saunders, Capt C Bramma, Col F. Bigelow (Comd 19 Wing)
Front Row L-R: LCdr D. Dale, Lt(N) J. Baker, Capt Lauren Banks, Pte Geneviève Girard
Having a Winning Attitude: Ottawa Ex-Cadet Volleyball Players Come Out On-Top for a Third Time
By: Capt Claire Bramma (Class of '02, 22461)
As a member of the Canadian Forces Support Unit (CFSU) Ottawa women's volleyball team, it was a privilege to participate in the 2009 CF Volleyball National Championships hosted by 19 Wing Comox from 25-28 April. I would like to share with Veritas readers a short account of my recent Nationals experience, since such events bring together athletes from across the CF and inevitably reunites Ex-Cadets. I also feel that our volleyball team has developed something unique over the past three years; a winning attitude. A winning attitude which should be brought not only to the sports field, but to our area of service in the CF.
Our CFSU(O) women's volleyball team represented Quebec Region at the Nationals, during which we did not lose a single set, even though there were several close games throughout the tournament. What made this championship particularly special for me was the fact that this was our team's third consecutive gold medal and second year undefeated in sets. In addition, seven of out of ten players on our team are Ex-Cadets. Some of us had played varsity at RMC or RRMC, while others had developed their skills following graduation from college. In the final, we faced 17 Wing Winnipeg representing Prairie Region (with ex-cadets Lt Julia Rantz and Lt Melissa Calnan), and we won by a score of 25-14, 26-24, 25-16.
Our coach Major Dave Harold (Class of '95 18342), himself a former RMC and CISM volleyball player, helped us to develop a very strong serving game as well as the ability to play well under pressure. "It was no surprise to me that the team did very well again this year. We had been training hard and building team cohesion since September. This mix of preparation and talented athletes enabled us to remain calm and focused during important stages of each match. I'm really proud of all of them."
Setter Major Sarah Gauthier (Class of '97 20744) played a crucial role in the team's ability to attack the ball from all zones, while libero Lt(N) Jess Baker (Class of '04 22757) provided solid serve reception and defense. Middle attackers included LCdr Daphne Dale (Class of '95 20017) and the two pick-ups from CFB Valcartier Capt Jill Bristow (Class of '05 23126) and Private Geneviève Girard. Lt Lauren Banks (Class of '06 23415) was our technique player and LCol Frances Allen and Maj Kim Saunders (Class of '94 19518) proved to be key offensive threats on the right side. I teamed up with fellow power hitter Capt Sarah Degen to bring both offensive power and defensive skill to the team.
Finally, a notable aspect of our team was our winning attitude, which we brought to every game and proved to be especially important in our ability to come back after being behind several points during a set. It was this winning attitude that enabled us to have the confidence and composure to play smart and win the decisive points even when we were down. Accordingly, this recent volleyball experience demonstrated how athleticism, determination, and teamwork could produce amazing results. It also reminded me that these qualities were rooted within many of us at the beginning of our careers during our time at military college and we continue to live them out today.
—————————————————————————
16076 LCol John Conrad (RRMC-RMC 1987)
—————————————————————————
19216 Maj Kevin McLoughlin
—————————————————————————
14596 Col Dean Milner (RRMC-RMC 1984)
—————————————————————————
21796 Capt Craig Johnston (RMC 2000)
22756 Capt Guillaume Tremblay (RMC 2004)
24228 SLt Matt Lorrain (RMC 2008)
24873 OCdt Simon Dakin (RMC 2011)
24880 Ocdt Bobby Hartzell (RMC 2011)
—————————————————————————
16855 LCol Sean Friday (RMC 1989)
—————————————————————————
15456 Col Pierre St-Amand (CMR-RMC 1986)
21293 Maj Robert Ritchie (RMC 1998)