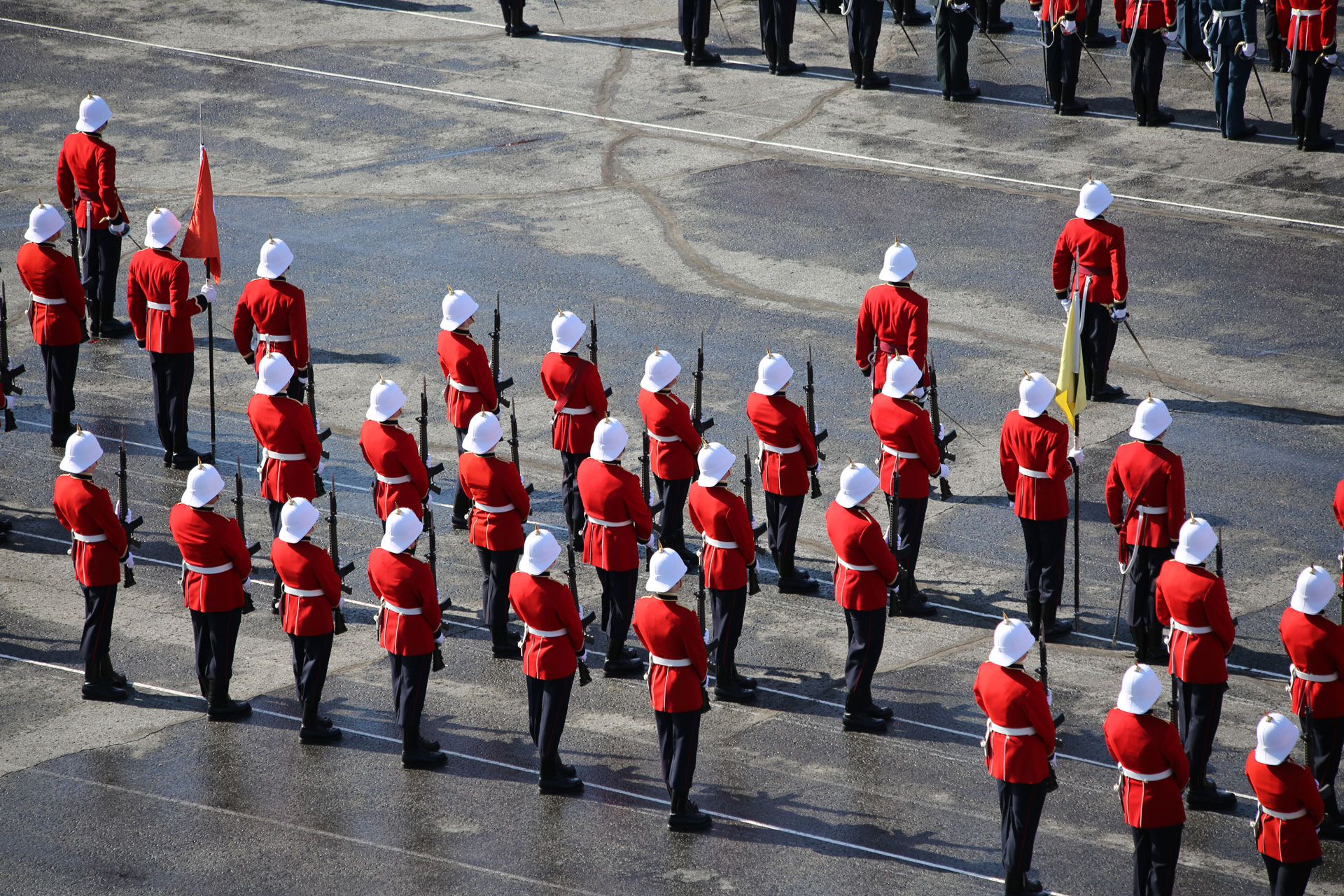 Her Excellency the Right Honourable Michaëlle Jean, Governor General and Commander-in-Chief of Canada, announced May 31, 2010 the awarding of Meritorious Service Decorations (Military Division) to individuals whose specific achievements have brought honour to the Canadian Forces and to Canada.
The Meritorious Service Cross (Military Division) recognizes a military deed or activity that has been performed in an outstandingly professional manner, according to a rare high standard that brings considerable benefit or great honour to the Canadian Forces.
Recipients with links to the Military Colleges include:
15194 LCol Dana Jeffrey Woodworth M.S.C., C.D. (RRMC 1985) was deployed to Afghanistan as the commanding officer of the Kandahar Provincial Reconstruction Team, from January 2008 to February 2009. With an expanding civilian presence, he encouraged co-operation and openness that helped forge the unit into a unified military-civilian team. In response to the Sarposa Prison break, he developed a security plan that enabled Afghan National Security Forces to take the lead in defending Kandahar City. Lieutenant-Colonel Woodworth's outstanding leadership advanced Canada's strategic initiatives in Afghanistan. LCol Woodworth has departed the Canadian Army.
17795 LCol Orest Babij M.S.M., C.D. (RMC 1991) is Acting Director Policy and Programmes Intelligence (DPP Int), Chief of Defence Intelligence (CDI) in Ottawa. Major Babij was deployed to Afghanistan as the commanding officer of the All Source Intelligence Centre, from September 2008 to April 2009. With an in-depth understanding of the insurgency, he led his team in the production of intelligence products that enabled the targeting of insurgent commanders, reduced rocket attacks against Kandahar Airfield and facilitated the removal of several improvised explosive device networks. By providing current information on the constantly changing battle space, Major Babij and his team enabled numerous Canadian and coalition field commanders to conduct immediate and successful operations against enemy forces.
14274 Maj-Gen Alan John Howard, M.S.M., C.D. (RMC 1984) was promoted to his current rank in June 2009. MGen Howard serves as the Assistant Chief of the Land Staff. MGen Howard is a graduate of the Royal Military College of Canada (BEng- Computers and Masters in Defence Studies). From April 2008 to March 2009, Brigadier-General Howard displayed exemplary leadership and innovation in developing aspects of the Afghan National Army (ANA) at the tactical, operational and strategic levels. He routinely visited ANA units in the field, sharing in their risk and gaining their trust and confidence. His personal and professional relationships with senior ANA leaders directly enhanced their professionalism. Brigadier-General Howard's leadership and work ethic greatly contributed to ensuring Afghanistan's defence institutions were robust, operationally focused and strategically prepared.
20966 LCol Daniel Steve Hurlbut, M.S.M. (RRMC 1997) is A Flt, 2 CFFTS, 15 Wing, Moose Jaw. While deployed to Afghanistan from July 2008 to June 2009, Lieutenant-Colonel Hurlbut, commanding officer of an American infantry battalion, provided outstanding support to the Canadian Forces. Tasked with defining the combat zone in Maywand District for the Canadian contingent, he demonstrated an exceptional understanding of the insurgency and the region's complex political situation. He expertly led his soldiers in multiple counter-insurgency operations while simultaneously expanding the Afghan government's influence. Lieutenant-Colonel Hurlbut's leadership and dedication contributed to Canada's operational success in Afghanistan, enhancing Canadian-American relations.
20801 Major Robert Walter McBride, M.S.M., C.D. (RMC 1997) was deployed to Afghanistan as the officer commanding a rifle company, from September 2008 to February 2009. He expertly led numerous counter-insurgency operations while simultaneously coordinating security, governance and development in Zhari District. With the entire Task Force focused on his area of operations, he demonstrated an exceptional ability to interpret command intent and gain the co-operation of Afghan leaders, civilian partners and allied forces. Major McBride's outstanding leadership of his company directly contributed to the Task Force's operational success.
20875 Major Russell Neal Washburn, M.S.M., C.D. (RMC 1997) is G33 International Current Ops 3, DLFR/G3, Director General Land Staff (DGLS)/Chief Of Staff Land Ops, Chief of the Land Staff. From September 2008 to April 2009, Major Washburn's outstanding mentorship of and excellent rapport with the commanding officers of two Afghan National Army infantry battalions (kandaks) enabled him to significantly progress their professional leadership qualities. With the brigades dispersed across Zhari District, he developed ingenious methods to ensure the optimal placement of his mentoring resources. Major Washburn's diplomatic and leadership skills enhanced the officers' capacities and abilities to effectively lead their soldiers, which earned him their respect as a combat leader and trusted advisor.
______________________________________________
SHOULD THE ROYAL MILITARY COLLEGE SAINT-JEAN BE EXPANDED OR IS RMC KINGSTON ENOUGH?
General who crafted Afghan strategy returns to put it in practice