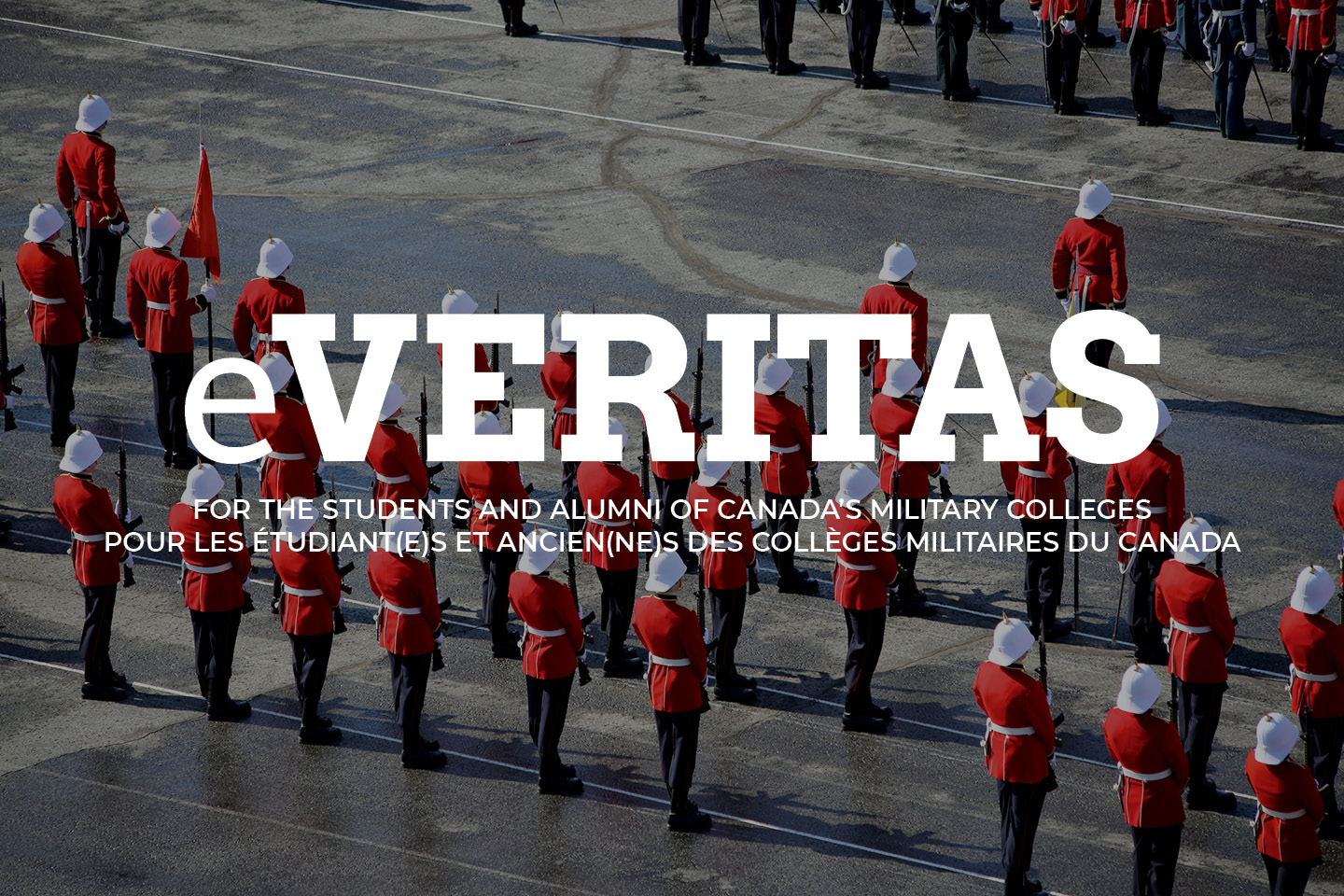 E3161 Victoria Edwards interviewed 5300 Captain (N) (Ret'd) Robert H. (Bob aka Tex) Thomas (RRMC RMC 1962) who served as Director Cadets (DCdts) at RMC from 1983-6.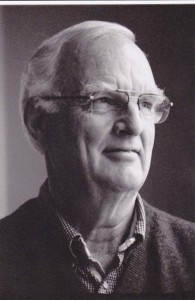 e-veritas: What cadet memories do you have of RRMC and RMC?
Bob Thomas: Although my father served in the RCAF in Burma during the war, he never talked about it and wrote only bland letters home to my mother. It wasn't until after he passed away and I found letters to a friend that I learned about his experiences. I decided to join the Navy and started at Royal Roads in 1957 and, after spending two years in third year, I graduated from RMC in 1962 with a BA in History. Although I met my late wife Bonnie, at Royal Roads, we only began dating when she studied Arts at Queen's University. Since Queen's students living in residence were only provided afternoon tea on Sunday, they were delighted to be invited for Sunday night dinner and a movie at RMC. The meals and movies were good. I recall that the Queen's regs were stricter than RMC – they had to be back in residence at 11 o'clock or they locked the doors. Queen's insisted that Bonnie had to have written permission from her parents to visit my family in Montreal. Many of us married Queen's students. Bonnie and I were married in 1963 after her graduation.
e-veritas: Are there any skylarks that stick out in your mind?
Bob Thomas: I recall a lot of skylarks from when I was a cadet.
– Queen's University held a relay to advertise a football game between University of Toronto and Queen's when I was a cadet. One of the relay runners accidentally passed a football from the 1926 Grey Cup, which Queen's had won, to one of my RMC classmates who disappeared with the ball. During the ensuing 'hostage' negotiations, RMC agreed to return the ball during an upcoming game in exchange for 2 tickets to the Science Formal. Like all the other cadets at the game, I was surrounded by Queen's students checking whether I was carrying their 1926 ball. During halftime, a plane descended and a large number of 'beat McGill' pamphlets were thrown out. The football, which was thrown out on a parachute, landed safely across the street in the Victoria School yard. The Pilot got off lightly.
– Normally, we had to wear our uniforms in town during the day. During frosh week some Queen's frosh on a scavenger hunt accosted two of my classmates, looking for a 1st year cadet. Since they were third years, they explained where they could find a suitable cadet at the south end of Fort Haldimand. Needless to say, the Queen's students were promptly captured and held for ransom.
e-veritas: Who were the commandant(s) during your time?
Bob Thomas: By the time I left RMC in 1986, I had served under a quarter of the Commandants in the history of the College.
• 2184 RAdm (Ret) Desmond Piers (RMC 1930), 2265 BGen (Ret) William Anderson (RMC 1932), and 2424 MGen (Ret) George Spencer (RMC 1934) as a cadet;
• 2576 Commodore (Ret) William Hayes (RMC 1937) and 2530 BGen (Ret) William Kirby Lye (RMC 1936) as a Squadron Commander/D/DCdts; and
• 3173 BGen (Ret) John Stewart (RMC 1953), 3572 MGen (Ret'd) Frank Norman (RRMC RMC 1956), and 3543 BGen (Ret) Walter Niemy (RMC 1956) as DAdm and DCdts.
I remember when General Lye arrived as Commandant. He noted that I was officially appointed to the College as his PA and he insisted that every officer should fill the job he was appointed to. I was sent for and when he realized that I was more than a foot taller than him, he decided to go with the status quo. I particularly enjoyed working with Frank Norman, since we were very much on the same wave length about issues. I felt I could go to him at any time for advice or guidance. At the same time, I could play devil's advocate or argue with him and he would listen to my arguments. I appreciated knowing that he would back me up, even if that was not an easy path. We have been great friends ever since.
e-veritas: What was your military background prior to becoming DCdts?
Bob Thomas: I spent three years at sea on both coasts, serving on four different ships, followed by the 15-month Weapons Officers Qualifying Course. I was the Weapons Officer in HMCS YUKON for 2 ½ years. I was posted to RMC in 1969 as a Squadron Commander and a year later, on promotion, became D/DCdts. During this period I was the Assistant Coach of the basketball team for a year, then Head Coach. This was followed by the interesting experience of being the token naval officer on the Army Staff Course at Fort Frontenac. I returned to sea for a couple of years, followed by three years in NDHQ in NATO Plans and then four years as a DS at the Canadian Forces Staff College in Toronto where I was promoted to Commander.
e-veritas: How did you become DCdts at RMC?
Bob Thomas: How I became DCdts was complicated. Having been out of the operational stream for seven years, I applied for the War Studies Programme at RMC and was accepted in 1981, at which time my career manager informed me that I would therefore never be promoted again. After two months of studies I was called by the Principal, H12881 Dr. Donald Tilley (who I had never met as no-one had told me about his meet and greet for the grad students), and told that the Commandant, 3173 MGen (Ret'd) John Stewart (RRMC 1953), wanted to see me immediately – not always a good sign! General Stewart told me that the Director of Administration had resigned , I was to take over and, by the way, I was to continue my academic programme. This was complicated by the fact that I had bought a house in Kingston and was now required to move into Hewitt House next door to the Principal. This led to an unbelievably difficult 18 months where the support of Gerry Stowe, my deputy, was invaluable. Then, as I was anticipating completion of my thesis (The War in the Gulf of Saint-Lawrence and its Impact on Trade), graduation and a posting, the new Commandant, 3572 MGen (Ret'd) Frank Norman (RRMC RMC 1956), informed me that I was to take over as DCdts that summer. With the support of Bonnie and our teenaged children, I finished the thesis in a couple weeks and successfully defended it. When I did take over, my predecessor and classmate, 5573 Colonel (Ret'd) Layne Larsen (RRMC RMC 1962), was unable to move until the Fall. I agreed to remain in Hewitt House so that my successor as DAdm, LCol AHC (Harky) Smith, could move into Panet House at the earliest opportunity.
e-veritas: What memories (good/bad) do you have of this time period?
Bob Thomas: The three years as DCdts were the happiest and most rewarding of my career. My previous experience as a Cadet and on the staff was invaluable. In particular, working with BGen Norman and BGen Niemy, I had considerable latitude in dealing with the Cadet Wing and my recent experience in the War Studies programme made relations with the Academic Wing very cordial. I was blessed with excellent officers and NCOs in the Military Wing and Athletic Department and we had a tight team. Almost all of the Military Wing staff lived on the grounds in Ridout Row, the gatehouses and Cavalry House. We shared a community garden and a playground for the children beside Hewitt House and life there was fun! We used to joke that our weekends started on 1600 on Sunday since we spent most Friday, Saturdays and Sundays attending social activities, athletic games, parades, plays or competitions. In 1983 the Military Wing staff held a spontaneous New Year's Eve party at the senior staff mess as a potluck, self-help event. After a lovely party, we all walked back in the wee hours to our residences on the grounds.
e-veritas: What were, if any, the major changes that took place at the college during this time period?
Bob Thomas: During this time period a Cadet Mess was created – a wonderful place and a lot of fun. It was housed in the former Warrant Officer & Sergeant's mess; the building is currently used for the technical staff course. Cadets paid Mess dues and a Cadet Mess Committee carried out the general administration, following their own constitution and by-laws. Almost every Friday or Saturday, a dance or squadron party was held there and we were regularly invited.
e-veritas: Any tips for relating to the Cadets and senior officers at RMC?
Bob Thomas: At the top of the list has to be the relationship with the Cadets and having the confidence to let them learn to lead. I was constantly impressed by their effort and professionalism and their desire to get the most out of the RMC experience and the level of maturity they developed. A great memory was the success of Cadets of Otter Squadron and the degree of effort and maturity they brought to the classroom. [University Training Plan Non Commissioned Member plan is designed to allow promising Non Commissioned members to return to school and obtain a university degree, and become commission officers in the Canadian Forces.]
A great tool in relating to the Cadets was my dog, Ben. He resembled the subject of a number of children's books called "Mr. Mugs". I made a point of taking him with me regularly in the evenings if I was going through the dormitories and found that he was better than truth serum. After patting him, Cadets would tell me everything. I also found this true with senior officers visiting the College. Later, in Chilliwack , I mentioned this to General Paul Manson. He seemed sceptical until I mentioned that some months earlier I had met him at RMC and, after patting the dog, he had told me his summer plans in detail!
e-veritas: RMC served as a model for the Australian Defence Force Academy c 1984. defence.gov.au/adfa/
Bob Thomas: I had the great pleasure of briefing the Commandant-designate of the Australian Defence Force Academy, Rear Admiral P.R. Sinclair, Royal Australian Navy, during a visit to RMC prior to its opening. I focused on the organization, Code of College Conduct and operation of the Cadet Wing. It was gratifying to see the degree to which RMC was used as a model for ADFA. During his visit I took him through the RMC Museum and suggested that everything belonging to the first Cadet at ADFA should be collected for their archives. A light came on as I had mentioned the recent graduation of the first class of women. Pic Albertson, who ran the clothing stores, never let me forget rushing in, exclaiming "I want a woman's uniform!" We found the uniform of 14394 Laura Beare (RMC 1984) who was the first of her ROTP class to receive her Arts degree and commission and promptly put it in the RMC Museum.
e-veritas: Lady Cadets had been accepted into the College in September, 1980. What particular challenges did this situation cause you and your staff?
Bob Thomas: When I became DCdts, the first class of women were already in fourth year so many of the challenges had been addressed but some remained. The media were very focussed on the first women to graduate and we were constantly having to remind them that, by the way, a number of men were also graduating. We made every to ensure that interviews were conducted with mixed groups of men and women. I took great pleasure in detailing their accomplishments and seeing the first three classes with women members graduate and 15583 Daryl Tremain (RMC 1986) the first woman appointed as Cadet Wing Commander.
There continued to be a backlash over the admission of women to the College by some Cadets (most of whom had come from Royal Roads), faculty and ex-cadets, as exemplified by the creation of particularly obnoxious 'no pigs in Pillbox hat' buttons that were distributed on an Ex-Cadet weekend. We wanted a zero tolerance policy and I ordered the buttons be collected and turned in to me directly. I personally disposed of them in 200 feet of water off Cedar Island, while out sailing; I most certainly did not keep one for the museum!
Linked to this were annual diatribes from some Ex-Cadets at Ex-Cadet Weekend over the admission of women to the College. At one point, I was personally attacked by an ex-cadet for defending their presence. I asked what the problem was and refuted his arguments, one by one. I don't think he went away happy!
There was only one woman appointed as a Squadron Commander (and none in 1985-6) and while she was expected to act as an advisor to the Lady Cadets, she also had a Squadron to oversee. Bonnie was an enormous help and was always ready to be a sympathetic listener as were the other wives of the Military Wing Staff. I recall the late 14491 Colonel Karen Ritchie (RMC 1985) asked her advice when she was struggling with academic difficulties. Bonnie pointed out that I had failed third year and that it was what I had done afterwards that counted. We had good success in sorting things out and Karen went on to have a wonderful career.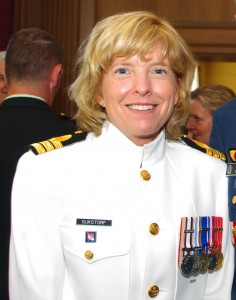 As DCdts, much of my contact with Cadets was through the Military Wing Staff and overseeing that the structure and policies were adhered to. At the same time there were specific instances where I became directly involved and by and large was able to resolve their problems both within the Military and outside. I was pleased to be able to assist some in later years. I recall writing a recommendation for 15519 Commander Sandra Sukstorf (Hawes) (RMC 1986) photo left, for her successful application to Dalhousie Law School where she excelled. Sandra as a legal officer with the Office of Judge Advocate General of the Canadian Forces (AJAG Central Region) and is married to 14632 Colonel Simon Sukstorf (RRMC 1984), Director of Curriculum, Canadian Forces College, Toronto.
A great memory was accompanying the rugby team to the Royal Military Academy Sandhurst and having the opportunity to get a detailed look at their programme. It certainly left me with the impression that we were doing a good job! The visit was enhanced by RMC beating the Gloucester Regiment who were the British Army champions. The results against Sandhurst were not as happy. I have a particular memory of going to West Point for the annual hockey exchange and, at a reception in the Superintendents' residence, seeing the Cadet Wing Commander (CWC), 15052 Mike Vernon (RMC 1985), walk in uninvited with a terrified Captain of Cadets in tow and schmooze the room with great aplomb – I don't think his counterpart had ever set foot in the place!
e-veritas: What sad memories do you have of this time period?
Bob Thomas: My saddest memory was the death of 15423 OCdt Jean Perreault (CMR RMC 1985), the son of one of my seniors, in a car accident while heading home at Thanksgiving in 1985. I was in Montreal with my family and returned to Kingston to gather people to attend his funeral in Lac St. Jean – it was a very somber trip but a number of his friends and classmates were in the region and their attendance at the funeral provided some solace to his family.
e-veritas: What were the biggest challenges at that time – facing the college? with your position?
Bob Thomas: A major ongoing challenge was the relationship with summer training schools and reconciling the nature of the RMC programme with the expectations of the schools. This improved through visits by the Commandant and me to the schools and invitations of school Commandants to visit RMC.
Another was the "we versus them" attitude within the Cadet Wing. My challenge was to make it clear to the fourth Years that they were all going to be part of "them" in the near future with all the responsibilities that came with that transition.
A third challenge was that, being of a certain age, a number of Cadets were sons and daughters of friends and officers I knew well. In a few cases of dealing with academic difficulty or re-classification issues the strength of those friendships was challenged!
e-veritas: As DCdts, to what extent did you follow the motto "never pass a fault." Were there any serious disciplinary issues that stick out in your mind? Any tips?
Bob Thomas: My policy was that the Cadet Officers would "learn by doing" under the mentoring of the Squadron Commanders and the Staff Officer Training in the case of Cadet Wing Headquarters. There was little to be gained by having the Squadron Commanders making the decisions – they were not there to be supercadets and their assessments were based on the quality of their guidance not the results of the Right of the Line Competition. In a few cases this resulted in inappropriate actions being taken by the Cadets in matters that should have been brought directly to the Military Wing staff for action, one in particular involving sexual harassment.
Discipline could be achieved through varied approaches. One of the Kingston Police Force was in the militia and I got to know him well. He kept an eye out for Cadets being stupid and he kept me informed of things he felt I should know. He told me one time of picking up a Cadet who then slept it off in a cell before being returned to the College. I picked a time to encounter him on the way to the gym and quietly asked if he had had a good sleep on Saturday night. The look of terror on his face indicated that the message had been received!
On another occasion, Ron Dudley, who ran the boathouse, complained to me that someone was stealing gas as he had found a half-empty tank in one of the boats on successive Friday mornings. The next Thursday, I phoned the General Wolfe Hotel and found that, yes, there were several apparent Cadets drinking there. The bartender phoned me back when they left so I took my dog for a walk. When the boathouse door opened, I switched on the light. One asked me how I had caught them and I pointed out that when I was a Cadet, we refuelled the boat when we got back. Several weeks of duty boat orderly for them followed.
e-veritas: Where did you live?
Bob Thomas: I lived in Hewitt House with my wife Bonnie and our two children, Christina and Steven. Steven delivered newspapers in quarters, took care of General Niemy's dog when he was away and ran with the RMC x-country team. There was little mystique about the College and, with my impending appointment as Commandant of the Officer Candidate School, he opted to go to Queens University. Chris was heavily involved in competitive swimming, Steven was playing rep hockey and, for one year, we had a junior A player board with us. Life was busy but we also had informal pasta or chili parties for groups of cadets where we could socialize in a family setting.
During a recent Ex-cadet reunion weekend an Ex-Cadet came up to me and told me how he clearly remembered seeing me for the first time. His rook flight was getting a marching tour of the College and he saw me for the first time at Hewett House coming out of the garden carrying a large basket. He then heard Bonnie yell out to me, "If you bring one more tomato into this house, I'll kill you." So much for first impressions!
One Halloween someone stole a large elaborately carved pumpkin off the front step of Hewitt House. Our kids, who were very proud of having grown the giant pumpkin and carved it up themselves, were enraged; they didn't find that skylark funny at all.
e-veritas: What did you do in the CAF after this time?
Bob Thomas: After leaving RMC I went to Chilliwack as Commandant of Canadian Forces Officer Candidate School (CFOCS). I was then promoted Captain (N) and went to NDHQ as the
Director of Military Strategy. After two years I was sent as the Visiting Defence Fellow at the Canadian Institute for International Peace and Security and, finally, to the Centre for National Security Studies (CNSS) at National Defence College (NDC). The last three postings were each followed immediately by the elimination of the position or the closing of the institution by the government – it was clearly time to move on! Following retirement, I was a Research Fellow, focusing on multinational naval cooperation, at the Centre for Foreign Policy Studies at Dalhousie University for fifteen years. This enabled me to do some writing on issues that interested me. I conducted an annual summer course at the Pearson Peacekeeping Centre (PPC) for seven years 1995-2001 which allowed me to play a lot of golf at the Digby Pines. A highlight was running a memorable PPC course in Aqaba, Jordan with students from 9 Middle East countries. I did contract work for the Army Simulation Centre developing exercise scenarios, and for RMC and ADM (Personnel). I was involved in volunteer activities including the Board of The Thousand Islands Playhouse for ten years (seven as President) and various committees at the Kingston General Hospital (KGH). Bonnie was diagnosed with cancer and died nine years ago. Since then I have cut back to being the treasurer of my condo association, pursuing genealogy and playing golf, cycling and enjoying watching my five grandchildren grow up.
e-veritas: Are you in touch with what is happening at the college these days? If yes, what are your views?
Bob Thomas: First of all, I remember criticisms being levelled at the College during every period that I was there and it reminds me that the College is doing the best it can with tools at its disposal as we did then. It makes me think of the adage "Do not criticize another until you have walked a mile in his shoes. By then you are a mile away and you have his shoes!" I keep in touch with activities at the College through the Kingston Branch of the RMC Club but find my winter entertainment diminished with the demise of the basketball programmes which I had enjoyed for years. I continue to be thoroughly impressed by the quality of the Cadets!
e-veritas: Would you like to add anything?
Bob Thomas: I have read the DCdts interviews with Marcel Parisien and Bear Brown – I knew them both as Cadets and Bear relieved me as DCdts (I was the one who had a tooth pulled in what became the living room of Panet House). [8738 Colonel (Ret'd) Marcel Parisien (CMR RMC 1971) served as DCdt from July 1992-1994 at RMC and as Commandant of CMR in 1994-1995 and 8389 Captain (N) (Ret'd) Brian R. "Bear" Brown (RMC 1970) served as DCdts at RMC from 1986-1988.]