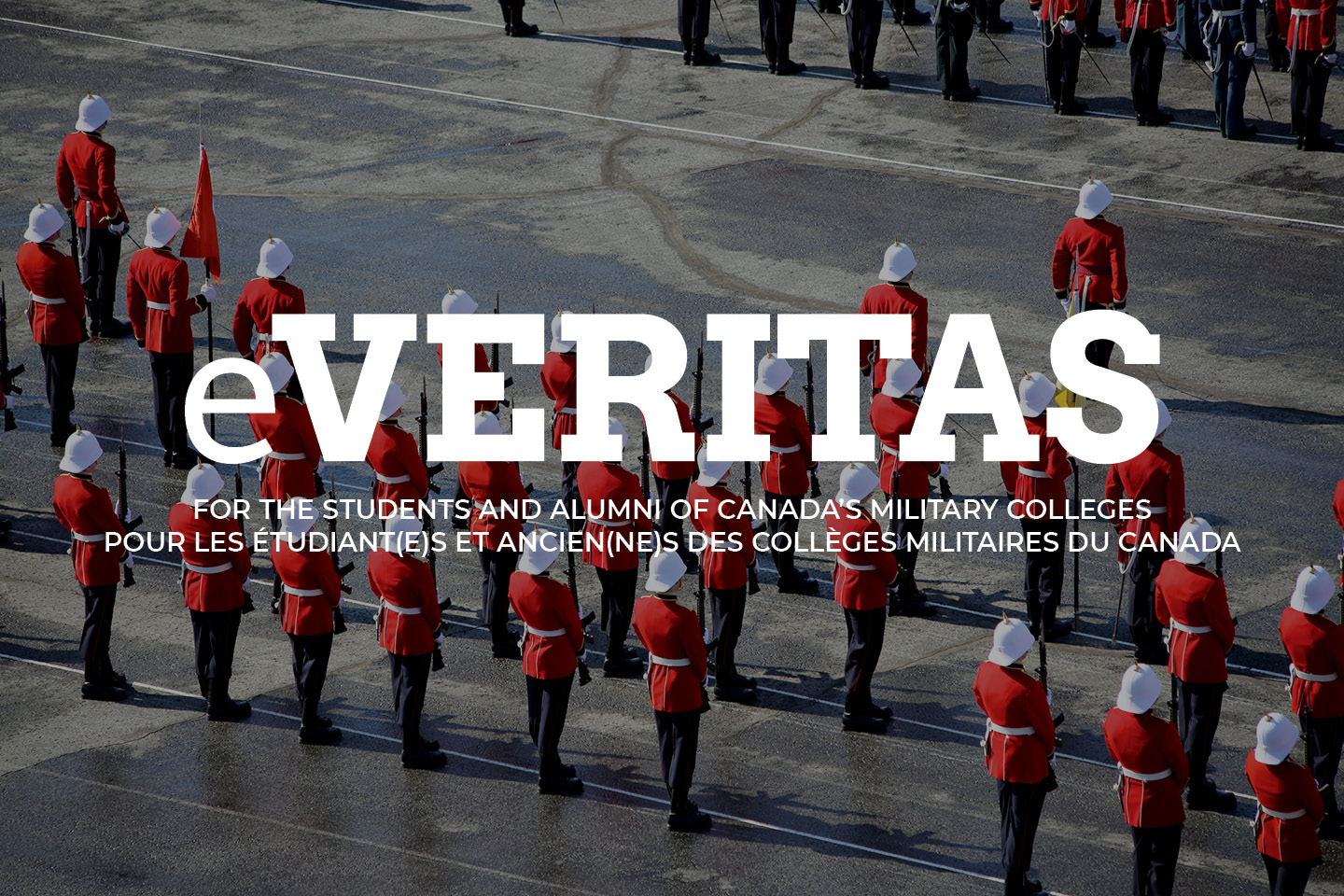 From tracking opposing linemen to tracking enemy aircraft, 13846 Kevin Bryski has had an interesting career
By: Claude Scilley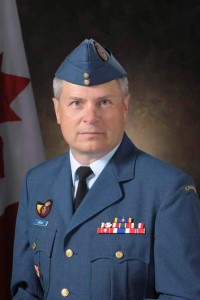 They don't play a lot of football in Rokeby, Sask.
In its heyday, the small farming hamlet near the Manitoba border—where they call Yorkton the big city—had a grain elevator, a post office, a general store and a church, though they're mostly gone now, says one of Rokeby's proud sons, Kevin Bryski. "I like to say dad was the mayor and the dog was the deputy mayor."
In his youth Bryski played hockey and curled. "Coming from the farm," he said, "I was good at shooting." His first job was making the ice and cleaning it at the outdoor hockey rink and the one-sheet indoor natural-ice curling rink. He'd never played football until a buddy, Fred Kaustinen, urged him to give it a try in their third year together at Royal Military College.
Bryski was fast, able to run 40 metres in 4.4 seconds, something that caught the eye of the Redmen's coaches, who promptly made him a corner linebacker. Speed was essential to play the position, but the game's subtleties were largely unknown to the neophyte. "I had no formal training in football," Bryski said. "Man, it was tough for me."
His first lesson was how a sweep works, and he was his own teaching aid.
MORE
"I remember the first game, and the opponent, whoever it was, was running a sweep play," Bryski recalled on the phone from Omaha, Neb., where he now serves as the liaison officer representing the Canadian Forces at the headquarters of the U.S. Strategic Command.
"I just got killed," he continued, "because I wasn't tracking what was going on with the offence, and the line came across and I was the first victim of the sweep.
"After that, I got real quick about reading the offence. It was a matter of survival."
The day in 1981 did get better for Bryski, who later recovered two fumbles. "We still lost," he said, "but what the hell, it was fun."
Bryski said he has fond memories of Kingston, where he spent 11 years in a military career that included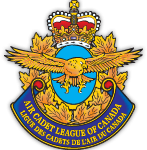 undergrad and graduate studies at RMC and two subsequent postings here. It was a career that began when a teenage Bryski went 16 kilometres down the road to join the Air Cadets squadron in Yorkton.
"I did very well," he said. "I loved the military side of it. I was thinking about becoming a pilot, but going to commercial flying school meant going to work on the pipeline to make some money to do all that. I was at summer camp at Cold Lake, and someone said to me, 'You could learn how to be a pilot for free if you joined the military.'"
Intrigued, Bryski went to the nearest recruiting centre—two hours distant, in Regina—and put his name on an application.
"On the form it asked what do you want to do, and there were three choices on the form. For first choice I put air force and I didn't fill in the other two, and the guy said, 'You've got two other choices.' I said, 'I don't really want anything else,' but he said fill them out.
"Behind me on the wall there were three photos, one of a fighter jet, one of a ship and one of a tank busting through the mud. I saw the ship on the sea it had more blue in it than the tank going through the mud, so I put navy as my second choice."
A month later, Bryski got a letter from the recruiting centre, telling him he'd been unconditionally accepted into the ROTP program and he was going to be a MARS officer. "Of course, I didn't read the letter, I just saw the word MARS and I thought, 'Good lord, I'm going into space!'"
At boot camp in Chiliwak that summer there were nine aspiring cadets from Saskatchewan. The other eight were all going to Royal Roads in Victoria; Bryski was the only one coming to Kingston. That's because, he was told later, his marks in math and science caught the eye of the admissions office, who were licking their lips at the prospect of turning him into an engineer. "I said, 'Engineer? Engineers drive trains; why would I want to do that?' because that's what engineers did in Saskatchewan.
"I was so naïve."
Bryski adapted well to the military regimen of the college—"it turned out to be a very natural thing for me to do," he said—but he didn't adapt well to the seafaring life. When he got on a ship during the summer of his first year, he discovered he was prone to sea sickness, not the annoying queasiness that goes away after you get your sea legs, but the debilitating kind that never goes away. "I quickly figured out I've got to get out of this," he said. "It took me five years to get out of the navy."

Bryski recalled trying to explain his situation one day to the captain of the ship. "I think it was the Qu'Appelle," he said. "At first everybody was complaining about being sea sick, so he didn't make any distinction between a guy who was truly seasick and the guys who were just complaining. I didn't want to be in the complaining crowd, so I thought, 'OK, the captain says get back to work, so I went back to work.
"I was on a deployment a few years later and the ship's doctor was in my cabin. He saw how sick I was and he said, 'What are you doing in the navy?' I said the captain told me to get back to work, so I'm back to work. I got back to shore after that deployment and he wrote me up and my career was changed very quickly to something on land.
"It was good training. I loved it; it was fantastic. It was really fun stuff—radar, weapons systems, sonar. I was very good at it; it came naturally, but I was seasick all the time."
Besides football, Bryski, who left engineering physics after two years to be part of the first computer engineering class at RMC, played intramural hockey and he was a member of the rifle team. He also took up windsurfing.
"A classmate of mine, Mike Fabbro was into it," Bryski recalled. "I learned from him." Years later, he got to return the favour. "It's funny. I got into snowboarding and I had the opportunity to teach him how to snowboard. I probably laughed as hard at him trying to learn how to snowboard from me as he did when I was trying to learn how to windsurf from him."
Bryski didn't have much competitive success as a boardsailor. "If I had success, it was when we had a lot of wind and I was able to take advantage of my weight to hold a bigger sail than my competitors. There was an Ontario circuit, but the winds were light and I was just not as light as some of these other guys on the water. That's why I got into the instructing side of it, and then waited for the big-wind days to get my sail out and then I'd rip by everybody else on the water because I was pretty fast in the high winds."
Teaching people how to boardsail, Bryski said, took on a life of its own. At the time, he was a captain working at the Communication Command Headquarters, while also running Windsurfing Canada's training division, putting the programs in place for other Canadians to learn how to boardsail. "One weekend I'd be flying out to Vancouver to teach a clinic, and then to Halifax the next week, and going to meetings. For three years I lost every weekend of my life, dedicated to Windsurfing Canada."
He became the top instructor in Canada, and he followed the same path as a snowboarder, helping to write the first manual for teaching that sport in Canada.

All the while, Bryski, now a colonel at the age of 53, was fashioning an interesting military resume. Among the highlights were his involvement in a multi-billion dollar project to modernize the NATO Airborne Early Warning and Control System (AWACS), and his current posting with U.S. Strategic Command in Omaha. Both postings involved working with allies, something Bryski says he found rewarding.
"I've had a very good career, (and) I think that's the proudest part of it. I fell into a real neat deployment to Afghanistan, where I got a chance to work with the U.S. Army as chief of staff at one of the headquarters in Kandahar. From an Air Force guy's perspective, that was just a fantastic opportunity.
"This is a fascinating job that I've got here," he said of his current posting with the branch of the American service responsible for cyber, space, missile defence and "the nuclear piece."
"It's quite a wide-ranging mission that it has, and to be able to represent the Canadian Forces at this command is a real honour."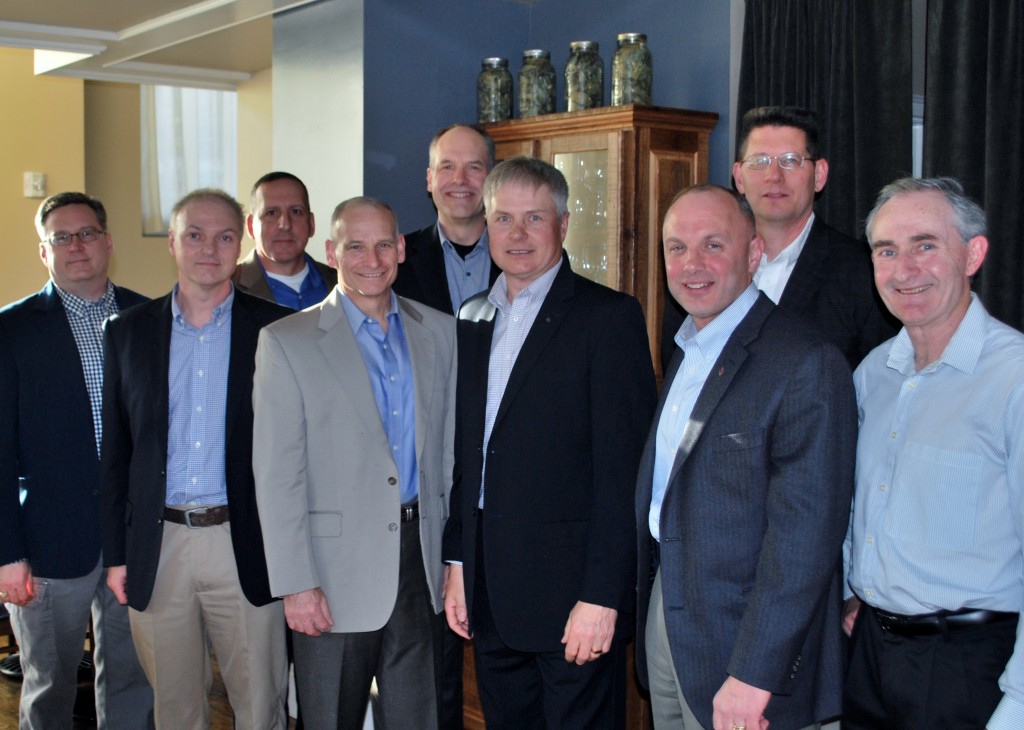 Caption: Col Bryski (6th from the left wearing navy blue suit) recently hosted a diner with US STRATCOM senior leadership.
In the space domain, for instance, "a very active and growing interest area for Canada," he is involved in what is known as the Combined Space Operations Initiative, where Canada is a partner in conducting space operations, building space capacity, and advancing the responsible use of space. "We're not talking about the militarization of space," he said. "We're talking about using things like satellite communications. StratCom runs the GPS system for the world, not just the military,
"Banking, agriculture, navigation in our cars, cell phones, television … we couldn't function without the GPS system right now. It's really cool to know that all this stuff is run by U.S. Strategic Command, and it is exciting (to be in the middle of it).
"It's an honour to be here, because you know how important all these capabilities are to Canada, Canadians, and the Canadian Forces specifically."
Bryski chuckled. "I'm the only Canadian that's here, which is good and bad," he said. "The good part is that I get to see everything for myself; the bad thing is I get to see everything myself, from the sub-tactical to the strategic level, every day."
Bryski was appointed to be the program manager for the NATO AWACS refit in 2002. Canada was one of 13 nations involved in the program to update "the IT, the brains, the mission system" for a fleet of 17 aircraft. Canada contributed nine per cent of the funding for a project to which only the U.S. and Germany committed more.
"Most people know it as flying radar, but it's a lot more than that," Bryski said. "It's an airborne command and control platform; you're doing fighter control, surveillance, all kinds of other functions with respect to airborne command and control."
Working alongside project managers at Boeing, NAPMA (the NATO AWACS Project Management Agency) and the Electronic Systems Command of the U.S. Air Force, Bryski was responsible for managing the acquisition, engineering, development and manufacturing of the new system, and ultimately putting it into use, all the while respecting the input of 13 different countries and keeping their representatives happy.
"It was a challenge, I'll tell you," he said. "Of course, if you're an operator of the system, you want everything you can (get) out of it. You want this thing to be a system that solves all your problems … but there's only so much money to go around. You've got to the get the most that you can to deliver what the operators want. My job was involved with prioritizing, to ensure that we got the most out of the money we were allocated from the various nations to get the project in place."
The mid-term version went into operation in Afghanistan. "It was a balancing act, but we finally did deliver.
"I learned a lot about the different nations," Bryski said. "Every nation has its own characteristics. It was very interesting to see. You learn a lot about balancing priorities. There's a book called The Politics of Compromise … and this was an effort in international compromise. That's one skill you learn if you want to be successful in this business."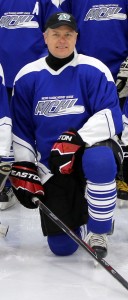 Just as you may not expect a young man from the Prairies to become a windsurfer, or a fellow who never played the game to take up football in his third year of university, you may not suspect a Canadian in the middle of Nebraska to be an avid hockey player, but Bryski (see photo left)plays four times a week, on four different teams. "The hockey in Nebraska is outstanding," he says. "My wife tells me I play more hockey here than I did anywhere in Canada, which is truly amazing."
Though he still has his gear, he doesn't sail or snowboard much anymore. "Things like life and other, more pleasant pastimes, like golf, get in the way," he said.
***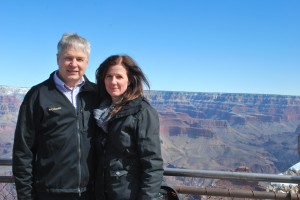 Caption: Kevin and Michelle at the Grand Canyon in Feb 2015
"I like spending time with my wife now. We spend a lot of time hiking, golfing—things we can do together."
He and Michelle have two children, both living in Ottawa while they attend the University of Ottawa. A daughter, Tesia, is completing her studies to be a teacher; a son, Ky, has just completed his first year of psychology.
"We did the reverse empty-nester syndrome," Bryski said with a chuckle. "You hear stories of kids not wanting to leave home? We left them."
Bryski says he never misses a chance to extol the virtues of Canada, or RMC. Shortly after he graduated in 1983, he got involved with the RMC Club of Canada—"they told me I was the youngest member ever to serve on the executive"—and he remains his class secretary.
"I've had a very good career," he said. "It's been great. I've had some excellent opportunities to work with our allies. It's a real honour to be serving one's nation outside the country and doing the job that I have.
"I'm very blessed to be here and grateful to have the opportunity to do that."