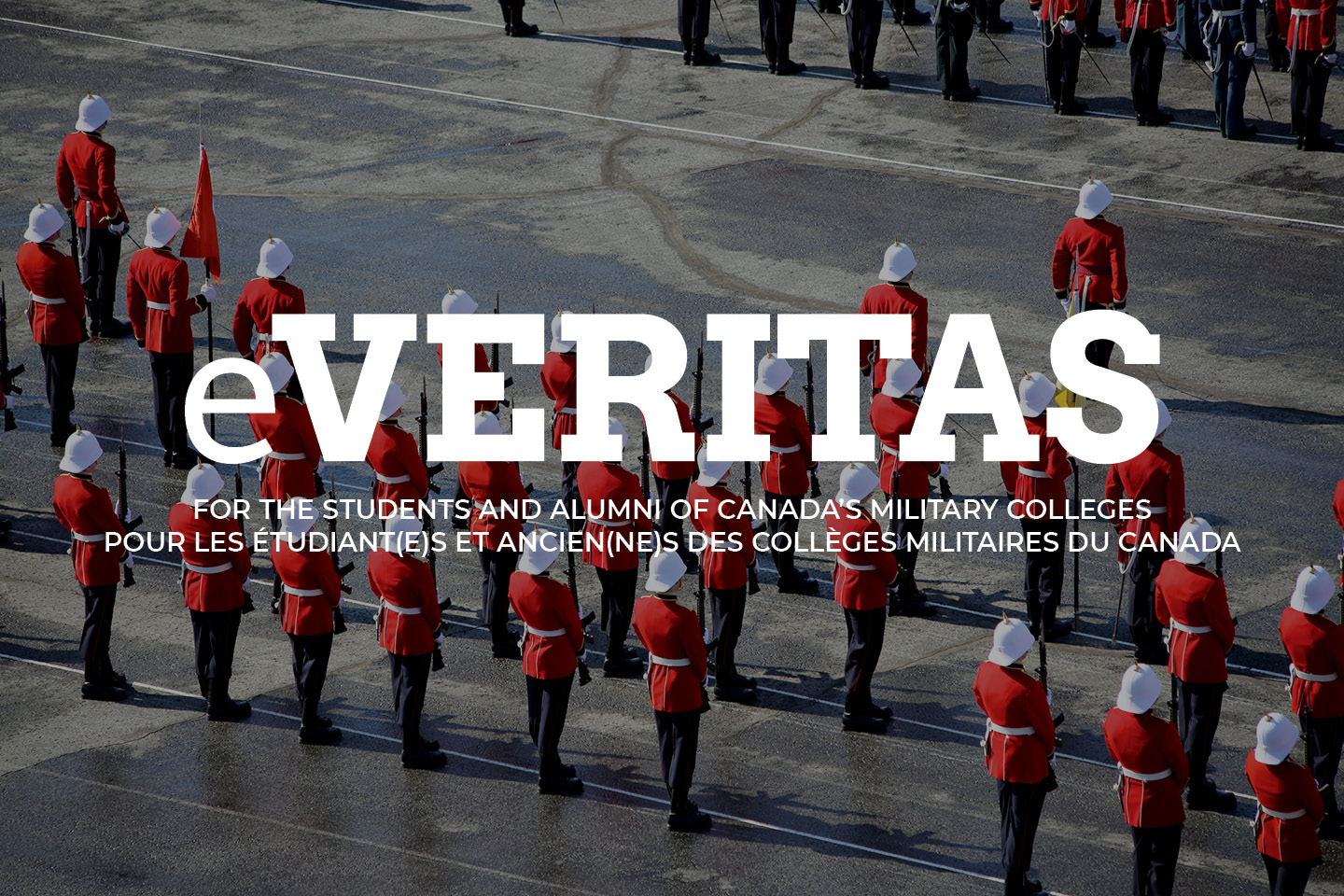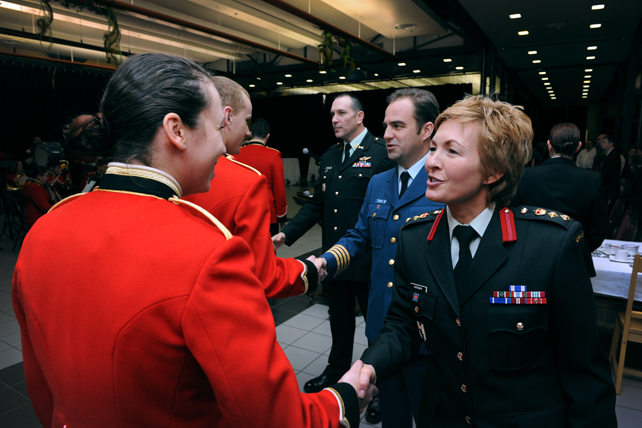 (Mario Poirier/CMRSJ)
Geoff Molson, premier colonel honoraire du Collège militaire royal de Saint-Jean
par Nicolas Laffont – 45eNord
Pour la première fois de son histoire, le Collège militaire royal de Saint-Jean accueille son premier colonel honoraire, Geoff Molson!
Le colonel honoraire Molson a été présenté aux élèves-officiers ainsi qu'au personnel du Collège militaire royal de Saint-Jean par le colonel Jennie Carignan, lors du traditionnel dîner de Noël de la troupe lors duquel il a reconnu que pour sa «première journée avec vous, je vois que vous êtes une grande famille qui avait tissé des liens».
«C'est un honneur et une belle preuve de confiance qui est placée en moi en étant fait le tout premier Colonel honoraire du Collège militaire royal de Saint-Jean», a déclaré M. Molson.
Rappelons que Geoff Molson est le propriétaire, président et chef de la direction du Club de hockey Canadien, du Centre Bell et d'Evenko et il s'implique dans les nombreuses initiatives communautaires de l'équipe et de la Fondation des Canadiens pour l'enfance.
Le service militaire n'est pas nouveau au sein de la famille Molson.
L'un des ancêtres les plus connus de la famille, mis à part le fondateur de la brasserie Molson (John), est le capitaine Percival Molson, qui s'est vu décerner la Croix militaire pour son courage et son leadership durant la Première Guerre mondiale.
Par ailleurs, l'un des deux autres frères de Geoff Molson, Andrew Molson, est en ce moment le colonel honoraire du Royal Montreal Régiment.
La tradition canadienne que constituent les nominations honorifiques au sein des unités est issue de la tradition militaire britannique et est instaurée au Canada depuis un peu plus d'un siècle. Le premier à être nommé au poste de colonel honoraire au Canada fut l'honorable lieutenant-colonel J.M. Gibson, un secrétaire provincial du gouvernement de l'Ontario. Il est devenu colonel honorifique du 13e Bataillon de l'Infanterie en 1895.
«Les colonels honoraires c'est un réseau et d'avoir M. Molson ça nous permet d'être en lien avec les gens de notre communauté», a précisé le colonel Jennie Carignan, commandante du Collège militaire royal de Saint-Jean, en entrevue avec 45eNord.ca. «Son leadership et son engagement au sein de la communauté représentent bien certaines des valeurs sur lesquelles sont basées le service militaire et les programmes offerts au Collège militaire royal de St-Jean», a-t-elle également dit par voie de communiqué.  Article

***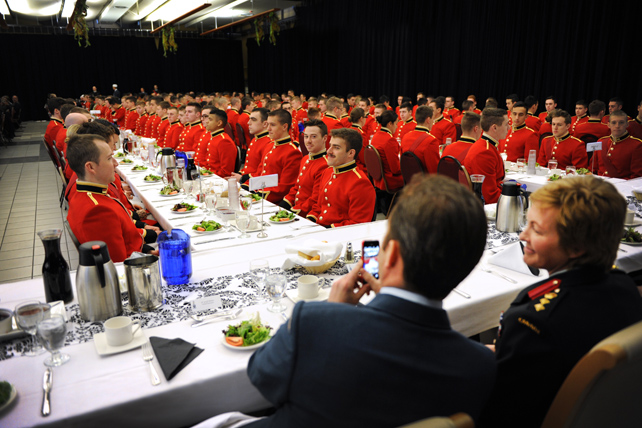 Royal Military College Saint-Jean Welcomes Honorary Colonel
The Royal Military College Saint-Jean is proud to announce that Mr. Geoff Molson has been appointed as its first honorary colonel (HCol) by the Honourable Rob Nicholson, P.C., Q.C., M.P. for Niagara Falls and Minister of National Defence.
Colonel Carignan, Commandant of Royal Military College Saint-Jean, introduced HCol Molson to Royal Military College Saint-Jean officer cadets and staff at the traditional Troop Christmas Dinner.
Quick Facts
HCol Molson is the owner, President and CEO of the Club de hockey Canadien, Bell Centre and Evenko and is involved in the numerous community initiatives of the team and the Montréal Canadiens Children's Foundation.
HCol Molson sits on the Board of Directors of several non-profit organizations, including St. Mary's Hospital Foundation.
Military service is not new to the Molson family. HCol Geoff Molson's ancestor, Captain Percival Molson, was awarded the Military Cross for gallant leadership during the First World War and currently his brother, Andrew Molson, is the Honorary Colonel of the Royal Montréal Regiment.
Stemming from British military tradition, the Canadian tradition of honorary nominations at the unit level dates back a little more than a century. The very first person to be nominated as Honorary Colonel in Canada was Ontario government Secretary, the Honourable Lieutenant-Colonel J.M. Gibson. He was nominated Honorary Colonel of 13 Infantry Battalion in 1895.
Quotes
"We are honoured to welcome Honorary Colonel Geoff Molson into the Defence team family. He is a highly respected member of the community, who will foster esprit de corps for our future leaders within the Royal Military College Saint-Jean."
The Honourable Rob Nicholson, P.C., Q.C., M.P. for Niagara Falls and Minister of National Defence
"We are very happy about Mr. Geoff Molson's nomination as the first Honorary Colonel at the Royal Military College Saint-Jean. His leadership and engagement in the community are demonstrative of the values on which military service and the Royal Military College's programs are founded."
Colonel Jennie Carignan, Commandant Royal Military College Saint-Jean
"I am honoured by the confidence that has been placed upon me in naming me as the first Honorary Colonel of the Royal Military College Saint-Jean. In this role, I commit to serve as an example for young officer cadets in preserving and honouring the traditions that are common to all and in promoting this prestigious institution's motto: Truth – Duty – Valour."
Mr. Geoff Molson, Honorary Colonel Royal Military College Saint-Jean