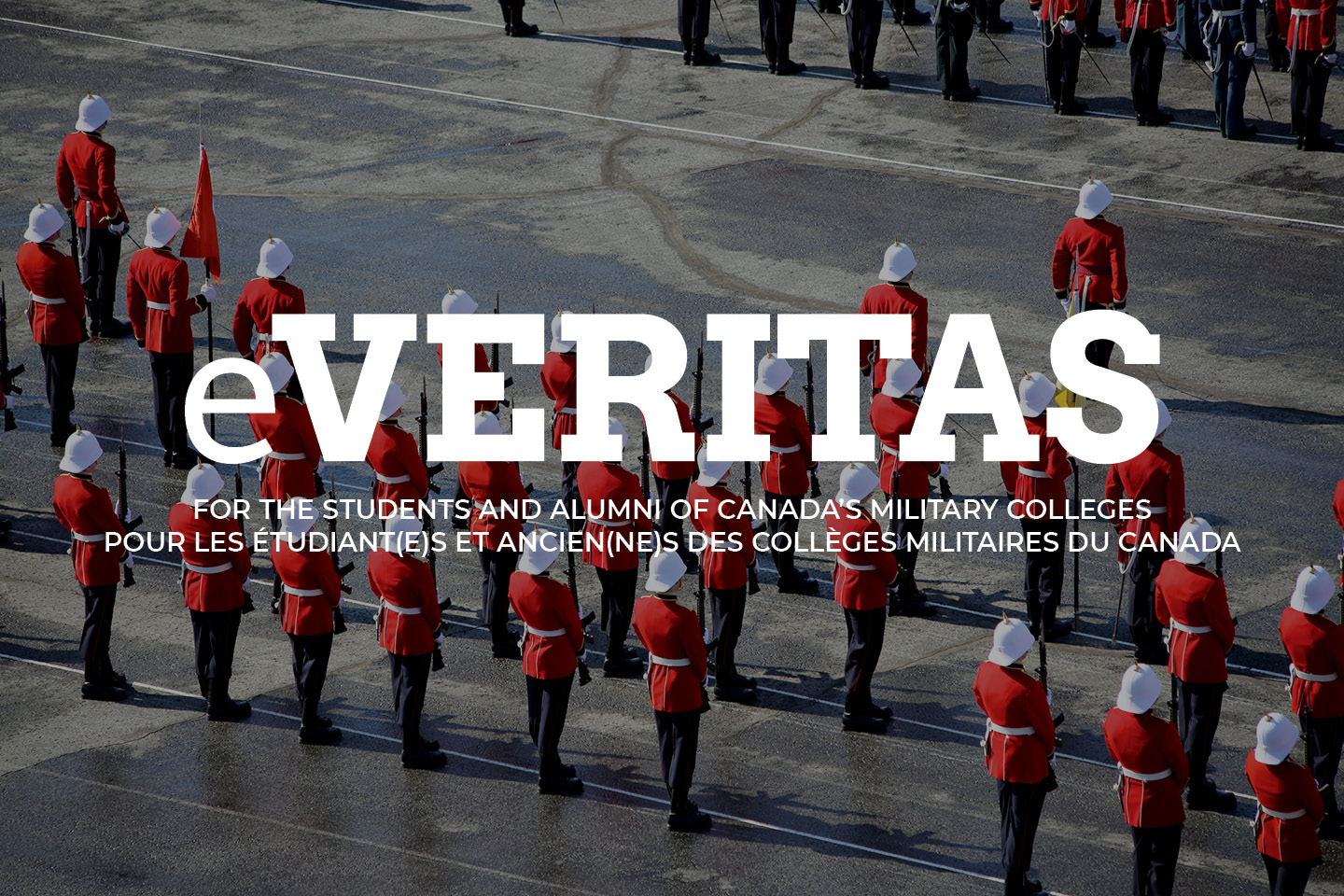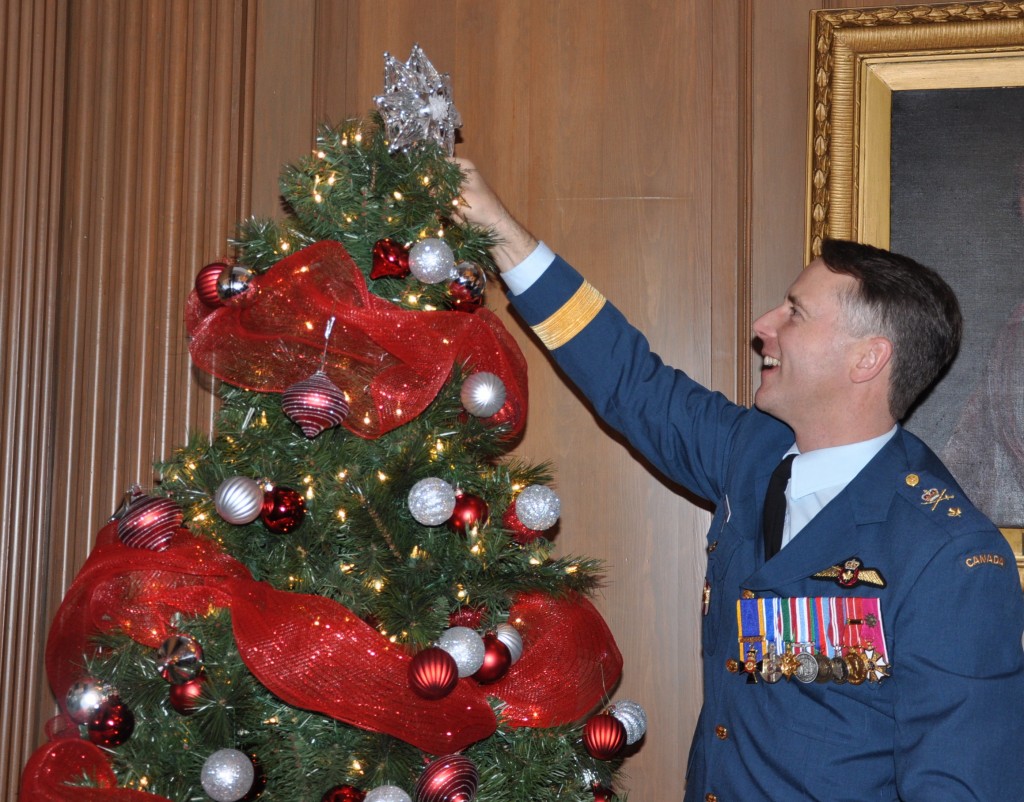 Caption: Brigadier General Al Meinzinger places the star on the Christmas tree at the Royal Military College of Canada. Le général de brigade Al Meinzinger met l'étoile sur le sapin de Noël au Collège militaire royal du Canada.
xx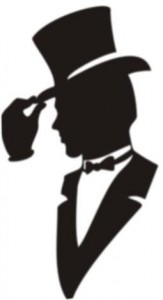 A tip of the hat to the following members who just recently updated their Club membership status: Chapeau aux membres suivants qui ont tout récemment mis à jour leur adhésion au Club: 2982 Eric Chappell; 5414 Kim McGowan; 7278 Peter Fosbery; 10460 Gary Nason.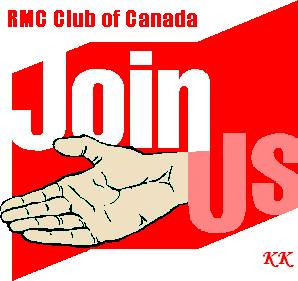 In This Issue 49:
***
 ENCORE:
To find an article: copy title into the search bar on the top of the website and press the 'enter' key.
To search for an individual: type their name into the search bar and press the 'enter' key.
H2612 BGen (Ret) Mike Webber, Adjutant Emeritus the Old Brigade – Hospitalized
Momentous Event: Dec. 6, 1989
Hamilton, Halifax & Vancouver Island Branch: Christmas Receptions – 19 Dec (Hamilton); 27 Dec (Halifax); 29 Dec (VI)
Vote on Club Governance restructure and constitutional amendment /
Voter sur la restructuration du Club et la modification de la constitution
A note from 25281 Dana Batho – Class of 2011 – Wounded Warriors Battlefield Bike Ride
2015 Celebrations for 75 Years of Excellence at Royal Roads
AFGHANISTAN A CANADIAN STORY 2001-2014 AS TOLD BY MEN AND WOMEN WHO SERVED
A big thank you to: 9143 Bruce McAlpine – FULCRUM SEARCH SCIENCE INC.  

for his recent e-Veritas 212 Business partnership support.

Full 101 sponsorship list
Here
***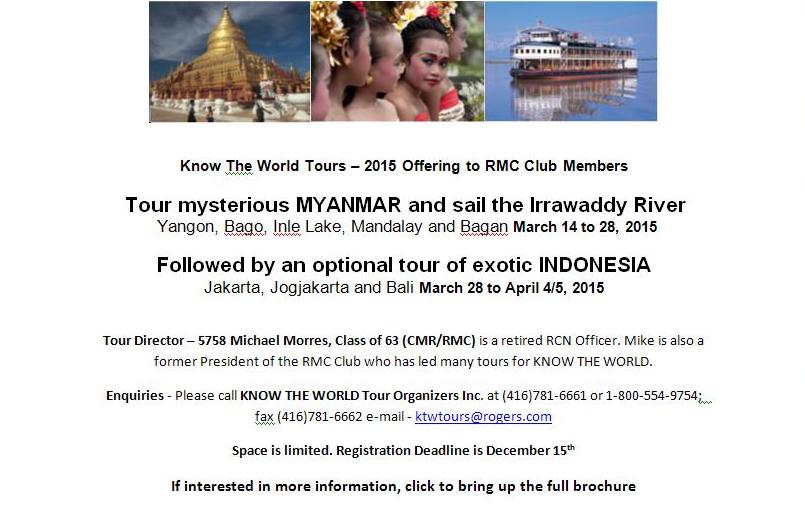 UPDATE:

The early discount deadline for the upcoming Spring trip to Myanmar and Indonesia:

5 Jan 2015. 

For more info and the full brochure – contact: ktwtours@rogers.com
Testimony from a couple who recently did the cruise:
Captain (Ret) Charlie Cann and his wife Cheryl did our Myanmar Tour and Cruise in September.
Here's what they had to say about it:
"The trip was absolutely wonderful. We saw very interesting places and people on the tour. The ship was new and beautifully finished in teakwood. Everything was 5 star. The cabins were big, the food was incredibly good, the service was exceptional and the shipboard guide was outstanding. Cruise highlights were sunrise over the temples at Bagan and sunset on the river by the teak bridge in Mandalay. We have urged friends to take a tour and cruise in Myanmar."
Charlie and Cheryl have travelled with KNOW THE WORLD Since 1995.
"We still have some good cabin space available for the cruise, and of course 5* hotels!"
 ***
Morale Building Quotes from Thor Heyerdahl (1914 – 2002):
"I was in uniform for four years, and I know that heroism doesn't occur from taking orders, but rather from people who through their own willpower and strength are willing to sacrifice their lives for an idea."
"Circumstances cause us to act the way we do. We should always bear this in mind before judging the actions of others. I realized this from the start during World War II."
"A civilized nation can have no enemies, and one cannot draw a line across a map, a line that doesn't even exist in nature, and say that the ugly enemy lives on one side, and good friends live on the other."
"Progress is man's ability to complicate simplicity."
Born on October 6, 1914, in Larvik, Norway, Thor Heyerdahl was an important adventurer and archaeologist. He was the only child of a brewery and mineral water plant president and a museum director. According to the Los Angeles Times, Heyerdahl rebelled against his overprotective parents. He went out "on treks with a Greenland dog, braving storms and sleeping in the snow just to prove that I could do things alone."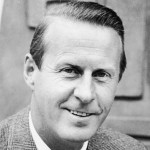 Heyerdahl's interest in science may have been planted by his mother during his early years. "My mother brought me up on Darwin and evolution instead of Norwegian fairy tales," he once explained, according to the Washington Post. He later studied zoology at Oslo University. In 1936, Heyerdahl traveled to the island of Fatu Hiva, part of the Marquesan archipelago, in the Pacific. He was accompanied by his first wife, and the couple spent a year living off the land and studying the indigenous plants and animals. While there, he began more interested in cultural anthropology than zoology.
Voyage of Kon-Tiki
During World War II, Heyerdahl served in the Free Norwegian military group as a parachutist. He served to cultural anthropology after the war, seeking to prove that people of Polynesia had ancestral ties to the ancient Peruvians. This theory went against all prevailing scientific thought at the time, which held that the islands were populated by people from South Asia.
To prove his theory, Heyerdahl enlisted five friends to join him on an amazing journey. He built Kon-Tiki, a roughly 40-foot log raft out of balsa wood, similar to those used in ancient times. On April 28, 1947, Heyerdahl and his crew departed Callao, Peru. They spent 101 days at sea, eventually crashing onto the shore of an uninhabited atoll near Tahiti. During their dangerous voyage, Heyerdahl and his crew faced rough seas, sharks and even curious whales while covering approximately 4,300 miles.
A skilled storyteller, Heyerdahl wrote about his experiences in the best-selling book Kon-Tiki. The work was a global hit and was translated into 65 languages. A documentary about the voyage also won an Academy Award in 1951. While hugely popular with the public, Heyerdahl found himself under fire from the scientific community for his journey. It was widely felt that Heyerdahl's aquatic adventure did little to substantiate his claims regarding the cultural ancestry of Polynesia.
Later Expeditions
In 1953, Heyerdahl led an archaeological expedition to the Galapagos Islands. There, he found pottery that linked the islands to early Ecuadorian and Peruvian Indian cultures. Two years later, Heyerdahl led one of the first scientific explorations of Easter Island, where he would discover evidence of possible South American ties. This trip became the basis for the 1958 book The Secret of Easter Island.
Returning to the sea, Heyerdahl tried to prove that the ancient Egyptians could have sailed to the Americas. He built the boat Ra—named after the Egyptian sun god—out of papyrus reed for his first attempt in 1969. While that effort failed, he managed to make it from Morocco to the Bahamas in Ra II the following year.
In the late 1980s, Heyerdahl focused his attention on the Tucume pyramid complex. He again tackled pyramid excavation in the 1990s on the Spanish island of Tenerife, in the Canary Islands. The step pyramids he uncovered now make up the Chacona Pyramid Ethnological Park there.
 QUOTE(S) OF THE WEEK Courtesy of 12570 Mike Kennedy