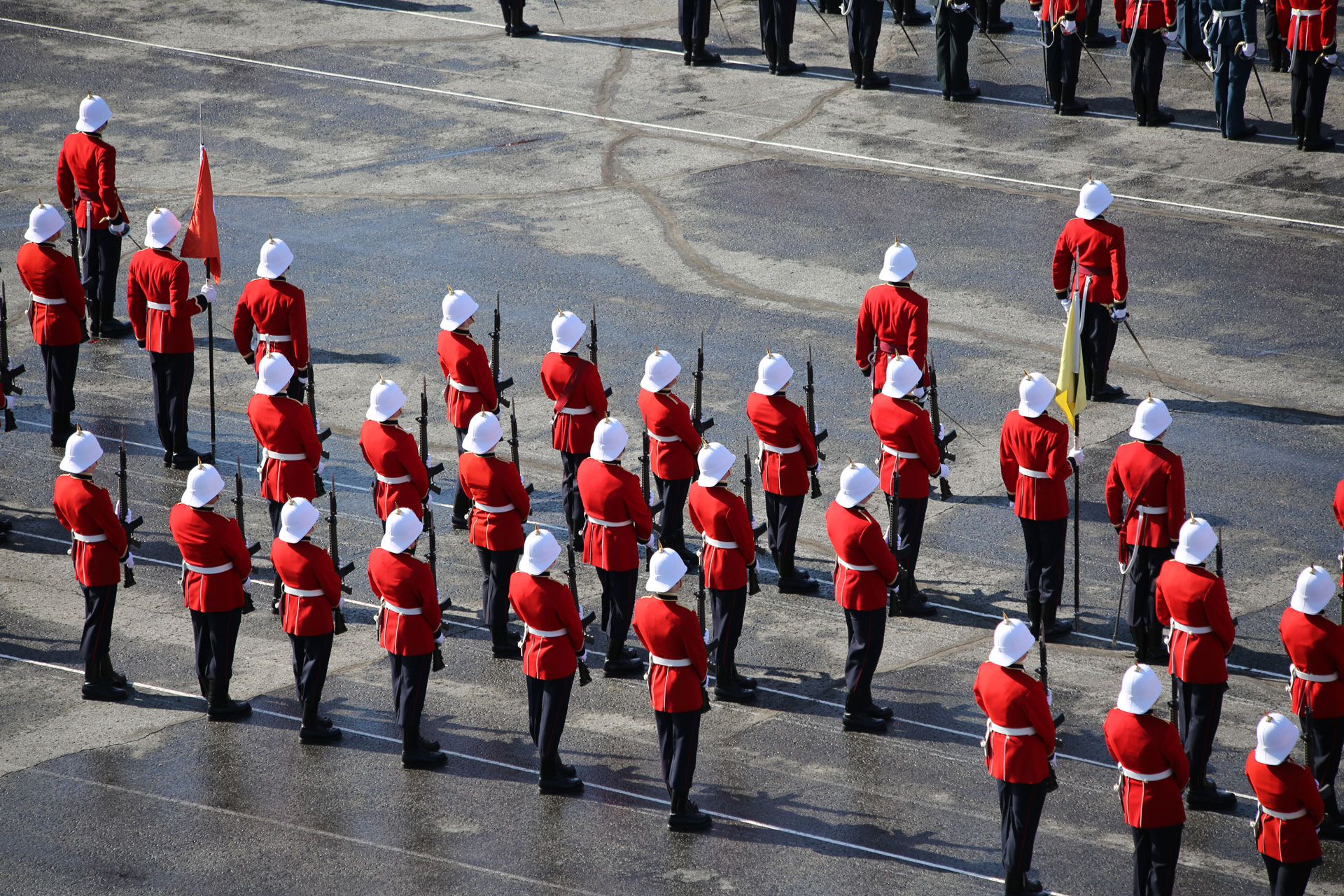 Helping Athletes Succeed (HAS) is a not for profit organization that help "sponsor" amateur athletes who are pursuing excellence. HAS is incorporated through Industry Canada.
More info on HAS is available here.
Members of the H.A.S. Board of Directors:
Bill Oliver – President;
Rolande Oliver -Secretary / Comptroller;
Danny McLeod – Board Member;
Kristin Topping – Board Member;
Gino Bruni – Board Member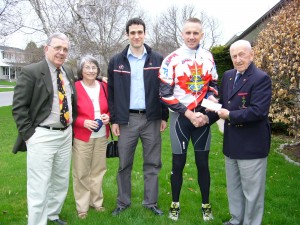 Caption: Major Danny McLeod presents a $1,500.00 cheque on behalf of HAS to Tony O'Keeffe who will be competing in the Race Across America (RAAM) in June.  The 1.5k will cover the entry fee expense only.  The total costs for the competition run in the 40k range. Looking on (L-R) Bill Oliver, Rolande Oliver, and Gino Bruni. Missing from the photo is the remaining HAS Board member Kristin Topping.
HAS is launched!
The 2010 goal for HAS is to sponsor five athletes for 2010. Athletes may be competing at: a) International; b) National; c) Provincial; d) Regional; or e) local competitions.
The HAS Board of Directors recently held a meeting and have chosen Tony O'Keeffe as the first athlete they will sponsor.  Tony has just recently competed in the The Heart of the South 500 mile bike race in Alabama where he finished in first place (see article below). He is due to compete in the Race Across America (RAAM) in June.
When asked, why Tony O'Keeffe? Bill Oliver, HAS President replied. "Rolande and I have been aware that he has competed on the international stage for a long time. We also are aware that he has received some sponsorship support but for the most part, the majority of the expenses have come out of his own pocket." Oliver also added. "We firmly believe that Tony has had a profound positive impact on a large majority of current cadets but also ex cadets who were around when he was a squadron commander and later a division commander. We can't count how many times we have heard from young adults on just what an inspiration he has been to them."

To compete at these international level championships takes a lot of money. HAS hopes to help defray some of these costs; to a lesser extent for four other athletes competing at much less expensive championships.
Individuals or groups who would like to be a sponsor with HAS should read

here.

The Board will be releasing the names of at least four others who will receive sponsorship from HAS in the near future.
For further info on HAS please contact Bill Oliver s125billoliver@gmail.com
____________________________________________

Tony O'Keeffe comes first in Alabama 500 mile bike race.
Tuning up for Race Across America in June.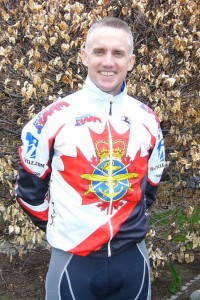 Tony O'Keeffe finished in 1st place overall in a time of 34 hours 38 minutes at The Heart of the South 500 which is a Ultramarathon Cycling Association Sanctioned race over the past weekend.
This was a tough race, right from the start. The gun went at 8pm Fri night, so the first 10 hours were spent in the hills of Alabama in complete darkness, and cold! Navigation was a real challenge for all competitors.
Tony was riding in the top 5 position for most of the event. "I had a suspicion that my younger competitors would go out too hard, and suffer the consequences by the 300 mile mark," said a jubilant O'Keeffe. "I know because I've done it so often! My plan was to ride conservative and tend to all of the ultra riding hygiene challenges over the course of the first 400 miles, and then make a charge."
The Heart of the South 500 is a Ultramarathon Cycling Association Sanctioned race. It is a qualifier for solo riders wanting to race in the Race Across America (RAAM) (www.ultracycling.com/events/raamqualifiers.html).
It covers roughly 500 miles and travels through north central and northeast Alabama, then through the northwest corner of Georgia, over Fort Mountain State Park to Ellijay – back to Piedmont, Alabama, then to the top Mount Cheaha and then back to Birmingham. The course climbing elevation is roughly 35,000 feet.
Tony OKeeffe will be attempting his third Race Across America in early June. RAMM is a transcontinental bicycle race starting on the west coast and finishing on the east coast. The race covers 3000 miles across the Rockies, the heartland of America, and finally the Appalachians. It continues to stands as one the toughest events in the world and a tribute to human endurance.