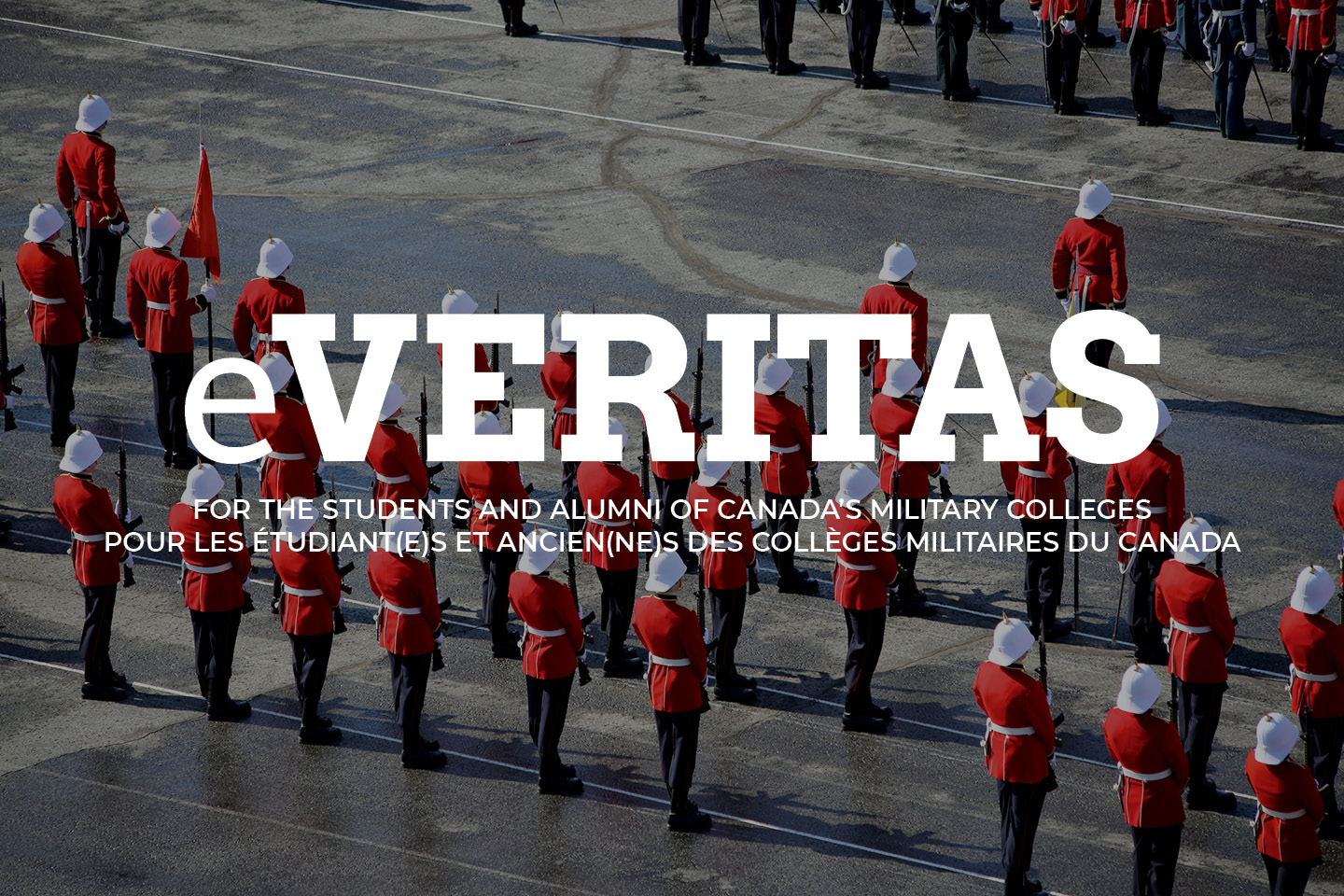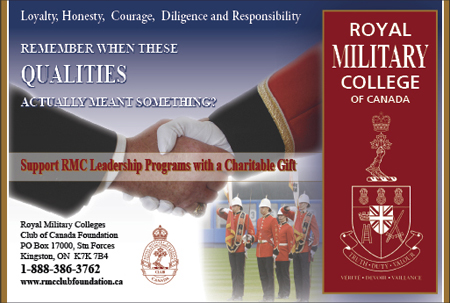 (Click on image for Foundation website)

To find an article: copy title into the search bar on the top of the website and press the 'enter' key.
To search for an individual: type their name into the search bar and press the 'enter' key.
Who am I? My story inspired a famous Canadian WWII poster – "Ce qu'il faut pour vaincre" (What is needed to win).
GG awarding five M V Ds & 24 Meritorious Service Decorations;
Cadets plays the role of Frenchmen;
How RMC deals with cheating;
Principal says dishwashers can teach computers;
Brier champs – Johnny Mo – RMC / CMR connections;
The Human Touch – Kiss n' Tell;
Spring Veritas Magazine – A Short Peek; and
Where are they? CF 18 pilot to Fly fisherman;
GREAT QUOTES: (click on each quote for complete article)


"I was doing just what I was paid and expected to do, nothing more. I was just another part of the team and honestly in my experience, on the battlefield, rank does not make much of a difference. It is your actions that speak louder than words,"…

We Rely On Our Members!
[Contact us] to renew or to take out a life membership. 1-888 386- 3762
Souvenez vous que le Club des CMR compte sur ses membres.
Afin de renouveler ou de vous procurer une adhésion annuelle ou à vie, veuillez contacter. 1-888 386- 3762

"I decided to go to RMC for a couple of reasons. One was that I was recruited by former RMC basketball coach Craig Norman to play point guard for the basketball team which I did for three years while I was playing rugby. However, I was also looking for a challenge and a different university experience after I left high school and RMC caught my interest. At RMC it's an interesting atmosphere because you're always so busy. I did my undergrad in chemical engineering, so I had a lot of school work, but it's a very supportive environment and it's really geared towards helping you succeed in school, in the military and as an athlete. It's an amazing experience."

"My experience in the CF has shown me that women can now aspire to the same positions as men. Though some barriers may subsist in trades where physical strength is a factor, socially speaking, both sexes have to deal with the same challenges, such as finding a balance between work and family life. Not always an easy thing when you're in the military."
14491 Colonel Karen Ritchie (RMC '85)

"My gig is just an amplified acoustic, a stool, several extra mics, the odd beer or two and a bunch of feel-good tunes. I either play by myself, get people up to sing along or play the spoons or lip synch — however they get enjoyment. I have no problem giving my guitar to someone if they want to play a bit. The whole idea is to let people have fun enjoying music."
11551 Ray Richards (RRMC RMC '77)

"The athletics climate at universities across the country is changing," said Kevin Dickie, UNB Fredericton's director of athletics. "Many universities are investing more time, money and human resources in fewer varsity teams. If UNB is to remain a strong competitor and if our varsity teams are to continue to excel, we must adapt to the changing environment and adjust our current varsity athletics program."
Kevin Dickie, UNB Fredericton's director of athletics

Trivia | Bagatelle
Who am I?
• My entry year to RMC was 1932.
• I received my Lieutenant's commission in 1936 in the Royal 22nd
Regiment (nicknamed "The Vandoos").
• I served in India in the infantry, the cavalry and the tanks from
1938-1940 and took part in the campaign of Wosiristan.
• I became a Lieutenant-Colonel and commander of the Fusiliers Mont-
Royal in March, 1942.
• While heading the Royal 22nd Regiment on the beach of Dieppe during
the raid of August 19th, 1942, I was wounded on five occasions.
• My story inspired a famous Canadian WWII poster "Ce qu'il faut pour
vaincre" (What is needed to win).
• In 1943, I participated in the taking of Kiska, in the Aleutian Islands.
• As commanding officer of the Army forces in Québec, from 1958 to
1965, I instituted French as the official language of command for all
the French-speaking units of the Canadian army.
• I terminated my military career in 1965.
• During the referendum campaign of 1980, I publicly supported voting "Yes".
• I was made Grand Officer of the national Order of Quebec in 1993
and was also a member of the Order of the Distinguished Service (ODS)
and of the Legion of Honour of France.
• I passed away January 14th, 1997
Who am I?
a) 2491 Lieutenant-Colonel JAAG Valee;
b) 2290 Brigadier-General Dollard D. Ménard;
c) 2542 Lietenant-Colonel Jacques W Ostiguy;
d) 2510 Brigadier-General Edward 'Ned' Amy.
Answer: b) 2290 Brigadier-General Dollard D. Ménard (RMC 1932)
2290 Brigadier-General Dollard D. Ménard's (RMC 1932) citation at the
Order of the Army read as follows: "While he commanded his battalion
during the operation of Dieppe, on August 19th, 1942, this officer
gave evidence of the highest qualities of courage and of initiative.
He was wounded at the beginning of the raid, as he landed with the
first groups of assault, but he continued to steer the operations of
his unity by wireless telegraphy, under a fire fed by machine guns,
by mortars and by artillery. Later, with the aim of reaching a more
favorable position, he dragged himself up to a high point of the
ground, but he was again wounded. Even after having been transported
aboard a landing barge, and although wounded for the fifth time, he
continued to insist on organizing the defence against planes, and
taking care of his men. He put an example which is in the best
tradition of the Army and was an inspiration for all the officers and
the privates of his battalion".