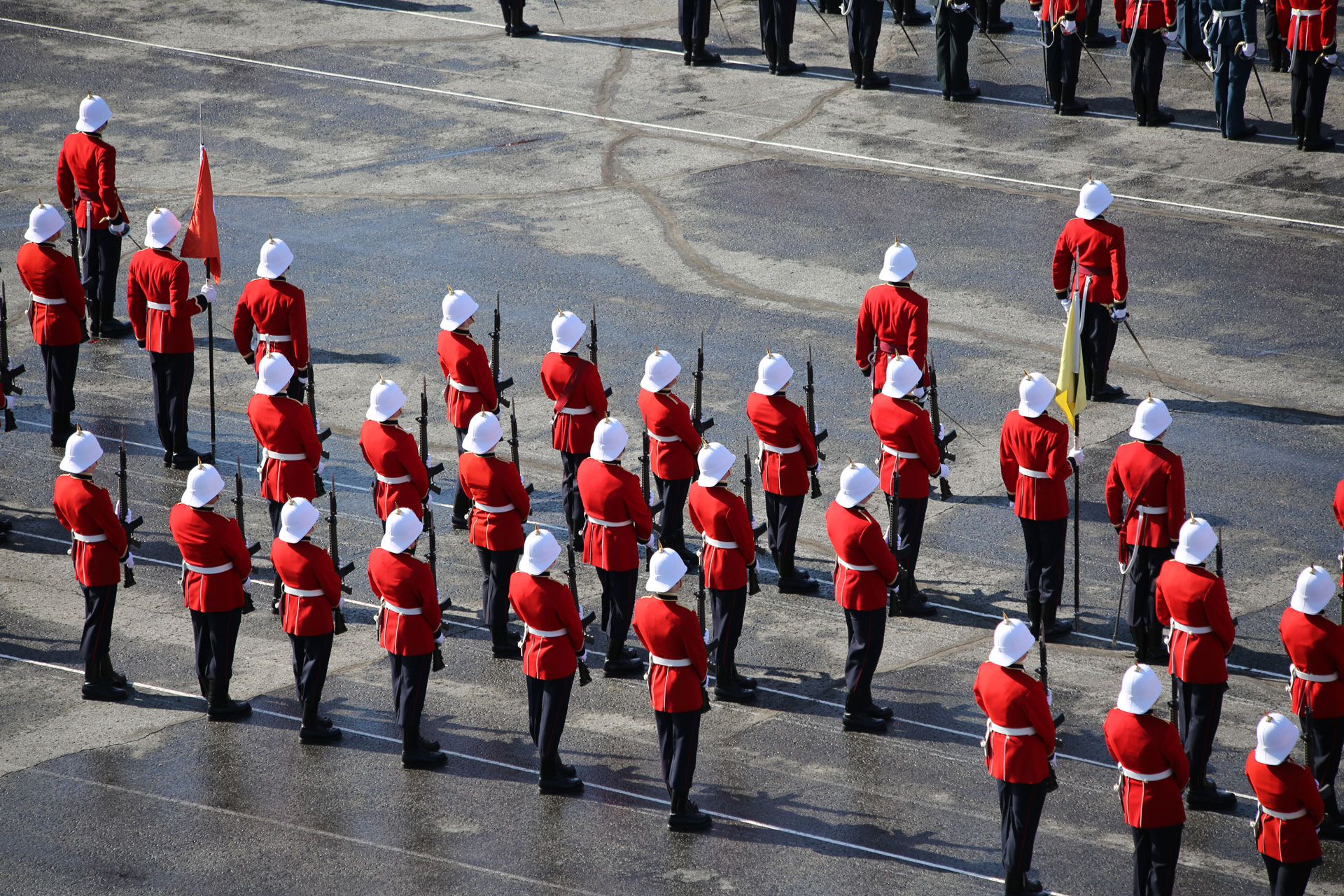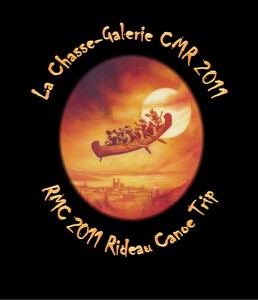 "Let's hope that this means that I will be 'third time lucky' in 2011!"
E3161 Victoria Edwards interviewed 8684 BGen (Ret'd) Peter Holt, one of fifteen Ex-Cadets who will raise money for the Danny McLeod Athletic Endowment Fund by paddling a voyageur canoe from Ottawa to Kingston this September, 2011. You can make a pledge or donation at www.rmcclubfoundation.ca.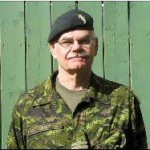 Victoria Edwards: This is your first ex-cadet fund-raising canoe trip down the Rideau.
Peter Holt: Yes, my plans to paddle a voyageur canoe from Ottawa to Kingston with ex-cadets were scuttled by military commitments in 2001 following the Sept 11 terrorist attack on America at the World Trade Center Towers in New York City and The Pentagon in Washington. So I had to watch my friend 8788 Geoff Bennet (RMC 1971) and class of 1971 buddies paddle away without me. Then, my second chance in 2006 didn't work out due to family commitments. Let's hope that this means that I will be "third time lucky" in 2011!
xxxxxxxx
xxxxxxx

Colonel Commandant Electrical & Mechanical Engineering (EME) Branch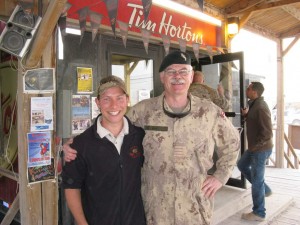 Caption: Col Comdt trip Peter Holt took a while ago to Kandahar; the Tim Horton's employee is one of his ex-Venturers, Joel MacWilliam. Joel paddled with Peter the first time his Scouting Group did the Rideau Canal about 12 years ago.
Victoria Edwards: You have previous paddling experience on the Rideau.
Peter Holt: Last summer, my company of Venturer Scouts (aged 14-17) paddled from Kingston to Ottawa by canoe at the end of June. Campers set up their tents at a new campsite each night over the course of a week at the lockstations, private campgrounds and two Provincial Parks along the route. The Venturers planned the fun and executed the adventure themselves with great youthful exuberance and enthusiasm. Since the Rideau is enjoyable flatwater paddling, everyone from the novice to expert can do it. In blowing wind and stormy weather conditions, we found it wise to stick close to the shore of lakes with large expanses of open water such as Big Rideau Lake, Upper Rideau Lake, Colonel By Lake and River Styx. On the other lakes, a canoeist can easily avoid rough water in coves and bays. We mostly travelled off the navigation channel to avoid problems with the large waves (wash) generated by the powerboat traffic on the Rideau. Since you get pretty hungry canoeing, we kept up our energy with carbs such as pasta of all kinds: spaghetti, lasagne, macaroni (a favourite with the youth!). The Venturers planned and cooked all our menus from the Scout`s Cook Book, but of course ex-cadets will take the luxury option and eat at restaurants! Either way, it is a nice opportunity to keep busy with physical activities, and for the youth it was a chance to take a break from their cell phones, blackberries and ipods.
Victoria Edwards: In your role as chanteur, do you recommend padding tunes? E.g. `Can You Tell Me The Reason Why?` is a song about life at the Royal Military College of Canada written in 1894.
Peter Holt: I have enjoyed singing since I was young. As a cadet at CMR, with an English dad and Boston Irish mom, the French Canadian language and culture were new to me. I soaked up the culture, stories and folk songs. When Geoff approached me to be the chanteur to les Maudites, I was sure I`d love to be part of that. Singing folk songs, whether romantic and melodic ballads, lamentations for tragedies or lively and repetitive work songs help the paddler maintain a pace and pass the time. As we paddle, I hope to sing some of my favorites: `V'la l'bon vent`; `Auprès de ma blonde`; `C'est l'aviron`, `Chevaliers de la table ronde.` For tunes and midi files see the Great Canadian Tunebook http://members.shaw.ca/tunebook/lbonvent.htm During some periods, we will paddle to the sound of bag pipes played by our personal piper, chat, or just listen to the quiet birdsong.
Victoria Edwards: Why is it important to you to support RMC`s Athletic Endowment Fund, which was named in honour of Major Danny McLeod?
Peter Holt: I work out every day and have enjoyed a lifelong fondness for sports of all kinds. As a cadet at CMR, I tried various sports for the first time; competed in fencing, soccer, football; officiated various sports and even tried to coach epee. I met Major Danny McLeod when I completed my graduate degree at RMC in Kingston. A few years later when I was on staff as Director of Administration at RMC from 1992-94 the Director of Athletics reported to me. This was a period of campus and National Defence-wide budget cuts, and I saw first-hand the impact such cuts had on athletics. In RMC`s Athletic Department, budget items directly impacting the student athlete include recruiting for athletic teams; medical care, travel arrangements and equipment used for the athletic programs. The Athletic Endowment Fund helps find creative solutions to athletic funding shortfalls.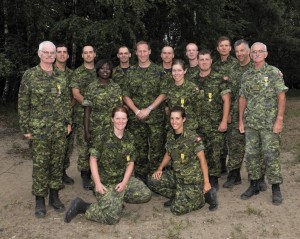 Caption: Peter Holt standing front row left with the RMC Nijmegen 2010 team.
Victoria Edwards: Will you return to the Nijmegen marches?
Peter Holt: In July, I plan to return to Nijmegen Holland once more to complete my 19th Nijmegen March in uniform. Over the four days of marching 40 km with packs, the Canadian Military Contingent is very well received by the hundreds of thousands of Dutch spectators who line the route.
Victoria Edwards: You serve as the Colonel Commandant of the Electrical and Mechanical Engineering (EME) branch. Describe highlights.

Peter Holt: As Colonel Commandant, I attend CDA meetings, the Army Ball, EME Council (Senate), EME day, EME special events and parades (cadet unit presentations, change of command parades etc). During Colonel Commandant Unit visits, I might curl in an EME bonspiel with young craftsmen and subalterns or participate in a Service Battalion range familiarization and qualification shoot. I see this trip as yet another way to "show the flag" to the officers and soldiers of the EME Branch, who have always enjoyed tackling physical and mental challenges wherever they are.
Arte et Marte/TDV
Our aim at e-Veritas is to conduct one-on-one interviews with all 15 participants (in no particular order) over the next few months of  e-Veritas editions.
Class of 1960 4815 Mike Jackson
Class of 1960 H4860 John de Chastelain
Class of 1963 5893 Tom Gee
Class of 1968 H7543 Joe Day
Class of 1971 8684 Peter Holt
Class of 1971 8725 Fergus McLaughlin
Class of 1971 8788 Geoff Bennett
Class of 1971 8816 Marius Grinius
Class of 1971 8833 John Leggat
Class of 1971 8926 Ray Hook
Class of 1972 9143 Bruce McAlpine
Class of 1983 M0288 Roxanne Rees
Class of 1986 15414 Catherine Paquet-Rivard
Class of 1997 20800 Cindy McAlpine
Class of 2002 22461 Claire Bramma