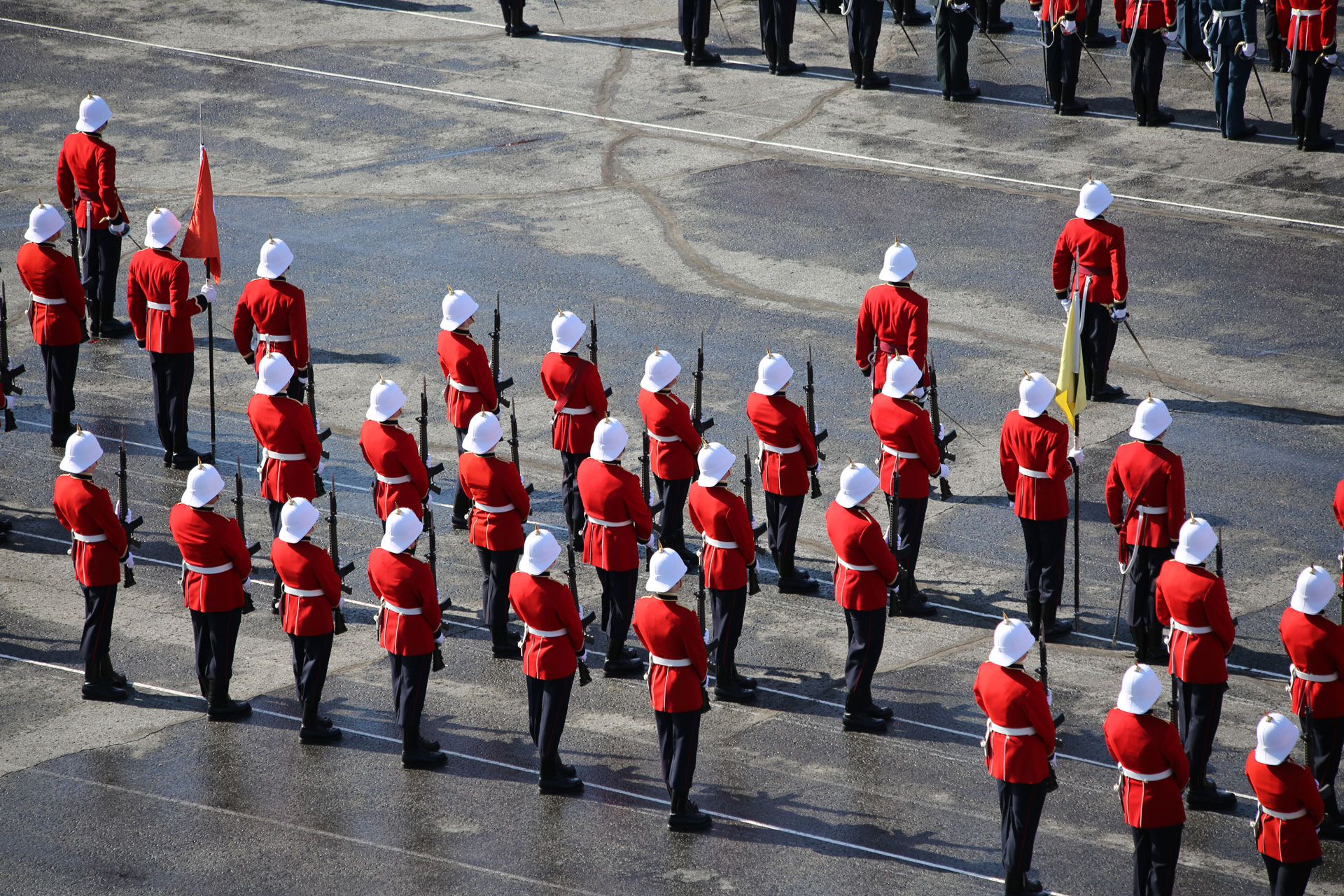 RETIREMENTS:
12423 Richard (Rick) Houseman;
12402 Daniel Cloutier, CD (CMR 1980);
19486 Ian Krepps (RMC 1994);
7805 Frank Edward Rivers (RRMC RMC 1968);
19691 Brigitte Lachance (CMR 1995);
19204 Sophie Martel (RMC 1994)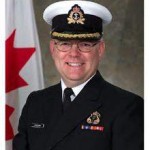 12423 Capt(N) Richard (Rick) Houseman, CD2, OMM (CMR RMC 1980) will retire from the Canadian Forces on 3 August 2010, after 35 years of dedicated service to Canada. He enrolled into the Canadian Forces through the ROTP program and commenced Prep Year in 1975 at Le College Militaire Royal de Saint-Jean and subsequently completed his degree in Mechanical Engineering at the Royal Military College in Kingston. After two years of training as a Marine Engineer he was selected for post-graduate training in naval architecture and completed his Masters of Science in Naval Architecture from the University College London, England.
Then Lieutenant(N) Houseman returned to Canada in September 1983 to the Canadian Patrol Frigate (CPF) Detachment in Saint John, New Brunswick as the Naval Architect Officer and oversaw the detailed design and initial construction of the Canadian Navy's new Canadian Patrol Frigates and was subsequently promoted to the rank of Lieutenant-Commander in 1985. In December 1986 he was posted to the Directorate of Maritime Engineering and Maintenance (DMEM) as a sub-section head responsible for liaising with the CPF and Tribal Update and Modernization Project (TRUMP) projects.
In July 1989 Lieutenant-Commander Houseman was posted to the Naval Engineering Unit Pacific (NEUP) as the Naval Architect Officer where he was responsible for supporting Maritime Forces Pacific (MARPAC) ships and auxiliaries on naval architectural matters. In 1991 he was posted to the Canadian Forces Command and Staff College in Toronto and subsequently promoted to Commander in 1992 upon graduation. In June 1992 Commander Houseman was posted to Ottawa to the Directorate of Ship Engineering (DSE) to lead ship-helicopter interface requirements for Canadian naval ships and the New Shipborne Aircraft (NSA) the EH-101. After the NSA project was cancelled, Commander Houseman became the Director of Maritime Class Management (DMCM) for HALIFAX class ships from 1993 to 1997 in the Director General Maritime Equipment Management (DGMEPM).
In July 1997 Commander Houseman was posted to J2 Scientific and Technical Intelligence (J2 STI) in the Director General Intelligence and was Section Head responsible for technical intelligence. He was subsequently detached in 1998 to the National Contingency Planning Group (NCPG) Y2K as Director of National Critical Infrastructure Preparedness for the government of Canada. In 2000 he returned to DGMEPM as the Project Manager for the Command and Control and Area Air Defence (CADRE) Project and was subsequently 'double-hatted' as the Project Manager for the Frigate Life Extension Project (FELEX) and the Naval Architecture Design Authority in the Directorate of Maritime Ship Support (DMSS) in 2001.
In July 2003 Commander Houseman was posted to the Fleet Maintenance Facility (FMF) Cape Breton as the Engineering Manager and was also the Deputy Chief of Staff – Fleet Technical Authority Pacific (DCOS FTA). In June 2005, Captain(N) Houseman was promoted to his current rank and in Dec 05, on successful completion of his second language training, he was appointed Director Maritime Equipment Program Management (Submarines). The following year, in Dec 06, Capt(N) Houseman was appointed Project Manager of the Joint Support Ship Project. He is currently a member of the Air Command Pipes and Drums in Ottawa.
A retirement luncheon will be held in honour of Capt(N) Houseman and his family at the Bytown Mess, Crowsnest on Friday 23 July, 2010 starting at 11:30. Congratulatory messages, pictures and anecdotes should be forwarded to Cdr Ken Holt at Kenneth.Holt@forces.gc.ca before 22 Jul 2010.
__________________________________
12402 Lieutenant-Colonel Daniel Cloutier, CD – EME (CMR 1980) will be retiring from the Regular Force on 11 August 2010 after 35 years of loyal service to the CF and the EME Branch.
Lieutenant-Colonel Cloutier was born in Montréal, Québec on 17 July 1957. He enrolled in the CF in 1975 and graduated from the Collège Militaire Royal de St-Jean, Québec in 1980 with a Bachelor of Science in Physics and Mathematics. He completed his EME Officer training in the same year.
He served in different appointments as an EME Officer with 2 Service Battalion in Petawawa, 2e Battalion, Royal 22e Régiment, Force Mobile Command HQ in St-Hubert, and HQ 5 Canadian Mechanized Brigade Group in Valcartier.
He was promoted to Major in 1989 and worked as the DGLEPM operations officer and J4 Land equipment, and as the EMT leader for the M113 fleet. He took command of the EME Workshop at CFB Ottawa from 1993 to 1996.
He then served in a number of NDHQ management appointments in projects such as Clothe the Soldier, and upon promotion to Lieutenant-Colonel in 1999, with Tactical Command Control and Communication System, and Leopard Thermal Sight.
He has deployed in Croatia as the Stabilization Force Operations (SFOR) Officer for the NATO Liaison Team and Deputy Commander for SFOR facilities in Zagreb in 2000/2001. He was acting Director Armament Sustainment Program Management for a year in 2003/2004. He is currently serving as the Project Manager for the Wheeled Light Armoured Vehicle Life Extension. Lieutenant-Colonel Cloutier is married to Sylvie Girard and they have three children, Geneviève, Mélanie et Anne- Marie. They plan on maintaining a residence in Gatineau as well as staying busy doing part time work and traveling.
A retirement luncheon will be held for Lieutenant-Colonel Cloutier on 11 August 2010 at the Robbie's Italian restaurant in Ottawa. Contact Capt Karen Poirier via e-mail at karen.poirier2@forces.gc.ca.
__________________________________
19486 Major Ian Krepps (RMC 1994) will retire on 19 July 2010 after 20 years of dedicated and loyal service to the CF and the Communication and Electronics Branch. Major Krepps enrolled in the Canadian Forces in 1990 under the Regular Officer Training Program. After attending Royal Military College (RMC) in Kingston, he graduated in 1994 with a Bachelor of Engineering degree in Electrical Engineering. After completion of phase training and a short posting to ADM(IM), Maj Krepps spent six challenging years with 2 CMBG, as a Signal Troop Commander, Battalion Sig O (1 RCR) and DCO 2 CMBG HQ & Sig Sqn.
During this time he deployed as the 1 RCR BG Sig O on Op KINETIC in KOSOVO. After leaving 2 CMBG, Maj Krepps attended RMC and in 2005, graduated with a Master's degree in Applied Science (SW Engineering). He was subsequently posted to DLR 4 as the desk officer for C2 applications. In 2007, Maj Krepps assumed command of 731 Signal Squadron at CFB Shilo. In 2009, he deployed to Kabul, Afghanistan as the ISAF CJ6 Information Systems Staff Officer. Since returning in October 2009, Maj Krepps has been working in DLCSPM as the PM LCSS Life Extension. Major Krepps has accepted a Project Management position with Thales Canada Inc.
Ian, his spouse Dianne, and their three children will remain in the Ottawa area. A retirement Luncheon is being planned in his honour 14 July 2010, at 12:00 at the Army Officers Mess, Ottawa. Those wishing to attend, e-mail: Nikolaos.Lentzakis@forces.gc.ca. Any wishes and/or anecdotes will be gladly accepted.
__________________________________
7805 Mr. Frank Edward Rivers (RRMC RMC 1968) is saying good-bye has he moves onto his next career as a Walmart Greeter after 45 years of dedicated and loyal service. Frank was born in Rose Valley, Saskatchewan in February 1946. Frank first enrolled in the Canadian Army in September of 1964 and before graduating from Royal Military College (RMC) in June 1966 he had transferred to the Royal Canadian Air Force (RCAF). Upon graduating from RMC in Kingston in May 1968, Frank proceeded to 1 Canadian Forces Supply Depot in Toronto where he trained in Logistics. In 1970, he was transferred to CFS Gypsumville, as the Station Logistics Officer where he over saw the operations of Transport, Vehicle Maintenance and Supply sections. After only one year, he was transferred to Ottawa to work on automating the DEVIL Program/Supply System.
In 1973, he proceeded to MARCOM HQ Halifax as the Staff Officer in the Logistics Division. Following this three year posting in 1977, Frank returned to the Prairies moving to CFB Moose Jaw Saskatchewan as the Base Supply Procurement Officer. This allowed to him to travel home on weekends and visit his brother in Calgary. During this period he was also attached posted to CFS Alert for six months as the Supply Logistics Officer.
In 1979, Frank was transferred to St Louis Missouri, attached posted to the US Army as the 1 Canadian Forces Logistics Liaison Unit Detachment Officer where he oversaw the options of Cooperative Logistics (COLOG) and was given the nick name Muddy Waters.
In 1982, he returned to OTTAWA working in various positions such as the COLOG budget manager, DPSCU Capital Procurement, D PROC R & O, DPSA, and DAEPM Common until retiring from the Military in 1986.
After serving 22.5 years in the Military, Frank started his second career in the Public Service as a Procurement Officer in Ottawa that same year. He worked in a variety of positions from 1986 until 1999 when he returned to the Prairies, his old stomping grounds, at CFB Moose Jaw as the Contract Manager for the NFTC Contract.
In 2005, he returned to Ottawa where he worked again in several positions finishing his 22.5 year tenor with the Public Services in DGAEPM/DAP on the 25 May 2010.
As a young Officer Cadet Frank learned that it was easier to "ask for forgiveness than for permission" and as he has aged this changed to "old age and deceit overcomes youth and enthusiasm".
__________________________________
19691 Major Brigitte Lachance (CMR 1995) retired from the Canadian Forces on 5 July 2010 after 20 years of dedicated and loyal service to the Canadian Forces and the communications and electronics branch. Native from St-Georges de Beauce, QC, Brigitte joined the CF on 28 June 1990, attending le College Militaire Royale de St-Jean.
In 1995 she earned a Bachelor of Science in Space Sciences degree and proceeded to signal officer training. Following training she was posted to DDCEI in Ottawa, 72 COMM Gp Halifax and to the 723 Communications Reserve Squadron in Halifax. In 1999, Capt Lachance saw the light and transferred to CELE (Air). She was subsequently posted to 14 WTIS Greenwood as TIS Ops O, ADM (Mat) RCS as PMO MAATS technical officer and finally to Canada Com HQ as the J6 Information Protection Officer, where she was promoted to major.
Brigitte will be remaining in Ottawa with her husband Alain and her two daughters Mélissa and Emilie. Her immediate plans are to spend time with her family.
__________________________________
19204 Major (Ret`d) Sophie Martel (RMC 1994) A6 C2IS at 1 Canadian Air Division HQ commenced retirement leave on 19 Mar 10 after completing 21 years of loyal and dedicated service to Canada and to the Communications and Electronics (C&E) Branch. Major Martel has served as an Air Force Officer in the C&E Branch since 1989. During the 1989 to 1994 period, she studied to obtain a bachelor degree in Engineering and Management from the Royal Military College of Canada and she completed specific C&E training at CFSCE. Upon completion, she served at Primose Lake Evaluation Range in Cold Lake, 76 Communication Group Ottawa, Director Information Management Engineering and Integration Ottawa, Director Information Management Technologies Products and Services Ottawa, and A6 (Command and Control Information System) Winnipeg.
Major Martel is also a graduate of Carleton University. She holds a master of engineering in Telecommunication and Technology Management. In addition, she obtained a certificate in Project Management, she is qualified as a Computer Information System Security Professional (CISSP), as a Global Information Assurance Incident Handler (GCIH-Gold), and she has obtained a number of ITIL certifications. Sophie is married to Patrick Falardeau and they have three children: Alexandre, Amelie and Olivier.
Maj Martel accepted an indeterminate civilian appointment to the position of Chief Engineer Enterprise Services within DIMEI, effective 12 April 2010.
__________________________________