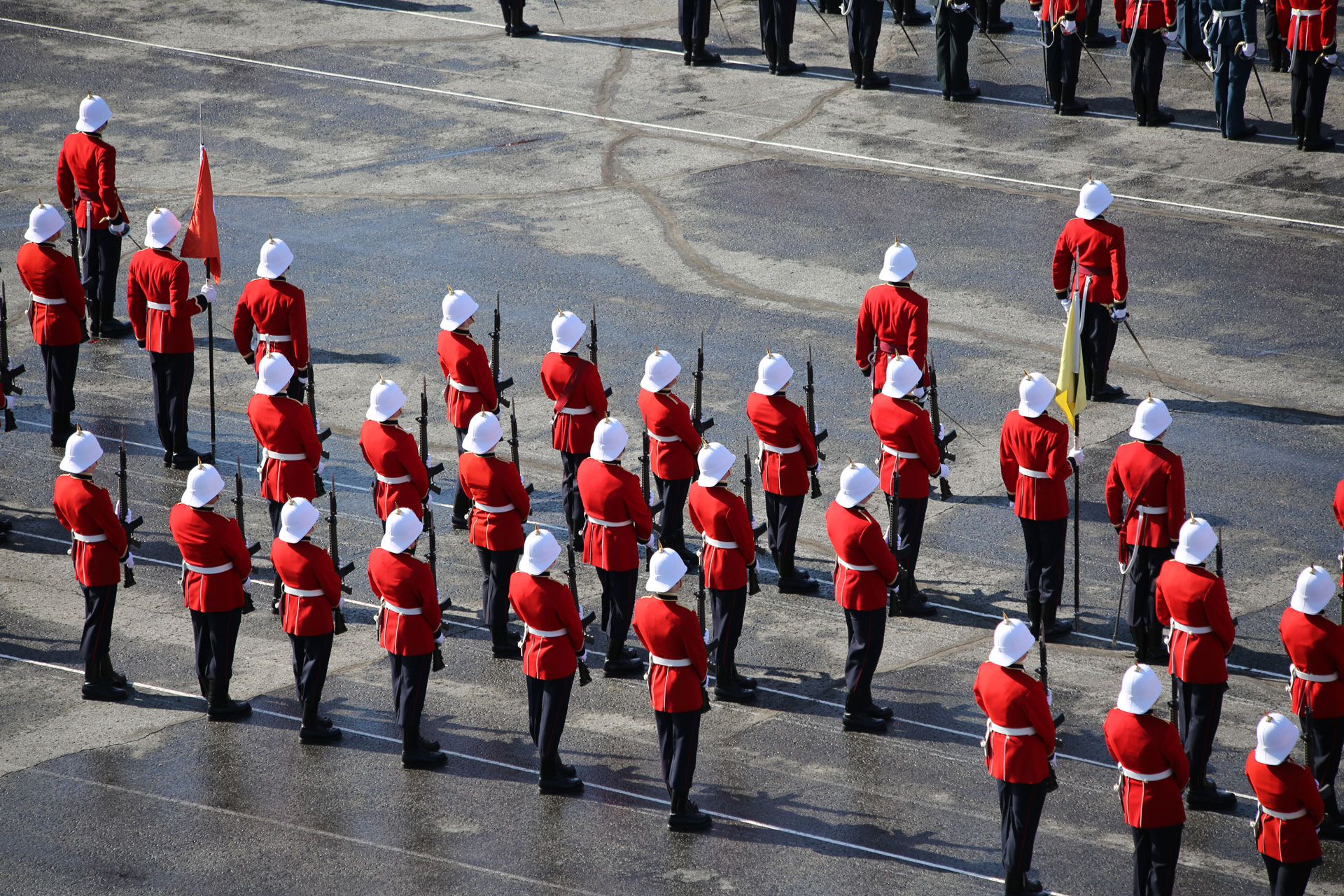 12944 Captain (Ret'd) André Durand has been the RMC Liaison Officer for the Quebec region since 2004. He left CMR after second year and later completed a Bachelor of Military Arts and Sciences at RMC via distance education. Before retiring from the CF, he served as OC at the campus in Saint-Jean-sur-Richelieu.
e-Veritas: Describe the marketing of RMC/CMR when you were a cadet in comparison to what is now happening at RMC of Canada and RMC St. Jean.
André Durand: Since 1967, students in Quebec who want to continue to post-secondary education must attend a "College of General and Vocational Education" (CEGEP) before enrolling in a Quebec university. Most but not all CEGEPs offer two types of programs: pre-university programs which take two years to complete, and technical programs which take three years. When I was a cadet, the military colleges recruited male undergraduate students in their final years of high school.
The military colleges have recruited male and female candidates since the mid 1980s. The colleges face challenges – from declining provincial high school populations, to aging infrastructure and strong competition from other universities and CEGEPs. A marketing program is necessary for the military colleges to succeed and to be recognized ever more strongly locally, nationally and internationally as a major centre of research, scholarship, and creative and professional activities. Although I continue to recruit 16-18 year olds from high schools, I am seeing a trend in older prep year candidates who may have served in the CF, worked in private industry and/or travelled for a few years before pursuing post secondary education. For example, a twenty four year old officer cadet in prep year pursued an opportunity to play hockey in the States for several years. The spouse of another 24 year old prep year student is expecting their first child.
e-Veritas: What skills did you learn at CMR/RMC that have since been
of great value to you?
André Durand: My experiences as an officer cadet and officer in the Canadian Forces and my network are assets in my role as liaison officer for the Quebec region. I learned how to manage my time effectively which helps me to balance running a small business with my work as a liaison officer. Since my wife and I own a bed and breakfast, my capacity to make beds with 45 degree angles has been of great value to me.
e-Veritas: Several of your family members are alumni.
André Durand: Yes. Many of my family members have served in the Canadian Forces, and several are alumni of military colleges. My sister 14419 Joanne Durand (RMC 1984), one of the first lady cadets at RMC, currently works in the Learning and Career Center at CFB Kingston. My sister Joanne is married to 14713 Maj. (Ret'd) Jean-Luc Derome (RMC 1985). My sister France is married to 13536 Maj. (Ret'd) Jean Noël Routhier (CMR 1984). My wife's brothers 9123 Col (ret`d) Pierre Leblanc (CMR 1972) and 13471 Jean Leblanc (CMR 1982) attended CMR St. Jean. Our youngest son, 24267 Officer Cadet Renaud Durand (RMC 2009) will graduate from RMC with a degree in aerospace engineering this spring. Our other sons currently serve in the Canadian Forces. I can relate to potential candidates who are considering a military college and to their parents.
e-Veritas: Comment on your role as RMC Liaison Officer? What do you do
on a day-to-day basis?
André Durand: I liaison with the CF recruiting centre staff in Quebec. I send officer cadets and/or attend events such as information presentations at high schools and education fairs. I invite parents and candidates to lunch and a tour of Royal Military College St. Jean. I provide information, advise and related assistance to students considering studies at a military college. Since a military college doesn't suit everyone, I not only also frequently respond to queries about RMC of Canada and RMC St-Jean but also other programs in the CF. I liaise with a red and white network, largely composed of alumni and parents who send me leads on possible candidates. I frequently talk to candidates and their parents about the concerns they have about service in the Canadian Forces.
e-Veritas: Have you found yourself concerned with any facets of marketing RMC/RMC St-Jean since returning as RMC Liaison Officer?
André Durand: RMC has launched a major branding campaign, repositioning itself as "A University with a Difference," a national, bilingual institution offering an education that is unique in Canada. In fall 2007, the federal government reopened the military college at Saint-Jean, which was closed in 1995. The reopening of RMC Saint-Jean greatly differs from the original college which opened in 1952 and the RMC of Canada located in Kingston. It is necessary to plan and implement marketing activities to advertise both Royal Military College of Canada and RMC St Jean very quickly and to respond to the queries of potential candidates and their parents while the details are still being ironed out.
e-Veritas: What marketing projects are you working on at the moment?
André Durand: The RMC Saint-Jean is developing a program similar to the Aboriginal Leadership Opportunity Year (ALOY) program at RMC Kingston. ALOY is an intense period of academic studies and training designed to prepare students for their acceptance into a recognized post secondary institution at years end. In addition to the demands of academic studies, students also learn traditions, history, rules and regulations of the College. The organizational and time management skills that students are taught during the College orientation, combined with hard work and the extensive help network of the College, plus Aboriginal cultural supports, normally allow the students to meet and overcome all challenges – while at RMC and later in their career.
e-Veritas: How important are sports in the marketing of the military colleges?
André Durand: Like many candidates, I am a life-long sport enthusiast. Candidates frequently developed an interest in leadership and competition through extensive involvement in sport and physical activity as an athlete, fan and/or organizer. Candidates are frequently active in a number of sport-related community activities through professional and volunteer positions such as referee, coach, fundraiser, logistics and/or event management. Members of the Canadian Forces and Cadets in particular are expected to stay fit and to participate in sports. As a cadet, I played rep water polo and rep soccer, competed in biathlon (shooting & skiing) and triathlon. Since returning to RMC Saint Jean, I have enjoyed playing broomball and watching any sports, but in particular broomball and soccer.
Interview by E3161 Victoria Edwards (RMC '03)