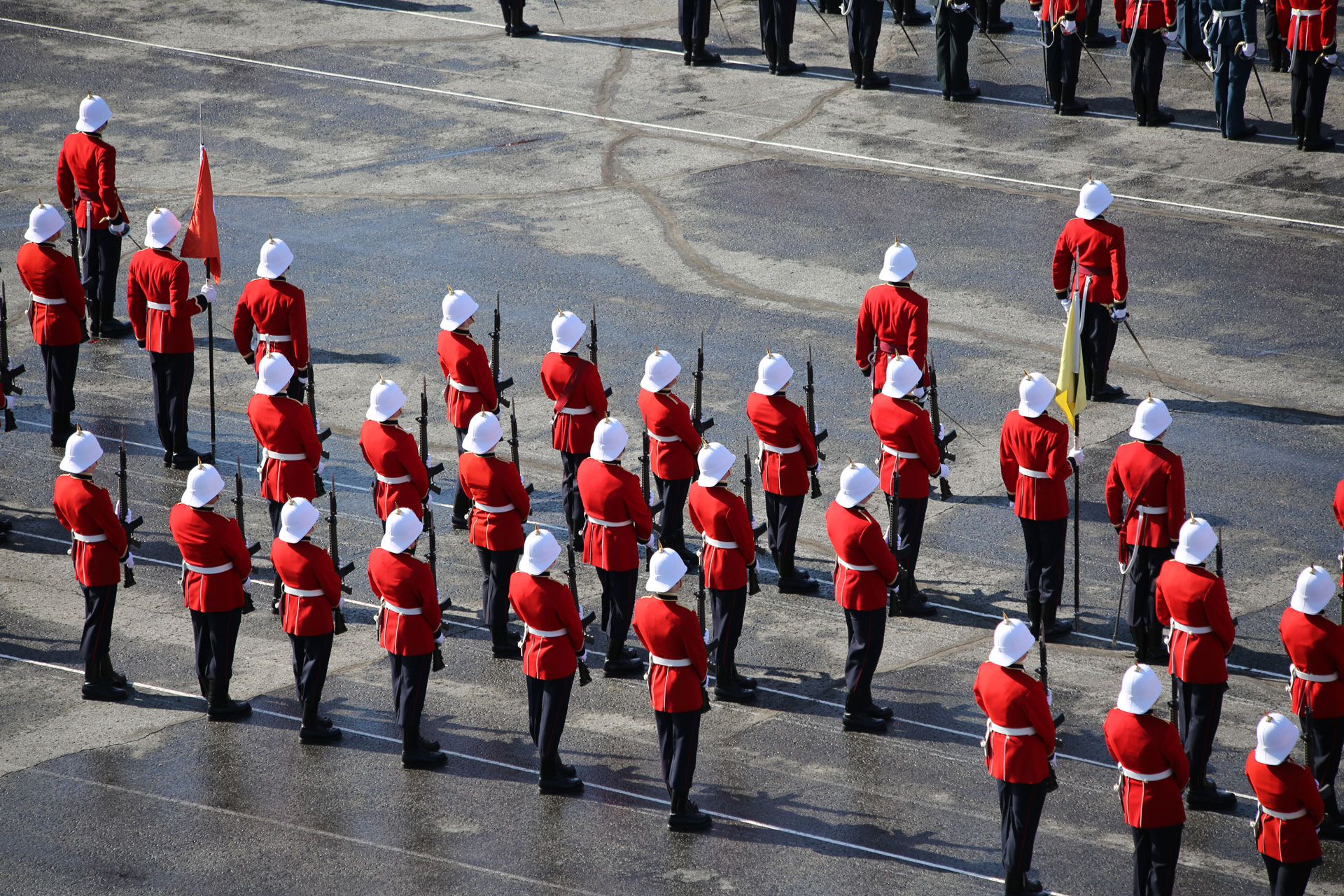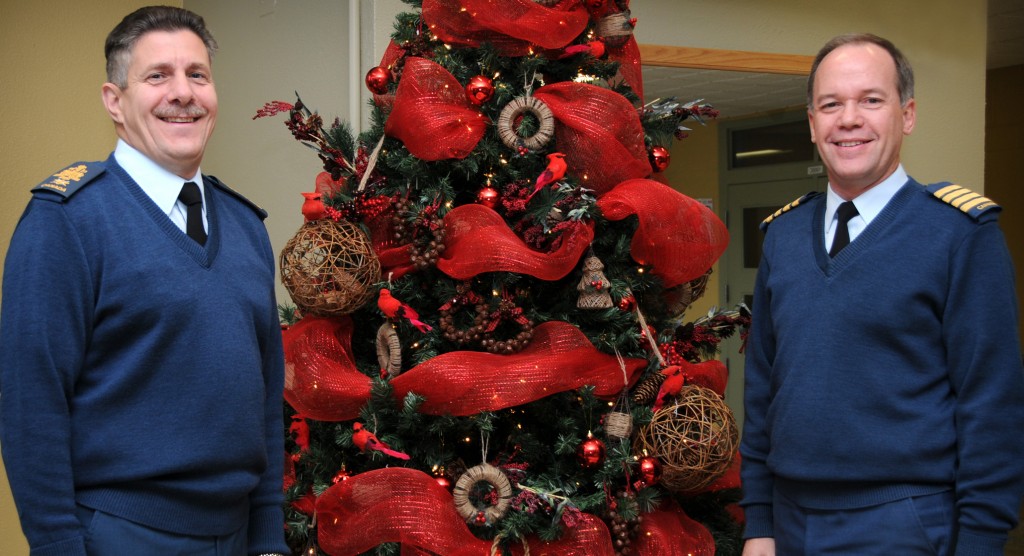 Nos meilleurs vœux de santé, de bonheur et de prospérité!
En cette période des Fêtes, l'adjudant-chef Beaudoin se joint à moi pour vous offrir nos meilleurs vœux de santé, bonheur et de prospérité.
Depuis sa réouverture en 2008, le Collège militaire royal de Saint-Jean est rapidement devenu une institution éducationnelle vouée à l'excellence dans toutes les composantes de ses programmes. Cette année aura été marquée par l'évolution continue de ces composantes, et entre autres, par la remise des premiers diplômes d'études collégiales aux élèves-officiers. L'ampleur du travail à accomplir était énorme et tout le personnel du Collège a relevé ce défi de taille avec brio.
Je voudrais donc profiter de cette occasion pour souligner l'excellent travail de nos militaires, employés de la fonction publique et du Programme de soutien au personnel, employés contractuels, ainsi que nos partenaires de la Corporation du Fort Saint-Jean. J'aimerais également remercier le personnel de la Garnison Saint-Jean et du 5e Groupe de soutien de secteur qui nous ont fourni un soutien exceptionnel.
Le temps des fêtes est l'occasion pour se réunir en famille et entre amis. Alors, amusez-vous et profitez de chaque instant avec vos êtres chers. Que ce temps de retrouvailles soit pour vous une occasion de célébrer dans la joie et la fraternité. Il est également important de prendre le temps de se ressourcer car l'année 2010 sera remplie de projets et de défis que nous saurons relever une fois de plus.
Nos pensées accompagnent aussi nos collègues qui répondent à l'appel du devoir loin de leur famille ainsi que ceux qui nous ont quittés. Puissent nos vœux de courage accompagner leurs êtres chers.
Sincèrement,
Colonel François Pion
Commandant du Collège militaire royal de Saint-Jean
Adjudant-chef Serge Beaudoin
Adjudant-chef du Collège militaire royal de Saint-Jean
Happiness, good health and prosperity to you and your family!
With the Festive Season approaching fast, Chief-Warrant Officer Beaudoin joins me in wishing you all happiness, prosperity and good health.
Since its reopening in 2008, the Royal Military College Saint-Jean has rapidly evolved into an educational institution that promotes excellence in all components of its programs. This year was marked by the continued evolution of these components, and in particular, by the first collegiate level diplomas awarded to Officer Cadets. The extent of the work required was enormous and all members of the team at the College have risen to this challenge brilliantly.
I would like to take this opportunity to highlight the excellent work accomplished by our military members, our public service employees, contractors, as well as our partners from the Corporation du Fort Saint-Jean. I also extend our sincere thanks to the personnel of the Saint-Jean Garrison and the 5 Area Support Group who have provided outstanding support.
The holiday season is a time to gather with family and friends. So, have fun and enjoy the moment with your loved ones. Let this reunion time be one of joyful and fraternal celebration. As 2010 will be filled with many more interesting projects, it is equally important to rest and recharge the batteries to be ready to face those new challenges.
Let's also have special thoughts for our colleagues who will be on duty and far from their family during this holiday season, and for those who have left us. May our wishes of courage accompany their loved ones.
Sincerely,
Colonel François Pion
Commandant Royal Military College Saint-Jean
Chief Warrant Officer Serge Beaudoin
Chief Warrant Officer Royal Military College Saint-Jean
___________________________________________________________________________
J'ai porté la flamme au Collège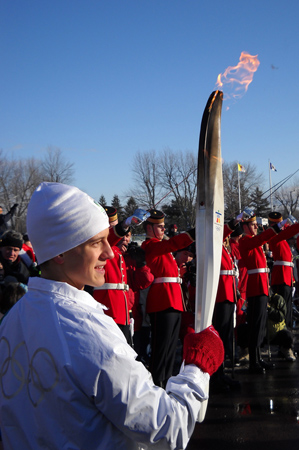 – un article de l'élève-officier Bonvouloir
Dès le moment où on m'a annoncé avoir été choisi pour porter la flamme olympique au Collège militaire royal de Saint-Jean, j'ai été envahi d'un sentiment d'immense de fierté, reconnaissant le privilège qui m'a été donné. Je me suis senti à la fois très ému et enthousiaste de porter la flamme compte tenu du caractère exceptionnel de l'événement.
J'imaginais vivre quelque chose de spécial, mais j'étais loin d'avoir prévu que la synergie et la fébrilité de la foule me porteraient aussi loin. En passant sous la haie d'honneur de mes collègues, j'ai ressenti une immense poussée d'adrénaline et de fierté sachant très bien que je courais à la fois pour eux, pour le Collège et pour moi-même.
Cette expérience unique restera gravée en moi pour le reste de mes jours. Il m'est difficile de vous décrire la sensation intense que j'ai ressentie, mais il y avait un mélange d'euphorie, de fébrilité, de bonheur, d'honneur et de fierté. Et cette sensation que j'ai vécu était un pur ravissement, et elle était bien au-delà de toutes mes attentes.
Grâce à cette reconnaissance que le collège m'a témoignée, je pourrai me servir de cet événement comme source d'inspiration pour repousser mes limites dans toutes les sphères de ma vie et devenir meilleur.
Élève-officier Olivier Bonvouloir
Bas de vignette : L'élof Olivier Bonvouloir a fièrement porté la flamme olympique au Collège militaire royal de Saint-Jean.
Crédit photo : Stéphane Richard
Arrival of the Olympic Flame