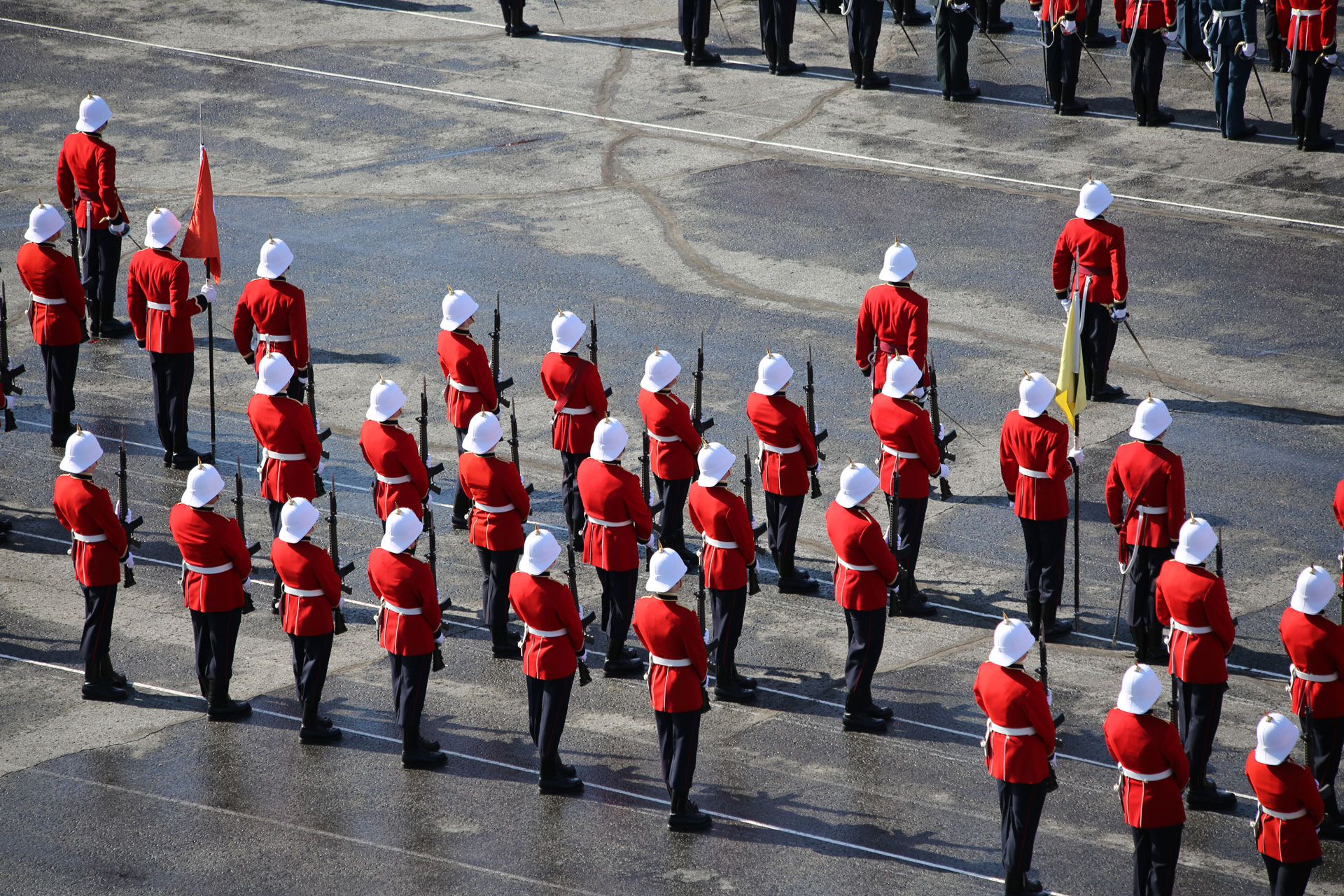 -14444 DOROTHY HECTOR (RMC 1984)

"I WAS IN FRONT OF CITY HALL WHEN THE FLAME CAME BY THE FRONT AND EVERYBODY WAS MOBBING THE FLAME AND AS YOU SAW WHEN IT CAME IN MARKET SQUARE THE PLACE WAS JUST GOING CRAZY WITH THE FLAME AND VICKI DID A FANTASTIC JOB COMING THROUGH THE MOB TO GET TO THE STAGE AND HER PENGUINS WERE THERE TO WELCOME HER AND THAT WAS WONDERFUL."

x

__________________________________________________________________
5381 Ray Hession (CMR RMC 1962)  to take over eHealth Ontario
Former Ottawa Hospital chair to lead provincial agency
Former Ottawa Hospital chair Ray Hession has been tapped to rehabilitate the image of eHealth Ontario as its new chairman.
The government agency's brand has been heavily damaged since a provincial auditor general's report in the fall found massive-scale sole-sourcing of consulting contracts and little accomplished toward creating electronic medical records, even though $1 billion has been spent.
Hession, 69, has a resume that would fill a three-ring binder. His public-service career includes stints as head of Canada Mortgage and Housing Corporation and deputy minister of several federal departments, including supply and services.
More…
__________________________________________________________________
– 22537 Capt. Yannick Jobin (RMC 2003)
Canadian NORAD Region Names Santa's Escort Pilots: Source
NORAD fosters the magic of Christmas: Source
xxxxxxxxxxxxxxxxxxxxxxxxxx
xxxxxxxxxxxxxxxxxxx
xxxxxxxxxxxxxxxxxxxxxxxxxxxxxxxxxxxx
__________________________________________________________________
xxxxxxx
Canada still has work to do in Afghanistan
By: 4377 Richard J. Evraire (CMR RMC 1959) , Citizen Special December 16, 2009
The engagement of the Canadian Forces (CF) in Afghanistan since 2002 has resulted in a high cost in human lives and material resources. Until a few months ago, the size of the CF contingent in Kandahar Province made it impossible to secure significant amounts of territory for more than short periods of time. But with the recent influx of American reinforcements, the gradual build-up of the Afghan National Army (ANA) and a reordering of the sectors of responsibility, a new concept of operations that combines a population-centric approach and accepted counterinsurgency techniques has been introduced in the province.
Canadians in Task Force Kandahar have had considerable early success in applying this so-called "village approach." They clear an area of insurgents; hold the ground through a physical presence with Afghan National Security Forces units; and build, through the application of funding to local projects, to improve security and services and foster economic growth. In its "whole of government" approach to the Afghan mission, Canada has achieved some success in a continuity of effort among the departments and agencies involved, notably Defence, Foreign Affairs, Correctional Service of Canada, the RCMP and the Canadian International Development Agency (CIDA).
Entire article Here
__________________________________________________________________

10425 Mr. Ron Kuban (CMR 1975) was named North Millbourne's December 2009 good neighbour. Ron is President of Pegasus Emergency Management Consortium Corp. Prior to doing this he spent 23 years with Canada's Department of National Defence, the federal government and provincial government of Alberta.
Ron graduated with a B.A. from the Royal Military College in Kingston and a M.Ed. and Ph.D. from the University of Alberta. He has extensive expertise and experience in management practices, crisis/emergency management systems and adult education and has been involved in numerous emergency situations both in Canada and abroad. When he isn't working or volunteering he is writing magazine articles and books.
He works on city initiatives such as Mayor's Task Force on Community Safety. He has served on the boards of Greenfield and Meadows community leagues, Edmonton Federation of Community leagues, Mill Woods Presidents Council, Mill Woods Canada Organizing Committee, Edmonton Police Commission, Central and Northern Alberta Red Cross Councils, and the Canadian Risk and Hazards Network.
Ron is a founding member of the Millwoods Community Patrol and Edmonton Regional Crime Prevention Network. Ron is a long time soccer coach and board member of the Mill Woods Soccer Association. Ron was awarded Queen's Jubilee medal, the Alberta Centennial medal and 2007 "Harry Hole Community Policing Award". One of Ron's passions the past five years has been getting a Youth Centre built for Mill Woods and the Meadows.  More More
__________________________________________________________________
The Honourable Peter MacKay, Minister of National Defence, Minister for the Atlantic Gateway and MP for Central Nova – Honouary member RMC Club of Canada.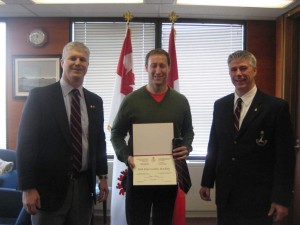 Pictured (L) is Gordon Clarke, president RMC Club of Canada  and (R) Jeff Kearns, past president  presenting the RMC Club tie and membership certificate to S164 Peter MacKay in his office at NDHQ.