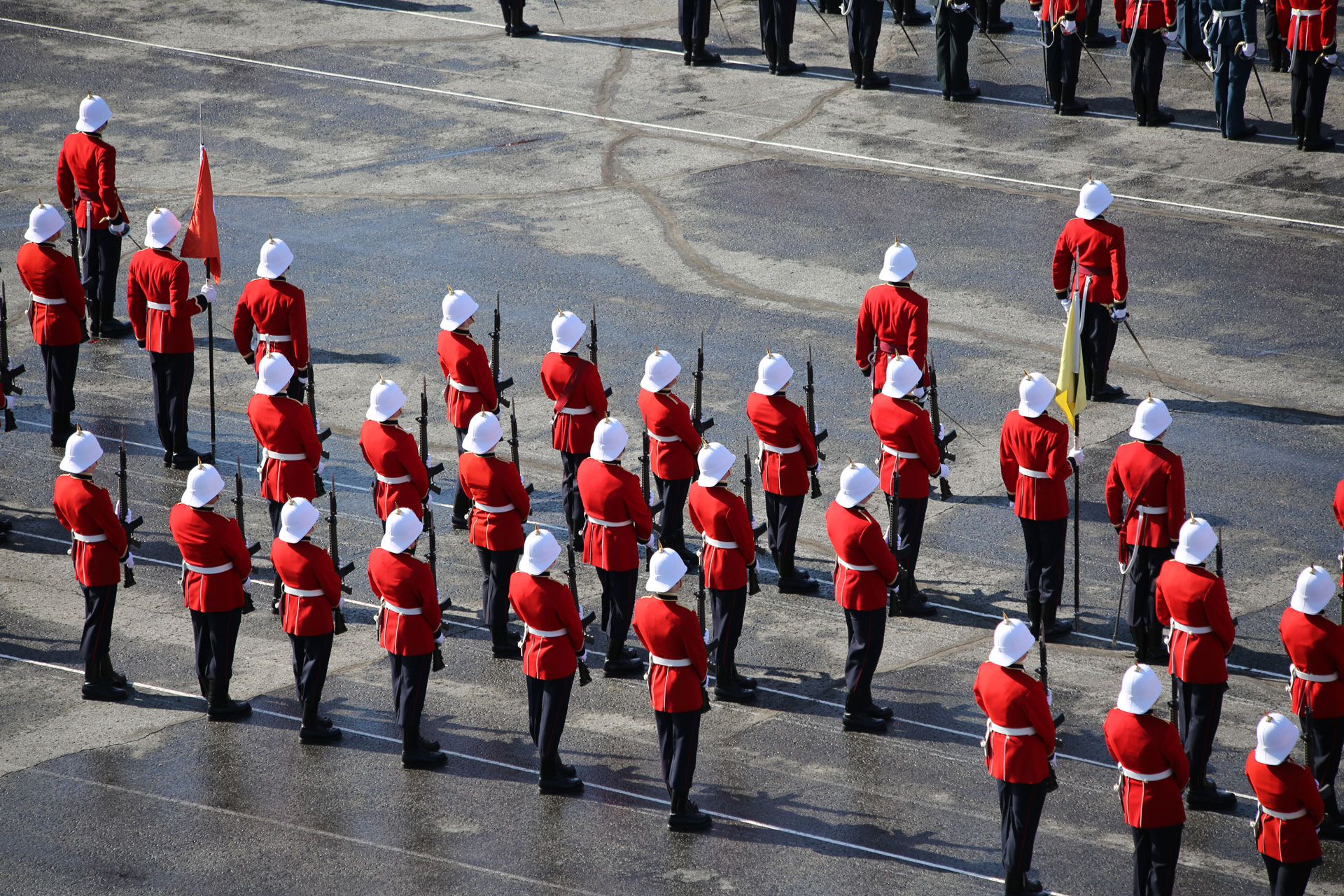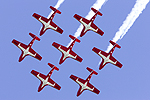 The Canadian Forces Snowbirds have officially released their 2009 show schedule
"2009 promises to be a memorable year with the incorporation of the Golden Hawk F-86 Sabre and the Golden Centennaire Tutor into our show season," said Major Chris Bard, Commanding Officer, 431 Air Demonstration Squadron and Snowbirds Team Lead. "We are looking forward to performing across North America and celebrating 100 years of powered flight in Canada."
During the 2009 season, the Snowbirds are scheduled to participate in over 65 air shows in 43 locations, proudly telling the Canadian Forces story through their inspirational flying. As ambassadors of the Canadian Forces and Canada, the team will travel as far North as Fort St-John, B.C., as far South as the Kennedy Space Center, Fla., as far West as San Diego, Calif. and as far East as St-John's, N.L. The team is performing in their hometown of Moose Jaw, Sask. 2 May and looking forward to performing in Baddeck, N.S the birthplace of aviation in Canada, 14 and 15 June. In addition, to commemorate the Centennial of Flight, the Snowbirds will be conducting 100 fly pasts of 100 Canadian towns or cities during the course of their show season.
During the team's 39-year history, the Snowbirds have performed in about 2,150 air shows, before almost 130 million spectators.
The Canadian Forces Snowbirds' mission is to represent the skill professionalism and teamwork of the Canadian Forces and to inspire Canadians to consider an exciting career in Canada's military.
2009 Snowbirds and the Ex cadet connection:
Photos (L-R): 6014 Squadron Honorary Colonel LGen (Ret'd) Fred Sutherland; 21970 Public Affairs Officer Captain Jennifer Jones; 22092 First Line Astern Captain Marco Rusconi; 19520 Inner Left Wing Captain Mike French.
The complete Snowbird Schedule can be found HERE
__________________________________________________________________________________

Membership in the Society for Conservation Biology, Kingston Chapter is open to everyone, and currently includes approximately 100 undergraduate students, graduate students, and faculty from the Royal Military College, Queen's University, and members of the Kingston community. The Kingston SCB has weekly meetings and hosts evening seminars on topics relating to conservation each school term. Weekly meetings usually include an issue presentation by one of our members, committee reports and updates on current projects (e.g. education committee planting events, research on current local issues, letter writing campaigns, information on upcoming seminars, etc.) and then a summary of conservation and environment topics recently in the news. Visitors to weekly meetings are welcome! The Society also hosts an annual photography contest.
http://biology.queensu.ca/~scb/chapter.htm
__________________________________________________________________________________

Call for Proposals
The University of Ontario Institute of Technology (UOIT) invites you to participate in the annual Eastern Ontario Symposium for Educational Technology (EOSET) 2009 conference being held on May 22, 2009 at UOIT in Oshawa, Ontario.
The EOSET Conference brings colleagues from Ontario's eastern universities together to demonstrate, share, and report on educational technology research. The presenters will discuss innovative and creative uses of technology to improve student learning. These captivating presentations are a definite highlight of the conference.
Please submit proposals on the following themes of technology use to support teaching and learning:
* Cultivating digital literacy
* Experiential or exploratory learning
* Collaborative learning
* Planning and design of educational technology learning activities and/or environments
* Current uses of technology
* Rethinking learning
The conference is made up of one hour long sessions, comprised of three 15 minute presentations, organized by discipline. Speakers present for 15 minutes, and then sit on a panel for another 15 minutes to answer questions.
Proposals must include:
1. Names, positions, institutional affiliations, and contact information for the presenter(s). The person who submits the proposal will be the key contact.
2. Session title.
3. Theme under which you are submitting.
4. Workshop abstract (150 words) outlining the session goals, a brief summary, and potential audience.
5. All audiovisual requirements.
Please send your proposal by email to maureen.wideman@dc-uoit.ca This e-mail address is being protected from spambots. You need JavaScript enabled to view it . Make sure to include your first and last name in the file name.
The deadline for submissions is February 15, 2009. You will be notified in mid-March of the selection of sessions.
__________________________________________________________________________________
Canadian Military Engineer Association Bursary Program
The Canadian Military Engineers Association (CMEA) Bursary Program was established to assist not only CMEA members entering post secondary educational programs but also their dependants. The program consists of three individual educational bursaries of $1000, to be awarded annually, for the year of study starting in Sep. Applicants may receive bursaries in more than one year of study, however annual application must be submitted. Priority shall be given to those applicants who have not previously received a bursary through this program. Bursary recipients will be chosen on the basis of scholastic and all-round achievement, with consideration for individual's financial need. Applications for the CMEA Bursary Program shall be received by 15 September by: Canadian Military Engineer Branch Adjutant, Director General Military Engineering/Chief Military Engineering (DGME/Chief ME), National Defence Headquarters, Major-General George R. Pearkes Building Ottawa ON K1A 0K2
To get more details, click HERE.
__________________________________________________________________________________

Conference of Defence Associations Institute (CDAI) – SDF Internship Program
The Security and Defence Forum (SDF) Internship Program is operated by the Department of National Defence, and is intended to help recent MA graduates with a background in security and defence complement their studies with relevant work experience. For more details and application forms, please see: http://www.forces.gc.ca/admpol/newsite/SDF-eng.html ou en français à http://www.forces.gc.ca/admpol/newsite/awards-fra.html The CDA Institute, based in Ottawa, is a non-profit, charitable organization dedicated to increasing public awareness of Canada's security situation and the vital role played by the Canadian Forces in our society. The CDA Institute conducts, inter alia, the very successful Annual Graduate Student Symposium, seminars, hosts the prestigious Annual Vimy Dinner and publishes studies such as, "Canadians and Asia-Pacific Security, Defence Requirements for Canada's Arctic, and a quarterly journal, ON TRACK. For more information please visit our website at: www.cda-cdai.ca For more information, please contact : 6349 Colonel (Ret'd) Alain MJPA Pellerin (CMR RMC 1965), Executive Director, CDAI E-mail: director@cda-cdai.ca