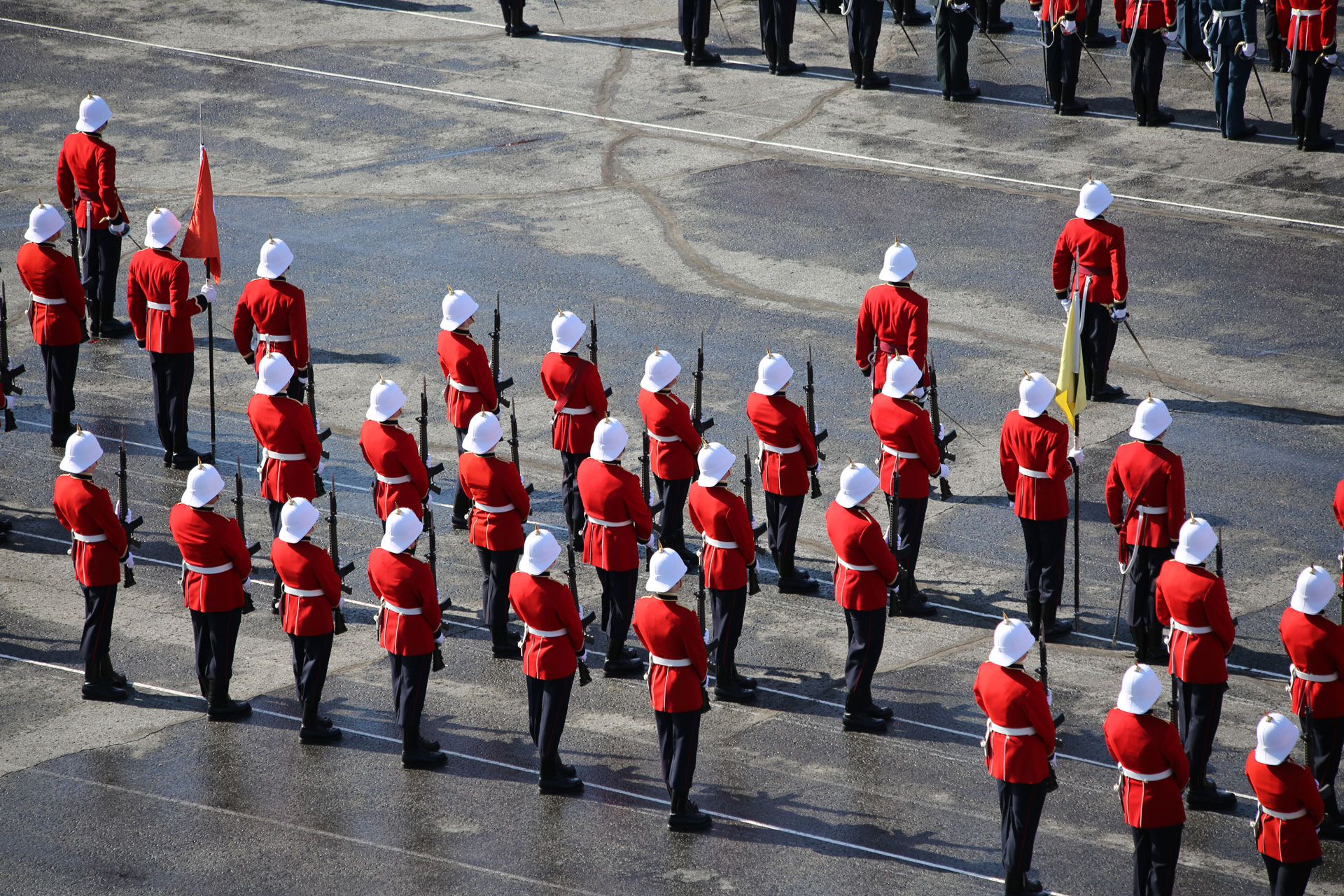 Please renew or take out an annual or life membership
We have embarked on a Club membership drive. Please help us: Ex cadets; Current & former staff members (civilian & military); parents & friends; current & past students – including undergraduate and graduate level are all eligible and encouraged to join us!
You can call us toll free 1-888-386-3762 or Online
Contact us by e-mail rmcclub@rmc.ca
Veuillez renouveler votre carte de membre au Club ou vous en procurer une à vie.
Nous avons lancé une campagne d'adhésion au Club des CMR. Veuillez nous appuyer dans ce projet : Anciens; membres du personnel anciens et actuels (civil et militaire); parents et amis; étudiants actuels et du passé, du premier et du deuxième cycle sont tous admissibles et nous les encourageons à devenir membres!
Téléphonez sans frais au : 1-888-386-3762.
Communiquez en ligne
Ou par courriel : rmcclub@rmc.ca
_______________________________________________________________________________________________
22800 Daniel Thibodeau (RMC '04) and wife Roberta Doucette are overjoyed to announce the birth of their first daughter Emily Elizabeth Thibodeau. Born at 1208 hrs on 6 Apr 2009 (lucky baby 6-4-9!) at Kingston General Hospital in Kingston. Mom and daughter are doing fine, Dad is very proud and is already trying to figure out how to make pony tails! Daniel and Roberta got married on 2 Aug 2008 in Quebec City after his return from a 9 months tour in Afghanistan (OP ATHENA Roto 4). He is now Instructor for the Basic Signals Officer Course at the School of Communications (CFSCE) in Kingston.
_______________________________________________________________________________________________
We are pleased to announce a joint CFLA – JAG celebration of Law Day. Law Day approaches, Friday April 24, 2009, which provides an opportune moment to celebrate our profession. This year, we are choosing to participate in the Annual Law Day Fun Run/Walk for Charity, organized by the County of Carleton Law Association. Every year, it is a well-attended event as hundreds of lawyers and support staff come out to enjoy the lunch hour along the canal. The distance, whether you walk or run, is 5K. Sign up today, and together we can contribute to a charity while we also participate with JAG in this fun event.
Registration are done on line as per below, but please also RSVP with Major Tammy Tremblay so that we know who is participating.
14th Annual Law Day Fun Run/Walk for Charity
Shake off the winter blues and welcome the arrival of spring with the 14th Annual Law Day Run/Walk for Charity. This year's event will take place on Friday, April 24, at 12:30 p.m. at Festival Plaza in front of Ottawa City Hall.
The route takes participants along the west side of the Rideau Canal on Queen Elizabeth Driveway – which will be closed for this race for the first time – and continues to Fifth Avenue before returning to City Hall.
The cost to register remains $25, which includes a t­shirt (600 available), food and beverages arranged by Gowlings, prizes and unlimited fresh air! You can also register on­site from 11:30 a.m. to noon on race day for $30.
All proceeds will go to project s.t.e.p., which is campaigning to address youth addictions in Ottawa through school-based prevention and education programs and the creation of a local residential treatment centre.
The best way to register is through the Running Room. You can also contact Jessica Pancoe of project s.t.e.p. at 613­683­3788 or download an entry form from the County of Carleton Law Association Web site.
Nous sommes heureux d'annoncer la tenue d'une activité conjointe CJFC-JAG dans le cadre de la Journée du droit. Cette journée qui aura lieu le vendredi 24 avril 2009 approche à grands pas et nous fournira l'occasion de célébrer notre profession. Cette année, nous avons choisi de participer à la course/marche annuelle pour la charité de la Journée du droit, organisée par l'Association du Barreau du Comté de Carleton. Chaque année, de nombreuses personnes participent à cette activité. En effet, des centaines d'avocats et d'employés de soutien y prennent part et sortent se promener le long du canal pendant leur heure du dîner. Que vous participiez à la marche ou à la course, la distance est de 5 km. Inscrivez-vous dès aujourd'hui, et ensemble nous contribuerons à une œuvre de bienfaisance tout en participant avec le personnel de l'organisation du JAG à cette activité divertissante.
Vous devez vous inscrire directement en ligne, mais veuillez aussi informer major Tammy Tremblay afin que nous sachions qui participent.
14e Marche et course annuelle de la Journée du droit pour les œuvres de bienfaisance
Oubliez les hauts et les bas de l'hiver et accueillez le printemps en participant à la 14e Marche et course annuelle de la Journée du droit pour les œuvres de bienfaisance. L'activité se déroule cette année le vendredi 24 avril à 12 h 30 à la Place des festivals devant l'hôtel de ville d'Ottawa.
L'itinéraire des participants passe par la rive ouest du canal Rideau sur la promenade de la Reine-Elizabeth, qui sera fermée pendant cette course pour la première fois, et se poursuivra sur la 5e avenue pour revenir à l'hôtel de ville.
L'inscription coûte toujours 25 $, comprend un t­shirt (600 sont disponibles), des aliments et boissons de Gowlings, des prix et le grand air en abondance! Vous pouvez aussi vous inscrire sur place de 11 h 30 à midi le jour de la course pour 30 $.
Tous les fonds amassés seront versés au projet r.é.p.a. qui fait campagne sur la toxicomanie chez les jeunes à Ottawa par l'intermédiaire de programmes scolaires de prévention et d'information et l'ouverture d'un centre de traitement résidentiel local.
Inscrivez-vous dans le Running Room, c'est très facile! Vous pouvez aussi communiquer avec Jessica Pancoe du projet r.é.p.a. au 613­683­3788 ou télécharger un formulaire d'inscription à partir du site Web de l'Association du barreau du comté de Carleton.