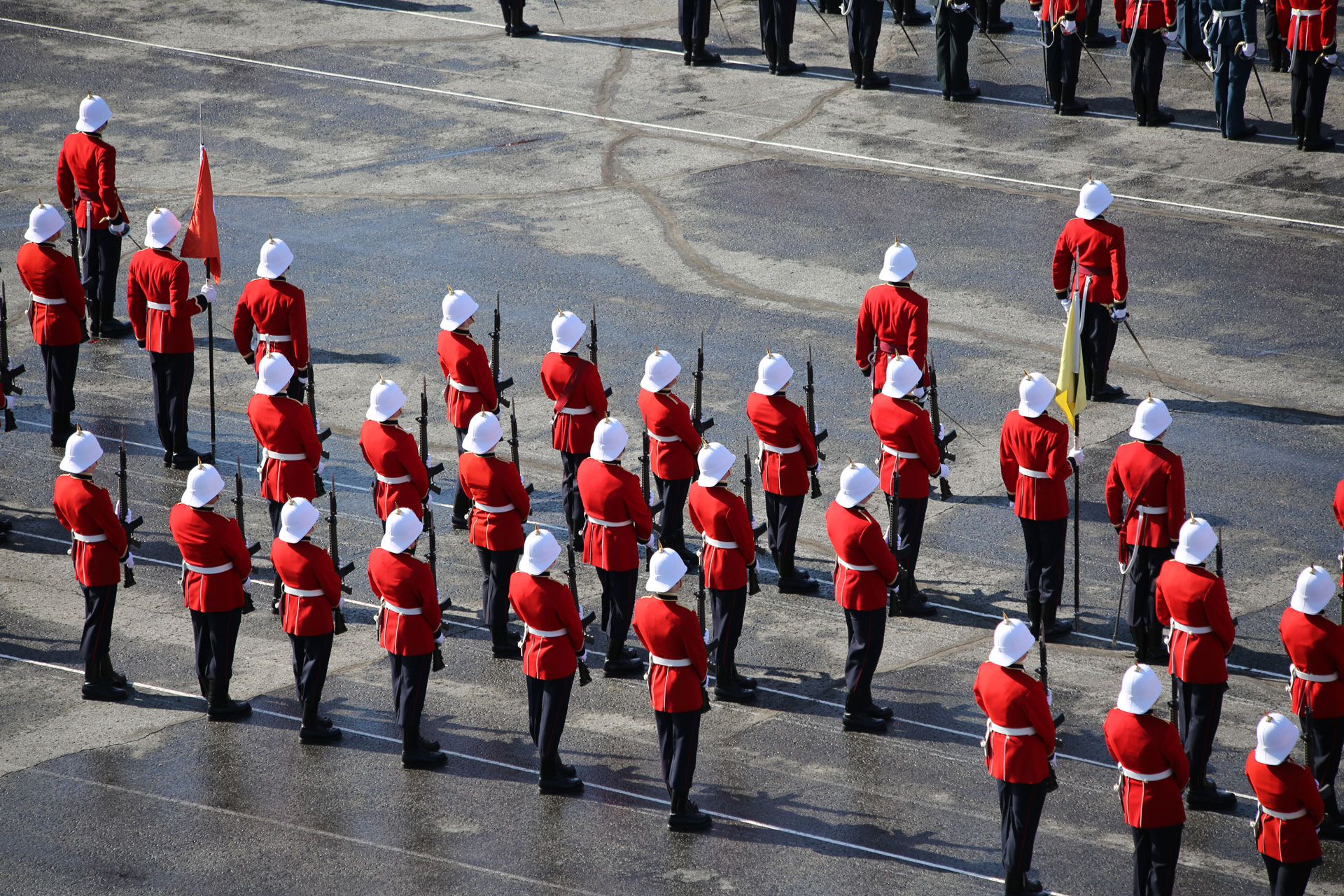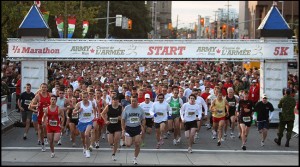 Recruits eager to expand Army Run
By Bruce Deachman, The Ottawa Citizen
OTTAWA – With the lactic acid embers of Ottawa Race Weekend still glowing in thousands of quads throughout the region, organizers of the Canada Army Run say they hope to double the number of runners in this year's
5-kilometre and half-marathon races when their starter's pistol – a 105 mm Howitzer cannon – is fired on Sept. 20.
Participation in last year's inaugural Canada Army Run, along the Rideau Canal and through downtown Ottawa, had to be capped at 7,000 – about three-quarters of them civilians – when organizers were swamped with more entries than they anticipated or could handle.
"Last year the commander (Lt. Gen. Andrew B. Leslie) was upset that we had to close the race," says Run manager Major Chris Horeczy. "We sold out in August, which is a mixed blessing – it's good we succeeded, but it's bad we had to turn people away.
"Optimistically, could we double it this year? Perhaps," says Horeczy.
"We'll be ready."
The Canada Army Run follows in the footsteps of the Army Ten-Miler and the Marine Corps Marathon, held annually in Washington.
Horeczy is among a group of Forces personnel who have for years been taking part in the Army Ten-Miler, held at the Pentagon. They wanted to bring the camaraderie they experienced of civilians and soldiers running together to Canada.
"It was intended for us to show the esprit de corps that we have with Canadians at large," he says of last year's race, "and Canadians turned it around and used it as an opportunity to say thanks to us."
Then, Horeczy recalls, civilians were shaking hands with soldiers while they ran, while others called and cheered from bridges.
"I have almost a thousand e-mails from people saying the experience was great. That was what made the run. It wasn't the fact that it was a race, because, really, it's not about winning. It's about being there and participating.
"Getting together, physically, was the thing we were striving for," he adds. "Traditionally, we witness a lot of support from Canadians across the country, but it's in the media, it's in letter-writing campaigns, sometimes it's in parades when the troops are getting ready to go out on operations.
"What we wanted to create was was an opportunity for us to get shoulder to shoulder with civilians."
Last year's Run raised close to $60,000 for Soldier On, which helps provide fitness-related equipment and training for injured or ill Canadian Forces personnel, and Military Families Fund, which was created in April 2007 by Gen. Rick Hillier to help military families in need of support.
For more information on the Army Run or to register, visit www.armyrun.ca
______________________________________
COURSE À OBSTACLES, CMR SAINT-JEAN, 4 septembre 2009, 09h00
Le 4 septembre 2009, 09h00, au CMR Saint-Jean, aura lieu la course à obstacles, évènement important dans l'accueil des nouveaux élèves-officiers au sein de la grande famille des CMC.
Les autorités militaires du CMR Saint-Jean, sous le leadership du Directeur des élèves-officiers, Maj Michel Archambault, planifient cet évènement important dans la culture des collèges et font appel aux anciens et anciennes intéressés à s'impliquer dans cette activité, à joindre le comité organisateur.
Les anciens et anciennes intéressés (es), veuillez communiquer avec le VP Activité du Chapitre de Montréal-Fort Saint-Jean, soit 12944 André Durand au ranger.durand@videotron.ca ou via téléphone au (450) 359-7452 avant le 28 août 2009.
OBSTACLE COURSE, RMC ST-JEAN, 4 SEPTEMBER 2009, 0900hrs
On the 4th of September 2009, at 0900hrs, the incoming Recruit Class of 2010 RMC St-Jean will run the Obstacle Course. This event marks the beginning of their lives as Officer Cadets and members of the military college tradition.
The military staff of RMC St-Jean, under the leadership of the Director of Cadets, Maj Michel Archambault, is planning this important event. All ex-Cadets who wish to be involved in this important occasion are invited to join the Organizing Committee.
To all those interested, please contact the VP Activities of the Montréal-Fort St-Jean Chapter, 12944 André Durand at ranger.durand@videotron.ca, or by telephone at 450-359-7452 before the 28 August 2009.
______________________________________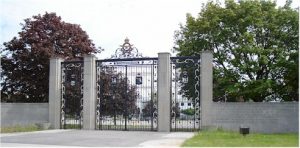 CFB Trenton celebrates four aviation milestones
TRENTON — The rededication of the Memorial Gates will kick off 8 Wing Trenton's anniversary weekend.
CFB Trenton commander Colonel Mike Hood announced the schedule for the July 4-5 celebration during a press conference, on Friday, June 5.
"I think we are ready for a celebration here at CFB Trenton," Col. Hood said. "It will be a jam-packed weekend."
The anniversary weekend celebrates the 60th anniversary of the United Kingdom, Australia and New Zealand presenting the Memorial Gates to Canada for its contribution to the Second World War.
"It's our goal to honour the memory of all those who came through the gates of Trenton," Col. Hood said.
The rededication ceremony includes bands and colour parade and a fly past of historic aircraft.
"I kind of set out a goal and challenge to my folks to see if we could get one of everything that had flown in Trenton during the Second World War. We've come pretty close," Col. Hood said. "You're going to see some aircraft that haven't flown above the skies of Trenton for 50 years."
Lieutenant-Colonel Debbie Miller said they hope the Minister of Veterans Affairs Greg Thompson will represent the federal government during the rededication of the gates.
"He understands the significance of this event because when you look at the age of our guests, they could be from birth to their 90s," Lieutenant-Colonel Debbie Miller said.
Members of the British royal family have been invited to the rededication, but attendance has yet to be confirmed.
"Right now we're still hopeful, but we're going to Plan B," Lt. Col. Miller said.
The anniversary weekend also celebrates the 100th anniversary of powered flight in Canada, the 85th anniversary of the Royal Canadian Air Force and the 25th Anniversary of the National Air Force Museum of Canada.
Following the rededication of the gates, CFB Trenton will open the base to the public.
"The men and women here are very proud of the work they do and are very proud to show off," Col Hood said. "The strength of 8 Wing Trenton is the closeness we have with the local community."
Base visitors will be given passports that can be stamped at each of events and displays. A minefield awareness area demonstrating the work needed to clear a minefield is also being created for the open house.
Col. Hood said all events during the weekend are free of charge for the public.
"It's not my base, it's everyone's base," Col. Hood said. "It's the Canadian public's. We're their military. I certainly think they have every right to come out and be able to see what we do for them."
The Officer's Mess will be the only building open to the public during the open house, but Lt. Col. Miller said visitors will have the opportunity to see inside military vehicles and aircraft.
"You will be able to touch and feel everything," Lt. Col. Miller said. "People will be able to say they saw history, the collision of four anniversaries."
Full details of the anniversary weekend – including maps and frequently asked questions – are available at cfbtrenton.com.