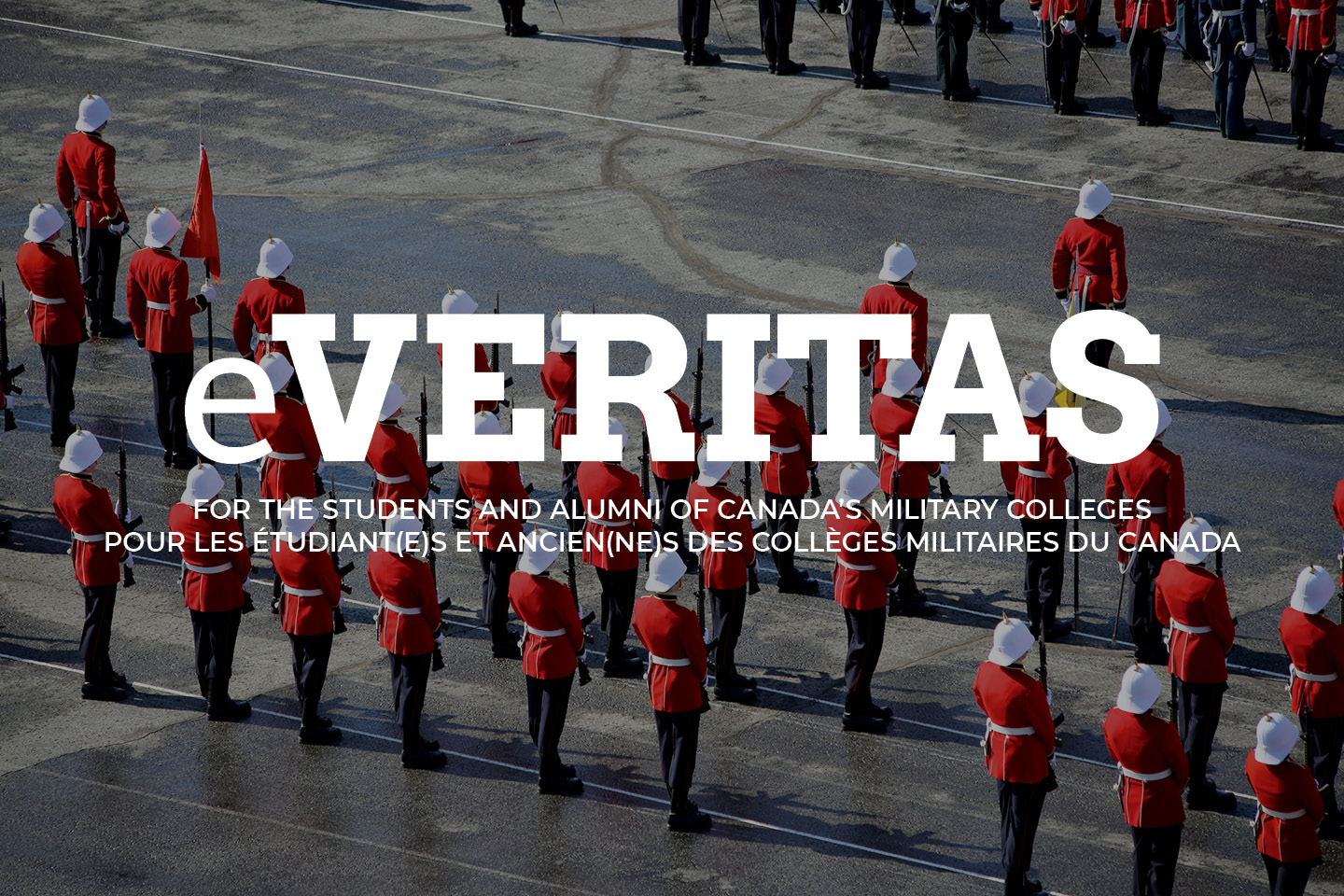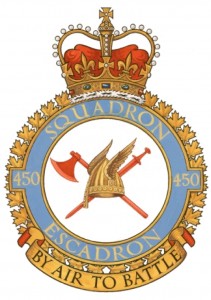 Memories of RMC
By OCdt Denice Zoretich – 26573
Ed note: e-Veritas is indeed fortunate in having officer cadets who volunteer their services and time to submit interesting and timely articles on a regular basis.  OCdt Denice Zoretich is one such person; she has spent the best part of the summer on training at CFB Petawawa. Denice shares her experience interacting with a number of Ex Cadets who are currently serving with 450 Tactical Helicopter Sqn.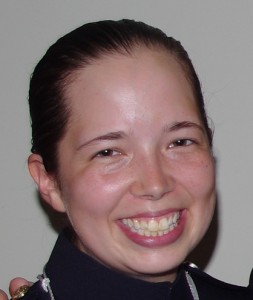 The avid e-Veritas reader will recognize former classmates and old friends in almost every publication. In my case, I am still attending RMC and will be graduating this upcoming May.
During the summer months, most of our training involves military courses or on-the-job-experiences (OJE). For a future Air Force Logistics Officer, I have had the opportunity to participate in an OJE at 450 Tactical Helicopter Sqn. It has been quite the experience so far and I have taken away many lessons on both supporting daily operations and exercises, as well as how a newly formed unit is built. 450 THS is relatively new, with all of the CH-147 Chinooks only arriving in the summer of 2014.
Over the past couple of months, I have noticed a few familiar faces throughout e-Veritas issues of the members of 450 THS. This inspired me to ask a few of them about their experience at the Royal Military College of Canada.***
MORE…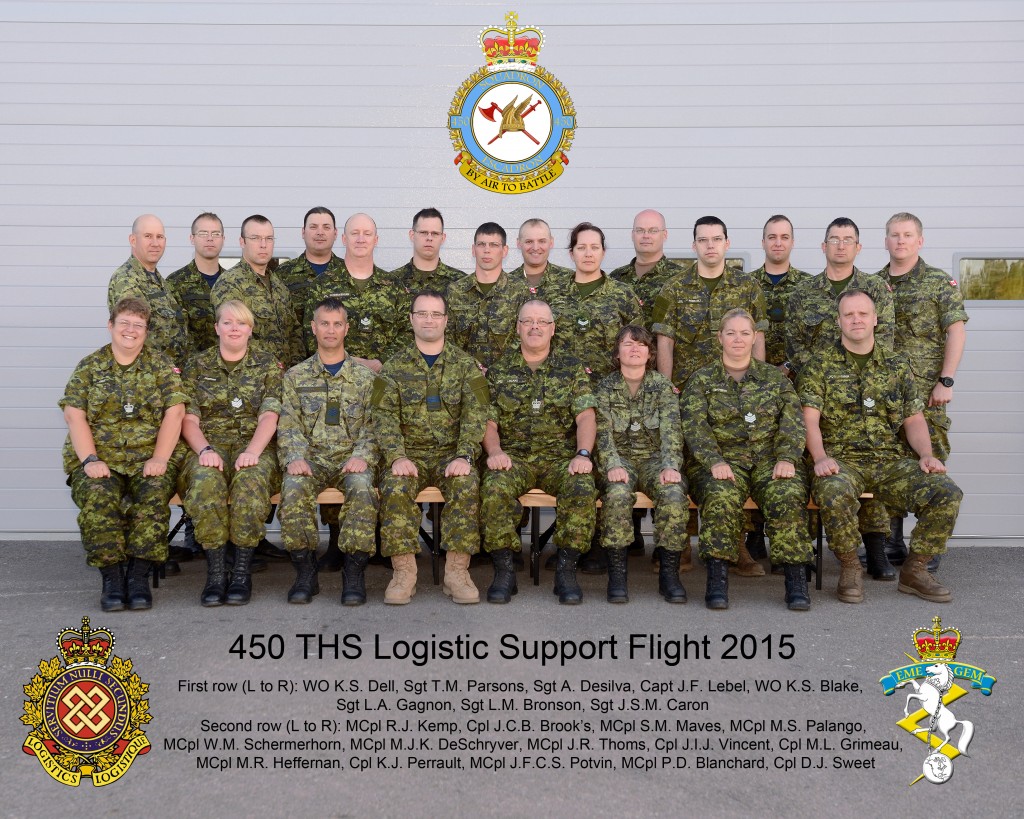 Capt Jean-François Lebel – M0938 – Grad 2010, Logistics Officer, OC Log Flight
Currently, Jean-François Lebel is working as the Sqn Logistics Officer at 450 Tactical Helicopter Squadron in Petawawa. I have spent my summer working alongside him and learning how busy a unit can be on the road to becoming fully operational. Some of the problems that arise can be related to the fact that 450 THS is a brand new Squadron. I am very appreciative of all the support and mentoring he has given me.
While interviewing him, I learned that he attended RMC under the University Training Plan – Non-Commissioned Members (UTPNCM) program. During Jean-François' time at RMC, Otter Squadron was much more integrated within the college. This is where he had his first exposure to leading troops. He worked during the summer months as a platoon commander for a 4-week crash course for new ROTP recruits. "It was a challenge to motivate the staff and the platoon. Sometimes you had to talk to the recruits who are having doubts in those first few days. Most of the time, they end up changing their minds." He also spent another summer working with the Aboriginal Leadership Opportunity Year (ALOY) candidates. "It was a great position and I was highly motivated to be there. I really enjoyed working with them and learning about their culture. I attended my first pow wow, which they had at their graduation ceremony on campus."
One of the biggest challenges while attending RMC, especially as a member of Otter Sqn, was maintaining a healthy work-life balance. "There are family demands as well as the four pillars (athletics, academics, bilingualism, military) to think about; however, being posted in one city for four years comes with the perks of being with the wife without deployments or exercises."
RMC is not without reward. Although it may be filled with constant challenges, there were also many advantages. For one – class sizes. As Jean-François studied in French, his average classroom size was less than ten. Even in the core courses that everyone took, it would rarely be higher than 25. He recalled that, "You had access to the professor and there were more chances for interaction during class. Real world applications and experiences could be thoroughly discussed." This close group of students, especially those who were in the same trade, would continue to work together after graduation despite being posted all over the country. "It is good to have connections; you always help each other out. Even though you are on different bases, you still talk to [former classmates], especially on exercises and deployments."
Jean-François has spent a considerable amount of time mentoring on the final year at RMC and life afterwards. He chuckled to himself when I asked about Graduation. "Everyone remembers those grad parade practices." Some traditions never change.
LCol Chris McKenna – 21497 – Grad 1999, Pilot, Commanding Officer 450 Tactical Helicopter Squadron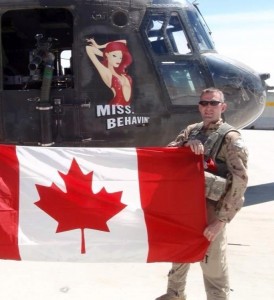 Chris first joined the infantry in the reserves while he attended Cégép. When he came to RMC, he decided to go pilot, specifically to fly helicopters. "It lined up with all my life goals and I wanted the challenge. RMC produces a difficult degree but also good people."
One of the fundamental leadership skills he learned while at the Royal Military College was leadership by example. "It was a good opportunity with low consequences, as in no lives lost. As a follower, you would learn from mistakes of the senior cadets. There were also some natural leaders. Although in the beginning of your career the experience is limited, this first exposure of leadership by example via the cadet wing can help shape your own leadership style.
"Leading by example is especially important in combat. In Afghanistan, I wanted to share the risk with my troops. I led every air assault, chose to talk, give orders, and be in command. From the integration, execution, to the AAR. Leading by example inspires confidence in guys. This makes the mission more successful."
When I brought up the First Year Orientation Period (formally known as Recruit Term), a smile crossed Chris's face. "I still have very vivid memories, as if it just happened. I still talk to my old teammates even if they are not in the military anymore through Facebook." The shared adversity and success through it all created these lasting bonds. "Even though this tough training period was only the beginning, the practical skills learned still apply today. As CO, you are very busy every day. Just last week someone was talking about recruit timings. I went from flying, changed into DEUs and went up the hill [to 4CDSB Petawawa] for a parade. These were all quick changes." Throughout the years at RMC, there are also lessons Chris learned. "Being CO, it encompasses simultaneous tasks. Nowadays, with technology we get so much info, all the time, it's very fast and comes in through different means. RMC teaches you that mission focus, time management and prioritization are key."
On advice for the careers of future RMC grads, Chris reflects, "I graduated 16 years ago. I never thought I'd be here. I did my wings course during 9/11. The complexity, pace, and tempo completely changed afterwards due to the risk level. Over my career, I spent 18 months in Afghanistan and 6 months in Bosnia. The world is dangerous. Be as good as you can be in your trade. You will be tested. There is excitement in your future careers, and it won't always be predictable. So make sure you are ready. Do your best to lead your soldiers."
////
Capt Adam Mramor – 23214 – Grad 2005, Pilot, OC B Flight
I had the chance to sit down with Captain Adam Mramor while he was still the OC of B Flt at 450 THS(soon to be posted). Current students may recognize him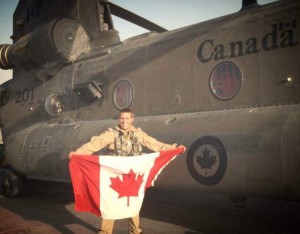 as one of the pilots who landed the Chinook on the parade square last March during MOC Weekend.
Adam was one of the first 450 members that I interviewed; however, it was not until after I had interviewed the CO of 450 THS, that I discovered that Adam was the recipient of a Mention in Dispatches. "Did he tell you about that? of course he wouldn't. He's far too humble." LCol Chris McKenna then recalled the story of how after his Chinook was shot down, he maintained control and saved the lives of everyone on board. The full story can be read here: Enemy fire incident in Afghanistan earns pilot recognition. It was easy to see how proud he was to have Adam as part of his team then and now.
Adam's humble and gracious attitude carries on with him always. Even though he was busy with admin, meetings and flights, he still took time to reminisce about his time at RMC. He spent time as both a 3 Sqn & 9 Sqn member. Some of his best memories include West Point Weekend. Adam was able to go down to West Point for two of four years. "It was all about the sports camaraderie, even if it was to just spectate the hockey game." The RMC vs West Point hockey matches are still a popular tradition to this day. Adam spent his time at RMC exemplifying the athletics pillar; belonging to the track, cross country teams and varsity soccer. One of his trips post-graduation included coming back to RMC to play against the Rugby team.
Another great opportunity RMC offered was a mini-tour of military bases. Along with the other first years, Adam had the chance to experience the following Canadian Forces bases: Petawawa, Trenton and Halifax. This mini-tour opened his eyes to possibilities after graduation and career wise.
This year marks his 10 year anniversary since graduation. For all those who are entering into their final year, Adam wants to remind them that "even though things may seem insurmountable, there is a solution. And don't forget, 80% today is better than the 100% tomorrow."
////
Capt Kendra Bencun – 23563 – Grad 2007, AERE, OC Fleet Tactical Training Flight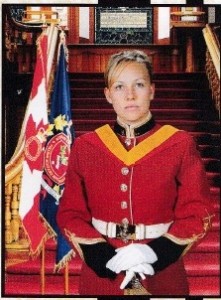 Kendra joined the varsity basketball team and spent a lot of time on the road. She fondly recalls the long bus rides with teammates on weekends, enjoying the time with her surrogate family, and catching up on schoolwork. These weekend varsity games made the experiences at RMC more like a 'regular' university; however, there are plenty of reasons to appreciate the unique challenges that the Royal Military College offers. For instance, Kendra spoke highly of the fantastic education, and renowned teachers. "During school, you don't realise how good the teachers are but afterwards, you are amazed at their contributions, their awards." When I asked Kendra about the fact that she had to take arts courses as an engineer, she talked about how tough it was to get a good mark in English. Mostly, the core curriculum has benefits. "The Ethics course was really good. It relates to the real world and applies throughout your career."
We also talked about differences in how a Squadron is run, the staffing and the OCdt bar positions. "Some of the best mentors at RMC were the Squadron Sergeants. They teach you about what not to do and how to do things in the military. They are down to earth and really help you out during those crucial early learning phases." Although the Sqn Sgt position had been discontinued after Kendra graduated, I am quite pleased that this position is once again returning to RMC.
On how important friendships and networking are both at RMC and during your career, Kendra states "my old roommate actually works just across the road at 427 Sqn and we talk about work all the time and are still really good friends. You will know those in your year, the people you hang out with, and mostly the people in your trade. Even though I'm in the Air Force, we work on an Army base. I know some of those Army guys and when we talk about our jobs, we each develop more of an understanding of the other's job, trade, and element. We are all working together under the same organization; we just go about things differently."
When Kendra joined RMC, she had no background knowledge in French. Her advice to overcome this challenge? "Try to get a OJT in a bilingual unit. You will pick it up quicker." For current students and this year's soon-to-be grads, Kendra reminds them that "it's all about perceived stress. The struggles you are going through now will end up okay after school. You should always strive to be your best, but the reality is, afterwards, a bar position doesn't dictate the rest of your career."
Kendra has an insurmountable amount of energy and her passion for her work is reflected in all she does. Now, when she looks back on her RMC experience, she can't help but question, "How did we function without sleep?!"
////
Captain Michel Gagne – 14434 Grad 1984, Padre for 450 THS & 427 SOAS
Michel was not always a Padre. He joined the Royal Military College as an Air Navigator like his father, Andre Gagne s3515. After tough training and a good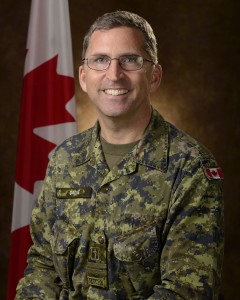 lesson in persuasion, his squadron commander, "then Capt Walt Natynczyk 12320, managed to skillfully lure me away from Air Nav in order to replenish the Armoured OCdt stream. Michel will always be amused knowing that years later, Natynczyk's son became a navigator. "Everything always balances out in the end."
A member of 8 Sqn, Michel was part of the "First Class with Class." The class, of course, was because of the first women attending RMC. He remembers it not being a big deal, there were other co-ed universities. As a class, they were very protective of their female colleagues. He has travelled back to RMC for a few of his reunions and enjoys watching the next generation complete the obstacle course. I decided to test Michel about his college knowledge. Surprisingly, he still recalls quite a few facts and remembers the Old Eighteen by heart. Who knows, maybe one day, it will come in handy.
On the four pillars, Academics, Athletics, Bilingualism, Military, Michel "enjoyed the rich mix of academics and activities but admit that I like the pageantry of well-executed parades most of all." One of his biggest challenges while at RMC, was passing all his academic courses in order to avoid the dreaded "supps" (supplementary exams).
One of Michel's favourite college traditions is the Lining of the Route. This is the final event of the Graduation Parade. The first years' line the route and the newly commissioned officers march to the Memorial Arch; returning through the arch back from where they stared. "There is something chilling about marching to the Memorial Arch with your class between the two rows of young cadets – our future."
Michel's advice for the future officers, "Get to know what you value and what others value. When you find yourself in conflict, see what values have been highlighted on both sides and learn from the insight. From a clash of ideas comes a flash of light – look to the light."
////
Conclusion:
I always had heard that the military community was small and the people you work with are like family. After spending the summer at 450 THS, I am pleased to have made more friends that I am bound to run into again sometime in our careers. For now, I am excited for this last year at RMC, knowing that eventually, it will be my turn to read about my classmates and reminisce in future publications of E-Veritas.