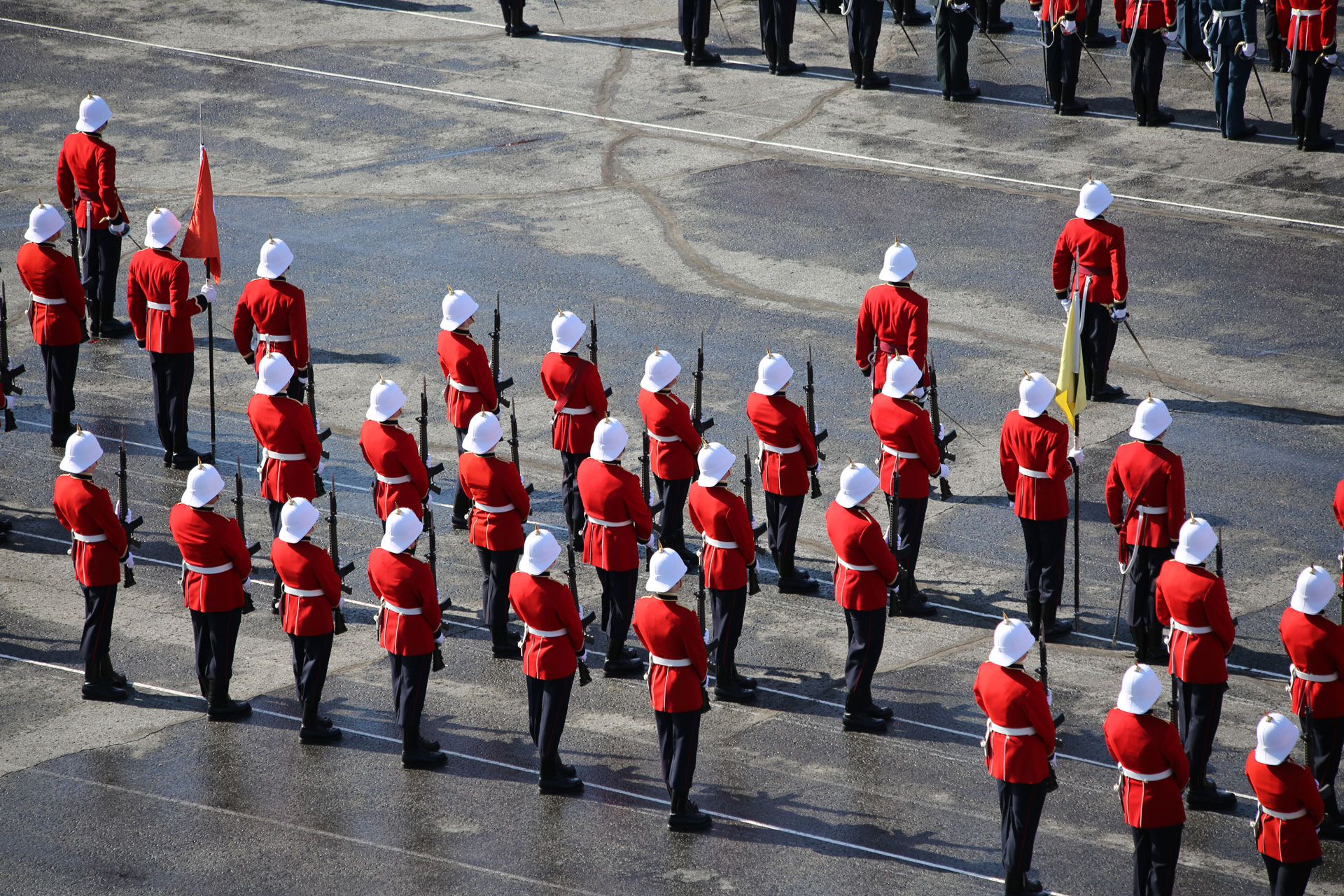 For Our Country: Students in the Military
by: Lily Panamsky
What does it takes to be a full time student and a committed member of the Canadian Armed Forces? Strength and discipline are some obvious qualities students in the military cultivate through training, but there's one quality that is common to them all from the start: drive.
The lives of students in the military are anything but standard university student lives. Part of their year is spent studying, while the other part is spent doing rigorous training on course. It's a tough life, but someone's got to do it.
What is it that attracts students to the military? Third year Arts and Science student Charles Bowes is currently an Officer-Cadet attending school during the year. He explained the army's appeal for him: "I joined [the military] for the physical and emotional challenge. You're constantly out of your comfort zone in the military, and so [you] learn to adapt and push yourself past any difficulty. Also, I was attracted to the tradition and ceremony associated with the military. I like the idea of serving in uniform. Finally, [I like] the teamwork. I will meet countless numbers of people in the military, and learn to work alongside a huge variety of personalities."
If a person signs up before starting post-secondary education, the Canadian Armed Forces compensates for schooling-including tuition, textbook, and stationary fees. This is a major selling point for many people who cannot afford to pay for their post-secondary education. The trade-off, however, is that, upon graduating from college or university, the student must serve a mandatory five years in the army.
Bowes stated his opinion on the mandatory five year service. "I must admit that I find it an unhealthy approach to only expect to serve five years. If your dedication to the military is conditional to getting a free education, then you are in the wrong profession. I've always felt that the five years is a perfect amount of time-short enough that if you don't like it, you're still young enough to have opportunity, but long enough to give you an accurate picture of what the career would be like. I approach it openly and without any conviction that it's something to 'get out of the way.'"
Dax Renton, a third year engineering student that is also an Officer-Cadet in the military, had a similar method of thinking about the five year contract. "I believe that after the five years of service required in my contract, I will have a tough decision to make; with so many opportunities available to me both within the Forces and on the civilian and industry side of things. I could see staying in the military for many reasons, including the pride of knowing you are serving your country and having the great comradeship with those you work with. But I could also see the appeal of moving to another career, being able to take with me all of the new skills and personality traits which have developed while I was in the Forces."
Both men admitted that balancing schoolwork and military training seems more difficult than it actually is. "I am effectively a 'professional student' throughout the semesters and then only during the summer do I do training courses and work with the military," stated Renton. Bowes further explained the general expectations of students throughout the school year. "We are expected to maintain physical fitness during the school year in preparation of the next military course. The military recognizes the disadvantage of having so much time off, and so it makes a point of emphasizing health at the end of the summer."
Another important aspect students in the military must remember is that they are representing the military and therefore they must uphold certain standards. For example, proper conduct both on and off campus is expected, as well as support for the army.
Kingston, Ontario is home to the bilingual Royal Military College of Canada (RMC). According to the website, it was established "for the purpose of providing a complete education in all branches of military tactics, fortification, engineering, and general scientific knowledge in subjects connected with and necessary to thorough knowledge of the military profession." It is much more catered to training a student in military experience than a regular university like McMaster is. Students do, however, have the option of attending a school other than RMC. Both Renton and Bowes took advantage of this freedom of choice and enrolled at McMaster. "Some argue that RMC better prepares you for a career in the military, and that by virtue of attending a civilian university, I am an inferior candidate," contended Bowes. "However, I am confident in any student's potential to achieve success."
The Army separates its members into recruits and officers. Recruits are given the training all soldiers receive, while officers are provided with leadership training in addition to basic training. The preliminary officer training is usually conducted in St. Jean, Quebec, at the Canadian Forces Leadership and Recruit School (CFLRS). Anglophone officers are also taught French in order to be able to give and receive orders in either English or French.
Those already in school that are considering joining the military upon graduation may enter the Canadian Forces through direct entry, although they will not be reimbursed for the schooling they have already completed.
Experiences in the Army differ for each individual, but Both Bowes and Renton agreed that there are many benefits to joining the Army. Soldiers improve their physical fitness, and develop a strong sense of coordination, determination, and tradition, while meeting and working with people from across the country. Comradeship is common among military members because of the long hours spent together and the shared experiences. "As I become more experienced in the military, the greater my psychological attachment to it, and therefore the closer I feel to others involved," stated Bowes. A guaranteed job immediately out of post-secondary school is another factor that Bowes appreciates. "Just as high school co-op programmes, or trades courses prepare a youth for some career, military training that occurs throughout the university years provides early work experience," he stated.
However, because the military is not the typical occupation, it inevitably includes some downfalls. "If I were to pick one thing, I would say being posted (even more so than being deployed)," admitted Bowes. "It is often difficult for military members to balance their work and family when they move so often. Upon completing my degree, I will be immediately stationed somewhere, and never have the opportunity to settle down until I retire." Other difficulties for military members during post-secondary education include the obligatory administrative work that must be completed before taking a trip or leaving the country. Members are allotted a certain number of "leave days" per year, and if they have spent them all, they are not allowed to leave the country.
Students in the military must often follow the rules and regulations of the Canadian Forces, but Renton contended that "…[The military] is only hard if you decide it is. The drive to keep going no matter what is something I think more people need to have. Motivation is something that can make ordinary people do extraordinary things together."