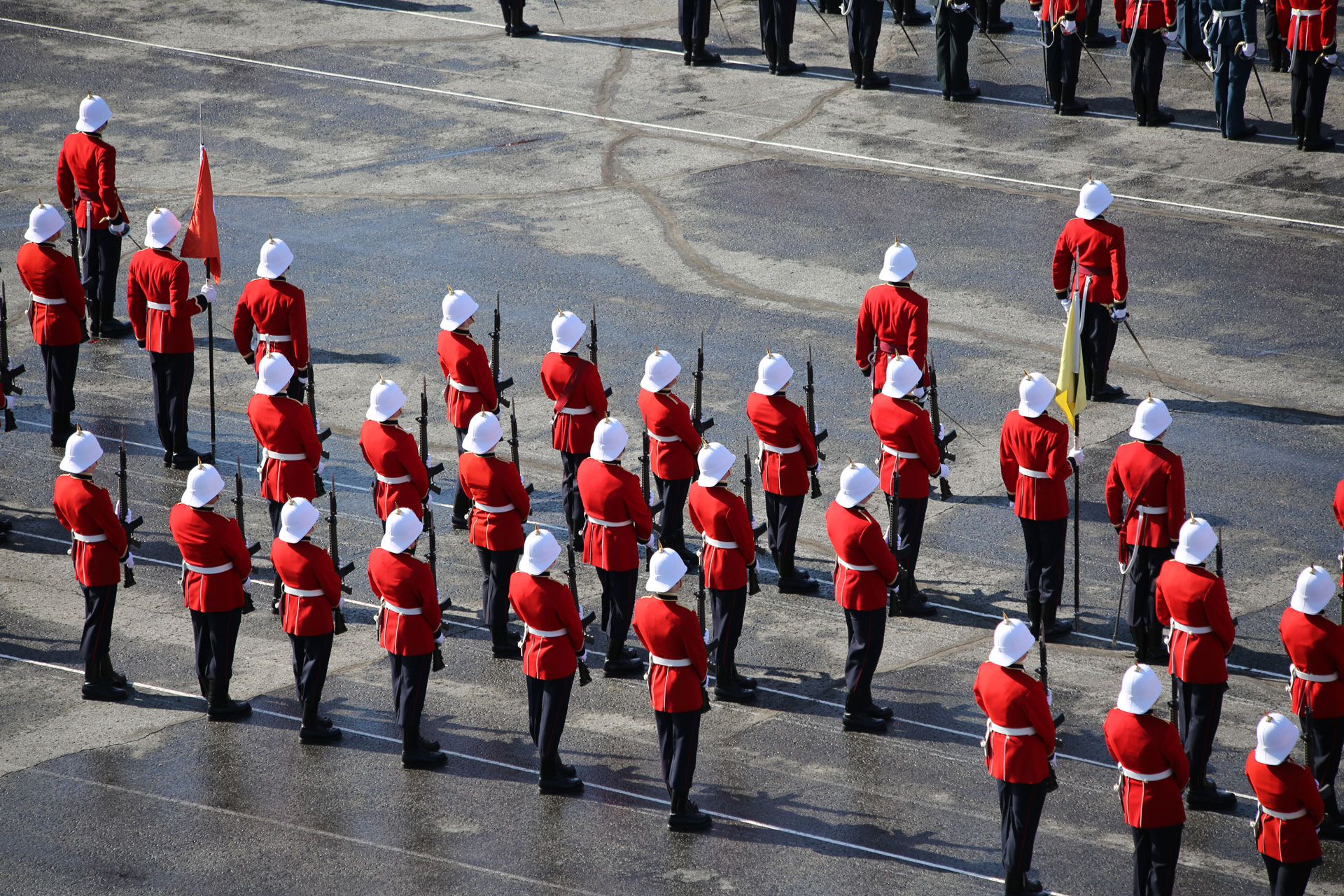 x
e-veritas has been given permission to publish excerpts of 5105 Doctor J. L. Granatstein's (CMR RMC 1961) interviews (1991-1993) for "The Generals: the Canadian Army's Senior Commanders in the Second World War". 5105 Doctor J.L. Granatstein fonds are at the National Defence HQ Directorate of History and Heritage.
x
x
2265 Lieutenant-General (Ret'd) William Alexander Beaumont Anderson O.B.E., C.D. (RMC 1932-1936), XXIII Commandant of RMC (1960-1961), was interviewed by Dr Granatstein in Ottawa on 21 May 91. LGen Anderson passed away in Ottawa in 2000.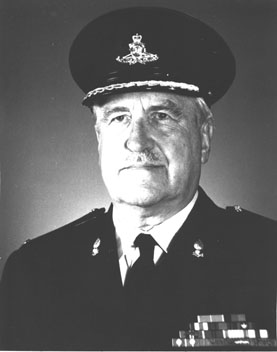 2265 LGen (Ret'd) William Alexander Beaumont Anderson
On General Guy Granville Simonds, Chief of the General Staff (1951-55):
LGen W.A.B. Anderson met Gen. GG Simonds during his 3rd yr summer training (1935) at RMC when he was at Petawawa as a Temp 2Lt, assigned to Capt. Simonds as a gunnery instructor. Capt. Simonds was just back from the Gunnery Staff Course in the UK. Anderson spent the summer carrying papers and making notes for Simonds. He learned much about how to teach watching him. Capt. Simonds was good to Anderson and didn't scare the pants off him. He never had qualms about chatting with Simonds, and Simonds was pleased that Anderson chose the artillery. Anderson said Simonds wasn't nice to him just because his father was a general [Major-General W.B. Anderson was a former Commander of Military District No. 3]. And if they met at the Park Lane in London during the war, they'd go to a show together.
In 1938, just back from Camberley, Capt. Simonds was posted to RMC. He was "super snap", he'd been singled out, and everyone knew it. Indeed when Anderson joined A Battery, Royal Canadian Horse Artillery at Kingston, all the Warrant Officers and Non Commissioned Officers and even some gunners remembered Simonds from the 1920s. They sang his praises, called him the Count, and thought he was a good horseman, a good regimental officer. They respected his ability and professionalism. By the time the war came, Anderson had great admiration for him. Moreover, Simonds was a good technical gunner. He could teach all aspects of gunnery; though it was true he never handled guns in action. He didn't study gunnery, Anderson said, because he didn't need to; nor did he sit around the mess wasting time.
On Hon. George Randolph Pearkes, Minister of National Defence 1957-60:
LGen Anderson knew General Pearkes from pre-RMC days; Pearkes called him "Billy" from the age of 13. As GSO 1 at RMC, Pearkes was a bit away from cadets and ran the militia staff course, promotion exams, staff college entrance exams, etc. Anderson next met Pearkes when he was doing the practical portion of the Lt-Capt exams at Petawawa when Pearkes came out from Ottawa to watch the syndicates. At the end Pearkes gave a splendid pep talk off the cuff on what young officers should do when the shooting started. There was nothing innovative in what he said, but he said all the right things. When Anderson saw Pearkes next he had 1 Div and Anderson was on some job that took him to his Headquarters. Pearkes had organized a volleyball game on the lawn and he dragged "Billy" in–a nice easy touch. Anderson then saw little of him until l960 when Pearkes as Minister of National Defence named Anderson to be RMC Commandant (1960-1).
On the RMC old boy network:
The RMC old boy network never crossed General W.A.B. Anderson's mind and he doesn't believe in it. General Simonds certainly didn't play the RMC old boy network nor did 749 General Henry Duncan Graham Crerar (RMC 1909) [RMC Commandant 1938-9]. Anderson served as personal assistant to General Crerar in 1942.
For every ex-cadet like James Vernon Young (RMC 1911) [a leading industrialist] who was brought in at the top [as Master-General of Ordnance 1942], there must have been five non-RMCers. Still, though Anderson had no control over who was posted to his regiment, he was happy if he got ex-cadets. Prewar RMC had provided the skills that had helped mobilize the militia. For example, the Prince of Wales Own Regiment (PWOR) in Kingston had 1841 Brigadier Douglas Gordon Cunningham (RMC 1929) as its Adjutant. Cunningham was an ex-cadet, a lawyer, and likely the only ex-cadet in the regiment. When the PWOR were mobilized, the adjutant was critical; if they were posted somewhere, the Adjutant would do a reconnaissance and see who he knew, using the RMC link or his legal links. This is networking and proper, knowing each other and having instant mutual respect.
Anderson suggested, the Permanent Force old boy net was more powerful than the RMC network The militia/Permanent Force tension, he said, was very real. There was little mutual respect in l939 though this diffused over 6 yrs of war. The Permanent Force culture was pretty strong. Also there was a gunners' network, and there was no rivalry in the artillery over different badges (as in infantry). Still, he remembered the unpleasantness of hearing people talk in the Petawawa mess about "goddamn Permanent Force know it alls".
E3161 Victoria Edwards (RMC 2003) and her eagle eye came across listing of fonds at National Defence HQ Directory of History and Heritage, which includes transcripts of oral interviews (1991-1993) conducted by 5105 Doctor JL Granatstein (CMR RMC 1961) which included several Ex cadets and / or members of their families for his book The Generals. We hope to post parts of a number of these interviews over the next few months.
___________________________________________________________________________________________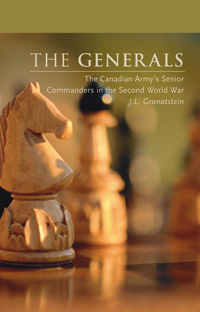 The Generals : The Canadian Army's Senior Commanders in the Second World War
By 5105 Doctor J. L. Granatstein's (CMR RMC 1961)
Originally published in 1993, The Generals has received resounding praise for its relevance, depth, and scholarship. A detailed account of Canada's military at a crucial time in history, the book focuses on the personalities, politics, and pressures that defined Canada's involvement in the Second World War. By examining closely the remarkable individuals who fought, and won, the Second World War, this book will once again give Canadians an objective, unfiltered look at our leadership during this vital period in our military history. The only book of its kind on this subject, The Generals remains an invaluable resource for academics, policy makers, and anyone interested Canada's military history. Features a new preface by Dr. David J. Bercuson, Director of the Center for Military and Strategic Studies at the University of Calgary.
Order a copy HERE from amazon.ca
Order a copy HERE from chapters.indigo.ca