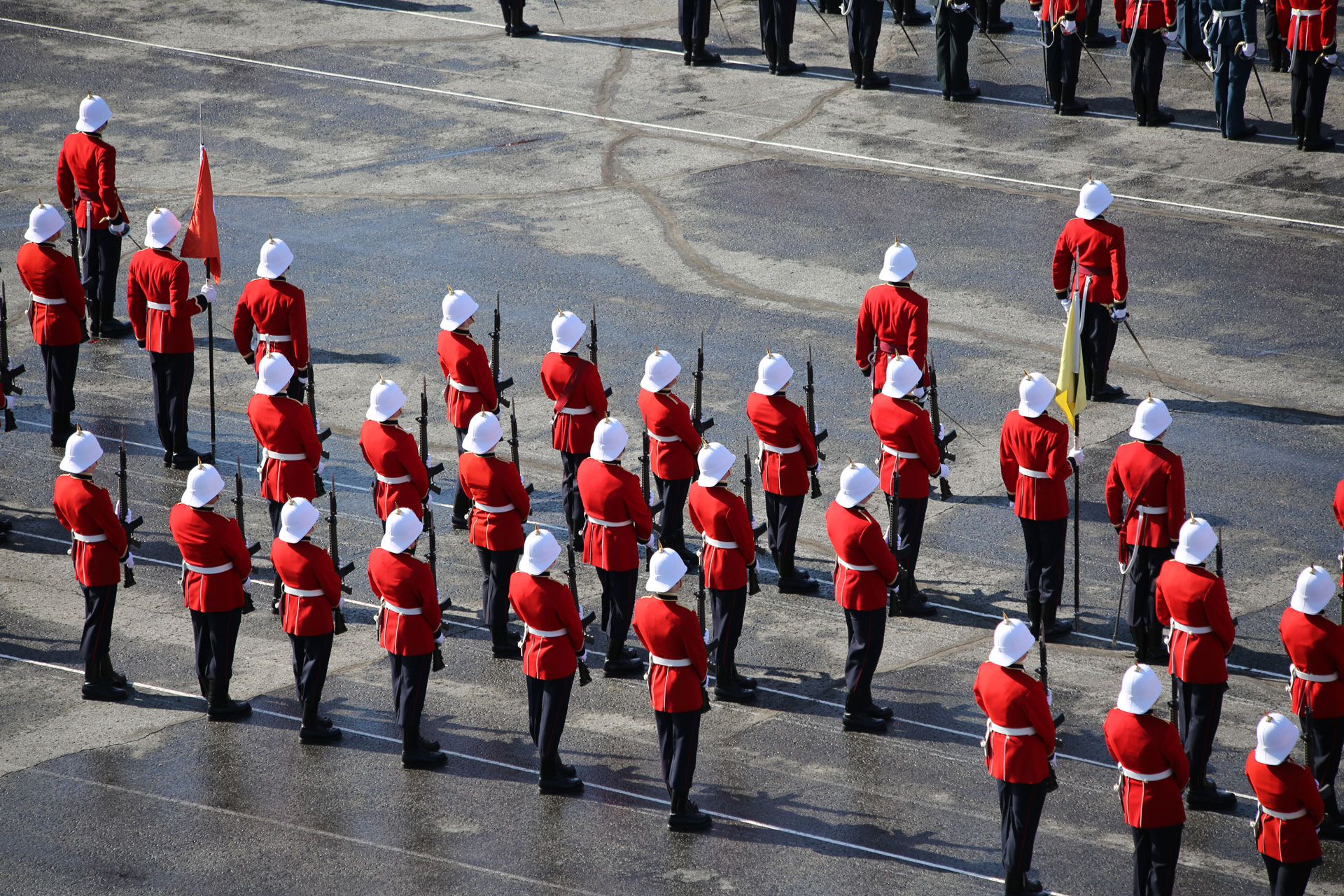 Le Collège militaire royal de St-Jean en constante évolution
Article par le capitaine Andréane Vidal
Photos par Mario Poirier, CMRSJ
Depuis la réouverture du Collège militaire royal de St-Jean (CMRSJ), en mai 2008, le site historique regorge d'une effervescence qu'on n'avait pas vue depuis longtemps. Afin de faire face à cette augmentation d'activité et par souci de répondre aux besoins changeants de sa clientèle, le CMRSJ et la Corporation du Fort St-Jean (CFSJ) ont entrepris plusieurs projets de rénovation.
Lors de la décennie précédente, le site du Fort St-Jean hébergeait une centaine d'âmes à la fois, pour la plupart de passage. Depuis août dernier, ce nombre a grimpé jusqu'à 450 au cours des périodes achalandées, dont plus de 200 élèves-officiers y habitant de façon permanente pour une durée de deux ans.
En conséquence, une restructuration des édifices d'hébergement était de mise. La qualité de vie des résidants étant une priorité, le CMRSJ et la CFSJ ont entamé la rénovation des pavillons Cartier et Champlain, deux bâtiments comprenant des dortoirs.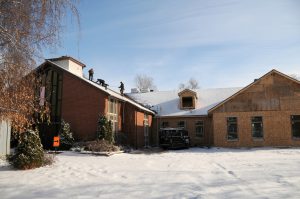 Le nouveau mess des élèves-officiers crée une annexe à la chapelle catholique Saint-Maurice
« La configuration des chambres a été grandement améliorée et offre désormais aux pensionnaires un espace de vie personnel confortable muni de tous les services technologiques contemporains », affirme le colonel François Pion, commandant du CMRSJ. Des espaces communs ont également été aménagés pour permettre aux élèves-officiers d'évoluer dans un environnement sain et convivial. Évidemment, les stagiaires venant passer quelques semaines au CMRSJ dans le cadre de cours de perfectionnement profitent eux aussi de ces améliorations. Au total, plus de 2000 militaires de tout grade et employés civils du ministère de la Défense viennent suivre des cours offerts par le CMRSJ durant l'année.
L'accroissement significatif de la population résidant en permanence sur le site impose également de mettre sur pied un quartier-maître plus spacieux, pouvant recevoir et entreposer le matériel indispensable à l'entraînement des élèves-officiers. C'est pourquoi le bâtiment C-20 subit présentement un réaménagement complet. Une fois fonctionnel, ce quartier-maître permettra au CMRSJ d'avoir une plus grande autonomie face à la garnison St-Jean, qui offre actuellement plusieurs services essentiels tels que celui d'approvisionnement et de tailleur. La fin des travaux est prévue pour janvier 2009.
De plus, quelques salles de classe de l'édifice De Léry ont également été rénovées afin de mieux rencontrer les besoins du nouveau programme d'éducation collégiale de deux ans maintenant dispensé par le CMRSJ.
Finalement, avec un nombre aussi élevé de jeunes adultes vivant sur le site de façon permanente, la construction d'un mess à l'intention des élèves-officiers apparaissaient une priorité. Il a donc été décidé que l'ancienne chapelle catholique, qui avait perdu sa vocation religieuse depuis 1995, subirait une cure de jouvence et serait convertie en mess pour les élèves-officiers.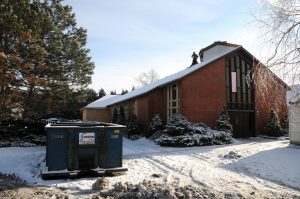 La chapelle catholique Saint-Maurice se transforme tranquillement en mess des élèves-officiers avec l'ajout d'annexes. Le Collège militaire royal de Saint-Jean s'assure de garder le cachet unique de la chapelle. La fin des travaux est prévue pour mars 2009.
Une fois rénovée, cette bâtisse conservera son cachet unique et fera office de salle de rassemblement, salle de jeux, salle de cinéma et bar. L'ancienne identité de la chapelle sera conservée grâce à son nom, Saint-Maurice, saint patron des soldats des armées de Terre. L'ouverture du nouveau mess est prévue pour la fin mars.
En plus de tous ces travaux majeurs, le site du Fort St-Jean est en constante bonification. La qualité de vie déjà élevée y est constamment améliorée grâce à des travaux tels que l'adaptation des bâtiments afin d'en donner le libre accès aux personnes à mobilité réduite et ainsi qu'à l'ajustement de certains bâtiments aux exigences d'un développement écologique et durable.
Grâce à tous ces travaux de construction et de rénovation, le CMRSJ s'assure de répondre aux besoins actuels et anticipés des Forces canadiennes. Ainsi dès l'automne 2009, le CMRSJ pourra accueillir près de 300 personnes en permanence, sans pour autant réduire le nombre de stagiaires qui y séjournent pendant des périodes de courte durée.
Même si le souvenir du CMR de 1995 est toujours présent, il est réjouissant de voir le nouveau CMRSJ reprendre tranquillement sa place comme une institution de premier plan, fleurissante et exceptionnelle.
Work in progress at Royal Military College St-Jean
Article by Captain Andréane Vidal
Photos by Mario Poirier, RMCSJ
Since the reopening of the Royal Military College St-Jean (RMCSJ), in May 2008, the historical site is brimming with an effervescence that had not been seen in a long time. In order to respond to this increase of activity and with concern for meeting the changing needs of its clientele, RMCSJ and the Corporation du Fort St-Jean (CFSJ) undertook several modernization projects.
In the preceding decade, the site accommodated a mere hundred souls at a time, most of them only residing temporarily on campus. Since last August, this number climbed up to 450 in peak periods, of which more than 200 were Officer Cadets permanently living on site for a two year period.
Consequently, restructuring the housing buildings became a main concern. The quality of life of the residents being a priority, CMRSJ and the CFSJ started to modernize the Cartier and Champlain buildings, which both have sleeping quarters.
"The configuration of the rooms was greatly improved and now offers to boarders a comfortable and private living space complete with all the contemporary technological services," asserts Colonel François Pion, Commandant of RMCSJ. Common living spaces were also arranged in order for Officer Cadets to evolve in a friendly and healthy environment. Obviously, course members who come to RMCSJ for a few weeks to take developemental training also benefit from these improvements. In total, more than 2000 members of all ranks, and civilian employees of the National Defence Department take courses offered at RMCSJ every year.
The important growth of the population permanently residing on site also requires a larger quartermaster that can receive and store material essential to Officer Cadet training. This is why the C-20 building is presently undergoing a complete re-fitting. Once functional, this quartermaster will allow RMCSJ to increase its autonomy towards St-Jean garrison, which presently offers various essential services, including that of supply and tailoring. Renovations are scheduled to be completed by January 2009.
In addition, some classrooms in the De Lery building have also been modernized in order to better meet the needs of the new two year college education program that is now offered at RMCSJ.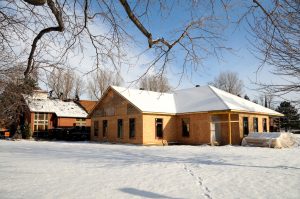 The new Officer Cadets' mess is the annex to the Saint-Maurice Catholic chapel
Finally, with such a high number of young adults permanently living on campus, the construction of a mess intended for Officer Cadets became a priority. It was therefore decided that the old Catholic chapel, no longer used for religious purposes since 1995, would undergo a rejuvenating treatment and would be converted into a mess for Officer Cadets.
While maintaining its unique character, this renovated building will serve as a gathering place, game room, cinema and bar. The former identity of the chapel will be preserved in its name, St-Maurice, patron saint of infantry soldiers. The opening of the new mess is scheduled for the end of March.
In addition to all these major renovations, the improvement of Fort St-Jean's site is continuous. The already high quality of life is constantly raised due to projects such as adapting buildings to give access to mobility impaired persons and to adjusting different buildings to environmental and sustainable development.
These construction and modernization projects ensure that RMCSJ meets the current and projected needs of the Canadian Forces. Thus, as early as autumn 2009, RMCSJ will be able to accommodate nearly 300 people on a permanent basis, without reducing the number of course members who stay on site on a short term basis.
Even if the memory of the 1995 CMR is still present, it is gratifying to see RMCSJ gradually taking its rightful place as a flourishing and exceptional first rate institution.