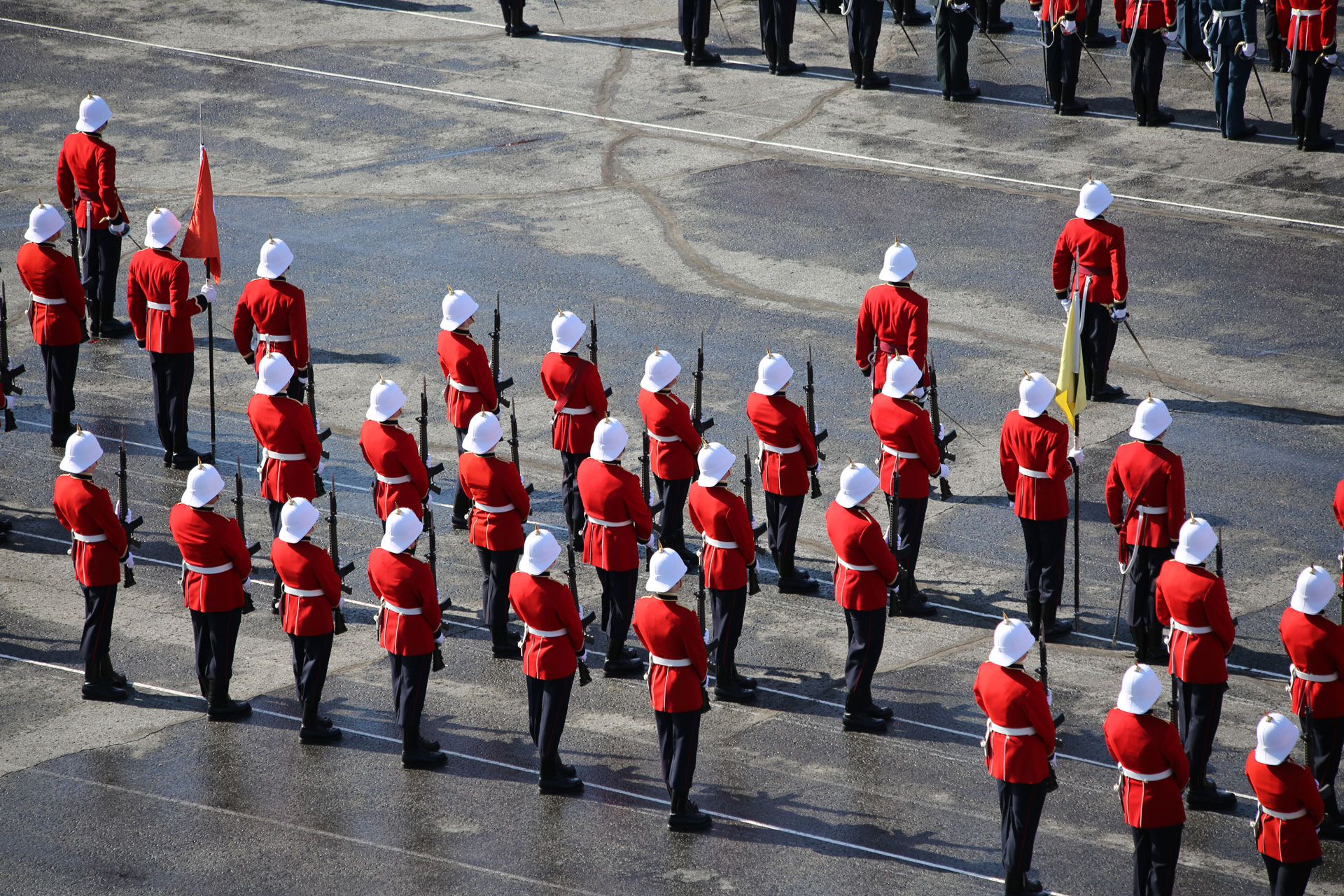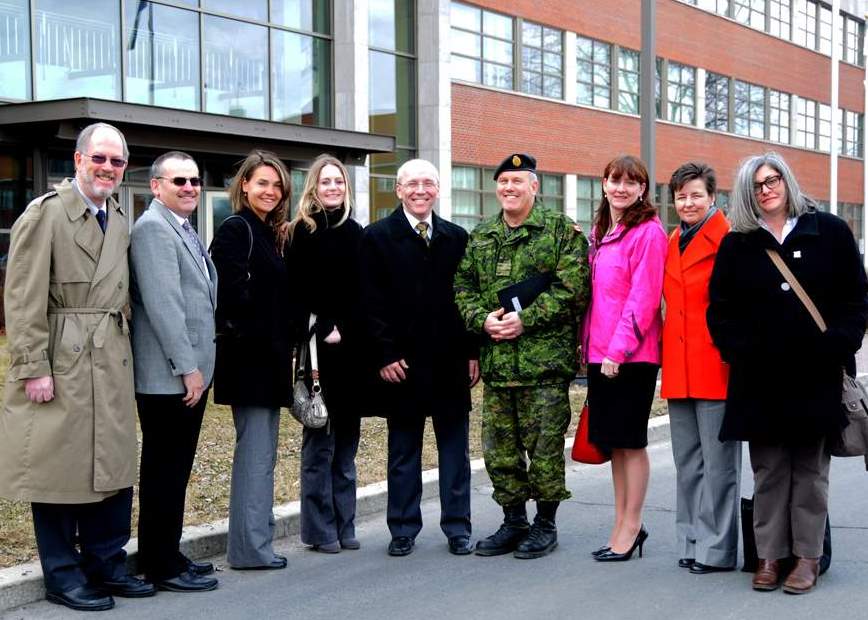 Visite du Comité des griefs des FC au CMRSJ le 18 mars 2010
Par le capt Denis Beausoleil
Le 18 mars dernier, nous avons eu l'honneur de recevoir en matinée les membres du Comité des griefs des FC, chapeauté par son président, M. Bruno Hamel. Dans le contexte de cette visite, notre commandant, le col François Pion, a dressé un tableau des opérations du Collège depuis sa réouverture en 2008 et a décrit l'orientation et la vision pour le futur de notre établissement. Il a également expliqué la présence et les avantages d'un contrat de service avec la Corporation du Fort St-Jean sur notre site ainsi que la structure organisationnelle du Collège et chacune de ses divisions.
Par la suite, le président du Comité des griefs, M. Hamel, nous a dressé un portrait du mandat de son organisation ainsi que des nombreux accomplissements réalisés au cours des dix années d'existence de ce comité. Pour résumer ses propos, disons que son comité se veut un centre d'excellence en matière de griefs militaires qui agit en tant qu'organisme externe aux FC afin d'assurer un suivi impartial des nombreux griefs reçus. Il est également intéressant de noter que le processus de traitement des griefs s'est accéléré passablement au fils du temps. Il en est de même pour les dossiers en attente de traitement qui ont pour leur part considérablement diminué.
Enfin, une brève visite de nos installations a été organisée, ce qui a permis au comité de visiter les pavillons De Léry et Lahaie, le Mess St-Maurice ainsi que quelques chambres d'élèves-officiers. Somme toute, cette visite a été brève mais fructueuse! Pour ceux et celles qui désirent en connaître davantage sur le comité des griefs, nous vous invitons à consulter leur site web à www.cfgb-cgfc.gc.ca.
Bas de Vignette
Le Comité des griefs en visite au Collège militaire royal de Saint Jean
Photo : Mario Poirier
______________________________________________________
Le comité des relations externes du CMRSJ vous invite à sa deuxième table ronde sur le thème des avances technologiques au service de notre mission en Afghanistan le 21 avril prochain de 11h30 à 14h au campus du CMRSJ.
L'objectif de ce deuxième volet sera d'explorer les avancées en recherche et technologie militaire découlant de la mission en Afghanistan. Sous la présidence du col. Rémy Landry, la table ronde regroupera trois intervenants, soit le Col. Marc Grondin, chef iDV, RDDC Valcartier qui nous présentera la contribution de RDDC en appui aux FC déployées en Afghanistan, le Col. Omer Lavoie, commandant de la FO C-DEC, qui nous entretiendra des stratégies utilisées pour contrer le système, et le Maj. Steve Jourdain, du R22eR, qui nous entretiendra de son expérience sur le terrain en qualité d'utilisateur de ces technologies.
The Committee of External Relations of RMC St-Jean invites you to attend its second round table discussion on "Technological Advances and Our Mission in Afghanistan». The round table will be held on April 21st, 2010 at the RMC St-Jean campus.
This second round table will explore recent advances in military research and technology in the context of the Afghanistan mission. It will be presided by Col. Rémy Landry with three speakers, including Col. Marc Grondin, Head DeV, DRDC Valcartier, Col. Omer Lavoie, Commander of the C-IED Task Force, (" Defeating the IED System- Canada's C-IED Task
Force" ), and Maj. Steve Jourdain, from R22eR, who will discuss his recent first-hand experience in the field as a technology user.
For more information please contact Dr. Monique Laberge at M.Laberge@ST-JEAN.RMC.CA
http://www.cmrsj-rmcsj.forces.gc.ca/
______________________________________________________
2 Busloads of RMCSJ Cadets See 'A Line in the Sand'
Two busloads of 60 cadets from Royal Military College St. Jean filed into the Segal Centre in Montreal on Monday, March 8, 2010 to see 'A Line in the Sand', by Guillermo Verdecchia and Marcus Youssef. The play is set in the Qatari desert during the Persian Gulf War. Asked for their reactions, several cadets politely refused comment. "I'm still processing it," said one earnest young man. Others assured that the issues raised had been thoroughly discussed in class. And supervisor Luke Dilworth suggested the play should be relevant to all Canadians, as well as the military.   Read more:
http://www.montrealgazette.com/cars/military+shame+Segal+Centre+triumph/2668593/story.html#ixzz0jVUDFghN
______________________________________________________

This 7th Royal Fusilier Uniform, 1775 is in the Royal Military College Fort Saint Jean Museum.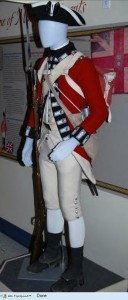 The Royal Fusiliers were posted to the Colony of Quebec in 1773 under General Lord Robert Bertie. The Governor General, Sir Guy Carleton sent the 7th Royal Fisiliers to Boston to reinforce that City's garrison. The 7th Royal Fusiliers formed the garrison of Quebec at the beginning of the Revolutionary War in 1775. In 1881 the regiment was redesignated the Royal Fusiliers. http://www.museedufortsaintjean.ca/EN/construction-en.htm