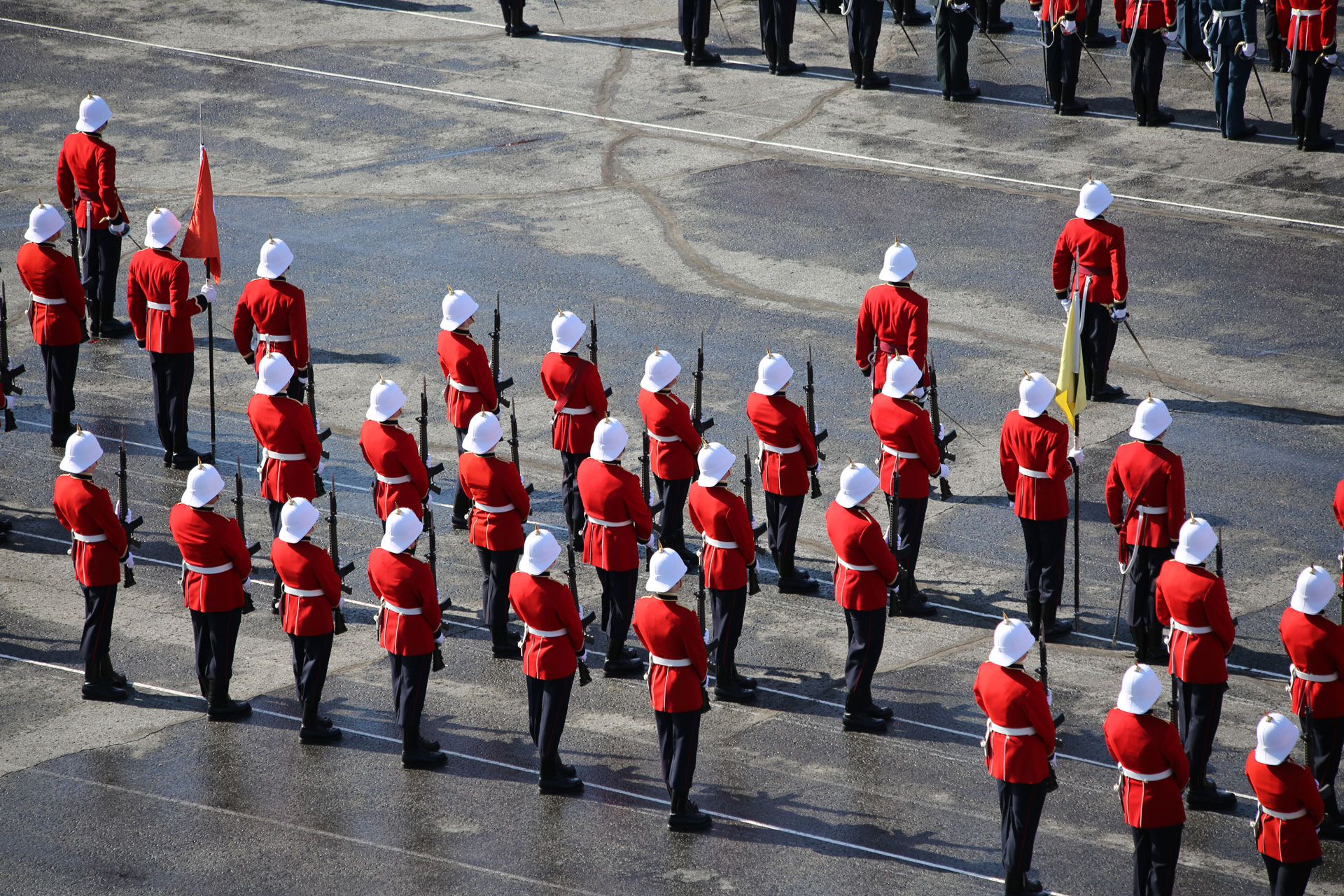 Visite de l'état-major de l'Escadre militaire du CMR Saint-Jean au CMRC à Kingston
Le jeudi 19 novembre 2009 dernier, l'équipe de commandement de l'Escadre des Élèves-officiers (élof) du Collège militaire royal de Saint-Jean (CMR Saint-Jean) a effectué une visite mémorable à ses confrères d'armes du Collège militaire royal du Canada à Kingston. Cette visite avait pour but de donner à l'équipe une meilleure connaissance du site historique du CMRC à Kingston et de mettre ses membres au diapason des procédures en vigueur qui relèvent de l'Escadre militaire des élof.
Cette rencontre a été très profitable à nous tous. L'accueil que nous a réservé le lcol O'Keeffe, Directeur des Élof au CMRC, et son équipe a tout simplement été impeccable. Cette rencontre a permis aux équipes des deux directeurs des Élof de discuter de sujets d'actualité qui concernent le développement et l'éducation des élof des Collèges militaires. Un court arrêt au mess des officiers nous a également permis d'avoir un bref moment de discussion avec le commandant du CMRC, le Commodore Truelove. Il nous affirmé qu'il était exceptionnellement heureux de voir le niveau de professionnalisme et de préparation des élof du CMRC qui ont complété une ou deux années d'études et d'entraînement au Collège militaire royal de Saint-Jean. Cette appréciation du Commodore Truelove est le reflet même de l'excellent travail accompli par le personnel militaire et civil du CMR Saint-Jean, dont la détermination est d'assurer à nos élof une transition sans heurt au CMRC à Kingston, tant du point de vue des études que de l'entraînement militaire.
Cette illustre rencontre étant la première entre les deux équipes des directeurs des élof actuels, l'expérience sera répétée dans un avenir rapproché, et cette fois, l'évènement aura lieu au Collège militaire royal de Saint-Jean. Le but de ces rencontres étant d'établir une bonne communication entre nos deux institutions afin de créer et de maintenir l'excellence dans la préparation des futurs leaders des Forces canadiennes.
__________________________________________

Hockey is Back at RMC Saint-Jean
by OCdt Braden Casper
The Officer Cadet Division is proud to have a Hockey team back in Royal Military College (RMC) Saint-Jean. Bearing the same name as it did in 1995, the Remparts team is composed of officer cadets who have been selected to compete to their fullest potential. Each member has a goal to continue playing hockey at RMC Kingston and in order to do so, they must continue to improve their skills in Saint-Jean.
This year, the aim of the team is nothing less than to win the championship of the league in which we currently compete. Achieving this will be a challenge, since the competition level every Tuesday night is quite high. So far throughout the season, the Remparts have fared well with four wins and three losses.
RMC Kingston coach, Adam Shell, will lead the practice and help officer cadets reach the next level of their playing ability.  Source