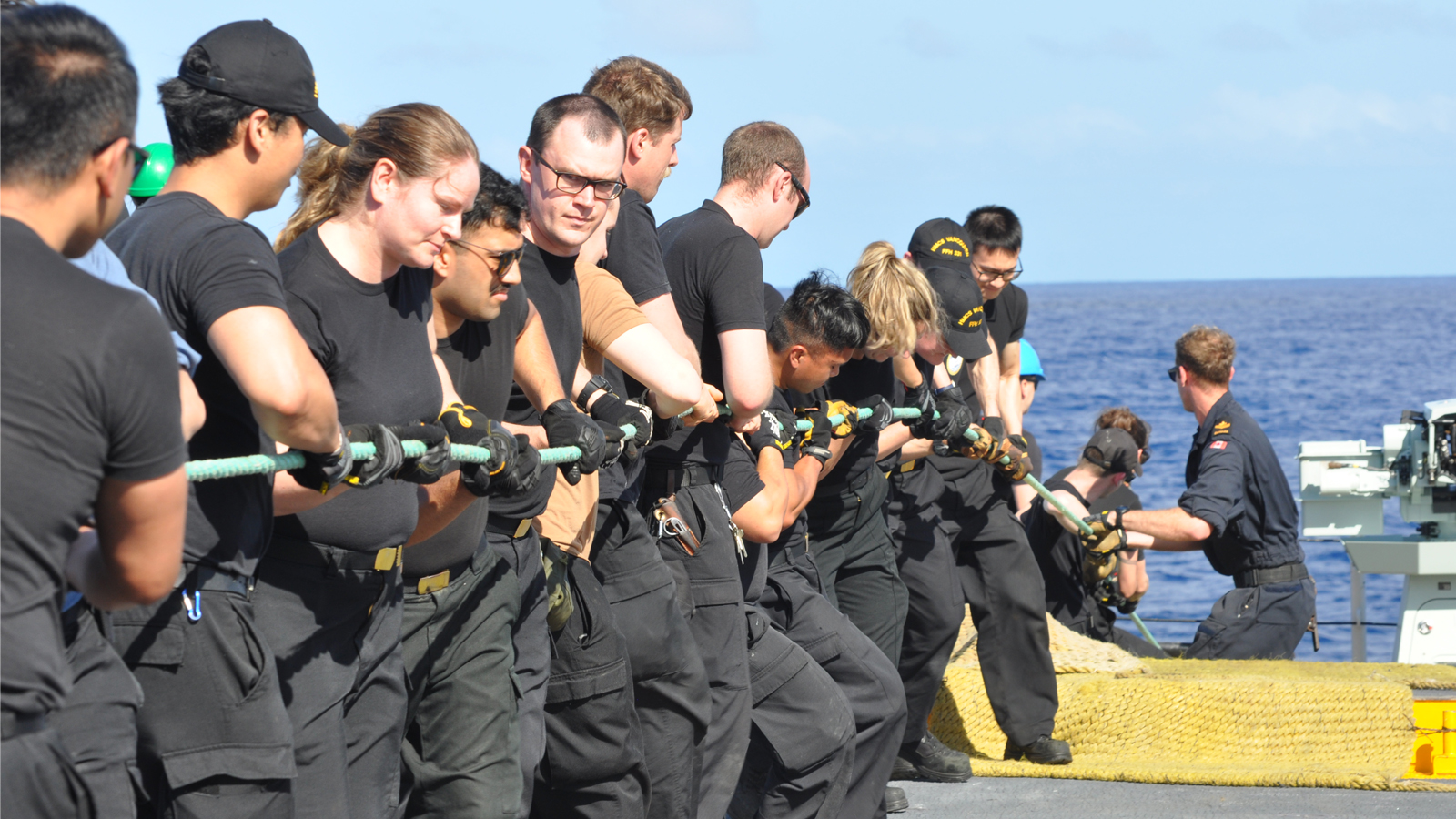 Article originally published in Navy News (https://bit.ly/3v01zSX)
The Royal Canadian Navy (RCN) is short roughly 1,000 personnel and leadership is fully aware that our sailors often feel the impacts. This can lead to challenges such as burnout from maintaining a high operational tempo, training delays and lack of consistency in work-life balance. To address these problems, in 2021 the RCN created Project Navy Generation (PNG), an initiative aimed at reviewing the Navy's entire personnel generation system, from recruiting to various training programs.
"Healthy, competent, qualified people are nearing or at the burnout stage – I've seen it first hand and I get multiple phone calls and emails about it," said Chief Petty Officer 1st Class (CPO1) David Steeves, the RCN Command Chief Petty Officer. "It may not be in every sailor's nature, but I ask those who are truly negatively affected to please speak up when they need help."
"We are working hard to fix this, but it will take time," said CPO1 Steeves.
One of the initiatives to help with the problem is the RCN's new Digital Parade State, an in-house developed tracking software that has the capability to improve how the Navy matches deployment and training openings with sailor availability. The goal is to more evenly distribute workload amongst sailors across the fleet.
The RCN is now prioritizing training positions over routine activities to better fill positions in the long term. For example, if the only option to fill a specific position on board a deploying ship comes at the expense of the training system, the training system will most likely be prioritized while the ship would sail without, although with a plan in place to mitigate the risk.
The Navy is also implementing new internal guidance to allow more flexibility in different aspects of training. This new guidance emphasizes the continued need for sailors to build experience at sea, however new options to do so are being explored. For example, those waiting for Naval Environmental Training will now have more opportunities to get to sea, and personnel may be rotated at key junctions during a ship's deployment to give more sailors opportunities for at-sea development.
Recruitment is a key area where the RCN needs to see improvement in order to recover from the present shortages. While personnel shortages are a Canadian Armed Forces (CAF)-wide problem, the problem is even greater for the Navy as fewer than eight per cent of CAF applicants ultimately choose a naval career. As the RCN begins to look for sailors to crew the incoming Arctic and Offshore Patrol Ships, Joint Support Ships and Canadian Surface Combatants, the need for modernized and streamlined approaches to recruiting has become even more apparent.
"The problem is circular. By not recruiting enough members, positions aren't filled and people get overworked. Overworked sailors will be less likely to recommend a Navy career to others. This is unfortunate as word-of-mouth has historically been our most successful recruiting method," said Rear Admiral Angus Topshee (19420 RMC Class of 1994), Assistant Chief of the Naval Staff – Personnel and Training, and Commander Maritime Forces Pacific, who oversees PNG. "We need to get more people in, get them trained, and then keep them in – that's essentially the answer."
Navy-specific attractions and recruitment are being prioritized through a new One Navy strategy, with increased attractions activities planned by all RCN units, and by continuing to leverage the 24 Naval Reserve Divisions across Canada. Although evolving, this program includes changing the approach to some kinds of community visits and activities, empowering Reserve Divisions to better promote Regular Force programs, emphasizing the ability to transfer to the Regular Force for Reservists, and investing more resources into attractions.
"The RCN is acquiring some of the world's most advanced warships and our new cross-country, Reserve Division-focused attractions and recruiting approach is going to ensure that Canadians everywhere are aware of just what an incredibly exciting time it is to join the Navy," said RAdm Topshee.
As an example of the RCN's new approach to community visits, Great Lakes Deployments will now be refocused on attraction activities that promote the RCN as a career of choice to a more diverse selection of potential applicants. These deployments happen nearly every fall and see RCN ships visit communities along the St. Lawrence Seaway and Great Lakes. Several other programs, like Canadian Students at Sea, will also give employment seekers the chance to find out what a naval career can offer them.
"This is really a whole-of-organization, multi-faceted approach," said RAdm Topshee. "If we can make even a one per cent difference in any given area, we will, and through all of these small successes, across the Navy and beyond, we are going to fix this."
---
La MRC s'efforce d'accroître le recrutement et d'examiner la charge de travail de ses marins
Il manque environ 1 000 personnes pour combler les effectifs de la Marine royale canadienne (MRC) et les dirigeants sont pleinement conscients que nos marins en subissent souvent les conséquences. Cela peut entraîner des problèmes comme de l'épuisement professionnel dû au maintien d'un rythme opérationnel élevé, des retards dans l'instruction et un manque de cohérence dans l'équilibre entre le travail et la vie personnelle. Pour résoudre ce problème, la MRC a créé en 2021 Production Marine (PM), une initiative visant à revoir l'ensemble du système de génération de personnel de la Marine, du recrutement aux divers programmes d'instruction.
« Des personnes saines, compétentes et qualifiées sont proches ou au stade de l'épuisement professionnel. Je l'ai constaté moi-même et je reçois de nombreux appels téléphoniques et courriels à ce sujet », a déclaré le premier maître de 1re classe (PM 1) David Steeves, premier maître du Commandement de la MRC. « Ce n'est peut-être pas dans la nature de tous les marins, mais je demande à ceux qui sont vraiment affectés par cette situation de venir nous parler lorsqu'ils ont besoin d'aide. »
« Nous travaillons dur pour résoudre ce problème, mais cela prendra du temps », a déclaré le PM 1 Steeves.
L'une des initiatives visant à résoudre ce problème est le nouveau logiciel de la MRC concernant l'état de l'effectif numérique (Digital Parade State), un logiciel de suivi développé en interne qui a la capacité d'améliorer la façon dont la Marine fait correspondre les ouvertures de déploiement et d'instruction avec la disponibilité des marins. L'objectif est de répartir plus équitablement la charge de travail entre les marins de la flotte.
La MRC donne maintenant la priorité aux postes d'instruction plutôt qu'aux activités de routine afin d'être en mesure de pourvoir les postes à long terme. Par exemple, si la seule option permettant de pourvoir un poste particulier à bord d'un navire en déploiement implique que cela soit fait au détriment du système d'instruction, il est fort probable que le système d'instruction soit priorisé et que le vaisseau poursuivra ses activités sans que ce poste soit pourvu; cependant un plan sera mis en place pour atténuer tout risque inhérent.
La Marine met également en œuvre de nouvelles directives internes pour permettre une plus grande souplesse dans différents aspects de l'instruction. Ces nouvelles directives soulignent la nécessité pour les marins d'acquérir de l'expérience en mer, et de nouvelles options sont à l'étude pour y parvenir. Par exemple, les marins qui attendent de suivre l'instruction sur l'environnement naval auront désormais plus d'occasions de prendre la mer, et ils pourront être affectés à des postes clés pendant le déploiement d'un navire afin de donner à davantage de marins la possibilité de se perfectionner en mer.
Le recrutement est un domaine essentiel sur lequel la MRC doit travailler afin de se remettre des pénuries actuelles. Bien que la pénurie de personnel soit un problème qui touche l'ensemble des Forces armées canadiennes (FAC), le problème est encore plus préoccupant pour la Marine, car moins de huit pour cent des candidats des FAC choisissent finalement une carrière dans la Marine. Alors que la MRC commence à recruter des marins pour équiper les nouveaux navires de patrouille extracôtiers et de l'Arctique, les navires de soutien interarmées et les navires de combat de surface canadiens, la nécessité d'adopter des approches modernisées et simplifiées en matière de recrutement est devenue encore plus évidente.
« Le problème est cyclique. En ne recrutant pas suffisamment de militaires, les postes ne sont pas pourvus et les gens sont surchargés de travail. Les marins surmenés seront moins enclins à recommander une carrière dans la Marine à d'autres personnes. C'est regrettable, car le bouche-à-oreille a toujours été notre méthode de recrutement la plus efficace », a déclaré le contre-amiral Angus Topshee, chef d'état-major adjoint de la Marine – Personnel et instruction, et commandant des Forces maritimes du Pacifique, qui supervise le programme PM. « Nous devons recruter plus de gens, les instruire, puis les retenir, c'est essentiellement la solution à notre problème ».
Les attractions et le recrutement propres à la Marine sont prioritaires dans le cadre de la nouvelle stratégie « Marine unique », qui prévoit une augmentation des activités d'attraction dans toutes les unités de la MRC, tout en continuant à tirer parti des 24 divisions de la Réserve navale au Canada. Bien qu'il soit en évolution, ce programme prévoit de modifier l'approche de certains types de visites et d'activités communautaires, de donner aux divisions de la Réserve les moyens de mieux promouvoir les programmes de la Force régulière, de mettre l'accent sur la possibilité pour les réservistes de passer à la Force régulière et d'investir davantage de ressources dans les attractions.
« La MRC fait l'acquisition de certains des navires de guerre les plus perfectionnés au monde et notre nouvelle approche en matière d'attractions et de recrutement, axée sur les divisions de la Réserve, permettra de s'assurer que les Canadiens, où qu'ils soient, sont conscients du fait qu'il s'agit d'une occasion extraordinaire pour se joindre à la Marine », a déclaré le Cam Topshee.
Pour illustrer la nouvelle approche de la MRC en matière de visites communautaires, les déploiements sur les Grands Lacs seront désormais recentrés sur les activités d'attraction qui font la promotion de la MRC comme carrière de choix auprès d'une sélection plus diversifiée de candidats potentiels. Ces déploiements ont lieu presque chaque automne et permettent aux navires de la MRC de visiter les communautés le long de la Voie maritime du Saint-Laurent et des Grands Lacs. Plusieurs autres programmes, comme Étudiants canadiens en mer, donneront également aux chercheurs d'emploi la chance de découvrir ce qu'une carrière au sein de la Marine peut leur offrir.
« Il s'agit vraiment d'une approche globale et à multiples facettes », a déclaré RAdm Topshee. « Si nous pouvons obtenir ne serait-ce qu'un pour cent de réussite dans un domaine donné, nous le ferons, et grâce à toutes ces petites réussites, dans l'ensemble de la Marine et au-delà, nous allons régler le problème. »