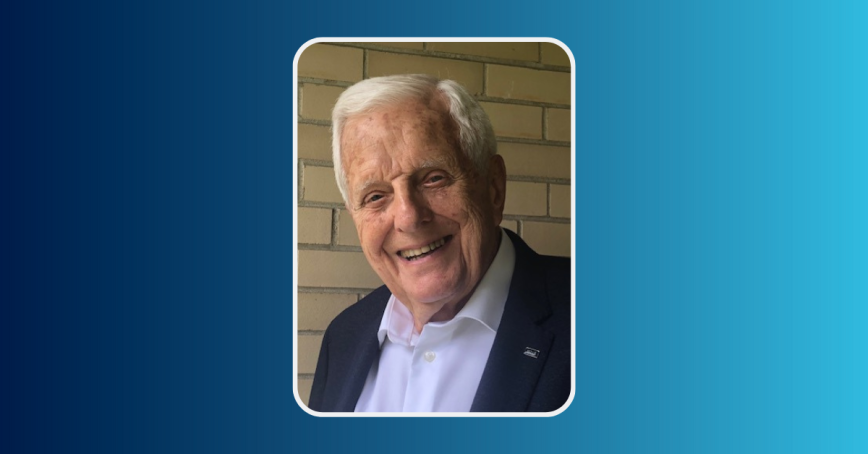 Original post from RRU – https://www.royalroads.ca/news/ex-cadet-donates-250k-help-students 
RCNC225 George Currie is a graduate of the Royal Canadian Naval College Class of 1947
Many RRU graduates affirm that the university's tagline, Life.Changing, aptly describes their academic experience. But long before that slogan was chosen — indeed, almost 40 years before the university existed — that phrase rang true for ex-cadet George Currie.
It all started on what is now the Royal Roads campus. It was the mid-1940s and the Second World War was about to end. The Montreal-born Currie chose to do his post-secondary schooling at what was then the Royal Canadian Naval College (RCNC).
"It was physically demanding, and demanding mentally," he says of his time at the Vancouver Island school. But for someone who called himself shy, lacking in self-confidence and "not particularly gregarious," it was something else, too.
"It was a life-changing experience for me," Currie says. "I think the thing Royal Roads did for me, apart from providing a first-class education, it raised my confidence level substantially."
Now, the 95-year-old Toronto resident is aiming to change a few lives himself with a $250,000 donation to RRU that will go toward an endowed student award focused on Humanitarian and Leadership Studies.
"I did it because I owe so much to Royal Roads," Currie says, noting he's hopeful the funding will help students who might not otherwise be able to afford to attend.
"I'm so grateful for the huge returns I got from my two years there. It was a very strict regime… but it imbued in you a sense of loyalty and spirit. You're all together in a situation where you felt very attached to your classmates, and those friendships were cemented for life in my case."
While some of those Class of 1947 friends went into the military, Currie moved on to more school, earning degrees in mechanical and civil engineering, then enjoying a long career in mining, newspapers, public health and management consulting.
He has also enjoyed enduring relationships with former classmates over the 76 years since they graduated.
"We have remained, our class, a very close-knit unit all these years… My big take-home from Royal Roads is that group of friends who have been lifelong supporters," he says, noting six remain from the Class of '47 and they're in touch to this day.
And, like many of the thousands of ex-cadets who spent formative years at Royal Roads, they share a loyalty to the school, the beautiful grounds on which it sits and its long tradition — in both its military and civilian incarnations — of inspiring students to become the leaders they are today.
Currie encourages them and other RRU alumni to consider donating to preserve the place and the spirit that meant so much to them.