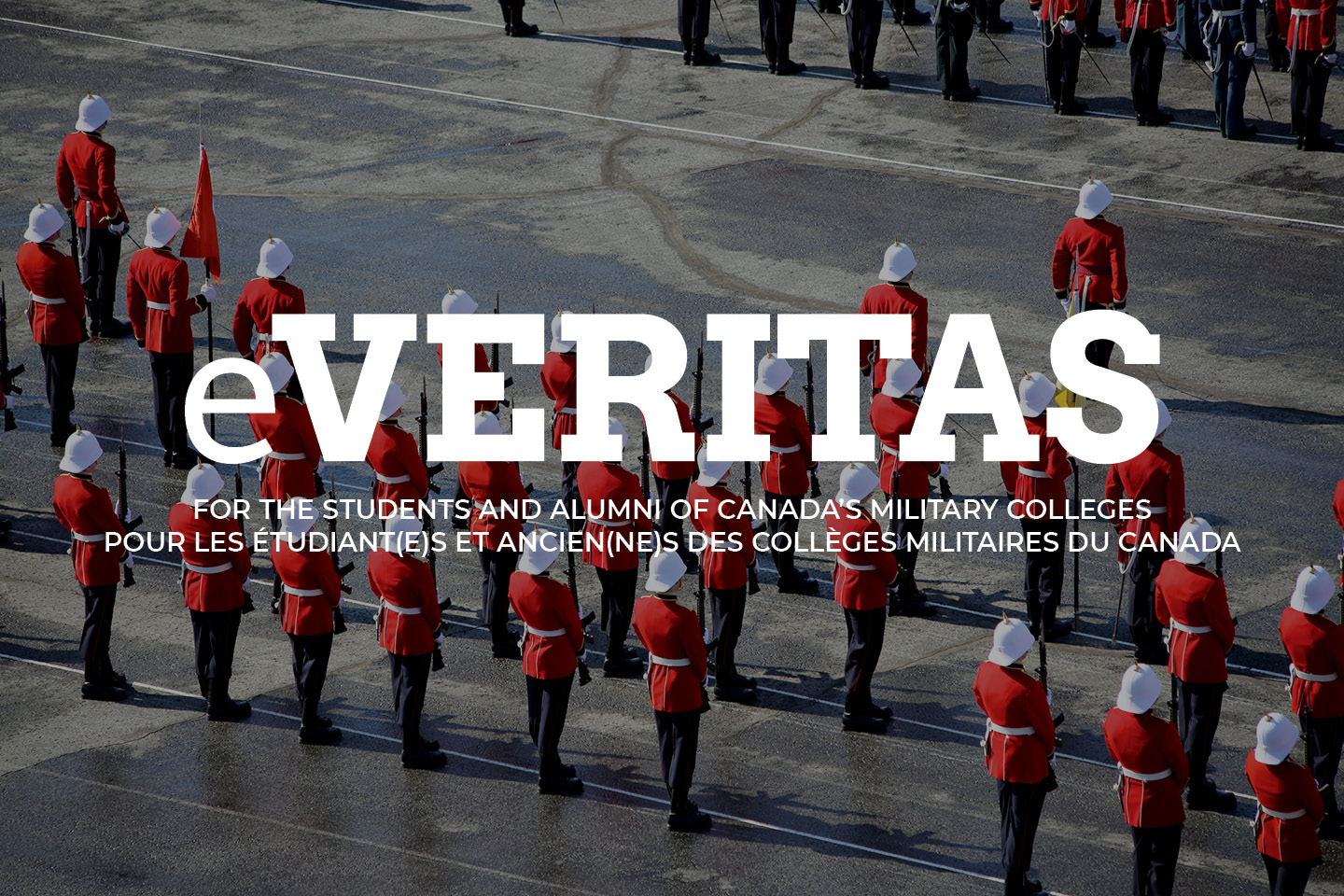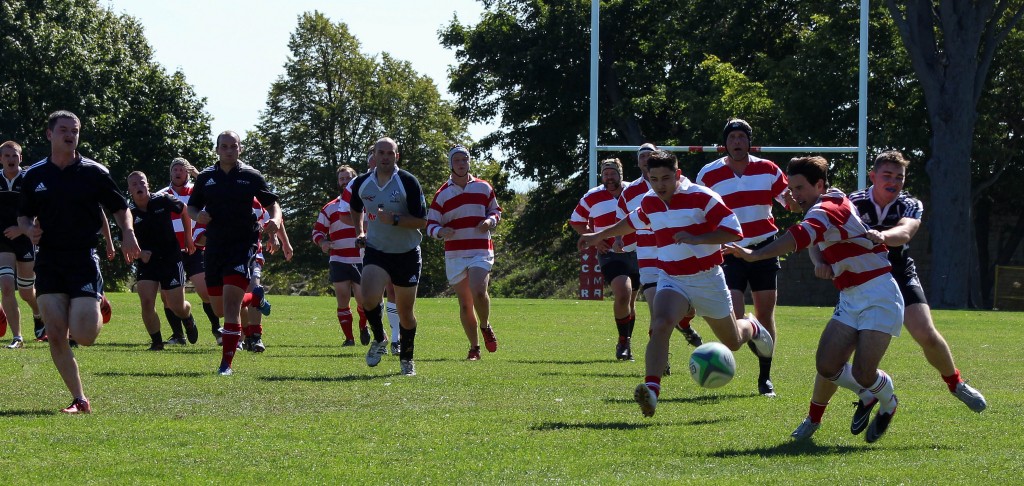 ***
**
*R
Red & White Reunion Weekend results
Ex Cadet Golf Tournament
OUA Soccer, Rugby & Hockey Updates
RMC & Ex Cadets Well Represented in Korea for 6th World Military Games
MORE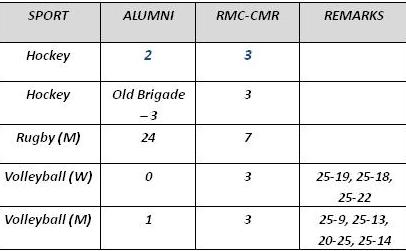 *Sailing: Ex-Cadets won. In this regatta we gave 4 boats to the ex-cadets to race and 1 boat to the cadets. Winner is determined by their placing in each race which is based on their finishing time. After all the races, the ex-cadets ended up placing better than the cadets.
With this there is not necessarily a score, just a placing for each boat, and given that the ex cadets placed first, they were awarded the trophy and therefore they would get the point for winning the regatta.
 27411 Brendan Puddington – Intramural Sailing Instructor
Cadets win – 3 events to two (one tie)
Photos from Red & White sports – Here
***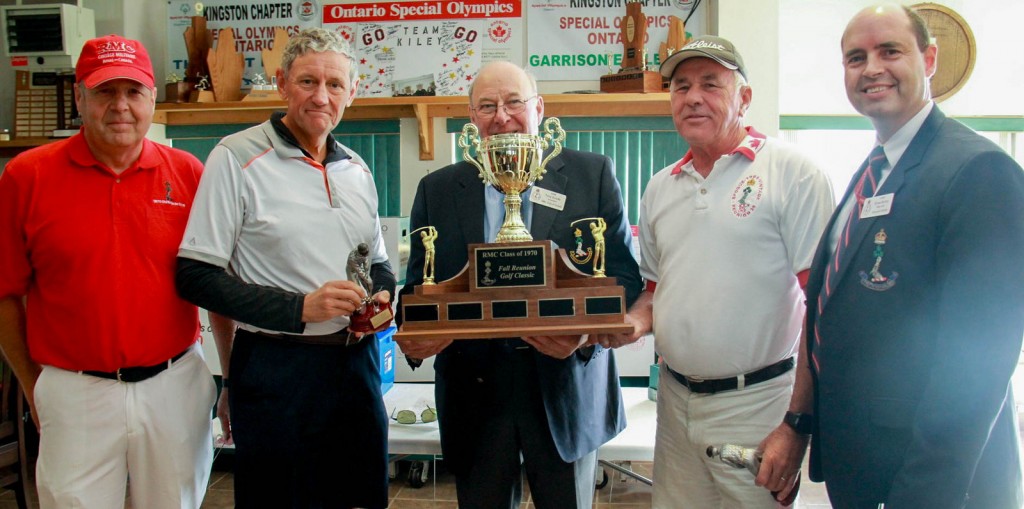 Reunion Weekend Golf Classic
By: Bryan Bailey
Thanks to the inspiration and incredible efforts of 8469 Jim Simpson, and several of his classmates from 1970, the first annual Reunion Weekend Golf Tournament was a huge success. More than 100 ex-cadets and spouses enjoyed spectacular weather, course conditions, meal and enjoyment of each other's company. The prizes were exceptionally generous and greatly appreciated by all.
The 2015 Reunion Weekend Golf Classic was:
9791 Jim Holsworth, Class of 1973
23762 Jonathon Holsworth, Class of 2007
9673 Don Heath, Class of 1973
7637 Chester Brown, Class of 1968
The winners of the other tournament contests were:
Closest to the Pin:
Hole 3 – Leslie Knaus
Hole 7 – 17479 Tony Lopes, Class of 1990
Hole 11 – 12589 Jay Boulton, Class of 1980
Hole 13 – 8492 Bruce Cossar, Class of 1970
"Precision" Closest to the Line – 14987 David Leclaire, Class of 1985
Long Drive (Men): Steve Gaudreau, Class of 1990
Lone Drive (Ladies): Patty Maloney, Class of 1993
10642 Doug Wright, Class of 1975 won two Porter Air travel vouchers worth up to $2,500.
In closing, the RMC Club of Canada would like to express its gratitude to the major Tournament sponsors. In particular, the Club would like to thank the tournament platinum sponsor, John Carswell (Class of 1978) and Canso Investment Counsel. The other major sponsors were Gary McMullen (Class of 1990) and Muskoka Breweries, Bruce and Laurie Cossar (Class of 1970) of Maple Valley Sports Bar, and Porter Air.
The tournament raised just over $10,000 for the RMC Club which is greatly appreciated. Given the very positive feedback, the event will be held again next year.
More photos from the Golf by Denice Zoretich – Here
***
RMC & Ex Cadets Well Represented in Korea for 6th World Military Games

From: Various Sources
From 2-11 October 2015, the Canadian CISM team will be sending approximately 175 athletes from across the Canadian Armed Forces to compete at the 6th Military World Games in Korea in a wide variety of sports. Five members from RMC will be attending; OCdt 27229 Nicole Behnke (women's volleyball), Ms. Kara Mazerolle (women's volleyball), CPO1 Keith Davidson (sailing), Mrs. Patricia Howes and Mr. David Howes (fencing).
This will mark the second time that Canada has sent fencers to the World Military Games, as 15 athletes represented Canada, including Lt Jean Lelion, who won a bronze medal in men's epee at the 5th WMG in Rio Brazil.  More than 115 countries, with an estimated 7,500 participants, are expected for the games in South Korea. There are 24 events overall taking place in 8 counties of the Gyeongsangbuk-do Province in South Korea.
The fencing events will be held in Mungyeong, Korea.  There is a very strong connection between RMC and the CISM fencers attending the 6th WMG.  Eight out of twelve athletes on the team are former Paladins, as well as the Team Manager Capt 24666 Diana Prenoveau (Ottawa, ON).  The coaches also hail from RMC, with varsity head coach maître d'armes Patricia Howes and her fellow fencing maître d'armes husband David Howes coaching the team in Korea.  Both coaches have international coaching experience through CISM, as well as working as National Team Coaches for the Canadian Fencing Federation (CFF).  Even the CISM Patron for Fencing is an ex-cadet; BGen 15318 Martin Girard, a former men's OUA foil champion for the college and long-time supporter of RMC Fencing.  The Ex-Cadets who will represent Canada include; Capt 23959 Alex Prymack (Gagetown, NB) in men's foil, Lt 25962 Daniela Moyano (Gagetown, NB) in women's foil, Capt 24776 Emma (nee McDaniel) Fairhurst (Halifax, NS), 2Lt 26261 Kalina Larocque (Trenton, ON), 2Lt 26542 Deanna Gilmore (Halifax, NS) in women's epee, Lt(N) 24032 Chantel (nee Lemay) Helwer (Ottawa, ON), Capt 24052 Sarah Rogers (Cold Lake, AB) and LS Katie Porter (Kingston) in women's sabre.
Rounding out the Canadian Fencing Team will be Pan Am Games bronze medalist Cpl Hugues Boisvert-Simard (Valcartier, QC), Cpl Clément Metivet-Femenias (Valcartier, QC), and Lt Jean Lelion (Montreal, QC) in men's epee, and Pte Jean-Marc Turk (Montreal, QC) in men's foil,  International Referee LCol Thomas Nguyen (Toronto, ON), and physiotherapist Lt(N) Melanie Matthews-Loughery (Ottawa, ON).  Overall, the CISM fencing team is a great representation of military fencers from across the CAF.  It demonstrates that, while often considered a fringe sport, fencing is actually very strong and well represented in the military across the country.
In preparation for the 6th WMG, the team will first travel to Vancouver at the end of September for the first national level CFF Canada Cup of the 2015-16 fencing season.  The competition will take place at the Richmond Oval from Sept 25-27th, 2015 and spectators are welcome free of charge.  All the athletes will compete in their primary Individual weapon and Team relay events, as well as work with the coaches and support staff over the weekend.  On the Monday following the competition, the coaches will run a training camp at the brand new state-of- the-art Dynamo Fencing Club in Richmond, BC.
Capt Prenoveau and Lt(N) Matthews-Loughery will also run briefings to prepare the athletes for the trip, address any medical needs, and review logistics for their CISM events.  On Tuesday September 28th, the team will depart for Seoul. "The Canada Cup and training camp in Vancouver is the perfect location to help the team partially acclimate to time change, do some team building, and certainly helps to break up the very long flight to Korea " says Coach Howes.  "It's an ideal location, to reconnect and bring everyone together, push their competitive skills right before a major international competition, and will give all of us staff the opportunity to work with the athletes and each other, prior to Games in Korea. We are all so excited about this amazing international military sports events."
The opportunity to represent not only RMC but also the CAF and Canada is one of the key reasons why so many athletes and coaches tirelessly pursue their sports, even with the demands of RMC and busy military careers.  Not only does sport contribute to a healthy lifestyle, and permits the members to set and achieve personal goals, it also gives them shared experiences that last a lifetime.  Former RMC fencer and MARS officer Lt(N) Helwer sums it up like this; ""I did not start fencing until my first year at RMC.  I didn't even know the difference between a sabre and an epee, and I definitely did not know the impact this sport would have on my future.  Being part of the RMC Fencing team family is one of my fondest memories of my time at the college and I am so thankful to have been a part of such a great team.  Fencing has taken me all over the globe, and I have no doubt that fencing has influenced who I am, and what kind of officer I am.  Attending tryouts in my first year was probably one of the best decisions I have ever made."
To follow Team Canada results at the 6th World Military Games in Korea, please visit: http://www.korea2015mwg.org/index