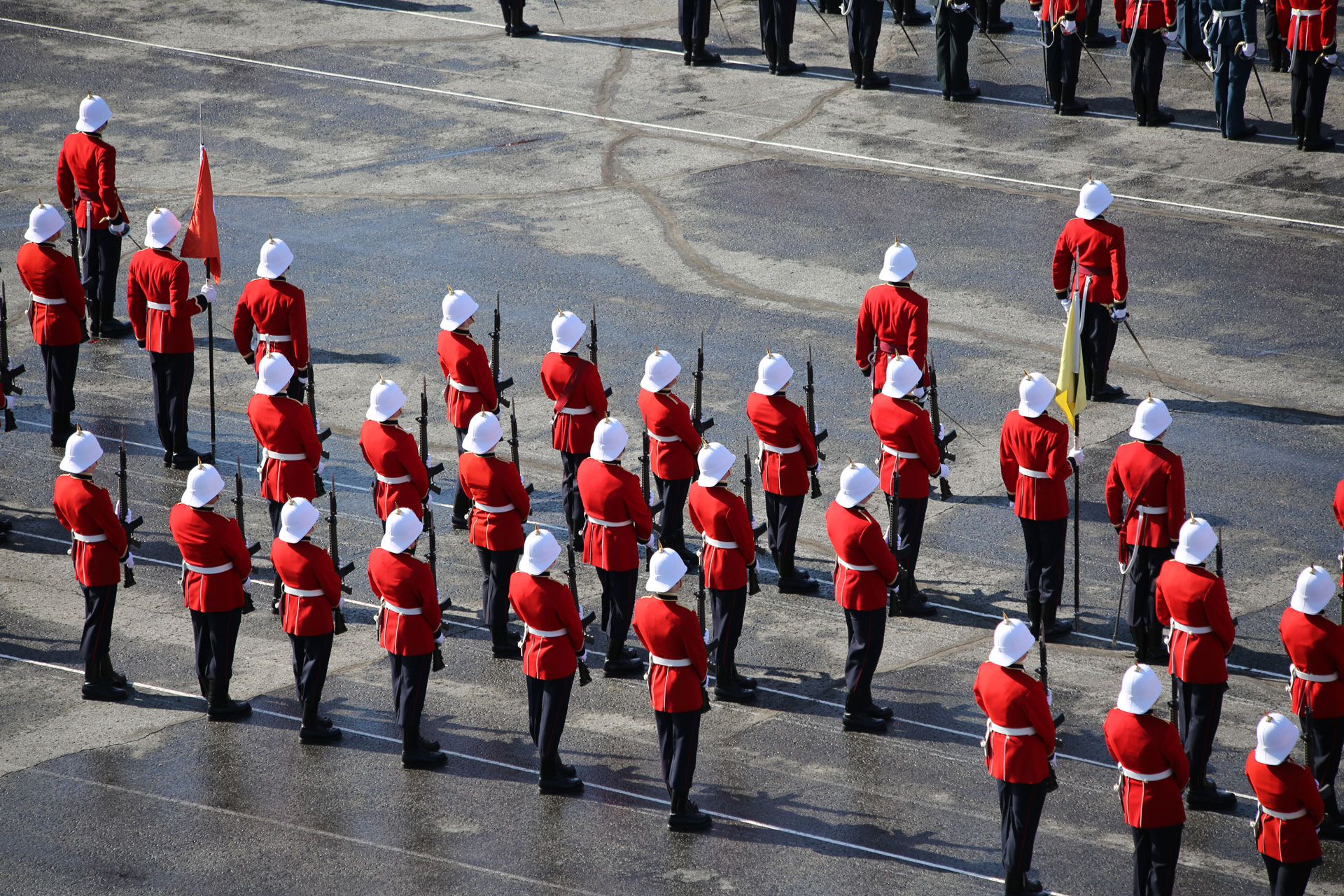 10728 LCol Michael L Muzzerall (RRMC RMC 1975) retired on 27 Jan 09 after 35 plus years of dedicated service to Canada, the CF and the Air Force. Mike joined the CF in 1971 and attended both Royal Roads Military College and the Royal Military College of Canada. In 1985 he attended post-graduate training at the us naval postgraduate school in Monterey, California, graduating with a master's of science in engineering acoustics in September 1987. He spent two years at Royal Roads as a physics instructor. Selected in 1995 to attend the USAF Air command and staff college in Montgomery, Alabama, he remained on staff after his graduation in June 1996 until 1998. Promoted to his current rank in June 2003, he was assigned to the NATO school in Oberammergau, Germany, as the director standards and evaluation. In July 2006 he returned to Canada and completed his career as the section head – strategic Aerospace research, assessment and liaison, at the CFAWC, 8 Wing Trenton. Mike and Candyce are residing in the Trenton area and slowly adjusting to civilian life by making time for family, friends, golf and, if time permits, the occasional home-related task.
______________________________________________________________________
11068 Capt(N) Leslie (Les) J Falloon, CD2, (RRMC RMC 1976) swallowed the anchor 20 Jan 09 after 36 plus years of dedicated service. It was his recent 3-year hardship posting in Hawaii as homeland defence Officer for compacflt that made him realize that he could not continue to sacrifice for Queen and country indefinitely.
Les enrolled in the Canadian Forces in 1972 and has since had a full career, with sea appointments in 9 of Her Majesty's Canadian Ships, including command of Winnipeg and Algonquin and xo in Protecteur and Saskatchewan. During his career he has fired every weapon in the navy's arsenal, many of which are now on display in the Canadian War Museum in Ottawa. Les will remain in the Victoria area and enjoy retirement with his wife, Susan. A hosted farewell gathering was held on 12 Jan 09.
______________________________________________________________________
11790 Cdr Rodger J. Hitesman, CD (RMC 1978) retired from the navy effective 12 Jan 09 after over 34 years of service. Rodger will be taking a reserve position so that he can ease gracefully into full retirement. Until Louise finally lets him stop working, Rodger and Louise will reside in the Ottawa area as they complete renovations on their retirement villa on Lake des Isles near Tremblant.
Rodger graduated from RMC in 1978 with a BA while also on a sports scholarship. He has had a full career serving on both coasts, including time as part of the staff of the second destroyer squadron. Rodger also served in the DCDS staff in international operations and most recently as EA to Commander CEFCOM. In addition, Rodger and Louise have had two out of country postings in Norfolk and Colorado. A no-host farewell gathering took place on 9 Jan 2009.
______________________________________________________________________
16122 Maj Ashley Mohtadi (RRMC 1987) retired from the CF on the 12 January 09 after 25 plus years of service to the CF. Maj Mohtadi enrolled in the military in June 1983 and attended Royal Roads Military College. He graduated in 1987 with a mechanical engineering degree. Capt Mohtadi successfully achieved his master's degree in Business Administration. Major Mohtadi was promoted to his present rank in 1999 and was posted to 427 tactical Helicopter squadron Petawawa, as squadron aircraft maintenance and engineering officer. This tour included his role as deputy commanding officer for the task force Bosnia-Herzegovina helicopter detachment from Aug 2002 until Mar 2003. In 2003 Major Mohtadi was posted overseas to the NATO E-3A AWACS component in Geilenkirchen, Germany where he held the position of officer commanding maintenance flight within the Canadian contingent NATO Airborne early warning force. In June 2007, Major Mohtadi became the commanding officer 19 Air Maintenance squadron. He and his wife Laura and their two daughters Charlotte and Jasmine will remain in Courtenay where Ash took a position with the Comox Valley airport commission.
______________________________________________________________________
18579 Capt Anne-Renee Bouchard (CMR 1992), Air Navigator, retired from the Reg F as of 5 Jan 09 after having served over 20 yrs of loyal and dedicated service to her country. At her request, there will not be a function held in her honour. Friends and colleagues are encouraged to send congratulatory messages, anecdotes and stories to Capt Sylvie Allaire sylvie.allaire@forces.gc.ca and these will be presented to her at a later date.
______________________________________________________________________
20926 LCr Melisa Lafleur, CD (RRMC 1997) retired from the navy effective 21 Jan 09 after having completed over 15 years of service. Melisa joined the CF in Jun 93. She graduated RMC in the class of 97 with a BA in history. Her final two years of service have been as the OPSO/acting CBTO of Canfltpac HQ. She has skillfully led the fleet in several major exercises and spearheaded the multinational RIMPAC 08 exercise as the
lead planner for CCFPS role as the sea combat Commander. Her skills will be missed by the navy, but she will surely put these to use in a highly successful future career. Melisa will take a short, but well-deserved break, then move on to her new career in the civilian workforce alongside her husband JP.