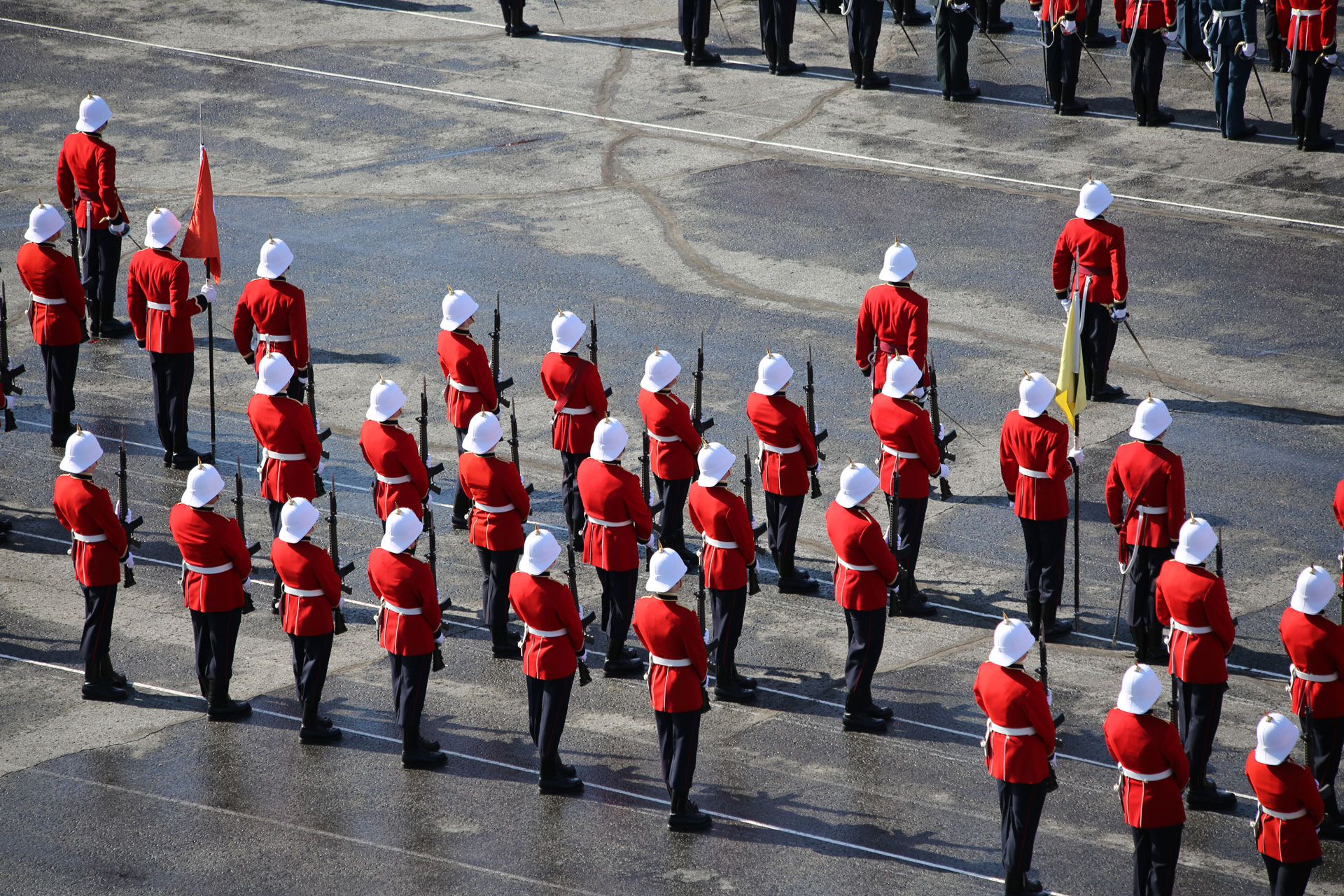 1: RMC Combined bands marching on during the Badging parade in Oct 2009. The photo shows Drum Majors Ocdt B Bolling and Ocdt M Flynn
2: Ncdt Harper on trombone.  Ncdt Harper is the Colour Party commander for 2010-11. The band will miss him.
3: RCNC280 Mr. Don Currie (RRMC 1946), trumpet, is the oldest member of the RMC band. At 80 years of age, he will be sailing his 42' boat to Halifax this summer. Smooth sailing, Don.
4: Ocdt E Heath on alto sax is performing "Treble Concerto", a very challenging solo piece with the Brass & Reed band.
5: MWO M Huppé taking the lead on tenor sax with the Stage Band performing Chuck Mangione's "Feels so Good".
6: Picture of Pipes & Drums and Highland Dancers.
7: The Drum line under body search lights… sorry, under black lights.
8: Ocdt R Thompson performing during Badging parade Oct 2009.
9: Ocdt L Aubry, is thinking very hard to give 15185 CDR Truelove a "cool" answer.
10: The Bands at the Concert in Scarlet 2010. Bottom right, the mentors: Band Officer MWO M Huppé and Pipe Major WO D Smith.
11: The RMC Choir singing "Tribute to Queen", medley which includes "Bohemian Rhapsody".
12: Ocdt AJ Marasco showing off his "cool look" on a baritone sax solo with the Stage Band. At far left, Mr. Orest Koroluk, civilian employee at RMC, is a member of Brass & Reed and Stage Band.
13: Like many others, it was Highland dancer Ocdt K Baskerville, Ocdt MacMillan and Ocdt E McDaniel's last Concert in Scarlets. We wish them a great career in the CF.
14: Concert in Scarlets 2010 Finale
E3161 Victoria Edwards (RMC 2003) interviewed MWO Martin Huppé, who was posted to Kingston as the RMC Band Officer in July 2008.
e-veritas: Where did you serve previously?
M.W.O. Martin Huppé: In Nov 78, I studied music at the Conservatory of music of Quebec City with some musicians who were serving members of HMCS Montcalm.
I decided to join that Naval Reserve unit. In 1981, I had the opportunity to audition for a Regular Force direct-entry position in the music trade as a saxophonist level 6A, with the Stadacona Band in Halifax. At that time, CF members wore the green tri-service uniform with specific command badge on the tunic pocket. In 1985, the CF returned to Element uniforms. Around 1988, I was posted to Royal Canadian Artillery band in St-Hubert near Montreal. Essentially, I did the same sax musician job in a French speaking environment. In 1996, the Royal Canadian Artillery Band (RCA) band moved to Valcartier (Quebec City). In October 1997, the RCA band moved to Edmonton. The next morning, we musicians became members of La Musique du Royal 22ième Régiment (R22eR). The RCA band was dismantled in 1994 due to the rationalizations of the Canadian Forces.
I played sax with R22eR band, now the only professional military band of the Province of Quebec. In 2000, I was recommended for QL7 (music conducting course) which I did. In 2003-4, I was posted to the CF Music center in Ottawa. Although I learned a lot (about paper work), I wasn't able to play much. In 2005, I was promoted to MWO and posted to the Central Band in Ottawa where I played sax and conducted the band. Since 2008, I have been serving at RMC in Kingston.
e-veritas: Describe the duties of a military musician. Any highlights?
M.W.O. Martin Huppé: In addition to normal military duties, such as parades, mess dinners, protocol, etc, Reg Force Brass & Reeds (B&Rs) perform extensively in the local area at schools and concert halls, in street parades, and in many high-profile ceremonies in the city and abroad. Depending on their military schedules, each of these bands can be asked to perform at concerts, parades and festivals around the world in countries such as Holland, Germany, France, England, Chile, Italy, China, Korea, Cyprus and the United States.
I was quite lucky to be member of "Canada remembers" tours like the one in 1995 that travelled to Birma, Singapour, Hong Kong and Tokyo. I also participated in the 40th, 50th and 60th anniversary of the Second War overseas. The career highlight would be when I played sax at the International Montreal Jazz Festival in summer 1993 with the RCA band in front of more than 10,000 people.
e-veritas: How does the RMC band compare?
M.W.O. Martin Huppé: Laughs. Well, for the first time in my military career, I really don't have much time or opportunity to actually play my saxophone. Through most of my career, I was a professional musician playing with other professional military musicians. For the last two years, my primary responsibility has been developing performance programs, particularly B&R and Combined bands that reflect well on RMC. The RMC bands consist of Pipes & Drums (P&Ds), Brass & Reed (B&Rs), Choir, Highland Dancers (HLDs), and Stage Band club.
e-veritas: When do the RMC bands practice? Are there any exceptions?
M.W.O. Martin Huppé: In general, the band practice is on Monday, Tuesday and Thursday mornings from 6:30-7:30 am at rooms B23 & B24 in the basement of Yeo Hall. Both rooms open at 6:00. Choir is on Wednesday night and Friday morning. The cadets take a break from practice during environmental training, during engineering tours, during exams, during Xmas vacation, and over the summer months of course. Generally, if a cadet misses a regular practice he or she owes me a spare. We sit down and go thru the music we will be playing in the near future. If a cadet is assigned SPT, remedial drill in the morning, we find a spare and meet once a week for at least an hour to go through the music. This way the cadet is given an alternative to quit the band.
e-veritas: When do guest performers practice?
M.W.O. Martin Huppé: 12192 Brigadier-General Tom Lawson (RMC '79), the previous Commandant, played the pipes at a few occasions during mess dinners. Two of my trumpeters extended an open invitation to 15181 Commodore Bill Truelove, CD (RRMC '85), the current Commandant, to perform "Bugler`s Holiday" a solo piece with standard bugle calls and bugle-call-like figures for three trumpeters. I always try out guest performers ahead of time. I then advise as to the precise timing and invite guest performers to join the regular practice. In CDR Truelove's case, his schedule was very busy and he wasn't able to play us. I know, however, that he got his trumpet cleaned up and ready to go. Recently, I met CDR Truelove during Grad week and reminded him that he is still welcome to perform with the band next year. That could be is last chance as the two soloists that would play with him will graduate next year!
e-veritas: What do you do when the cadets are away?
M.W.O. Martin Huppé: I am surprisingly busy. There is so much to do when you are your own and the only staff member. I was happy to have a cadet from the holding platoon helping me last summer and I am starting to regret my decision not to work with a cadet this summer. I might ask for help after my summer leave. At the moment, I am being interviewed for e-veritas. When e-veritas called, I was moving the band equipment away from the walls since workers will be soon filling cracks, sanding, repainting the walls and changing ceiling tiles. The B&R equipment is stored in Yeo Hall, and the P&Ds equipment is stored in the Haldimand. I don't care about the paint colour as long as long as the paint is fresh and the scratches on the walls are gone. I am also pleased to report that a sink is being installed in the practice room for cleaning up the instruments and to ensure that fresh water is accessible after a parade. In addition, the ventilator for the air conditioning will be cleaned. The band room is at street level and always warm because the College heating system is passing thru the band room floor. Last year I noticed a used portable A/C by the CANEX door, just sitting there, unplugged. I asked the CANEX staff if I could borrow it. But now I'm a bit concerned that I will kill it, since the A/C is on almost non-stop when I am in the band room. After a short vacation, few more adjustments on the equipment and on the music charts, the school year will be back in full swing.
e-veritas: How are the band priorities determined?
M.W.O. Martin Huppé: There are engagements already booked for the band (parades, mess dinners, concerts, protocol). No one knows for certain if enough cadet musicians will join the band in September. Before accepting outside engagements, I must have enough musicians and I must verify the College and the Wing calendars. If it is too busy I may reject an engagement. On a daily basis, I attend meetings. I plan the repairs, restorations and procurements of instruments, sheet music, and equipment in general.
e-veritas: How is the band funded?
M.W.O. Martin Huppé: I have a public funds budget managed by DDCdts 20627 LCdt Hugo Laplante (CMR RMC 1997). I recently attended a meeting with A126 Maj (Ret`d) Glen Macdonald since the RMC foundation could help us on this issue. Right now we are trying to come up with a list of items that we cannot purchase with public funds, i.e. band banners or the replacement of a battered mace. We are also trying to determine who should assume the cost of uniforms for the band since band uniforms should be provided and maintained at public expense. We should get more answers on this over the summer.
e-veritas: In a 2003 skylark, during grad parade practice a piper had a fake double of himself in full regalia tossed from the bell tower of the Mackenzie building after the piper-solo. Do any other skylarks come to mind?
M.W.O. Martin Huppé: (laughs) Oh, that was a good one. Let me think. Military musicians have a rich tradition of practical jokes but I can't recall any from my last two years at RMC. I certainly haven't participated in a skylark in a while. But we did play "funny" music during the gash parade last year. Just before the playing of "O Canada", The Wing were instructed to sing "Oh Canada" loudly with the band. The problem was the band played "The Hey Song" rather than "Oh Canada". SM MWO J Léveillée wasn't too pleased. Oh well…
e-veritas: What are the standard band gigs in the fall semester?
M.W.O. Martin Huppé: In September, at the start of the fall semester, during the Start of Year weekend, the P&Ds perform in honour of officer cadets who are marking their official commencement at RMC by marching through the Memorial Arch. In early September, the band is not always ready to perform at the Battle of Britain ceremony.
During the Army Run in Ottawa, the band will perform in honour of the men and women of the Army at home and abroad. Last October we participated in the Kitchener-Waterloo Oktoberfest Thanksgiving Day Parade. This year, we won't. Early October, during the RMC Reunion Week-End, there are two parades: the Badging parade with both B&Rs and P&Ds performing and the Old brigade parade held at the Arch with B&Rs, a bugler and a piper performing at a memorial service in honour of RMC ex-cadets who died while in the service. In November, the band, and in particular pipers and buglers, perform during Remembrance Day ceremony at the Arch. Pipers and buglers are tasked for Remembrance Day ceremonies in churches. In November 19th 2010, our Xmas concert will be held at the Cadet mess. In December, we clean the music folders and get new music for our Concert in Scarlets in March and Sunset Ceremony in May. Band will be required for all Commandant's weekends. Stage band along with P&Ds and HLDs will be required at Division's mess dinners.
e-veritas: What are the other standard band gigs?
M.W.O. Martin Huppé: The toughest non-mandatory commitment at RMC is to be in the band(s) since the band(s) at RMC practice and perform a large number of gigs. During the Winter Semester, the Stage Band and P&Ds and HLDs perform during the mess dinners for the Army, Navy and Air environments. In January, the RMC and Queens' bands perform during the Carr-Harris Cup annual challenge match varsity hockey game held at Kingston Memorial Centre. In February, during West Point weekend, the P&Ds either perform at RMC or at the U.S. Military Academy. Similarly, during the United States Naval Academy weekend, the P&Ds either perform at RMC or at the Naval Academy in Annapolis, MD. Last year, USN Band in Annapolis offered the cadet musicians a terrific music clinic. All clinicians were experienced and successful music instructors in their own right. The cadets loved it.
In March, all bands, B&Rs, P&Ds, HLDs, Choir and Stage Band perform traditional military, pop, modern and highland music, as well as a few jazz and contemporary numbers during the annual Concert in Scarlets at the Kingston Gospel Temple as a local United Way fundraiser. In April, the band is usually asked to support the Colour Party Competition. In May, during Battle of Atlantic Weekend, the B&Rs and in particular P&Ds, and buglers perform in honour of fallen comrades during Battle of Atlantic and Copper Sunday services. In Mid-May, during graduation weekend, the B&Rs perform in honour of their graduating friends and fellow cadets at the Convocation Ceremonies held at the Kingston Military Community Sports Centre Field House. The B&Rs, P&Ds and HLDs perform at the Sunset Ceremony held at the Parade Square. The B&Rs and P&Ds also perform at the Graduation and Commissioning Parade held at the RMC Parade Square. During the summer, there are gigs for P&D, and buglers to perform at weddings, but I don't get involved.
e-veritas: What do you play today, that band alumni will recall from years past?
M.W.O. Martin Huppé: Alumni will recall "Precision" (Royal Military College of Canada) which starts: "Heads up and swing along; Hearts light and a ringing song." The P&Ds play "Alexander Mackenzie"(Royal Military College of Canada). To honour Royal Roads Military College, we play "Hatley Park" or "Going Home." To honour the Royal Military College Saint-Jean, we play "La marche du Richelieu". To honour the environments, we play "Heart of Oak" (Maritime Command); "Celer Paratus Callidus" (Land Force Command) and "RCAF March Past" (Air Command).
e-veritas: What do you play today, that would be considered classics?
M.W.O. Martin Huppé: For Reunion Weekend, we play classics such as "The Boys of the old Brigade" and "Fight the good Fight". "Officer of the day" is played during Grad parade. And of course, "Oh Canada" is a classic.
e-veritas: What do you play today, that might surprise alumni?
M.W.O. Martin Huppé: I encourage alumni (Ex cadets) to attend our concerts. They might be pleasantly surprised by our repertoire and open solos. For example, this year, the band percussion ensemble performed "The Lord of the Dance" with cadets on marimba and xylophone. The drumline from P&Ds performed under black lights. You may hear modern scores for flute and clarinet duets, or saxophone and trumpet duet. We started a new tradition in 2009/10r: during parade inspections, you will see the Pipe circle, the Drumline and the B&Rs perform separately in a specific chart.
e-veritas: Describe the band uniforms.
M.W.O. Martin Huppé: The HLDs lady cadets wear Scottish Highland dress consisting of a velvet jacket with gold or silver braid edging and gold or silver buttons, over a white shirt with lace ruffles at the neck. They wear a kilt and tartan hose, and black laced gillies, or dancing shoes. Men wear the kilt, sporran, or pouch, jacket, bonnet, tartan hose and a sgian dhubh, or ceremonial knife. The members of the P&Ds wear scarlet tunics, trousers or a kilt, shoes and a feather bonnet or Glengarry hat. The B&Rs wear scarlet tunics, trousers, shoes, Woolseley helmet or pillbox hat on parade.
e-veritas: What advice do you have?
M.W.O. Martin Huppé: In 2008, when I first got here, E0733 LCol T O`Keeffe, DCadets said to us that he was concerned with the process not the results. As Band Officer, I am concerned with both process and the results. It isn't sufficient to check out the box in the music section of your application. Cadet musicians need to actually try out for the band(s)! There are places for musicians in B&R (30-40), Stage Band (15-20), Choir (15), P&Ds (20) and HLDs (20)! The secret to a sharp, tight, good band is to have musicians who know how to play, and have the incentive to practice. It would be terrific to have more musicians and more spares to help out since musicians can get tired. Don't quit! Don't give up! As musicians and leaders, we can generally help and teach each other but you may have to reach out ask for help. Cadets have the opportunities to practice leadership in the band(s) through recommending more and less challenging pieces they would like to play and by teaching each other lessons learned. After alumni graduate, there are many opportunities to continue with Voluntary Bands. In fact, the RMC bands are open to graduate students and alumni. If RCNC280 Mr. Don Currie (RRMC 1946) and Mr. Orest Koroluk, a Technical Officer in the RMC physics department can make it to rehearsals, concerts and parades, so can you!