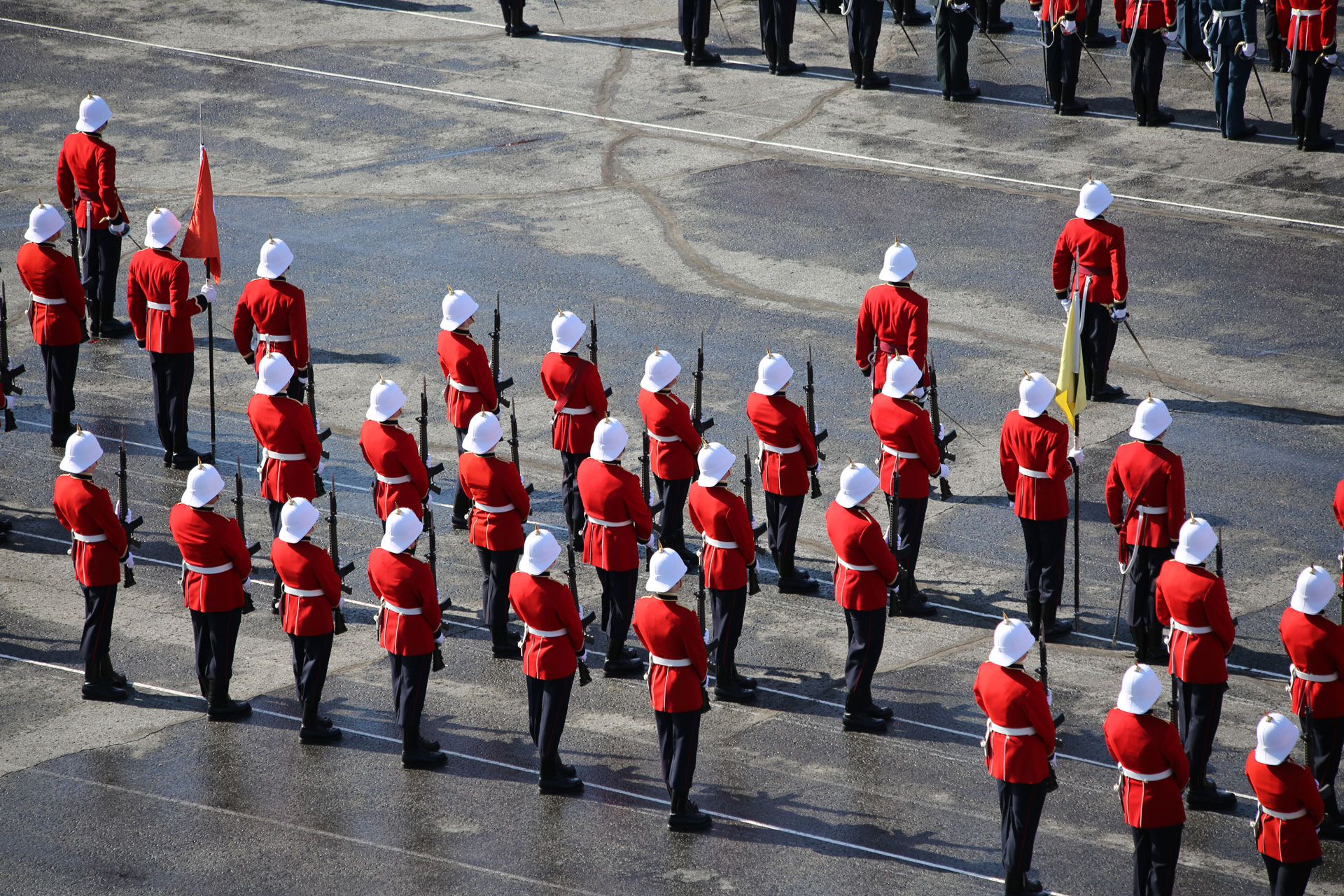 Musiciens du CMRC représentés au Festival international des Musiques militaires à Québec
Par : 25179 Dave Tanguay – Élof directeur de la Musique militaire
Des membres de la Musique du CMRC viennent tout juste de compléter une semaine en participant à une activité de renommée internationale. Accompagnés de l'adjudant-maître Martin Huppé (Officier de musique), l'Élof David Blain, l'Aspm Samuel Poulin et l'Élof Dave Tanguay ont pu joindre les rangs du populaire Festival international des Musiques militaires à Québec (FIMMQ), parmi 800 musiciens de plusieurs pays tels que le Canada, la Belgique, les États-Unis, le Royaume-Uni, la Russie ainsi que la Suisse.
Ces élèves-officiers eurent la chance de jouer avec des musiciens de carrière, et d'expérimenter cette activité enrichissante au sein du Tattoo militaire ainsi que des différentes parades et concerts organisés sous le regard stupéfait de plusieurs milliers de spectateurs. L'Aspm Poulin et l'Élof Tanguay étaient parmi la Musique du Royal 22ème Régiment et l'Élof Blain au sein de l'ensemble des Cornemuseurs et Tambours.
« La participation au FIMMQ a été une opportunité incroyable pour nous, car avec notre carrière de futur officier, il est quasiment impossible de pouvoir parader avec les membres de ces différentes musiques militaires » a mentionné l'Élof Blain.
Différentes personnalités des Forces canadiennes ont assisté au Festival en tant qu'invités d'honneurs tels que le Chef d'état-major de la Défense – 12320 Général Walt Natynczyk,CMM, MSC, CD, le Chef d'état-major de la Force maritime – 12444 Vice-amiral Paul Maddison, CMM, MSM, CD, Commandant du Secteur du Québec de la Force terrestre et de la Force opérationnelle interarmées (Est) – Brigadier-général Richard Giguère, CD ainsi que le Sénateur et Lieutenant-général (retraité) – H7860 l'Honorable Roméo Dallaire, OC, CMM, MSC, CD qui a reçu un hommage honorifique.
RMC Music

ians represented at the Québec City International Festival of Military Band
By: 25179 Dave Tanguay – Cadet Wing Band Officer
Members of the RMC Band have just completed a week by participating in an internationally renowned activity. Accompanied by MWO Martin Huppé (Band Master), OCdt David Blain, NCdt Samuel Poulin and OCdt Dave Tanguay were able to join the ranks of the popular Québec City International Festival of Military Band (QCIFMB) among 800 musicians from several countries such as Canada, Belgium, United States, United Kingdom, Russia and Switzerland.
These cadets had the chance to play with career musicians, and experience this enriching activity within the Military Tattoo and various parades and concerts in front of thousands of amazed spectators. NCdt Poulin and OCdt Tanguay were among the Royal 22nd Regiment Band and OCdt Blain with the Massed Pipes and Drums Corps.
"Participation to QCIFMB was a great opportunity offered to us because with our future career as officers, it will be almost impossible to be able to parade with members of those various military bands", said OCdt Blain.
Different senior staffs of the Canadian Forces attended the festival as guests of honour such as the Chief of Defence Staff – 12320 General Walt Natynczyk, CMM, MSC, CD, Chief of the Maritime Staff – 12444 Vice-Admiral Paul Maddison, CMM, MSM, CD, Commander of Land Force Quebec Area and Joint Task Force East – Brigadier-General Richard Giguère, CD and Senator and Lieutenant General (retired) – H7860 The Honourable Roméo Dallaire, OC, CMM, MSC, CD who received an honorary tribute.
Festival International des Musiques militaires – Québec
Par l'Aspm Samuel Poulin 25042
Une expérience unique et enrichissante vient de se terminer. J'ai eu la chance de participer comme trompettiste au Festival International des Musiques Militaires de Québec. Après 3 jours de pratiques avec des musiques provenant de plusieurs pays tel que l'Angleterre, la Suisse la Belgique et les États-Unis, nous avons participé à 3 représentations du populaire Tattoo au Colisée de Québec. Nous avons pris part à l'ouverture, à la scène hommage aux soldats canadiens d'Afghanistan ainsi qu'à la grande finale. Et j'ai eu la chance de parler au Chef d'état-major de la Force maritime – 12444 Vice-amiral Paul Maddison, CMM, MSM, CD.
Notre uniforme ressemblant à ceux de la Musique du Royal 22e Régiment, il nous a servit de laissez passer exclusif afin de nous joindre à leurs rangs durant les représentations. Leur professionnalisme ainsi que leur niveau de talent musical fut remarquable.
La branche de musique des Forces Canadiennes est une branche que nous voyons rarement au CMRC puisque nous avons la chance d'avoir notre propre musique. Ce fut donc une opportunité unique dans ma carrière de participer à une telle activité et elle m'a permis d'en apprendre davantage sur les musiciens militaires provenant de d'autres pays. J'ai également réalisé à quel point la musique pouvait être un langage universel.
Quebec International Festival of Military bands
By  NCdt Samuel Poulin 25042
A unique and rewarding opportunity has come to its end. I had the opportunity to play trumpet at the International Festival of Military Music of Québec city. After 3 days of rehearsal with bands from all over the world, such as United Kingdom, Switzerland, Belgium and United States, we took part in a series of 3 shows of the popular Tattoo at the Québec Colisée. We have played in the opening, the tribute to Canadian soldiers in Afghanistan and the finale. And I got the chance to talk with Chief of the Maritime Staff – 12444 Vice-Admiral Paul Maddison.
Our uniform looking like the ones of the Royal 22e Regiment's band, we used it as a pass in order to allow us to join their ranks during the representations. Their professionalism and their musical talent were outstanding.
The Music branch of the Canadian Forces is one that we don't really see often since we have the chance of having our own band at RMCC. This was a one-in-a-lifetime opportunity and I really appreciated it because I have learned more about military musicians even from other countries and I have realized how international the music language is.