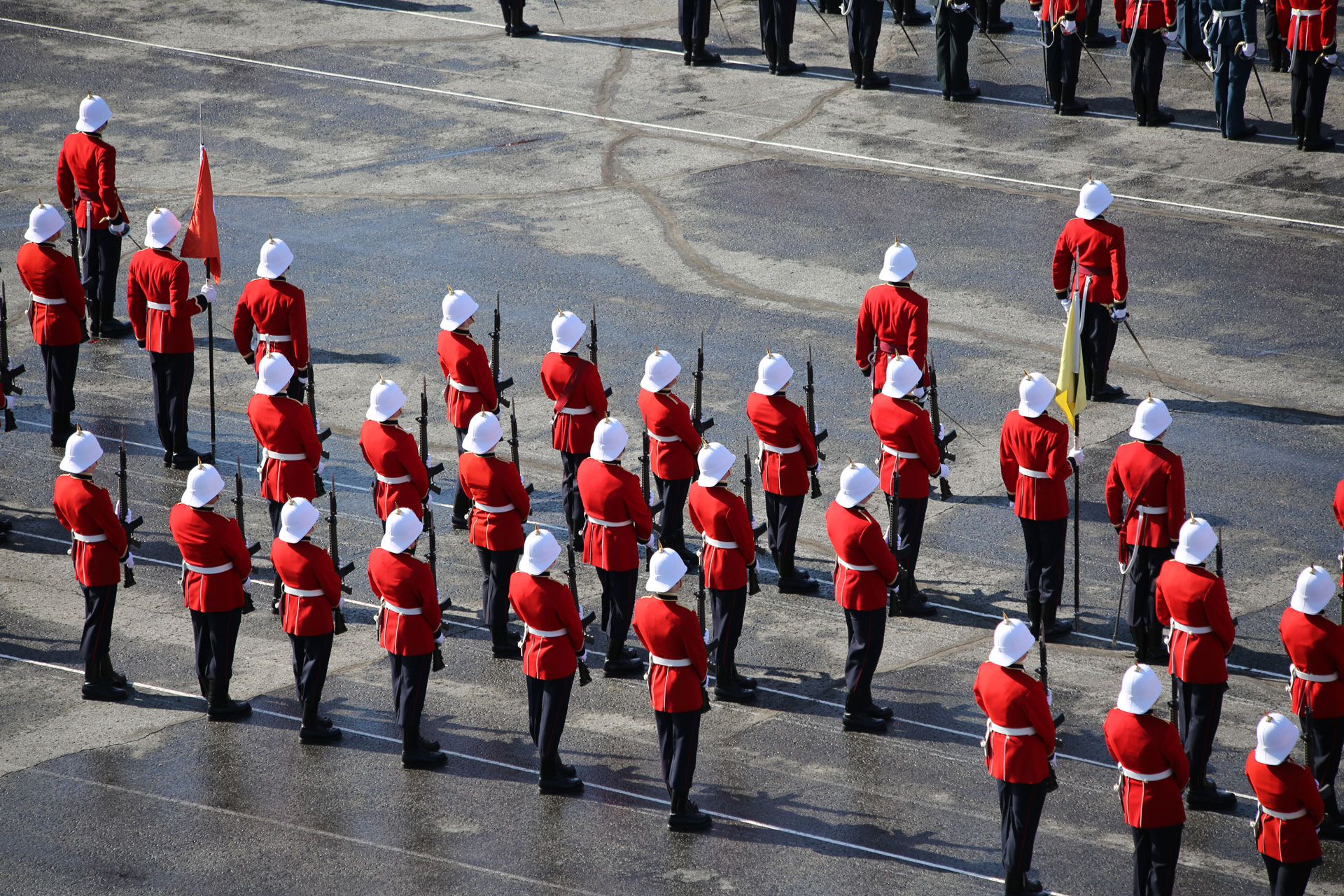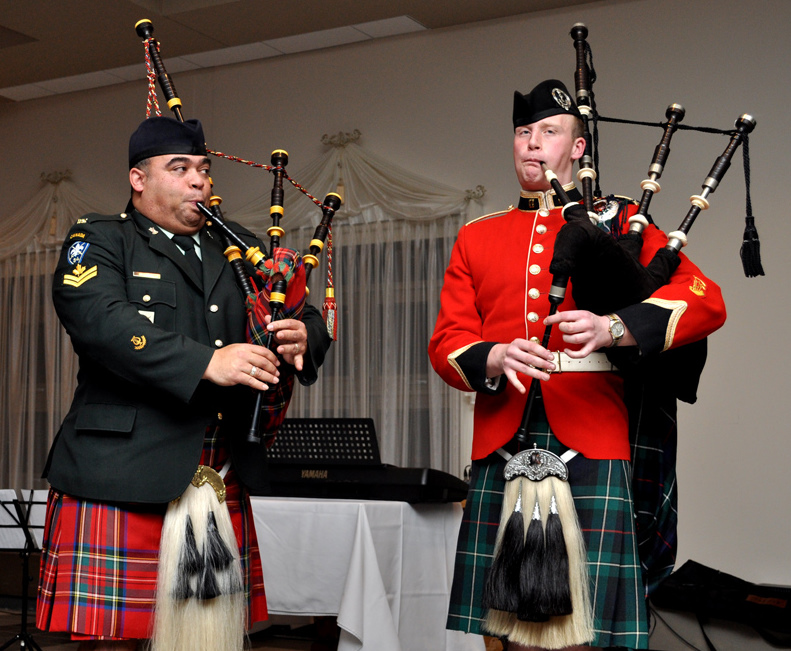 Caption:Master Corporal (MCpl) McCarthy of the Black Watch and 25859 Officer Cadet (II Year) Ben Deutsch of RMC of Canada (RMCC) were present to give a live bagpipe performance at the second annual Robbie Burns Dinner hosted at Royal Military College Saint-Jean (RMCSJ).
Photo credit: Marie-Claude Leblanc
Robbie Burns Night at RMC Saint-Jean
– an article by Officer Cadet Kirin Tsang 25972
On January 21st of this year, the Royal Military College (RMC) Saint-Jean was pleased to host its second annual Robbie Burns Dinner. This centuries-old festival is named after the famed Bard of Scotland, Robbie Burns, who was a prolific poet and carouser, and who by the age of 27 was known across his homeland as a great womanizer and writer. He died of his excessive drinking habits at only 37, and was commemorated a few years later by his friends, who held a dinner featuring his poetry and favourite Highland dish, the Haggis. This time-honoured tradition of the Canadian Forces is a day to commemorate the Scottish origins of many of our units, such as the Black Watch (Royal Highland Regiment of Canada) based in Montreal, Quebec, and this year, RMC Saint-Jean was excited to join in the excitement. Organizing the event was Professor Dilworth, who teaches English, supported by a committee head by Officer Cadet (OCdt) Joshua Scott 25870.
True Scottish festivities were in order this year! Not only was there a fantastic dinner set up, but Master Corporal (MCpl) McCarthy of the Black Watch and Officer Cadet Deutsch 25859 of RMC Canada were present to give a live bagpipe performance, which was met with great enthusiasm. When the prized haggis dish, which is made of oats, lungs, liver, kidneys, onions and spices, was brought out, MCpl McCarthy gave a rousing rendition of Robbie Burns' "Address to a Haggis." Afterwards, Professor Danic Parenteau 20657 of the academic division was joined by Lieutenant-General (retired) Maisonneuve for a Scotch-tasting of the finest that Scotland the Brave has to offer, and this was very warmly received by the cadets.
After the first round of the scotch-tasting was finished, dinner was served, including the famed haggis which was eaten by all present and, as Mcpl McCarthy predicted, it was enjoyed by more than a few who had been doubtful about its contents! When the haggis was finished, the dinner was followed up by the final round of the scotch-tasting, and the toasts. Toasts were given to the pipers and their units, the Black Watch and RMC of Canada, to Quebec, to our Country, to our Queen and to the countries of foreign officers currently residing and studying at RMC Saint-Jean. The final event of the evening was the poetry contest. In the spirit of the biculturalism and bilingualism of the Canadian Forces, anglophones recited the Robbie Burns poem "A Tender Kiss" in its French translation, and the francophones read "Frae the Friends and Land I love" in Scots' English. There was much laughter, good cheer, and applause as Officer Cadet Kirin Tsang 25972 won with his dramatic take on the French version, and Officer Cadet William Dresdell 26144 won the English recitation with his baritone rendition. Finally, Burns' most famous poem, "A Red Red Rose", was recited before the night grew long and all were dismissed to rest and enjoy the next day's broom-ball tournament. All in all, it was an event full of fun and surprises, and everyone left contented and just a tad closer to Robbie Burns.