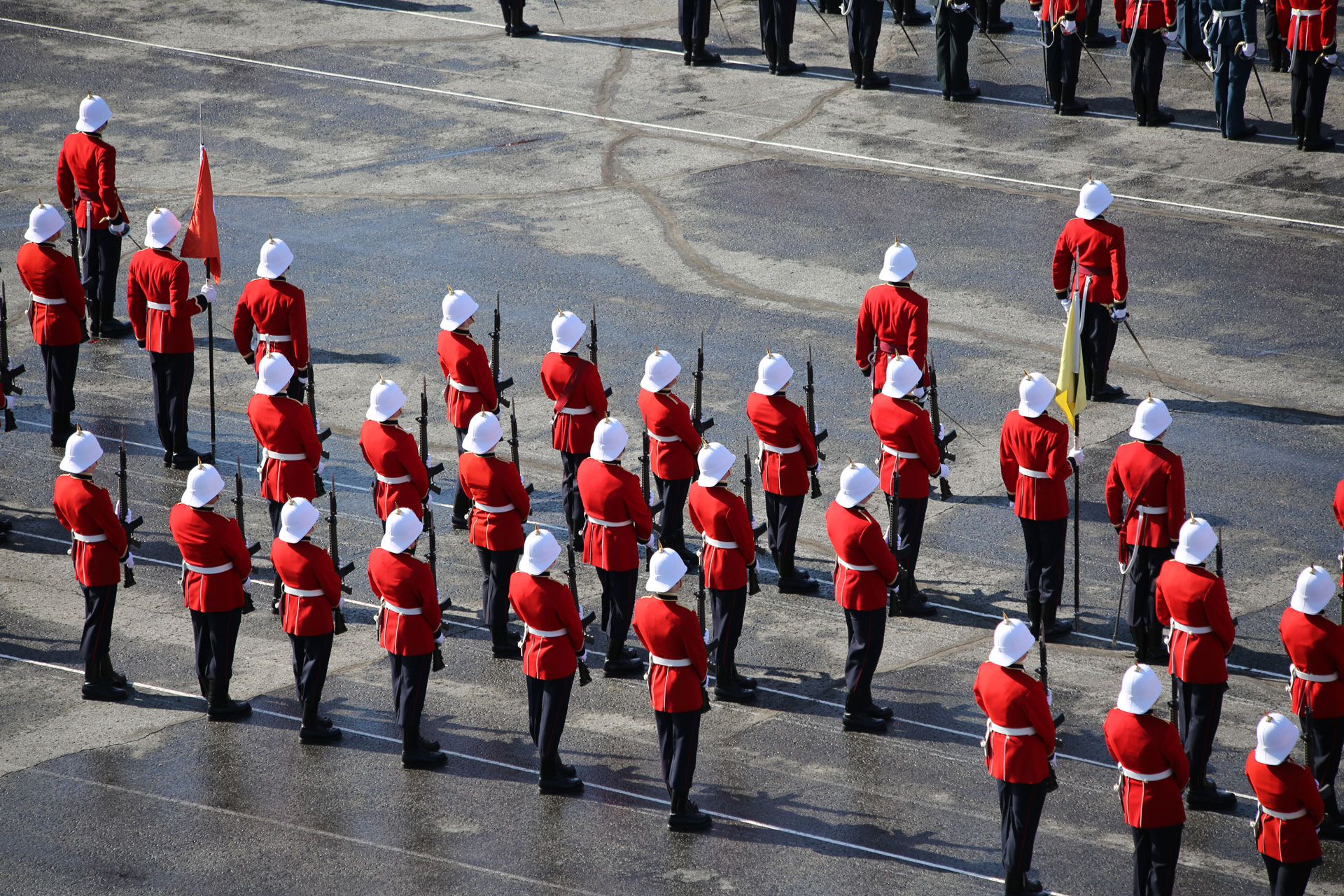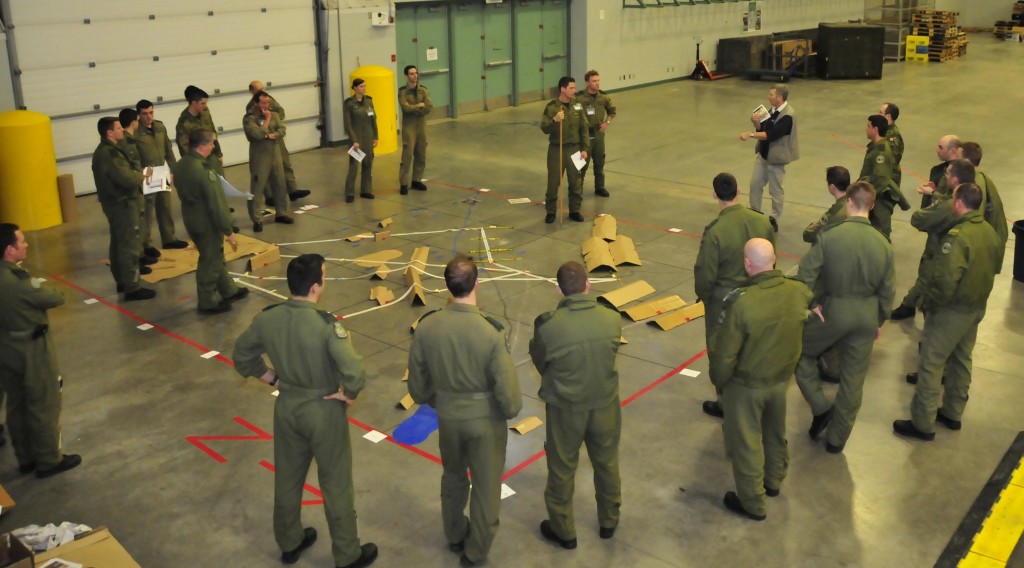 Simulated environment trains real crews for theatre of war
A/SLt 24498 Noelani Shore (RMC 2009)
Helicopter crews prepare their missions in the planning room, and carry them out on the flight line. What seems like a typical day in the life of an aircrew is the result of months of planning, a maze of computer monitors, and around 40,000 feet of mixed power, copper network, and fibre optic cables.
With the help of Kingston's Directorate of Land Synthetic Environments (DLSE), 1 Wing's 408 Tactical Helicopter Squadron and its augementees completed a critical part of their training as they ramp up to deploy to Afghanistan – 408 THS' third deployment. Exercise Winged Warrior (Ex WW) began as a live-flying, live-firing exercise, but was converted to a synthetic exercise in 2006. Since then, Ex WW has grown in complexity, as well as technical equipment and support. With every rotation, the Exercise Directors adapt the training scenarios from lessons learned in theatre. Ex WW challenges the primary training audience, and gives them an opportunity to experience the conditions and complexity of their first few weeks "in theatre."
16888 Colonel Al Meinzinger (RMC 1989) (photo front left), will deploy as Roto 11's Task Force Silver Dart Air Wing Commander. As the Air Wing Commander, he will lead all Canadian Air assets in Afghanistan, which includes CH-147 Chinooks, CH-146 Griffons, CU-170 Heron, CC-177 Globemasters 111 and CC-130 Hercules. This exercise gives him the opportunity to work with the Air Wing Headquarters staff, as well as interact with the Aviation Battalion, led by Lieutenant Colonel Brian Derry.
"This exercise is a tremendous opportunity to work together as a team, to function and connect before we reach the theatre of war. Allowing the units to communicate with the higher headquarters give us an advantage," Col Meinzinger explained. "I have, in my Air Wing Command, about 30 staff. We act as the conduit between the units and the Task Force Commander. We try to enable the enablers, and facilitate what they do in order to support the troops."
This exercise is the first opportunity Chinooks and Griffons crews have to fly missions together before they arrive in Afghanistan. With no Chinooks in Canada, Ex WW allows the crews to fly their first few missions in simulation. While it may look like one big video game, the simulation is extremely accurate. Exercise staff created a realistic environment, and what crews see on the screen is a replication of terrain and forward operation bases. Members who have already deployed to Afghanistan are impressed by how realistic the environment really is.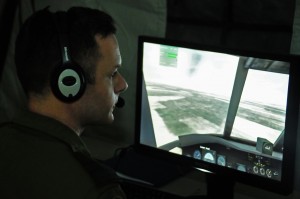 According to Colonel Christian Drouin, Commander of 1 Wing, "Winged Warrior is state of the art; this synthetic environment is world class. We are able to train in real time. No where else in the world is this capability a reality."
The simulated environment costs less, as a live exercise requires the assembly of a squadron's worth of aircraft and personnel, supporting ground troops, as well as ammunition. In simulation, the training audience also experiences a wider range of combat scenarios.
"We don't want to overwhelm the training audience," Col Drouin explained, "but we do want to create the fog of war, and introduce them to the frictions that they'll face."
It's clear that even though the environment is simulated, the decisions and actions taken are real.
There was some foreign participation at the exercise this year; Lieutenant Colonel David Burke, from the Australian Army Aviation Corps attended the exercise as an observer, and he "flew" an Australian Chinook to help Canadian crews practice coalition missions.
"I am really impressed with this exercise. We are a very similar-sized organization, and this has been a very clever use of resources to achieve effective training. I've been very impressed with how you've achieved training at multiple levels with a live audience with fairly limited resources," he said.
The primary simulation system used at Ex WW, the Virtual Battle Space 2 (VBS 2), is actually an Australian design. LCol Burke recognizes that though they have the same simulation system, the Australians haven't thought to use the technology in this way before.
"It really has been a worthwhile visit for me. I think we have the opportunity to learn from each other. This is one instance where you have done something really clever that we'll be able to learn from. I'd like to think in the future that perhaps there are things that we're doing that you can learn from as well."
Ex WW took place in Edmonton from Jan 19 – 27. Over the next few months, personnel deploying on Roto 11 will undergo further pre-deployment training, as well as the confirmation exercises with JTF(Afg) HQ on Exercise Unified Warrior in Kingston.
_________________________________
From Skyhawks to Jump Start Melodies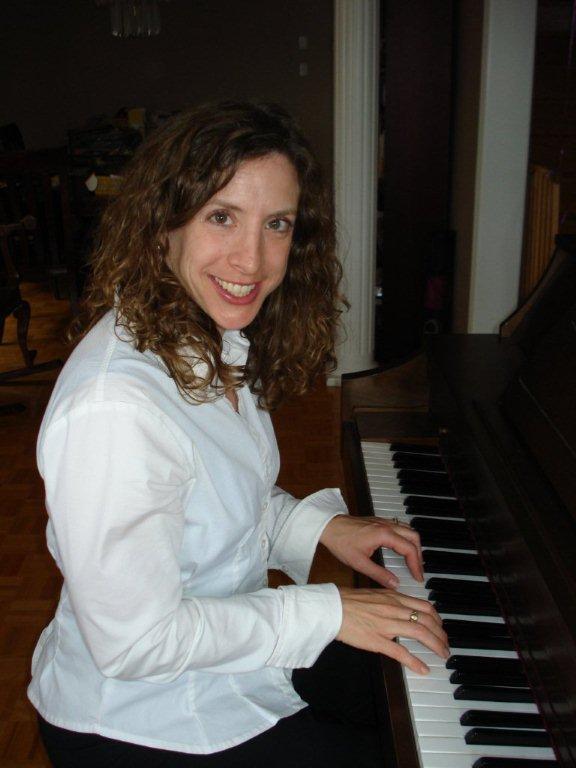 Since graduation, 19794 Julie Brazeau (RMC 1996) spent 11 years with the Artillery. As a gunner of D Bty 2 RCHA, she parachuted with the Marine Corps in Camp Pendleton California. Then, in 2000 she joined the SkyHawks and gained the distinction of the 3rd female to become a SkyHawk since the team's inception in 1971. She stayed with the team until the end of the 2001 season.
Julie became a Public Affairs Officer in 2002, and went on tour to Bosnia a year later. While in Toronto she met her husband Ashley Misquitta and they now have boy/girl twins who are 2 years old.
"Those two make me laugh every day," she said "it was because of them that I decided to quit my full-time army job and start a business that has me working from home."
Over a year ago, Julie discovered a phenomenal piano learning method (that originates from Australia) that has students playing pop, blues, jazz and classical music right from their very first lessons. After a year of lessons, she is able to play over 55 songs of all genres. Recently, she opened up a piano studio out of her home called "Jump Start Melodies" and she now teaches using the Simply Music method.
Does she miss the army? The truth is, she never left the army. "I think I've been in the CF so long that I'm reluctant to quit cold turkey," she laughed. "I think I'll stay around for a while and contribute as a Reservist."
Julie became a Class A reservist for 32 Canadian Brigade Group and continues to parade once a week, helping out the Public Affairs office. She calls this a "balanced" lifestyle.
Julie Misquitta
Jump Start Melodies
(416) 452-3355
Simply Music is a remarkable, Australian-developed piano and keyboard program that offers a breakthrough in music education. This unique method has children, teens, adults and seniors, playing great sounding blues, classical, contemporary and accompaniment pieces – immediately, from their very first lessons.
_________________________________